Strip Flock HTV- Enrich Your Style!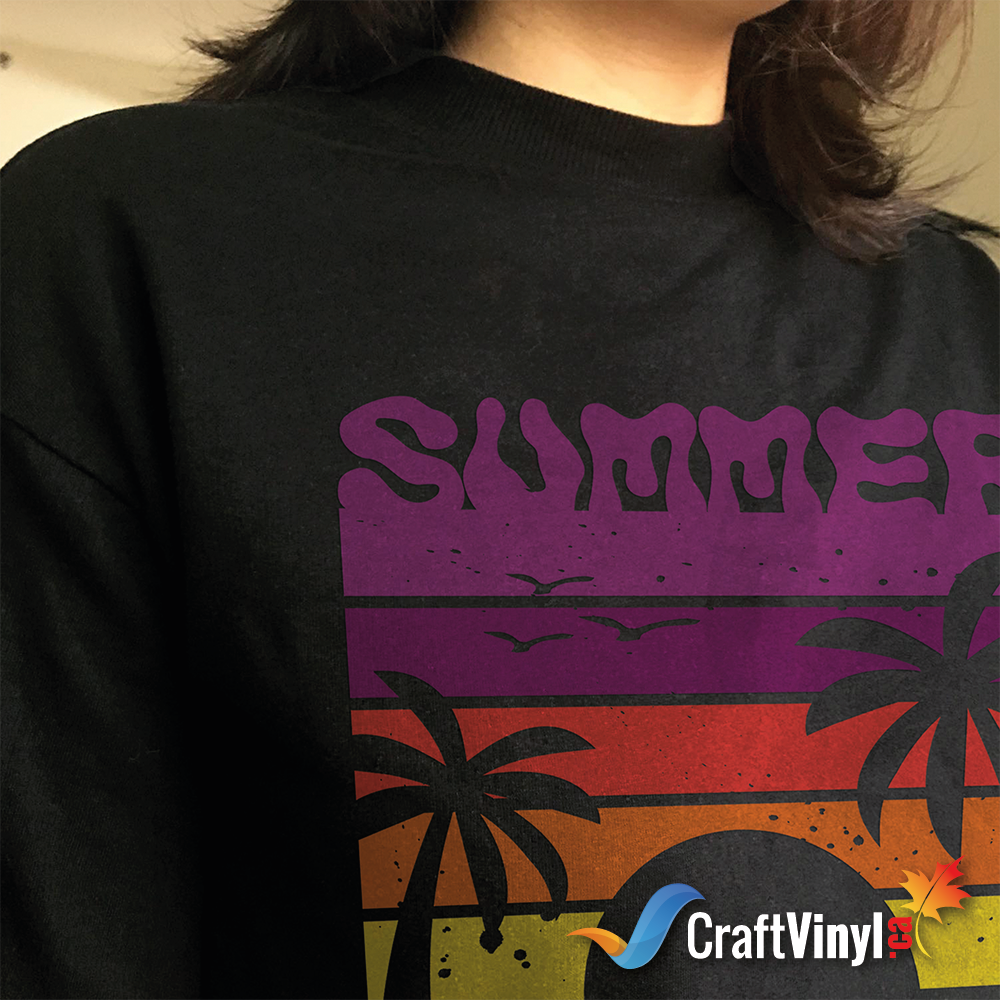 ENRICH YOUR STYLE WITH STRIP FLOCK HEAT TRANSFER VINYL
You've probably heard or seen how beautiful Heat Transfer Vinyl to fabrics can be on the internet and wondered how you could do it perfectly. So, you're going to research it, watch video tutorials, or read blog articles like this. Let me tell you a little about this Heat Transfer Vinyl, and then I'll tell you about one of the best kinds of HTV vinyl you can use for your vinyl projects and business- the Strip Flock Heat Transfer Vinyl! Strip Flock is making a lot of noise in the crafting industry, and many crafters have already fallen in love with it.
Heat Transfer Vinyl is a specialty material used to decorate or personalize T-shirts, garments, glass, tote bags, mugs, and wood. HTV contains a heat-activated adhesive backing, which allows the vinyl to permanently transfer to your garment when heat pressed with sufficient time, temperature, and pressure. The simplicity of the Heat Transfer Vinyl process contributes to its popularity. HTV does not require years of experience in the printing industry, making it an excellent choice for beginners.
 A heat press machine can also be accommodated without sacrificing floor space. It allows you to print on various materials and use multiple unique colors, patterns, and textures. Moreover, its price is affordable yet will give you a high-quality outcome.
Crafters who have just begun their Vinyl projects may find it unusual to start with another type of Heat Transfer Vinyl to adhere to their mediums. Of course, we want a perfect outcome for our Vinyl projects. That is why we take great care in researching the new vinyl materials we intend to use.
It can take a long time to find new products and even longer figure out how to use them. That is why we decided to compile all the information you need about Strip Flock Vinyl right here. Some of our dear crafters' most frequently asked questions are listed below.
So let us begin with the basics.
STRIP FLOCK VINYL: WHAT THE FLOCK!
After you've learned how to use Printed Pattern HTV Vinyl and Printable HTV Vinyl, let me introduce you to your new crafting material. Heat Transfer Vinyl is a popular material in the crafting industry because it comes in various styles and colors. Today, we'd like to focus on this frequently asked question: "What is Strip Flock Heat Transfer Vinyl?"
Strip Flock HTV is a thicker vinyl with a suede-like texture. It is soft to the touch and adds a unique dimension to your projects. Most customers will describe this vinyl as a less expensive alternative to embroidery. It is a special type of Heat Transfer Vinyl with a lovely raised soft and fuzzy texture. It is also the industry's only flocked vinyl that can be layered on top of itself. Layering allows you to take full advantage of the beautiful color selection and easily create textured, visually appealing garments!
Strip Flock Vinyl is an excellent upgrade. Here is why:
Strip Flock that can be layered on itself.

It is CPSIA Certified so that you can decorate kid's items safely.

It can be a HOT or cold peel (so no more waiting)
Now that you know what Strip Flock Vinyl is, it's time to upgrade your vinyl projects and business!
STRIP FLOCK VINYL: FLOCK IT, POP IT!
Crafters consider the mediums they want to use to ensure the adhesion of HTV. It is advisable to use Strip Flock Heat Transfer Vinyl for fabrics because of its suede-like texture and velvet finish. 
Strip Flock HTV is fabulous on kid's clothing because it adds a level of softness and cuteness to their clothes. 
You could also enjoy using flock vinyl to create professional logos for staff uniforms. The vinyl texture helps distinguish the emblem from the clothing – you want your logo to stand out in the crowd! Flock vinyl is one way to achieve this.
Strip Flock Heat Transfer Vinyl is also great for sports lovers because it looks excellent on hoodies, caps, and team shirts.
We've also discovered that flock vinyl works particularly well on certain surfaces and fabrics, such as:
100% Cotton

Poly/cotton blends

100% Polyester

Leather
Let me give you some types of projects which are best to use with this product:
 Pillows: Let's be honest. We enjoy decorating pillows with various types of vinyl. We enjoy personalizing the designs we want to put on something to make it more unique and to show guests our creativity. So, if your sofa set includes pads, you can add some fantastic designs to them with Strip FlockHeat Transfer Vinyl!
Baby Onesies: With the fuzzy texture of this product, it's the absolute go-to material for infants. I am sure they will also love the cute designs they are wearing!
Logos: You want your business to stand out? So why not use a vinyl that does the same?
Faux Embroidery-To achieves this look, you'll want to layer a thin style vinyl (like Easyweed) and add an offset with Strip Flock Vinyl to the outside. That's a great design idea!
WHAT IS STRIP FLOCK VINYL MADE OF?
I want to go over the basics of Strip Flock HTV, so this vinyl is composed of three distinct layers. The gleaming front is our transparent carrier sheet, a thick plastic piece. It's like a built-in high task mask or a transfer tape. So, you don't have to use these two to pick up your designed vinyl. Then there's our Strip flock vinyl behind, which will peel off of our carrier sheet. This is where the soft velvety finish can be found. The soft, smooth finish and the back are where our adhesive is, activated when heat is applied. Avoid wearing lotions and creams when working with any heat transfer vinyl because they can interact with the adhesive and reduce its durability. You could also wear an oven mitt to avoid nasty burns when working with a heating machine!
The bold colors make Strip Flock HTV excellent for adding dramatic effects to your fabric. 
The texture and material are the primary differences between Flock and smooth heat transfer vinyl. Flock vinyl is fuzzier and pops up for dimension, whereas soft vinyl is flat and smooth. Smooth vinyl is more delicate, whereas flocked vinyl is more rigid so that it can be used as an alternative to embroidery. 
What's going on? Is there an alternative to embroidery?
Yes! That's the good news you will read today! Since flock vinyl has a raised velvet-like texture, it mimics the appearance of embroidery, making it a low-cost alternative. I am confident that with another high-quality option to offer your customers, your Vinyl business will boom immediately, regardless of budget.
Flock is ideal for full-color designs on sweatshirts or the backs of jackets at a low cost and in less than 5 minutes of labor time. It enables your customers to select the best option for their budget. Also, Strip Flock HTV is ideal for lightweight garments that may not withstand the weight of embroidery threads, such as women's cotton t-shirts. When embroidered, a two-color t-shirt design on a cotton t-shirt may become too heavy. Additionally, embroidering a large image and graphics on a garment can be costly and time-consuming. Flock Vinyl's raised textured finish makes it possible to achieve a quality look while remaining lightweight on the garment. And, if you need a professional-looking logo on your employees' uniforms but have a limited budget, this could be the solution. It gives you a professional appearance at a much lower cost.
LAYERING STRIP FLOCK VINYL: SAY YES TO MULTI-COLOR DESIGNS!
Strip Flock HTV is a material with a suede texture and a raised feel. With a wide range of color options and the ability to layer, this product will provide you with the one-of-a-kind appearance you strive for! Strip Flock Vinyl can also be layered on top of itself, just like the classic version, for even more impressive effects!
Strip Flock Vinyl's deep, opaque colors make it ideal for retro designs or any time you want a premium look. This material's ability to be layered tells the user to use multi-color designs! It is perfect for use on caps, bags, and garments that require textured visual interest. Cover with other materials or more Strip Flock after using this as a base layer!
You can layer Strip Flock HTV on top of other vinyl or press it on top of regular HTV to create a border around the text, an image, or another design. And you can also layer strip flock vinyl on strip flock vinyl. It brings the design to life and makes it stand out!
Now, we're going to layer strip flock vinyl to another strip flock vinyl. Follow these simple step-by-step instructions to layer your strip flock vinyl:
First things first, gather all your needed materials like strip flock vinyl, cutting machine, tweezers, heat press, and of course, your T-shirt. Your strip flock vinyl must be in contrast. If your first layer is dark, choose a light color as your second layer and vice versa. 

So let's assume that you will adhere your name to your T-shirt. The first layer is black, and the second layer is white. Cut out your name on your cutting machine with appropriate cut settings. Make sure that the size of your designed vinyl will fit perfectly on the size of your shirt. Also, don't forget to mirror your design!

After cutting it out, weed out the excess vinyl using your tweezers. Don't be too fast in weeding, as it may tear your strip flock vinyl!

Now that it is ready to press on heat, pre-heat your t-shirt for 3 seconds. Put the first layer on it. You can use a ruler to ensure you adhere to your designed strip flock vinyl at the perfect angle. 

Put a Teflon sheet or parchment paper and press it for 5 seconds at 320 degrees Fahrenheit using medium pressure. 

Let it cool completely before peeling off the carrier sheet.

Once you have already peeled off the carrier sheet, layer the second Strip Flock Vinyl onto it

Again, put a Teflon sheet on your layered strip flock vinyl. 

Press it at 320 degrees Fahrenheit using medium pressure for 10 seconds. 

You can turn it over and rub it to cool it down completely before peeling off the carrier sheet. 
Layering different types of Heat Transfer Vinyl is fun, but what should you pay attention to when combining or layering other HTVs?
Because of the ease of use, I'm sure you're all eager to try out some experiments with your vinyl. Remember this tip for layering your HTV, whether it's Regular, Printed Pattern, Printable, or Strip Flock HTV.
Pay attention to temperature, time, and pressure. When using an iron or a heat press to stack different layers of Heat Transfer Vinyl on top of each other, you may encounter problems if one of those is incorrect. When pressing on multiple layers, remember that the first layer receives the additional heat from each extra pressure. Assume you printed a four-color design for the recommended 15 seconds per layer. The first layer would have a total pressing time of one minute, which would not look good.
Furthermore, it may shrink if the vinyl is pressed on the heat for too long. The message is thus to heat the first layers for a short period (1 to 5 seconds). It is significant for proper design alignment.
SETTINGS FOR YOUR STRIP FLOCK VINYL: GOOD SET, GOOD OUTCOME!
Setting the machines needed for your vinyl projects is the best thing you have to do first because it varies and depends on the types of vinyl you will use. Whether a heat press, heat gun, easy press, or clothes iron, your heating machine has different heat settings that are appropriate for your vinyl and medium. 
So, if you are ready, let's start making crafts using Strip Flock Vinyl!
HOW TO APPLY:
SELECT!- As with all vinyl projects, you must choose your preferred design for your medium. So, if your fabric is dark, choosing a light color of Strip Flock HTV such as white, yellow, green, cyan, and so on is much better. Choose a dark-colored flock vinyl to emphasize and highlight your design if your fabric is light. Your design can be any graphics you want to put on your medium. It could be your name, Bible verse, favorite cartoon character, and emojis.
MIRROR! After choosing your design, flip or mirror it before cutting. Because you'll be ironing it face down on your fabric, your design will be backward if you don't flip it. 
CUT!- Now load your flock vinyl on your cutting machine. If you have a Cricut machine, set it like this; 
Blade: Standard
Setting: Iron-on+
Speed: High
Thickness: Medium
Blade Setting: 4
 Don't worry; I included some cutting machines; later on, you will know the settings of each device. 
WEED!- Remove the excess vinyl from around your image/lettering once your design is complete (this process is called weeding). You can use tweezers to weed the extra vinyl perfectly without tearing the designed vinyl. 
PRESS!- Using a heat press, set your heating machine at 320°F/160°C Temperature, Medium pressure, and about 15-20 seconds pressing time. Place a Teflon sheet or parchment paper on top of your fabric, then press it carefully. Pre-heat all material for 3 seconds before pressing for best results! 
A friendly reminder, my dear crafters; Every type of Heat Transfer Vinyl has its recommended pressing time, temperature, and pressure settings, so do your research to avoid scorching your HTV vinyl. Hotter is not always a good idea; if you apply too much heat, the vinyl will not adhere properly, or it may shrink, and of course, you don't want to damage your fabric too!
 PEEL!- You should also determine whether your vinyl can be peeled hot or cold. This refers to removing the transparent carrier sheet and whether you can do so immediately after pressing (hot peel) or if you must wait until it has thoroughly cooled and the adhesive has had time to set (cold peel). Double-check before anxiously pulling off that carrier sheet; you don't want all of your hard work to go to waste. Let it cool down before peeling off the carrier sheet using Flock Vinyl.
For a long-lasting adhesive for your Strip Flock Vinyl, follow these washing instructions:  
Wait 24 hours before the first wash

Machine wash warm or cold/mild detergent

Dry on standard dryer setting

Do not dry clean
And that's it! You can now enjoy the new texture of your designed vinyl. That was so quick and easy to follow, right? So, what are you waiting for? Get up and start Craft Vinyl with us!
STRIP FLOCK VINYL: READY, SET, CUT!
So now I'm going to walk you through cut settings to get the perfect cut of your designed vinyl! Strip Flock Vinyl is a pretty thick vinyl, and it's incredible when you apply it because it has that nice fuzzy look. But, cutting it can be kind of tricky, so it's better to try out some different test cuts and figure out some good cut settings that work for your cutting machine.
Each manufacturer should specify the requirements for cutting and pressing particular vinyl. It will also be determined by the type of cutter you will use. But, once you get the hang of it, using strip flock vinyl isn't too tricky. As previously stated, you will need a cutting machine to cut your strip flock vinyl. The machine software will help you in selecting the proper cut settings. It's also worth noting that flock vinyl requires a deeper blade than smooth vinyl.
To ensure that your cutting machine cuts correctly, starting with small sample size is best. Just follow this general guideline carefully to cut your Strip Flock HTV perfectly!
Because this vinyl is so different, they require different cut settings. When cutting smooth vinyl, you can use the standard cut vinyl settings, but when cutting flock vinyl, you must increase the depth to allow your blade to cut through the textured Flock. So, once you've decided on a design, place your strip flock vinyl on a cutting mat. Before cutting out your designed strip flock vinyl, always mirror the design. I've listed various cutting machines and settings to help you perfectly cut your strip flock vinyl.
   Cricut:
Blade:Standard
 Setting: Iron-on+
Speed: High.
Thickness: Medium
Blade Setting: 4.
  Silhouette Cameo:
Blade:Standard,4 
 Material:HeatTransfer,Flocked 
 Speed:5 
 Force: 6 
  Scan N Cut:
 Blade: Standard, 4 
 Cut Speed: 1
 Cut Pressure: 2 
  Roland GS/GX-24:
Blade: 45°
 Gram Force: 80-90
 Offset: .250
 Speed: 30 cm/s
  Graphtec:
Blade: 45°
 Gram Force: 10 
 Tool: CB09+0
 Speed: 30 cm/s
  MH, SC2, LP3, and Titan 1:
 Blade: 45°/60°
 Gram Force: 100-110 
 Speed: 180mm/s
 *Blade Advancing Varies
  Titan 2 & 3:
Blade: 45°/60°
 Gram Force: 100-110 
 Speed: 300mm/s
 *Blade Advancing Varies
STRIP FLOCK VINYL ON CRICUT SETTINGS
Cricut cutting machine is one of crafters' best and trusted cutting machines. All primary cutting machines can easily cut strip flock vinyl with the proper cut settings. Also, if you're using the Cricut cutting machine, it's a good idea to read the instructions first. You can also use the Silhouette CAMEO 3 or the Brother Scan N Cut in addition to the Cricut. We must not overlook the importance of mirroring our design before cutting. When working with heat transfer vinyl, the shiny side of the material always goes face down for cutting.
Set your machine to "Iron-On +" and test to see if this works for a Cricut cutting machine. You must ensure that the knife goes through the Flock and not through the transparent back.
As with any new vinyl or a new machine, you must first do a test before making a final cut. That's a simple rule when cutting out any vinyl for you to achieve the desired outcome. Take a moment to cut a design and see if it works. Change what needs to change, and then go for it. 
Strip Flock Vinyl will add texture to your fabric and beauty to your vinyl projects. This vinyl is excellent for a more dramatic effect if you're making crafts. Now, I'm pretty sure you're all amazed by heat transfer vinyl because it always brings you new features that you'll love! I can't wait to see your Strip Flock Vinyl Projects, so why don't you share them with us?
Social Media Accounts:
FB: CraftVinyl.ca
IG: CraftVinyl.ca
TikTok: craftvinyl.ca
For your vinyl crafting needs, please check our website at www.craftvinyl.ca. We offer different Adhesive and Heat Transfer Vinyl, perfect for your next project.
Discover More Great Articles On Crafting
There are various type of HTV to choose from. Maybe you want to try Siser Easyweed or Puff HTV? Please click the links below:
WHAT THE CRAFT IT'S THE PUFFTASTIC PUFF HEAT TRANSFER VINYL