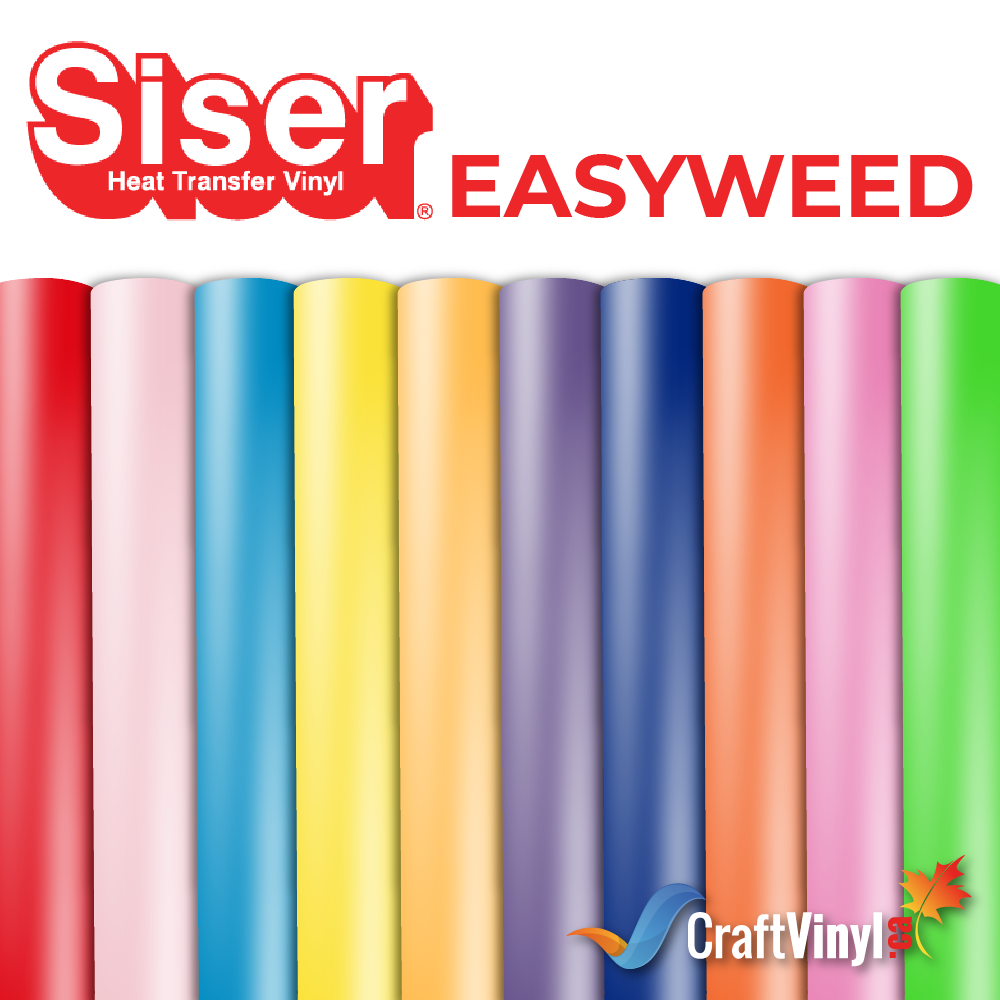 Siser Easy Weed Heat Transfer Vinyl
We're glad to have you again for another HTV moment right in front of our Crafter headquarters, where artistic blueprints are. We're bringing you supahhh' exciting bulletin flash bound for a dazzling arty exchange and keeping you updated on every trending bit of information about your favorite vinyl --- HEAT TRANSFER VINYL. 
As our favorite crafty mate, we will still do our grind with heat transfer vinyl for today's vacation. What's unique and specific in this content? We will delve into a very treasurable genre of Heat Transfer Vinyl that will help you uplift more of the quality of your work --- Siser Easyweed. If you're keeping an eye for a head-turning customized piece lying somewhere in the space of your palm top, you need to invest with the reliable resource material for the best product results. So what are you waiting for? Stay up till all hours with our HTV blog channel because we now serve you straightly and ultimately the latest artsy headlines. 
Siser Easy Weed: A HTV's Top Genius 
Heat Transfer Vinyl is a nifty item that goes in different varieties and can be applied to many surfaces, from your child's onesies to your clothing, coffee mugs to your glasses, and woods to your steel. Your search is over!
Siser Easyweed HTV Composition
Siser Easyweed HTV comprises Polyutherane (PU) and comes with a carrier sheet for an entire design application. This means that this vinyl is free from any form of harmful chemicals such as lead and phthalates. It is considered safe, and consumer-friendly (both for children and adults – even pregnant women) for it passed CPSIA certification. 
Siser Easyweed HTV All in Features
Superiority – Unlike other competitor materials, it's an HTV brand that offers the best of both worlds in terms of sturdiness and affordability. It doesn't peel off, grow fainter, or be chipped off after multiple times of wash and repeat. 
Color and Texture Miscellany -offers abundant colors and sizes, giving you many options for any unique, full-of-life design you hope to accomplish. It may come with a gloss, semi-gloss or matte finish leaving your design like a part of your medium or surface. 
Ease of Transfer – A soft hand material gives you a quick, uncomplicated, and trouble-free transfer process. Each of these vinyl sheets lives up to its pressure-sensitive features, which are great for easy cutting or weeding that doesn't lift. It is also great with its reedy structure, workable for multiple layers or single color applications and inlays, including when adhering to highly intricate designs. 
Flexibility - A top-quality vinyl that is thin and cuttable by hand, by a broad range of cutting machines and even laser. It applies to fabrics or soft surfaces that are 100% cotton, 100% polyester, poly/cotton blend, and leather using various hot tools. 
Hmmm. I hear those ka-ching sounds clinging. Do you see this material contribute largely to your personal or business deals? We'll bet you won't regret it! Siser Easyweed is the answer to your personalization projects. I can feel that you also agree with me. Using this HTV brand in your product will help you control the market and specialty shop sales. 
While your excitement is at its height after having a bite of profit-proofing, the next flashpoints will be more authentic and up close.
Scoop Alert! The A to Z of Siser Easyweed HTV Application
Since Siser Easy Weed offers a broader range of decals, your application settings depend on the type of this HTV brand you use in your medium. We learned before that HTV could adhere to hard or soft surfaces, which implies Siser Easyweed. The vital thing for you to remember is to follow appropriately the manufacturer's instructions when it comes to the application setting of the type of vinyl you prefer to use along with the kind of medium you will use.
General Steps in applying Siser Easyweed 
Step 1: Pre-check (Choosing the correct type of HTV)
Select your targeted type of HTV based on the medium that you have. 

Pre-checking

 helps you examine your vinyl's heat carrying capacity as it matches your medium and hot tool. It will also help you avoid picking the incorrect vinyl that will cause dreariness and limpness to your design. 
Note: Remember, every type of Siser Easyweed is unique. You can double-check the product specification to ensure optimal application available on Siser's website or Siser's app using the app store and Google play. 
Step 2: Design Preparation
Create your heat transfer image using any graphic package or designing software (Silhouette, Studio, Cricut, Photoshop, and others) available on your device. 

Using the graphic or designing software, you can make any needed modifications to your design, from the color balance of the graphic to its sizing that fits the frame of your medium. 
Step 3: Mirror the Design
Once you are settled and satisfied with your design, select 

"invert image"

 in the printer settings before printing. 

Flipping your design will enable you to cut your material correctly. 
Step 4: Cutting 
After mirroring your design, it's about time to 

cut in reverse

. The carrier of the Heat Transfer Vinyl is positioned face down on the cutting mat. The other side holds your design in place when attaching it to the medium, so the adhesive face is the one being cut through—seeing the cut lines will assist you in having a good design cut. 

When cutting, you may cut manually, but it will take time. On the other hand, using a cutting machine will be a lot easier. If you use a cutting machine, the best setting is to have a 

45° blade

 with 

40 – 60 grams of downforce pressure

. Adjusting the blade to 0

.25 offset or depth

 will troubleshoot your cuts for not closing properly. 

It must not have deep scrapes, groves, and slits to elude nasty cutting strips. 
Step 5: Weeding
It is the process of removing excessive vinyl that is not part of your design. 
Step 6: Pre-heating and Pre-press
Pre-heating

 and 

pre-pressing

 benefit your vinyl, medium, and hot tool. 

Pre-heating

, first with your hot tools (either iron or heat press), permits your device to 

gradually prepare the heat level

 to apply before the entire adhering process prevents releasing unwanted high temperature directly on your design. Secondly, 

pre-pressing for about 2 - 3 seconds

 is useful when your medium is a soft surface (such as shirts or fabrics) because it 

removes moisture

 and 

unnecessary folds

 for a flawless application. Third, pre-heating a Siser Easyweed for about 100° upturns its 

speed in heat activation and adhering

 upon application up to 70%. 
Step 7: Heat and Design Application
When you prefer a 

heat press

, 

a standard heat setting

 is used with 

10 to 15 seconds of medium pressure

 for pressing, while with 

iron,

 the heat temperature is between 

cotton to linen with 5 to 10 seconds of medium to firm pressure

. 

Any 

cover sheet

 like 

Teflon, parchment, and multi-purpose paper

 is recommended to be placed at the top of your HTV as a protective barrier between the direct high heat and medium (especially if it's a soft surface). 

Finally, you can peel the carrier sheet either hot or cold. 
This comprehensive guide for the HTV application of Siser Easyweed will lead any of your apparel, accessories, and ornaments to a personalized touch. Let me unveil to you now the classified report about Easyweed being a more credible tool.
Blow by Blow Revelation!
Answers to the Top Most-Wanted Question and Exposing Secrets of Successful Siser Easyweed Application 
Heat, pressure, and time are the three subtle elements of Heat Transfer Vinyl for a long-lasting and successful application. Being open and aspirant to work with other types of HTV unlocks the door of a leading-edge and ablaze realm of design. Presuming you're a neophyte or a senior to HTV and heat transfer design, every project and every craft day unfolds discovery. In this part of the blog, I'd be breaking down to you further the details of every typical and exceptional quality of Siser Easyweed, plus additional tips and tricks to add to your bucket for the best and all-around option.  
What Temperature Do I Press Siser Easyweed? 
Each creator of HTV has their application instructions to Siser Easyweed. HTV types under this brand have unique qualities that are tested to establish optimal settings. The primary advice is to examine carefully and apply the suggested application instruction according to the HTV type you selected to use. 
More often, for a flawless application, Siser Easyweed's 

standard heat setting

 measures around 

305°F of 150°C with medium pressure

 (also an optimal setting in adhering using soft surfaces). HTV types under this may require a greater or lesser temperature to secure proper adhering. For 

heat-press

, 

a standard setting

 is applied, while for iron is optimal temperature is between 

310°F - 315°F or the highest heat setting

 with 

medium to firm pressure

(Cotton: 400°F - Linen: 450°F) depending on the amount of heat your vinyl and your medium can absorb.
How Long Do I Press Siser Easyweed? 
Similar to heat application, the length of pressing time may also vary depending on the vinyl type of Siser you select to use and your medium. 

The optimal time setting is between 

10 to 15 seconds

 for 

heat press

, and 

iron

 is 

between 15 to 30 seconds

. 

If there is a need for adjustment in your heat setting because of the variety of features of your vinyl, 

add 2 seconds in your pressing time for every 5 degrees of lowering the temperature. 

To secure full adhering of design to your medium, you may also 

repress

 for about 

5 to 10 seconds (both applicable to heat press and iron).

 
Does Siser Easyweed Need to be mirrored? 
Mirroring is one of the crucial parts of the process when working out with HTV. The main reasons concern your design, proper cutting, and correct application process. If your design involves texts or letters, mirroring will help make it appear right-facing. As we have explained in the step-by-step guide to applying Siser Easyweed, we notice that mirroring and cutting are connected. Generally speaking, most HTV types like Siser Easyweed are also needed to be mirrored, flipped, or inverted. 
Inside Tip: 
For Siser HTV types, the only HTV that don't need to be inverted is the Easy Patterns, Print, and Cut Materials. 
Is Siser Easyweed Hot Peel? 
Choosing whether your Siser Easyweed is a hot peel or either cold peel, this matter is subjective. Hot peel or cold peel both has a gain and a drawback. If your HTV is hot peel, the clear carrier sheet can be removed directly after pressing your design, meaning no waiting game is necessary. However, hot-peel HTV is susceptible to lifting off to your medium (for example, to your garment) if an inadequate amount of high temperature is applied. Cold peel HTV requires full cooling time before removing the carrier sheet. Cold peel HTV is susceptible to burns if exposed to much high heat. 
As always, it depends on the HTV type of your Siser vinyl and the corresponding manufacturer's instruction suggested for you to follow. In other words, Hot peel or cold peel. It's not just a simple yes or no. Always double-check the specs of your vinyl before anxiously peeling the carrier sheet. 
To completely guide you about Siser Easyweed Application, check out this specifications table to familiarize yourself with the different settings of various Easyweed types.
Siser Easyweed: HTV Table of Specification
SISER EASY WEED FULL CHART HTV GUIDE
Vinyl Type
Temperature
Time (Secs)
Pressure
Peel
SURFACE
305 °F/ 150 °C
10-15
MEDIUM
HOT OR COLD
POLYESTER, COTTON, POLY/COTTON BLENDS, LEATHER,  SUBLIMATED POLYESTER
EASYWEED EXTRA
305 °F/ 150 °C
10-15
MEDIUM
HOT OR COLD
COTTON, POLYESTER,, POLY/COTTON BLENDS, NYLON, LEATHER, SUBLIMATED POLYESTER
305 °F/ 150 °C
15
MEDIUM
HOT OR COLD
COTTON, POLYESTER, POLY/COTTON BLENDS, NYLON, LEATHER, SUBLIMATED POLYESTER
3°F/ 150 °C
20
FIRM
HOT OR COLD
100% UNCOATED POLYESTER, POLY/COTTON BLENDS, COTTON, LYCRA, WOOL, LINEN, LEATHER, SUBLIMATED POLYESTER
320 °F/ 160 °C
15
MEDIUM
WARM
COTTON, POLYESTER, POLY/COTTON BLENDS, 
EASYWEED SUB-BLOCK
265 °F/ 155°C
15
MEDIUM - FIRM
WARM
POLYESTER, SUBLIMATED POLYESTER
EASYWEED ADHESIVE
275 °F/ 135°C
5-10
MEDIUM
HOT
COTTON, POLYESTER, POLY/COTTON BLENDS, NYLON
305 °F/ 150 °C
15
MEDIUM
WARM
COTTON, POLYESTER, POLY/COTTON BLENDS, NYLON
BLACKBOARD
275 °F/ 135°C
15
MEDIUM
WARM
COTTON, POLYESTER, POLY/COTTON BLENDS
320 °F/ 160 °C
15-20
FIRM
WARM
COTTON, POLYESTER, FABRIC BLENDS, SPANDEX, LYCRA, WOOL, LINEN
320 °F/ 160 °C
10-15
MEDIUM
COLD
COTTON, POLYESTER, COTTON/POLY BLENDS, LEATHER
305 °F/ 150 °C
10-15
MEDIUM
COLD
COTTON, POLYESTER, POLY/COTTON BLENDS, LEATHER,  SUBLIMATED POLYESTER
STRIPFLOCK PRO
311 °F/ 155°C
15
MEDIUM
WARM
COTTON, POLYESTER, POLY/COTTON BLENDS, LEATHER
311 °F/ 155°C
15-20
MEDIUM - FIRM
COLD
COTTON, POLYESTER, POLY/COTTON BLENDS
SPARKLE
305 °F/ 150 °C
15
MEDIUM
WARM
COTTON, POLYESTER, POLY/COTTON BLENDS, ELASTIC FABRICS, SPANDEX
TWINKLE
305 °F/ 150 °C
15
MEDIUM - FIRM
WARM
COTTON, POLYESTER, POLY/COTTON BLENDS
EASY PATTERNS
305 °F/ 150 °C
10-15
MEDIUM
HOT OR COLD
COTTON, POLYESTER, POLY/COTTON BLENDS, SPANDEX, SUBLIMATED POLYESTER
Note: Application setting may vary depending on the type of surface where your vinyl adheres.
What side does HTV go down on the shirt?     
The primary thing to distinguish, your Heat Transfer Vinyl has two layers – the

vinyl layer

 and the 

carrier sheet

. More often, these two stick together, so at first glance, it is unnoticeable. Once your HTV is mirrored, it will be applied right faced up – onto your final surface. Upon application, the carrier sheet, which is the 

shiny side

 and 

one that curls out

 when 

heat is applied, goes "up"

 (but when cutting, it goes down facing the cutting mat). The 

vinyl side

 is the 

bottom, dull or matte HTV part

. When heat is applied, the adhesive will start to 

activate, melt, and stick "down"

 to your surface (garment or shirt). 
Why is my Siser Easyweed Peeling? 
You may let a breath out of you as an indication of successfully crossing all the obstacles in your HTV project. However, there are times that your face starts to get gloomy as soon as you see in your eyes that your output hasn't fled from the shadows of chipping, cracking, and, worst… peeling off. Not all days are sunny, but it is essential to know that it is just pretty usual ---- a project gone wrong like a bad hair day. It is not okay if you do not figure out why your Easyweed is peeling off. Here below are the possible answers to your whys.
1. Neglecting HTV Instructions - It is decisive to get the perfect combination of your time, temperature, and pressure settings, for these three are where your successful application relies upon. Every type of HTV under Siser Easyweed is distinct in its quality. Check and follow the proper application instruction for your chosen HTV type.
2. Incorrect Temperature or Pressure Setting at press time - Not all Heat Transfer Vinyl are pressed at the same temperature or pressure at a press time. Inadequate temperature, pressure, or time can make your Easyweed vinyl unfixed to your soft surface and drift off. If your vinyl is heat pressed for too long and too high in heat, it will not attach to your medium, and it is possible for your adhesive backing to be burned. On the other hand, if the Easyweed is pressed only at a low temperature and at a lesser time, the vinyl will not stick, and the adhesive backing will not fully activate or melt with your garment. 
3. Incorrect Peeling Method – Some HTVs must be peeled off right after adhering, and some need time to cool down completely before pulling off the carrier sheet. Whichever the two, make sure to hold on to your anxiousness of peeling off your carrier sheet without checking your vinyl because if not, it will damage your output. 
4. Incompatible Surface – Considering where to adhere your Siser Easyweed HTV is a must-have. Soft surfaces like shirts or fabrics matching your vinyl to the correct fabric type will help you shy away from the distressful application. The presence of buttons, collars, seams, and zippers which are raised or the bulk area will affect the placement and equal application of pressure to your design going to your surface. Fabrics with waterproof or flame-retardant coats also cause HTV problems adhering to the fabric's fibers. Lastly, using much fabric softener and pre-washing before heat pressing of design will also add a layer of coating to the thread of your garment, causing adhesion problems.
5. Hot Tool Problems – Regular inspection of your hot tools will assure that it's still functioning well. In some situations, for example, your heat press' heating element stops operating normally; it may leave cold or hot spots when applying and heat transfer. If constantly happening, buying a new one must be considered. 
Nailing a great day for your projects… It's not coincidental luck! See how unique HTV and heat transfer technology potentially comes into light in the process of your tailor-made creations. Every image, logo, or word on your prints can be said to be yours, and you own it. This is how Siser Easyweed can take you into a radical and aflame sphere of HTV and designing. Getting an intimate flash update in this well-known vinyl variety, Siser Easyweed Vinyl as your HTV is always at your service…. It is always on the go to serve your craft preference at its best with all your needs. 
This has been your HTV blog channel. Thank you for staying with us today. See you again for some more Heat Transfer Vinyl updates. Keep safe, and have a great day ahead!
Learn Vinyl tips and tricks and share your crafting adventures with us. Please visit us on our pages.
Social Media Accounts:
 FB: CraftVinyl.ca
IG: CraftVinyl.ca
TikTok: craftvinyl.ca
For your vinyl crafting needs, please check our website at www.craftvinyl.ca. We offer different Adhesive and Heat Transfer Vinyl, perfect for your next project.
Other vinyl articles you might find helpful:
TIPS AND TRICKS WHEN WORKING WITH ADHESIVE VINYL