Heat Transfer Vinyl On Metal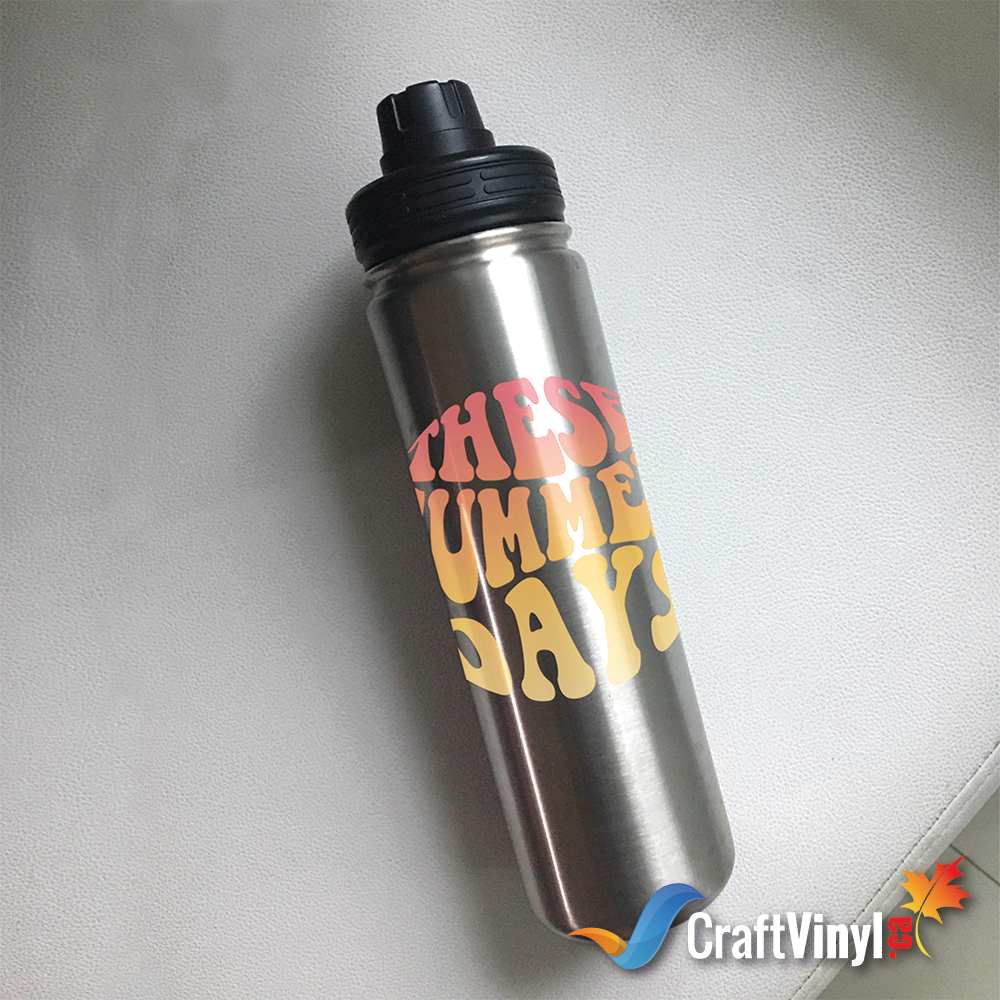 METAL WITH HEAT TRANSFER VINYL: A GOOD CONDUCTOR OF HEAT IS WHAT YOU NEED!
Our dear crafters' favorite mediums include fabric, wood, glass, tote bag, and mugs. Did you know that heat transfer vinyl isn't just for fabric, glass, wood, and mugs? I know that you have already explored and done vinyl projects with these mediums and thinking about what other substrate you may use. To tickle your creativity and add your vinyl projects, let me tell you another medium you can use that perfectly matches with Heat Transfer Vinyl-and that is metal! 
Yes, you heard it right! To add information to this medium, did you know that metal is a good conductor of heat? That is why metal is one of the best mediums you can use. Whether flat or has a curved surface like a tumbler, any metal will work with Heat Transfer Vinyl. Because HTV vinyl involves heat, avoid experimenting with surfaces that could melt like plastics. Please be cautious if you are performing any vinyl projects at home! 
Don't let yourself get burned!
METAL AND HEAT TRANSFER VINYL: WORK AND ADHERE TOGETHER!
Metal is not just a plain and boring thing you always see around your home. Why not put a few designs on it with heat transfer vinyl? Since metal is a good conductor of heat, you'll need extra care doing your vinyl project as you may get a nasty burn! If you are now ready, let's get it on! 
First things first, you must prepare all your needed materials, including your heat transfer vinyl, high-task mask, heat tape, cutting machine, tweezers, scraper, gloves resistant to heat, oven mitt, and an extra towel, and of course, your heating machine. It would be best if you also had alcohol to clean your surface. 

Find a safe workplace using a heating machine and wear protective gloves or an oven mitt for your hand safety.

You should also safeguard your work surface from heat; you can use a thick cotton cloth to protect the thing you are using. Additionally, it would help if you had another piece of cotton fabric or thick dishtowel to put pressure on your HTV vinyl while being heated. (This is preferably for substrate with curve surface)

As you and your working area are safe, you can choose your preferred design for your metal surface (tumbler or a metal lunch box). It could be your name, bible verses, or favorite cartoon character. You could also layer it to add more spice to your design!

Make sure you mirror your design before printing it out. Also, see to it that your design will perfectly fit the size of your medium. You could first measure your medium and adjust the size of your designed Heat Transfer Vinyl.

As you have already decided on the theme of your design, place it on your cutting mat, then load it into your cutting machine to cut out the image. Weed out the excess vinyl using tweezers slowly but surely to avoid unwanted tearing of HTV.

The next step is to pick up your designed Heat Transfer Vinyl using a tall task mask, then lay it on your metal surface using a squeegee or a scraping tool to flatten it. This would also avoid creasing the design of your Heat Transfer Vinyl.

Prepare to heat your HTV. If you use a heat gun or clothes iron, get a towel or gloves resistant to heat or an oven mitt as your metal medium will get hot. 

After applying enough time, temperatures, and pressure, carefully peel off the high task mask. Allow your medium to cool down completely.

Use a sealer to secure your HTV to make it last long after using and washing several times.
And that's it! Another Vinyl project is added to your collection. I know you can do it, and I am happy to share your vinyl projects with us!
HEAT PRESS ON STAINLESS STEEL: PLEASE BE CAREFUL WITH YOUR HANDS!
Have you ever wondered about trying ironing heat transfer vinyl on an unordinary surface but were doubtful if it would stick or work? Have you ever had an idea for a fantastic project that involved Heat Transfer Vinyl and non-fabric mediums and wondered if the vinyl would adhere? Sometimes the key to a perfect adhesion of HTV depends on the time, pressure, and temperature you are using. So, it's a perfect idea to learn first about your medium and the types of vinyl you are using because it requires appropriate temperature, pressure, and time.
There are many heating machines to transfer our designed vinyl on mediums, but now we will answer this question by using this heat press on metal.
"Can we use a heat press on stainless steel?"
The answer for this is a roaring YES! 
You probably think a heat press machine is only for fabric as this is commonly seen. It is usually used with textiles, but specialty machines exist for mugs, glass, and tumblers. So for you to know, a heat press machine is designed to apply heat and pressure to a material for a set amount of time. So, we will use the heat press for curves and round substrates like a tumbler and cup. 
Are you ready to use a heat press on stainless steel? The press I will use can accommodate different sizes of stainless tumblers and mugs. I'll show you how to set up the press and use it to adhere your designed vinyl onto your medium. If you're considering buying a heat press, this post is for you! Have you already purchased a tumbler press? Keep on reading to learn how to use it properly!
Because heat travels quickly through metal, please use a towel, gloves resistant to heat, or an oven mitt to hold your project if you intend to try this at home. 
So let's assume that you have already printed out your preferred design. Pick up your designed vinyl using a high task mask. Load it into your cutting machine and weed out excess vinyl using tweezers. 

Place your stainless steel on the heat press carefully, careful not to wrinkle or fold the high task mask. You could also use heat-resistant tape to ensure that your designed vinyl will not move and everything is tight. 

Just pull the handle toward you to close the press. You'll need to press the green button to start the timer manually.

Set the temperature of your heat press to 400 degrees Fahrenheit, or 204 degrees Celsius

Set the pressure to "medium-heavy" and the timer to 60 seconds.

When the timer goes off, open the press and remove the tumbler. Use an oven mitt or a thick towel to pick up your medium as this is extremely hot! 

Carefully remove the transfer tape and the high task mask. You can use tweezers in this process.

Wait for a few minutes to cool down your mug and enjoy!
HEAT PRESS ON METAL: ONE PRESS AWAY!
Today on this blog, we're testing our Heat Transfer Vinyl on metal surfaces, so you don't have to! Time, pressure, and temperature—are the three most essential components of successful adhesion. These will need to be carefully adjusted when using metal. 
The substrate we are using is a metal panel. Let's put on the table the materials we are needed.
Cutting machine

Tweezers

Transfer tape

Gloves resistant to heat/oven mitt

Parchment paper

Standard heat press

Metal panel
The next step would be printing out your graphics.
Select the design you want to put on your metal panel. It could be your name, your motto in life, a bible verse, or any graphics you prefer.

Be mindful of the sizes. Take a look at the size of your metal panel first to estimate the size of your design.

Don't forget to mirror your design.

Now, cut it out on your cutting machine. Then, weed out the excess vinyl using tweezers.

Use a high task mask and scraping tool to pick up your vinyl carefully.
So, the next step is preparing your metal panel. 
Pull back the film on your metal carefully.

Lay down your graphic on top of the metal panel.

Align the metal panel with the image or graphic.

To secure that your Heat Transfer Vinyl will not move, put heat tape on the sides of the metal.

Set your Heat press to 399 degrees Fahrenheit for 30 seconds.

Place the parchment on the heat press, and put your metal on it. Then add another parchment paper on top of it. 

 Use medium pressure to push down and wait 30 seconds. 

Lift the heat press and carefully remove the high task mask from the metal panel to reveal the finished product! You can use an oven mitt to pick up your metal panel. 
DIY LICENSE PLATE WITH HEAT TRANSFER VINYL!
Now that you realize that metal and Heat Transfer Vinyl are perfectly matched like fabric, woods, and glass, you probably think of another metal surface where you can stick your designed vinyl. Let me give you some metal objects you may use with heat transfer vinyl.
The process for these objects is the same with the metal panel and stainless steel tumbler. You print out your preferred design, cut it out, and weed out the excess vinyl. Using a flat surface, you can use a heat press or an easy press. If your medium has a curve and round texture, it's better to use a mug press or a heat gun. 
So, a License Plate is another metal object where you can add HTV. You can personalize your license plate by writing your name or adding graphics. The materials you need are; a blank license plate, your preferred design and image, heat tape, parchment paper, and a heat press. 
So the first step is to select the design, image, or graphics you want to use on your license plate. Make sure to remove the protective film on your license plate. Then, place the image on top of your substrate, design side down, and apply heat tape on both sides. Place a piece of parchment paper on the bottom of your heat press, and then put the license plate with HTV. Make sure to place a piece of parchment paper on top of your substrate. Use medium pressure, 400 degrees Fahrenheit in 45 seconds, to set up your press. Remove the transfer paper as soon as it's finished. Keep an eye on your plate because it will be scorching HOT! Allow it to cool for a few minutes for your safety.
That was so easy. I am 100% sure that you can do it too!
If you love to cook, it's time to upgrade your metal Tupperware using Heat Transfer Vinyl. That will be a pleasing presentation for visitors if they see your customized Tupperware! If you have a business and looking for signage- a metal panel is for you!  
See? metal is also a fantastic substrate for your heat transfer vinyl. The process was easy; anybody could do it with the proper steps. You can even do this at home if you get a simple heat press machine or a clothes iron. With this all-inclusive guide, I believe you can begin those one-of-a-kind vinyl projects and create eye-catching customized designs. As I previously stated, it is not difficult at all, and with some practice, you may even be able to start and expand your own business!
Learn more Vinyl tips and tricks and share your crafting adventures with us. Please visit us on our pages.
 Social Media Accounts:
FB: CraftVinyl.ca
IG: CraftVinyl.ca
TikTok: craftvinyl.ca
 For your vinyl crafting needs, please check our website at www.craftvinyl.ca. We offer different Adhesive and Heat Transfer Vinyl, perfect for your next project.
 Discover More Great Articles On Crafting
Try these amazing HTV projects that you will surely love. Please click the links below:
HEAT TRANSFER VINYL ON TUMBLERS