Iron-on Vinyl to Stamp Unique Imprints on Yoga Mats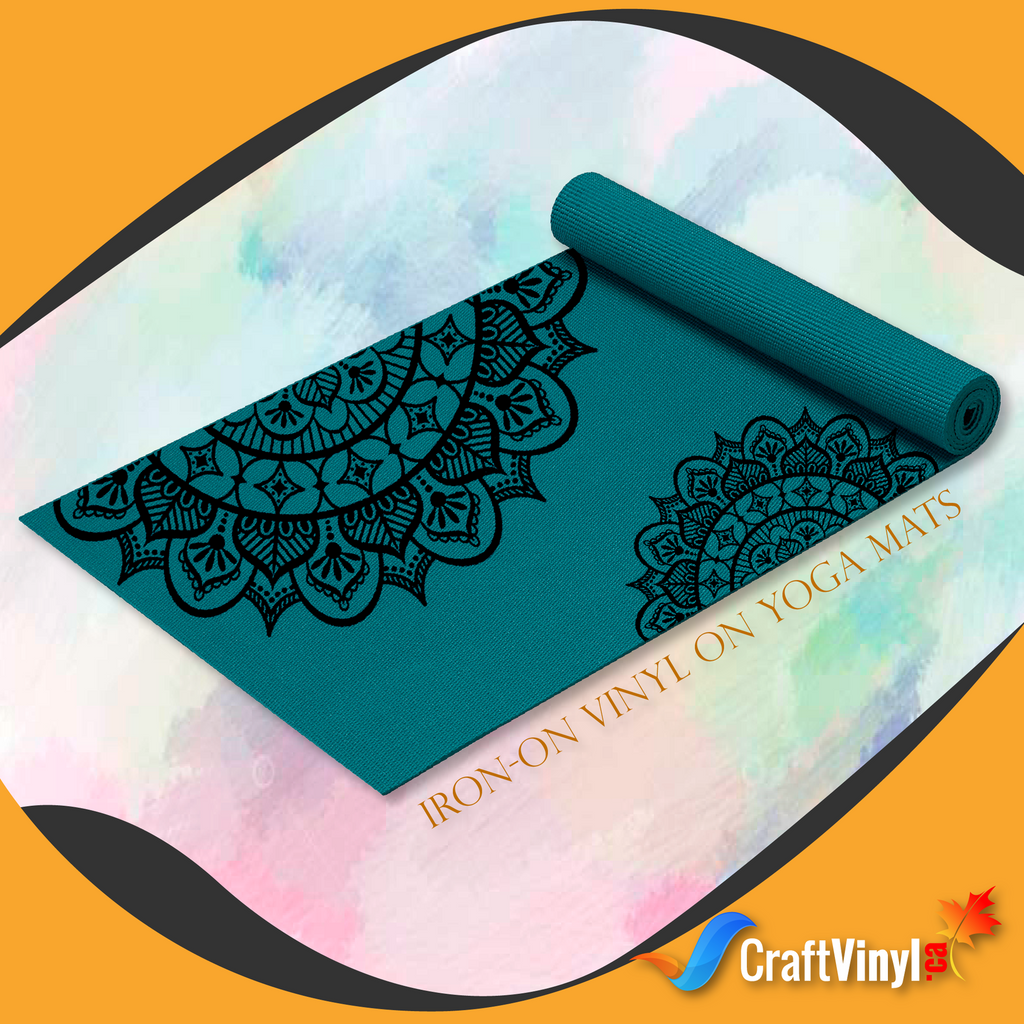 Iron-on Vinyl to Stamp Unique Imprints on Yoga Mats 
Did you know? 
There are two things and two exercises that people shifted to do for the past two years of being stuck and locked at home during quarantine. These activities include working out, for example, this Yoga, an exercise I am trying now which is good for the body, while craft making by DIY-ing as a form of workout for the mind. Since the pandemic happened, many of us started to appreciate these activities to be healthy and mentally fit, even in the space or backyard of our own homes.
Today, I can't wait to reveal to you what is our next and main itinerary! Earlier is just a warm-up, later are indeed fun and fabulous! I'm so glad you came and joined me not only to stretch out but to have a hands-on experience of how Yoga Work out feat crafting is. As you wonder what's with this… Not to spill the excitement, it has something to do with our DIY inspiration ----Iron-on Vinyl, a.k.a HTV, and YOGA MAT, the materials bound to grind with us. Trust me, your "super bods" will make their muscles useful!  
A New DIY Project to Work out a Sound Mind and Body
I bet this isn't your first time applying an HTV on a not-so-ordinary surface, and you got curious if it could work or not. To know the answer, there is no other way but to find out! Le-go! Trying Iron-on Vinyl to a surface that's not a fabric but a rubber-like material might give you a second thought, if possible.
Can we use Iron-on Vinyl to Decorate a Yoga Mat? 
Here's a breathtaking answer if we can apply Iron-on Vinyl or HTV to a yoga mat or not, and glad to tell you that it's still a YES. Why? How did it happen? 
A Yoga Mat's foamy structure, either made out of natural or primarily synthetic materials, doesn't hide the idea that it can be a very delicate and sensitive material to use. As far as successful DIY-ing using Iron-on vinyl is a concern, this might be something we don't feel confident about, mainly where heat could be applied or base material to be used where an HTV stick…. For it still requires heat for the application. 
 A great game-changer here if we are to use the tandem of these two materials for DIY-ing, the magic still relies on one of the application's key components- the amount of heat. This means that some types of HTV can adhere at a low temperature, making it favorable for a safe application to a foamy-high-heat sensitive medium like a yoga mat. So when decorating this material using HTV, we only use HTV that can adhere to a low temperature. Good thing we have a perfect companion to quickly and flexibly adjust to any circumstances like this. 
Why does Yoga Mat fit for decorating using HTV? 
Are you starting to believe 100% that a yoga mat can be fantastic for an HTV application? Oh, come on! I could still see doubts in your eyes! Well, it's not in my vocabulary to give up. Let me persuade your mind and heart by giving you the other reasons why a yoga mat fits the HTV application. 
To cut the boredom away and strike the magnet of laziness in doing your yoga routine, using HTV will bring your concentration back! Start meditating mantras or scripts for your yoga meditation by personally printing them on your workout mat… Perhaps, you may also want to publish your fitness vows to remind your body goals. Achieve!
To stick or not to stick? To scorch or not to scorch? When doing Yoga, two things are sure to burn out, your stress and your body fats! As for HTV and the yoga mat, you don't need to worry if heat will damage the look of your design. Just pick the HTV for low-temperature application, and you're free to stick any imprints you want. Oh! You don't have to worry much if the design will lift after some time since the HTV is applied at a low temperature. HTV and Yoga Mats' synthetic or rubber-like component cooperatively works when both heated. As a result, it gives an excellent adhesive bond to each other.  
Since many fitness centers are closed, people are into different forms of exercise and even online. Exercising at home and buying accessories for working out is at an all-time high. Apparel decorators created a brand new way to reach out to customers by customizing and making a fantastic designs for their products. According to gym-buds-at-home, they become eager to work out when their outfits down to their accessories or equipment are up for the good vibes! If you're seeing this as a good business opportunity, customizing using HTV is the fastest passport for you to use! Using HTV, you can keep your customers looking good, in a good mood, and feel good while exercising… 
Maybe these reasons could be enough for us not to fear and see bright possibilities when heat pressing HTV on a yoga mat. Getting into this craft, whether for creativity or business, nothing can stop the hype of personalizing and making items fancy beyond the hems of the traditional shirt using HTV!
Flex that Flexible Creativity: Discover the Best Iron-on Vinyl /HTV to Apply on Yoga Mat
Now, let's exercise the nerves in your ARTISTIC MINDS and flex your CREATIVE MUSCLES, for this is the right time to pick the best HTV for your Yoga Mat! How do you see the total look of your DIY Yoga Mat? Would you want it to have tweaks of flamboyant colors? Do you want it to have calm and sporty imprints on it? Or how about having a simple and minimalistic design that reflects your personality and the attitude of you working out? 
Whatever design is on your mind, that blueprint of your creative plan will come to reality and be beyond your expectation! Listed here are the HTV varieties compatible with your medium. Now have this for your viewing satisfaction! It will help you be ready for the action and the application process later on. 
The legendary Regular Heat Transfer Vinyl is one of the starter packs that will not let you run out of a wide shade of options. This HTV type is suitable for plain or unicolor yoga mats for it can provide a way out for your basic design needs. Regardless of the intricate or detailed text or outline of your design, solid imprints on the medium's surface are achievable with a top-quality style and durability. Regular HTV is not just your classic decorative material. Even if many crafters commonly use this, it is surprising can go with the current traditional designs or combinations of colors for a modern application.  
Let the innermost beauty of your yoga mat be out as it is decorated by different seasonal or abstract patterns given to you by Pattern Heat Transfer Vinyl! This specialized pre-printed HTV will be your ticket to go places as inner peace is immersed in your mind. Pattern HTV comes with various patterns and styles that suit any setting brought to you by your yoga meditation. Floral prints will be lovely for your workout mat if it takes you to a natural set of petals and large leaves. On the other hand, when it connects you to a scene full of animals or other creatures from nature, an animalistic print will get you more submerged in your concentration.
People who love Yoga at night to release muscle tension and acquire good sleep will enjoy every night of meditating. Reflective Heat Transfer Vinyl applied on your yoga mat will be your "reflector" in the dark! This HTV is not just excellent for its decorative purposes but more functional when safety is being talked about. The glass bead technology it contains lights up best in the darkest conditions and produces strong reflectability. This means it will be easy for others to notice other people exercising or doing Yoga in low-light areas. So whether you're in the middle of an open field or park where people enjoy evening workouts, you can now do a variety of yoga poses without worrying much about your safety to bicycles or people passing by. 
What color of aura do you think your body will radiate after a lovely yoga session? I guess you're thinking it deeply… Metallic Heat Transfer Vinyl will give you an artistic way of transmitting that positive vibes in you! Get those shows stopping shine displayed on your best workout buddy and see it stand out on its way to the crowd. Create a personalized design that glares along with its super soft foil look and rich, smooth finish. It is easy to weed and apply. You can even choose and play with any gorgeous colors that mirror a wonderful yoga day!
 Hit up that striking character to your design with Electric Heat Transfer Vinyl! Taking the look of your yoga mat to the next level will transmit and make a flow that electrifying aura to the whole atmosphere of your yoga session. Cut and stick some detailed imprints or logos easily on your workout accessory with Electric HTV. Producing a pearlescent metallic sheen that offers incredible texture never seen before from heat-applied materials, this doesn't fade quickly after application. Its long-lasting quality maintains dazzling colors and a brilliant finish. 
Sportflex Iron-on Vinyl 
Have the HTV that can synchronize to your workout's vigorous action and activeness? This stretchable HTV can guarantee its stretchiness on your yoga tops or mats. Sportflex Iron-on Vinyl can flexibly join you along the way in your stretching, handstands, and challenging yoga pose. This material can bend along with your medium without the design imprints distorting. It's lightweight and secures a solid bond to your surface. It is highly recommended for mediums for activewear, which is a quality that matches to use as a decorative material for workout accessories like a yoga mat.
See that! We can never go wrong with using Heat Transfer Vinyl! Successful and countless creations are waiting for us to make! Heat Transfer Vinyl is just a one-of-a-kind and mind-blowing material we can ever have in our crafter's toolbox. Again, HTV proves that it can adhere to whatever kind of surfaces you have, whether it's traditional t-shirts or unconventional base materials. 
The Heat Setting Application of HTV on Yoga Mat
In this section of our talk regarding HTV application on a yoga mat, we mentioned right before this type of material for DIY is quite different from our recent mediums. Based on what we know and what we can see, a yoga mat is a very heat-sensitive material. We can't apply much heat, which concerns the application of HTV on its surface. Isn't it? If the used amount of heat is inadequate in the application, there is more likely that the HTV will lift. So the problem is what we should do about this.  
First thing first, before you pick and attach the desired Iron-on vinyl for your project, initially check your Yoga mat. Why? Simply, it doesn't mean that most Yoga Mat is made from synthetic materials and comes with types of workout mats made from PVC, TPE, or PER; they will be durable to any elements that affect them. Unfortunately, like kryptonite which makes superman weak, as Yoga Mat, heat is its weakness. Knowing the heat-absorbing capacity of your yoga mat and its thickness for an HTV application will help your base material from the danger of burning. So I made a table below for you to estimate how much heat you must apply or avoid, and you may also check in advance what type of HTV you can use for your project!
MELTING POINT OF MATERIALS CONTAINING PVC, TPE, and PER
SYNTHETIC COMPONENT
MELTING POINT (°C / °F)
Polyvinyl Chloride (PVC)
(component contains by PVC type of Yoga Mat)
160°C-210°C
or
320°F - 410°F
Thermoplastic Elastomer (TPE) 
(component contains by TPE type of Yoga Mat)
171°C-221°C
or
340°F - 430°F
Polymer Environmental Resin (PER)
(component contains by PER type of Yoga Mat)
167°C-216°C
or
332°F - 420°F
Secondly, after knowing the possible quality and material of your chosen yoga mat for your DIY, we don't need to be restless on the heat application process. At least, at the first point, it already gives us a glimpse of what vinyl material we can use and how we could adjust to the temperature required both for the medium and the Iron-on Vinyl. 
As heat is where the success of transferring the design relies on, usually, HTV varieties can be applied at a temperature of 265°F to 320 °F or above (depending on the specific HTV type and medium type along with their capacity). For this project, a low temperature of 210 °F to 260°F is advisable if you use Heat Press Machine or Home Iron. The temperature might also increase from 280 °F to 300 ° F if one uses Easy Press Machine. In addition, to protect your design and your medium from excessive heat, crafters use "FLEXIBLE APPLICATION PAD ."It is made from silicon rubber, which is a heat covering sheet during design transfer. Upon using this, as you apply heat, you may adjust your base temperature a little higher so that the right amount of heat will be transmitted to your design. On the other hand, if you directly place heat on your design and medium without heat covering, use the low-temperature setting applicable for your HTV. 
How Long Should You Press HTV On Your Yoga Mat? 
 Aside from heat, pressing time is another crucial indicator of a successful HTV application. Like heat application, we can't go lacking in heat, or our HTV will not adhere. Meanwhile, we can't go beyond the amount of heat either our HTV will adhere to but will make our medium scorch, or either the HTV or the yoga mat will burn. 
For the length of pressing time, we should do presses that may range from 5 seconds (per design or text) or 10 to 20 seconds for one full imprint. And if you will use a flexible application pad for heat protection both for your design and yoga mat, the length of pressing time will also increase or double. If you want to make sure that all of your design adheres well, a repressed time of 10 to 15 seconds can be done. TAKE NOTE: MAKE SURE TO USE YOUR HEAT COVERING SHEET OR FLEXIBLE APPLICATION PAD.
HEAT SETTING APPLICATION 
FOR IRON-ON VINYL / HEAT TRANSFER VINYL
TO YOGA MAT
HTV TYPE
TEMPERATURE
TIME
PRESSURE
LOW HEAT TEMPERATURE SETTING
TEMPERATURE ACCORDING TO MANUFACTURER'S GUIDE
PRESSING TIME DIRECTLY TO THE HTV
PRESSING TIME WITH FLEXIBLE APPLICATION PAD/ HEAT PROTECTION SHEET
REPRESS TIME
Regular HTV
260°F/126°C
(300°F/ 148°C - Easy Press)
305°F/150°C
5 seconds to seconds each design
10 seconds (per design)
10 to 15 seconds
(at 280°F temperature)
Firm Pressure
Pattern HTV
260°F/ 126°C
305°F/150°C
10seconds 
20seconds 
10 seconds 
Medium Pressure
Reflective HTV
260°F/ 126°C
305°F/150°C
10 seconds to 12 seconds
20 seconds to 24 seconds
10 seconds 
Medium Pressure
Metallic HTV
210°F/ 98°C
305°F/150°C
10 seconds
20 seconds
10 seconds 
Medium Pressure
Electric HTV
210°F/ 98°C 
(300°F/ 126°C -EasyPress)
305°F/150°C
15 seconds
30 seconds
10 seconds 
Medium Pressure
Sportflex Iron-On Vinyl
210°F/ 98°C
305°F/150°C
10 seconds
20 seconds
10 seconds 
Firm Pressure
Good or Bad Press? A Quality Check to Scorch Free Finished Product
We are almost on our way down! Heat pressing the design you made is the most exciting and the most awaited moment for every crafter. Who isn't eager to see the final results after doing all the cutting and weeding? I'm confident that if you answer this question by raising your hands, you'll be the first to wave your hands up in the air. However, is it still possible for you to hold yourself for bits of seconds? It's not that things are going too quickly, but we can't go over and end up having failed to finish the product.
To complete all you need to know for this project, knowing the indications of you making good heat presses on your design and medium will help you get away from a bad hair day. There are only two of the tips you must add to your list! 
Tip #1: You'll know that you did a great job on heat pressing HTV on your yoga mat when the texture of the base material is visibly seen or coming through the vinyl material. It means that the designs adhere well once on the medium's surface! And when you remove the HTV's plastic backing, it can be removed safely without stressing the foamy structure of the yoga mat. 
Tip#2: Once you make the HTV application on a yoga mat, always check for the "signs of bad pressing" Your eyes need to be watchful for any marks of heat! When you see residues of clear glue coming out around the ends of the HTV's carrier sheet, it can be visibly mean of over pressing, resulting in an over amount of heat applied to your surface. 
"Now…Take a slow and deep inhale….Freely let out a complete exhale... Feel the connection between your body, soul, and nature… Relax your hands and fingers…"
What a great way to end our crafting session with a yoga meditation! It has been a good day! Now gone are the thoughts that remind us of the vanishing of precious times where we can do things without limitation. With all we have been through this pandemic, no single person has been exempted from pausing and halting living normally… Indeed, "there's good in every bad"… Not all misfortunes in every situation in this crisis are up for misery if we search for it. 
Today's Yoga and crafting session slows us down to focus on things we haven't tried before. This excellent inspiration for a DIY project has exercised our inner heart for crafting! See how our artsy minds held us to go places beyond our imagination.
Learn more Vinyl tips and tricks and share your crafting adventures with us. Please visit us on our pages.
Social Media Accounts:
 FB: CraftVinyl.ca
 IG: CraftVinyl.ca
 TikTok: craftvinyl.ca
 For your vinyl crafting needs, please check our website at www.craftvinyl.ca. We offer different Adhesive and Heat Transfer Vinyl, perfect for your next project.
For other vinyl crafting articles, please click the links below:
APPLICATION OF HEAT TRANSFER VINYL TO LEATHER