Valentine's Day Ideas with HTV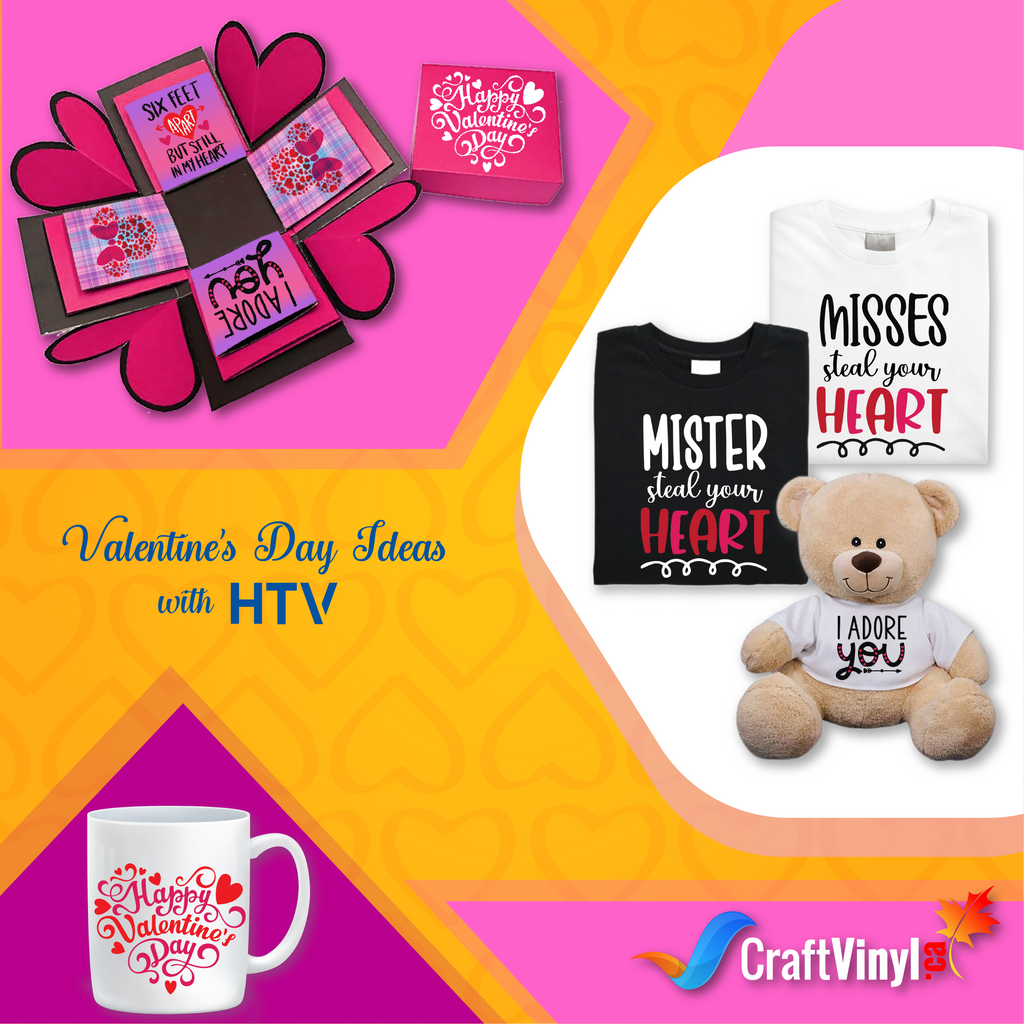 A Heart to Art V-day Concepts using HTV as Craft Material
"Starry night, stars are bright. Stars of this universe are aligned tonight. Hear this longing as your light lit up and make this wish come true with all your might…!" Open your eyes, my dear….Oh! I know... I startled you a bit but relax…I won't bite you. I hear your heart chantingly calling out a Valentine's Day elf through your valentine's wish… And here I am! I am your V-day elf sent by the one and only Valentine's Day master, Cherubim.
Welcome to the HeARTY Factory of the mystic Love Landia! --- A place where "V-wishes" are made to materialize, whole "heART" and delivered with "love." Unexpectedly, the intense power of passion brought you here.
An enchanting tour is set for you to see magical ideas for creating a delightful Valentine's Day project. With that, just for a night, we'll let you experience being a V-day elf making heart's day mission accomplished, and making a match in heaven! Get ready to unfold this journey…
Whimsically Crafty: Vinyl Materials, A Heartful DIY Ingredients
Whether you're Valentino or Valentina is worthy of a thoughtful present. Buying gifts from the best stores we know are good, but even more adorable is giving a gift that any other expensive thing could not beat because it is woven with E.F.F.O.R.T and handcrafted with L.O.V.E. 
You, as an on-the-job Valentine's Day elf for this session, we'll introduce you first to the most beguiling crafting ingredient here in HeARTY Factory ---- The Heat Transfer Vinyl. Take note; you don't have to be bothered and wonder if using this material requires pro or intermediate skills, for even a newbie crafter can do this. This material is here to help us create the loveliest projects we can ever make. 
Let me give you a walk of it to discover why you must include HTV in your toolbox and why we should use this as our primary material. 
1. Your customized gift to be made using HTV this Heart's Day celebration is best to represent your utmost, thoughtful gesture and show how you love the people around you.  
2. Using your favorite HTV, you can uniquely produce cool and spur-to-action ideas of different patterns, textures, and finishes. 
  3. Items to make using vinyl materials are not limited; there are endless options from fabrics, cards, glass, and accessories to stuffed toys. Seasonal projects like these are up for longevity and durability! Perfect remembrance for memories to last for a lifetime!
  4. With HTV, we can personalize just about anything under the sun! Any design imprints in any theme, young and old, will dearly love to see the printed design of its sugary sweet endearment! Oh! You can't wait to hear your lovey-dovey say, "Honey, My love... You're sooo…sweeeeet!"
Look at you! Your heart titters as it looks forward to a Valentine's Day full of compassion and affection! Whether you mean it or not, I can feel you can't get enough of the romantic picture inside your head.
A Great Steal of Heart: The Best Five HeARTISTIC DIY V-Day Projects 
It might be challenging to sleep at night, especially if you want to surprise at the same time impress your love with a memorable valentine's treat. Well, be amazed and keep your sight gleaming with the excitement of the surprises you can apply after this close encounter with HTV! I'm sure you think keenly of making it unforgettable and one-of-a-kind.
V-day Project #1 Explosion Memory Box 
A burst of an idea will turn the hands of the clock back in time the romance ignites in your relationship! Couples who have been together for ages. People who just sealed their connection with an official label, it isn't impossible to travel back with the best feeling you ever have! An Exploding Memory Box will make it more worthy of reminiscing all the "first time"… The first time you felt that deep feeling in your heart. The first time your eyes meet. Your first date and so much more!
Exploding Memory Box? What is it?   
An Exploding Memory Box can make an irking greeting card not just appealing but more interactive and thought-provoking. It's a craft where various flavors of creativity such as memory keeping, scrapbooking, journaling, and card making are combined. 
At first sight, it's like an origami box made of pieces and sheets of cardstock folded up with a lid on its top, making it look similar to an ordinary box. When the cover is off, the leaves of the decorated layers will pop up, revealing what's inside of it and the most heart-melting message it contains. Behind this has an explosive surprise found within each layer and can be embellished using different designs, memorable photos, doodles, notes, or any motif you like.
Creating Exploding Memory Box with HTV Twist
Did you know? 
DIY-ing Exploding Memory Box isn't complicated to construct! Use your Cricut Machine to cut in an instant! While for the coverings, linings, and cute accents of design, HTV can give you different patterns, textures, and finishes that fit your project! Aside from cutting out the box manually, you can download a free template. 
 Materials: 
Free SVG cut file/ Template of Exploding Box

Cardstock (different colors depending on the color combination and the thickness you want)

Glue

Design paper

Scoring Stylus

Cricut Cutting Machine

Heat Press, Easy Press Mini, or Iron
General Steps in Applying HTV on Exploding Heart Memory Box
 Step 1: Cutting of the Cardstock with Cutting Machine
 Using the free SVG File, on the design space, select all the object in the file that needs an alteration of the score to make it visibly seen. 

Place the scoring stylus before cutting, and then load the cardstock on the cutting mat. 
 Step 2: Assemble the layers of Exploding Box
 Once you cut all the sections of the exploding box, start assembling by folding the pieces that contain score lines. 

If all needed sections are folded, glue the base, and you may add additional layers if you want to. Make sure to dry the glue. 
 Step 3: Designing the Inner layers 
In every flap of the exploding box's layer, you can write notes and add calligraphy and photos. 

If you want heart shapes or romantic text to be sparkly, glittering, embossed, or in a 3d dimension, you may attach HTV using Heat Press, Easy Press mini, or an Iron. (Note: Just follow the same process of design creation, cutting, weeding, and design transferring with your chosen HTV). 

Add mini-envelopes/pockets in other vacant flaps to tuck in other secret surprises inside your exploding box. 
 Step 4: Assemble the inner box and its lids. 
 The inner box will be the centerpiece of the exploding box. Form the cardstock into a mini-box. Add design and accents. 

Fill in the box with sweet treats or a surprise gift. 
 Step 5: Assemble the Main Exploding Box
 Place the inner box you recently did at the center of the flaps of the inner layer. 

Start folding the flaps up as it forms the main box shape. Place the lid on top to lock all the flaps in each corner of the box. 

For the final touch, wrap a red ribbon to give a gift box-like appearance. 
V-day Project #2: For His or Her, Matchy-Matchy Couple's Tee for a Two
On this Valentine's Day, don't just have a peaceful candlelight dinner date with your babe; instead, go out and enjoy a lovely bonding day while having an H.H.W.W. moment --- HOLDING HANDS WHILE WALKING together… Therefore a MATCHY-MATCHY FEVER IS ON!
A pair of twinning couple's shirts with HTV will share the ecstatic feeling of your relationship through cool, cute, stylistic, or eye-catching designs on your image imprint. A minimalist tee with a design like the two of you become the main target of cupid's bow and arrow will surely remind your love-struck and love at first sight memory as it hit each other's heart. A couple's shirt that shouts and boasts to the whole world how lucky you are to be your partner's love of his/her life is a nice proud moment, or have a hilariously HTV Valentine's Day shirt where your girlfriend is the "real boss." Try to imagine this one on your design imprint.
This idea might be widespread, but I don't think it will be old fashion in concept or style. Trust me; this won't be a boring shirt to wear on your date because HEAT TRANSFER VINYL gives justice to your great plan!
Creating Matchy-Matchy Couple's Tee
 Materials: 
Cotton Tees

HTV

Heat Press Machine or Iron

Parchment Paper or Teflon Sheet
 General Steps in Applying HTV on Matchy-Matchy Couple's Tee
Step 1: Ready your design using design software. Measure the design size proportional to the medium's surface. 
Step 2: Flip the design to ensure the proper positioning when cutting, weeding, and even attaching it to your surface. 
Step 3: Cut your design using a cutting machine, carrier sheet side up. 
Step 4: Weed and remove excess HTV. 
 Step 5: Pre-press the shirts for about 5 to 10 seconds to remove the moisture and eradicate wrinkles on your surface. Pre-pressing also helps create an initial bond to your surface, tool, and HTV. 
Step 6: Apply heat and pressure using Heat Press or Iron according to the heat settings needed by your HTV. Use parchment paper to protect your design. 
 Step 7: If some design did not adhere well, repress for additional 15 seconds.
 Step 8: Peel the Carrier Sheet either hot or cold (depending on the HTV used). 
 V-day Project #3: Operation!... Make a Date Romantic with HTV-inspired Decorations
Genuine love doesn't need "whys" for both couples to express it. Every day with your loved ones is an opportunity to make them feel and cherish how much you love them. However, since our world is fast phasing, it's undeniable there are times that workloads snatch some of our precious time, and love sparks become weak. This Valentine's Day, it's high time to rekindle the fire!
An "Uninterrupted-Unlimited-Me-Time" will give you a break from what's keeping you busy and guarantee to refocus your world on him or her. On the night of Heart's day, convert your backyard into an outdoor but homey venue where nobody can interrupt you. Design your backyard trees using warm lighting, and nicely HTV Valentine's Day banners hang across another tree… A rose petal pathway with candlelight kerb will give a heart-pounding walk of her going to you or him going to you. Then, while walking, let your honey read a romantic message on a V-day Chalkboard Sign. Lay a blanket on the grass with pillows on the side and your cooked sumptuous food. Wow---- What an exceptional event. It's a "date" not only to save on your calendar…then, but again and again to keep in your heart and your mind!
Creating HTV Inspired Decorations: V-day Banners and Chalkboard Sign
Materials: 
 Banner and Chalkboard Supplies
Cardstock (for the Adoption Banner) 

Standing Chalkboard (for the Chalkboard Sign) 

HTV

Easy Press or Iron

Non-stick Cover Sheet

Braided Ropes for Banner 
 General Steps in Applying HTV V-day Adoption Banner and V-day Chalkboard Sign
 Step 1: Prepare all the materials needed to be designed using software and the designs needed to cut on the cutting machine. 
For the Adoption Banner: 
To make the cardstock in a banner that requires no cutting manually, using a free downloadable template with a 5" x 7 "size in each banner (can be resized according to your preference), load and cut it on your Cutting Machine. After, cut your selected HTV according to the design template you'll use. Always MIRROR. 
 For the Chalkboard Design:
Make your design or use a ready-made one available on your computer. 

When cutting the HTV, even if it's text or an image, make sure to mirror it.  
Step 2: Weed the excess HTV. 
Step 3: Apply heat to transfer the design, and after, patiently wait for the right time to peel off the carrier sheet. 
For the Adoption Banner: 
Line up your cardstock along with your HTV. 

You may use the heat tool available in your working area in heat pressing. Start pressing in low heat for about 290°F to 300°F in 30 seconds for the front face and 15 seconds on the back. Note that the settings depend on the need of your HTV and medium.  

Peel the carrier sheet carefully. Place some heavy books while the finished design cools down to prevent the cardstock from curling. 

Once all are done, assemble all the banners using the string or ropes. 
For the Chalkboard: 
After weeding the design, place text or image to be printed on the chalkboard to its designated position and cover with parchment paper. 

Press each section for about 315°F, 15 to 30 seconds in time with a medium to firm pressure. 

Check if all the designs adhere fully. If not, recover the vinyl with another parchment paper and repress for another 15 seconds. 

Peel off the carrier sheet carefully. 
V-day Project #4: A Cupful of Affection
Don't miss out on the chance to sculpt the brightest smile on your sweetheart's lips! Wake up your king or queen with a shower of kisses. Take the direct route to a man or woman's heart via good food through his or her stomach.
Giving breakfast in on bed on a beautiful morning of February 14 will deliver a love spread in the air. For a secret move that will win her, express how much you value your love by telling "I Heart You" --- three words full of love caffeine using the personalized coffee mug you prepare for your loved ones. Let your chosen HTV do the writings on the mug design be vividly seen and snatch your honey's eyes direct on that sweet message. See, every drink of hot coffee or hot chocolate gives a sip of love at sunrise!
Creating an HTV coffee mug for A Valentine's full of affection
Materials: 
Coffee Mug 

Heat tools: Mug Press, Heat Press, Iron, or Heat Gun 

HTV

Non-Stick Cover Sheet
General Steps in Applying HTV on a Coffee Mug
Step 1: To ensure the mug is free from dirt or fingerprints, clean it with rubbing alcohol. Avoid touching the cup after its cleansing. 
 Step 2: Layout your design using designing software. 
 Step 3: Mirror your design and cut it using the cutting machine. 
 Step 4: When applying heat on the design and medium, follow the settings depending on the heat tool type and the HTV you use. Use a protective covering to secure the design from excessive heat. 
HEAT TOOL
TEMPERATURE, TIME, PRESSURE
HEAT GUN
275°F to 325 ° F,
10 seconds (per section) ,
IRON
400°F to 425 °F,
10 to 15 second(per section)s,
Firm Pressure
EASY PRESS
380° F – 400 ° F,
10 to 15 seconds (per section),
Firm Pressure
HEAT PRESS OR MUG PRESS
350 °F to 400 °F,
150 to 210 seconds
Medium to Firm Pressure
Settings applied may vary depending on the HTV used. Always check the manufacturer's instruction.
Step 5: Check if the design all adhere, if not repress.
Step 6: Let the mug cool down for about 20 seconds, then peel the carrier sheet off. 
V-day Project #5: The Cuddly Cutie Teddy Bear 
Valentine's Day is a season where everyone can love and be loved! Though having a companion for this day isn't a requirement to be happy. But, what if you are waiting and looking for the right time to say things that have been in your heart for a long time? 
Heart's Day is the best day to confess your feelings or propose to the one and the only apple of your eyes. If you're thinking about making your big move and want to get her "YES" in a sure-shot chance… Don't hold back, for you can bring flowers, chocolates, and your reinforcement team! Bring with you the boys--- the Cuddly Cutie Bears with an HTV imprint asking her, "Will you be my Honey?" or "Will you be my forever?" Who can say no to a token of love added with your crafty touch? It's irresistible!
Creating Cuddly Cutie Teddy Bears with HTV Imprint 
Materials: 
Teddy Bears or Plush Animal Stuff Toy

HTV 

Heat Press, Iron, or Easy Press Machine

Teflon Sheet

Cutting machine and scissors
General Steps in Applying HTV on a Teddy Bear/ Plush Animal Stuff Toys
Step 1: Create or use a pre-design file in your computer's software.
Step 2: Cut the design using a cutting machine and don't forget to apply the GOLDEN RULE: ALWAYS MIRROR YOUR DESIGN. 
 Step 3: Trim the HTV and remove all the excess by weeding it.
 Step 4: Pre-heat the teddy bear for a few seconds with a Teflon sheet to remove the moisture and make it as flat as possible. By the way, be sure the head of it is away from any heating element. 
 Step 5: Layout your design on Teddy's belly or chest with the carrier sheet face side up. 
 Step 6: Apply heat using your heat tool for about 15 to 20 seconds on a medium to firm pressure with a temperature of about 320 °F. The temperature depends on the heat setting of the HTV used. Always use a Teflon sheet to protect your design and teddy from excessive heat. 
 Step 7: Peel warm or cold (The settings vary depending on the HTV used) 
 Step 8: Re-fluff the Teddy Bear to back its shape. 
Your on-the-job training as a V-day elf finally ends here! Did you enjoy your magical experience here? As much as we want you to stay here… It's about time for you to return to your world, my dear, or you'll be forever locked up here. You don't have to be sad either, for the true essence of celebrating love awaits you in your real world… Valentine's Day Master Cherubim, and I hope you'll be able to see and use the answers you found here for your V-day wish! We will see each other again in the coming and more Valentine's Day to come.
Ouch! Did you see me fall on the couch? Are you watching me sleeping, my friend? What a wrong time to see me in this scene! I didn't notice I fell asleep here while thinking about the best ideas for this coming Heart's day.
What? Was I talking while I was sleeping? OHHH! Did I snore so loud too? Ugghhh… I have my dreams… Dreams that as if so real…. I'm fully awake… Come on, let's plan now! Oh! You too; let's start preparing the best Valentine's Day ever!
Learn more Vinyl tips and tricks and share your crafting adventures with us. Please visit us on our pages.
Social Media Accounts:
FB: CraftVinyl.ca
IG: CraftVinyl.ca
TikTok: craftvinyl.ca
For your vinyl crafting needs, please check our website at www.craftvinyl.ca. We offer different Adhesive and Heat Transfer Vinyl, perfect for your next project.
Other vinyl crafting ideas you might want to try for your next project:
HOW TO MAKE A LIGHT BOX WITH ADHESIVE VINYL
A BLAST FROM THE UNEXPLORED SUBLIMATION ON GLITTER HTV