Stretch Heat Transfer Vinyl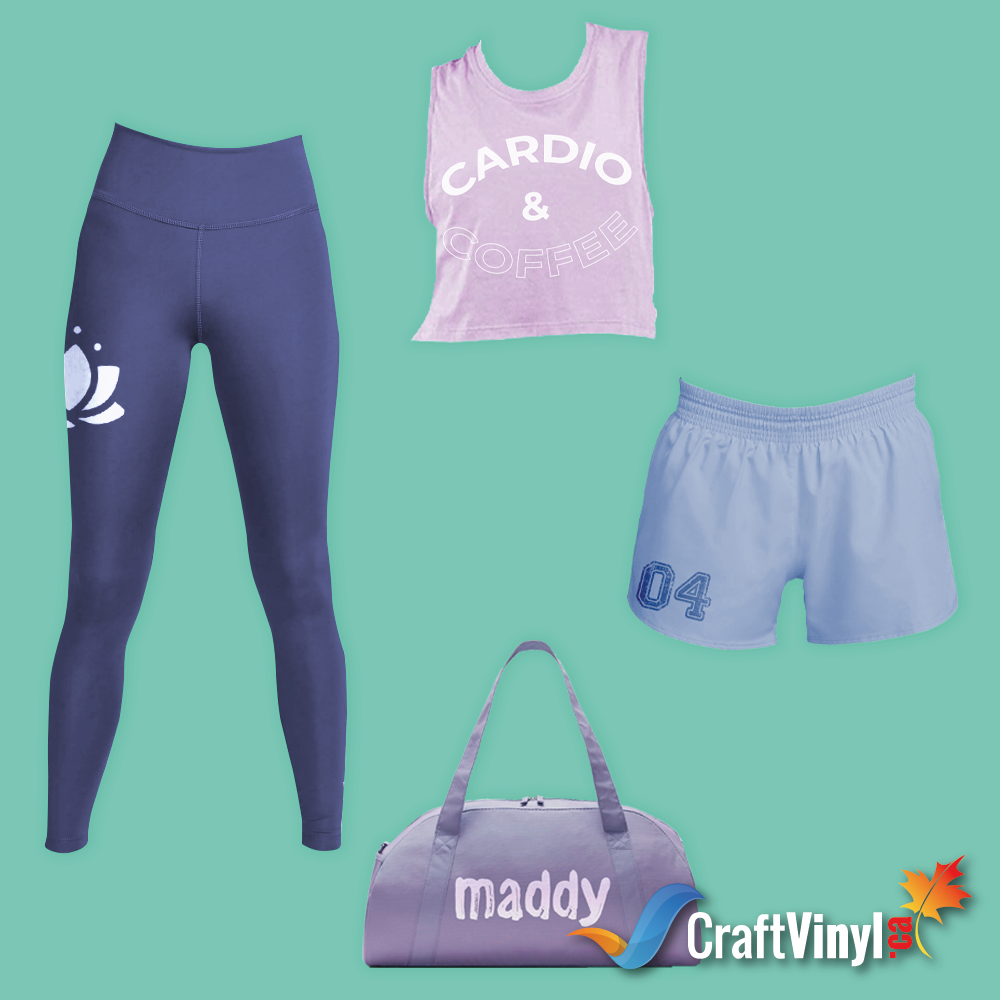 Stretch Heat Transfer Vinyl:
Aesthetically Athleisure for Your Performance Wear
Scientific studies attested that those human beings who are active with their calisthenics are more likely to store huge proactivity and confidence in their life!      A one… A two… A three...A four…And a five... C'mon everybody! Shake it to the left! Shake it to the right! Hi there, my super friends! What are you waiting for? Let's get exercising! 
Woman--awwhh? Huh? Buddy! This day is so beautiful and I get contagious energy to stretch my body but you? Baggy clothes... old oversize hoodies with imprints fading away… Wide jogging pants... In a lite ride of Crocs… It seems to me you look a bit under the weather. Oh! Don't tell me you're up for an extension of the pajama party. I was kidding! Well, I can't hide the truth; I could tell that the only thing lacking in your look right now is a pillow signifying you've got no plans to get up in your bed! 
Hey, yeah! I thought we'll be working out. Then why like this? Uggghh… Certainly, this kind of get-up won't even give you a drop of inspiration for you to move. 
Charging Up! The New Power of Your Performance Wear
So before achieving the so-called "body goals" of yours… We need to power up first the energy of your performance wear! If your old sweats and workout clothes are outdated in portraying athleticism, aestheticism, and leisure, losing their coordination and charge to your goal is a big NO for your motivation to work out.
Gladly there is a good "power source" available for you to charge up and remove all the lousiness in your guise! Pep up to the most stimulating imprint material on every sportswear you wear! The Stretch Heat Transfer Vinyl is ready to bring the dynamic transformation to you and everybody's outfit! This design element will make every performance wear into good gear that screams out for being totality ready to the litheness of one's gym day! 
The Stretch Heat Transfer Vinyl: Excellent Vinyl for Workout Apparel
Flaunt those significant cuts of biceps and packs of abs with these workout clothes' sporty design stretches while the body flexes! 
Stretch Heat Transfer Vinyl is a heat transfer material that can be lined up and compete with those most-picked materials for designing a customized outfit. It may look straightforward, but it's a remarkable material. Well, not to boast, it possesses an ultimate function and one that can jive with your performance along with one's workout endurance. It's thin, soft, and lightweight, making it qualified to be applied on any surface. Moreover, Stretch HTV becomes unique by showing off its super stretch-ability power when affixed to stretchable garments like sports or active wear. 
The Reason Why Stretch HTV is the Best Vinyl for Workout Apparel
When fitness finally meets fashion, this will make you and everyone's "super buds" shine even more! So whether you're styling personally for yourself or thinking and doing customization of sportswear cross beyond of hobby, achieving stylish outfit with a modish imprint are just a few reasons why this HTV type is best to be affixed on every active wear. Later after knowing the other reasons, you'll be amazed without noticing you are styling a customized outfit for your clients!  
Below is why a Stretch Heat Transfer Vinyl is best for workout apparel. 
1. Polyurehane
Having a Polyurethane (PU) in its composition as a decorative material, Stretch Heat Transfer Vinyl is a material that guarantees strength and durability while promising super flexibility on your stretchable base materials. In one second tack, you can quickly attach this HTV without a sweat!
2. CPSIA certification
Because Stretch Heat Transfer Vinyl passed quality checks and verification for usage safety, it gained the CPSIA certification. With that, it is enough to say that it is a safe material to customize workout apparel for adults and even for kids to wear for exercise. 
3. 

Proven and tested

You don't need to doubt, question, and think twice if Stretch Heat Transfer Vinyl is the right vinyl for your activewear or other projects you'll do in the future. Proven and tested, it can execute what other HDTVs could offer and what others do to a variety of substrates. Apart from stretchy fabrics, we can apply it to different fabric types like 100% cotton, 100% Polyester, Poly/cotton Blends, Lycra/Spandex, and Leather. See it can almost perform all the work without difficulty. 
4. Light and handy 
Stretch Heat Transfer Vinyl offers stylishness without being a burden to the comfort of the one who wears the outfit. Compared to other HTVs, when affixed to a base material, others give extra weight making one feel uncomfortable or troublesome. Of all the vinyl materials, Stretch HTV is the lightest and one of the handiest in the family of heat transfer vinyl. 
5. Mix and match
Stretch HTV has a variety of colors available, and it does have an excellent matte material finish. This only means, it's a type of Heat Transfer Vinyl that can be mixed and matched with other HTVs for layering, offering a variety of styles and maintaining evenness or flat finish. As a result, when it has fully adhered, it can be seen on the surface as if it has become part of the substrate. 
6. Easy to weed
If you love intricate and detailed designs for your text or logo, Stretch Heat Transfer Vinyl can give you what you need for your imprint. Its thinness gives weeding an easy process and a breeze.  
7.  Compatible with most cutter
Despite Stretch HTV being soft and super flexible, it doesn't get gooey when being cut in a cutting machine. Surprisingly, we can compatibly cut it to all or most cutting devices. 
8. Easy to Transfer
Ease of Transfer is never a problem for Stretch HTV. Its pressure-sensitive backing is swiftly activated when the correct heat settings have been applied. 
9. Long lasting
With the assurance of endurance of an excellent cling to the fabric due to the correct setting application, Stretch HTV can last along with the life span of the substrate. It does not peel nor chip off when stretched to the specific movement performed by the one who wears it. 
10. Good for a customization business
Since many people get hooked on doing a home workout or returning to the gym, it is saleable or gives a good start for a customization business focusing on workout apparel. 
 

The Classification where Stretch HTV belongs
The constant evolution and necessity to satisfy every crafter's specific needs in crafting gives way to the birth of more generations of Heat Transfer Vinyl. In addition, we can say the primary purpose why a certain HTV exists, why the family of this craft material continues to reproduce; and why every member in this craft family is specifically categorized is to respond to the continuous development of trends in customization.   
In this situation, Stretch Heat Transfer Vinyl is one of the so special and distinct HTV types that don't place a far border to the lineage of its family tree. Like other vinyl materials, they gain their classification utilizing what type of material they are and what function they can do in design transferring. And speaking of design creation and being an HTV material, this is where Stretch HTV belongs. 
Stretch Heat Transfer Vinyl belongs to the classification of REGULAR HEAT TRANSFER VINYL. This classification of Heat Transfer Vinyl is commonly used for standard or regular application of designs to wide and most used base materials of a specific piece.
Two reasons why it belongs to this category:
The first reason is in terms of material characteristics. Stretch HTV possesses characteristics of a thin and smooth or matte finish that is easy to adhere to, which is a usual physical quality of a regular HTV. Secondly, Stretch HTV being a regular HTV, possesses a functional quality as a base layer in design transfer to HTV layering. Its physical attributes can serve as a "constant" or base layer to give security; provide a flat and even surface to other layerable vinyl. It can be placed as a top layer to resist high heat temperature. 
Furthermore, knowing this kind of classification not only to Stretch HTV will help us know an HTVs specific role and enables us to understand what care we could do in the adhesion process. 
The Customized Projects we can do using Stretch Heat Transfer Vinyl
As we keep saying, don't underestimate a Stretch Heat Transfer Vinyl. Again, it may be thin and soft on its appearance but never what it can do. Well, you'll never know; right now, where you are standing, it might blow you up because its performance is as firm as your toned muscles and as sharp as your bodily reflexes! DIY-ing and customization with Stretch HTV; trust me, it can take you far more than you expected! 
What are the items you can personalize with Stretch HTV? Get your notes and pens, for I'll give you the list of what you can do! 
Customizable Active Wear Items: 
Wristband

Swimsuit or Trunks

Tank Tops

Leggings

Running Vest

Dri-fit Short Sleeve Shirts

Training Shirts (With or Without Sleeves

Compression Shirt (Long Sleeve)

Workout Tank Top

Training Tights / Workout Leggings

Compression Shorts

Cross Trainer Shorts

Ankle or Training Socks

Track Jackets/ Training Hoodies

Technical Shirt

Sports headband

Workout Arm Sleeves

Gym Bag

Jersey

Jogging Pants
Customizable Non-Active Wear Items: 
Regular Shirt (100% cotton, 100% Polyester, Poly/cotton Blends, Lycra/Spandex, and Leather)

Flannel

Blankets

Towel

Onesies

Faux Leather Bag or Wallet

Shoes

Pillow Cases

Aprons

Neoprene

Custom Hats

Custom Gloves
 Discover More Great Articles On Crafting
Do you want to try other Heat Transfer Vinyl? Please click the links below:
WHAT THE CRAFT ITS THE PUFFTASTIC-PUFF HEAT TRANSFER VINYL
DIFFERENT TYPES OF HEAT TRANSFER VINYL
The Comprehensive Guide to using Stretch Heat Transfer Vinyl
After we long talk about this HTV material, I'm sure you are expecting more! I can now see your hands are heating up to work with it for more enlivening action! Staying here in this section means this HTV makes you more curious and gets you more intrigued with it. 
If Stretch Heat Transfer Vinyl had made you change your mind and convinced you well, I tell you, you didn't make a wrong decision, and I bet you won't regret spending this time to get more acquainted with this HTV. This comprehensive guide on how to use Stretch HTV will help you to jive fully into one rhythm of a creative workout until you arrive at a satisfying momentum--- creating your own highly stylized workout clothes using Stretch HTV!
The Heat Setting Guide for Stretch Heat Transfer Vinyl
Temperature, pressure, and time are the three elements present when you are working out on your crafting table. As always, these heat transfer elements in design customization are unavoidable and impossible for your ways not to cross. Since successful adhesion depends on this, it is better for you to exercise with them. In return, you will master the perfect recipe for affixing a Stretch Heat Transfer Vinyl in any customized workout apparel you'll be making. 
The Heat Setting Chart of Stretch Heat Transfer Vinyl to Variety of Heat Application Tools
HEAT APPLICATION TOOLS
TEMPERATURE
TIME
PRESSURE
PEEL
Heat Press Machine
305 °F or 105°C
10 seconds to 15 Seconds
Repress time: 
3 seconds to 5 seconds
Medium Pressure
Hot or Cold Peel
Iron
Heat volume of the iron is between Cotton and Linen
10 seconds to 15 Seconds
Repress time: 5 seconds to 10 seconds
Medium or Firm Pressure
Hot or Cold Peel
Easy Press Machine
335 °F or 168°C
15 seconds to 20 seconds
Repress time: 5 seconds to 10 seconds
Medium Pressure
Hot or Cold Peel
The Cut Setting for Easy Weed Stretch
If in case you suddenly decide to use Stretch Heat Transfer Vinyl in your crafting, everything will be readily available for you. Here in this blog, it would be best if you didn't fall short of information and concrete details. Aside from the heat setting chart, we are also giving you away this cut setting chart as a bonus. See now how flexible Stretch HTV is; you can cut it to various cutting machines.
FULL CUT SETTING GUIDE FOR EASY WEED STRETCH HTV
Silhouette Easyweed Stretch Cut Settings
Blade: Standard, 3
Material: Heat Transfer, Smooth
Speed: 8
Force: 6
Cricut Easyweed Stretch Cut Settings
Blade: Standard
Settings: Iron
Graphtec Easyweed Stretch Cut Settings
Blade: 45°
Gram Force: 9 - 10
Tool: CB09U+0
Speed: 30cm/s
MH, CS2, LP 3 Easyweed Stretch Cut Settings
Blade: 45° / 60 °
Gram Force: 80 - 85
Speed: 300 mm/s
*Blade Advancing Varies
Titan 1 & 2 Easyweed Stretch Cut Settings
Blade: 45° / 60 °
Gram Force: 60 - 65
Speed: 300 mm/s
*Blade Advancing Varies
Roland GS/GX - 24 Easyweed Stretch Cut Settings
Blade: 45°
Gram Force: 60 – 70
Offset: 250
Speed: 30cm/s
Brother Scan N Cut Easyweed Stretch Cut Settings
Blade: Standard, 2
Cut Speed: 1
Cut Pressure: 1
Please note: The cut settings of this heat transfer vinyl may differ depending on the blade condition and age of your cutting machine. You may perform a cut test before undergoing your HTV in the process of cutting. 
Steps in applying Stretch Heat Transfer Vinyl in Workout Apparel
Are you getting more thrilled at the idea of personally applying Stretch Heat Transfer Vinyl to your customized project? Indeed you should have to! Perhaps if you are thinking of making your line of products, then much better because that could be a good source of profit for you! Nothing more is exciting when you finally get hands-on experience of making your piece of performance wear and flaunt it the next time you visit the gym.
By using these general steps to applying Stretch HTV, discover how breezy it is to apply on your flexible substrates without a hassle! You deserve to personally experience the convenience of design transferring using this vinyl material. I can't wait to see you working out on your styled outfit with Stretch Heat Transfer Vinyl!
The Steps:
 1

: Preparation and Choosing of Design Layout
On your computer, start doing your layout design using design software. 

Another option to take if you will not create your design, you can download a cut file for free or by purchasing. 

You can choose or do text or logo designs suited to the type of workout apparel for your customized project. 

Once you are finally done choosing or laying out, make all the necessary adjustments, from setting up the size to the color contrast of your design. 

 
2: Mirroring or "Flipping" your design.
One of the number one golden rules before cutting or adhesion of the HTV material is never to forget to mirror your design. For such reason, this will help you to cut your imprint on the right side. 

When doing this on your computer using the "invert image" option, you will notice that the text or your layout will appear backward on your screen. 
3: Cutting of the design layout

 
Make sure to position your HTV properly before loading and starting cutting. 

Remember to properly cut the design by consistently placing the carrier sheet frosted side facing the cutting mat down while the adhesive side is facing upward. '

You may check on the cut setting chart the proper setup of the HTV and apply it to the cutting machine available for you to use in your work room.
 

4: Weeding of the HTV
By using the weeding tool, you remove all of the unnecessary and excess HTV that is not part of your design. 
 

5: Preheat the machine and Pre-press the Substrate. 
Before you fully affixed the Stretch Heat Transfer Vinyl, preheat the machine and pre-press the base material where the design is to be placed. 

Preheating the heat application tool gradually helps you ready the initial bonding with your materials. On the other hand, pre-pressing the substrate lets, you do flawless adhesion. Pre-pressing can free your surface from moisture, creases, and unnecessary folds that could affect the adhesion process. 
 

6: Heat application to the design 
Whether you use a heat press, easy press, or iron in the process of design transferring, make sure to follow the right heat setting for Stretch HTV. You can use the heat setting chart we provided you a while ago for better guidance. 

Use a heat cover sheet like parchment paper, silicon protection cover, or Teflon sheet to protect your design and substrate from receiving unwanted or too much heat. 
 

7: Peel
Removing the carrier sheet may peel it off while it's hot or peels it off while it's cold. 

Allow the design to sit in thoroughly before washing. Wait until 24 hours. 
Stretch Heat Transfer Vinyl represents the strength and spirit of flexible decorative materials! I bet popping out of active ideas now is unstoppable! Who said working out and exercising has to be uninteresting or irking? Raise a hand if there is and if there is none, there is nothing to do but to hold your silence forever! Kidding aside, if there's silence that must exist at the end of this artistic session and creative work out of us, it is a silence of being blown away and the silence that leads you to concentrate.
One good thing about this HTV is it never limits you to getting hype and intense while breaking a sweat with style! With the energizing design that Stretch Heat Transfer Vinyl can give your performance wear, it electrifies the charge for your outfit's stylishness. To add more, using this HTV will supply the boundless energy that starts to keep you moving for a good workout. 
What are you waiting for? Begin making your activewear using Stretch HTV! Get up in your bed now, get a good stretching on the crafting table, start exercising and tensing the muscles in your imaginative mind and share it with us.
Social Media Accounts:
FB: CraftVinyl.ca
IG: CraftVinyl.ca
TikTok: craftvinyl.ca
For your vinyl crafting needs, please check our website at www.craftvinyl.ca. We offer different Adhesive and Heat Transfer Vinyl, perfect for your next project.