Different Types of Heat Transfer Vinyl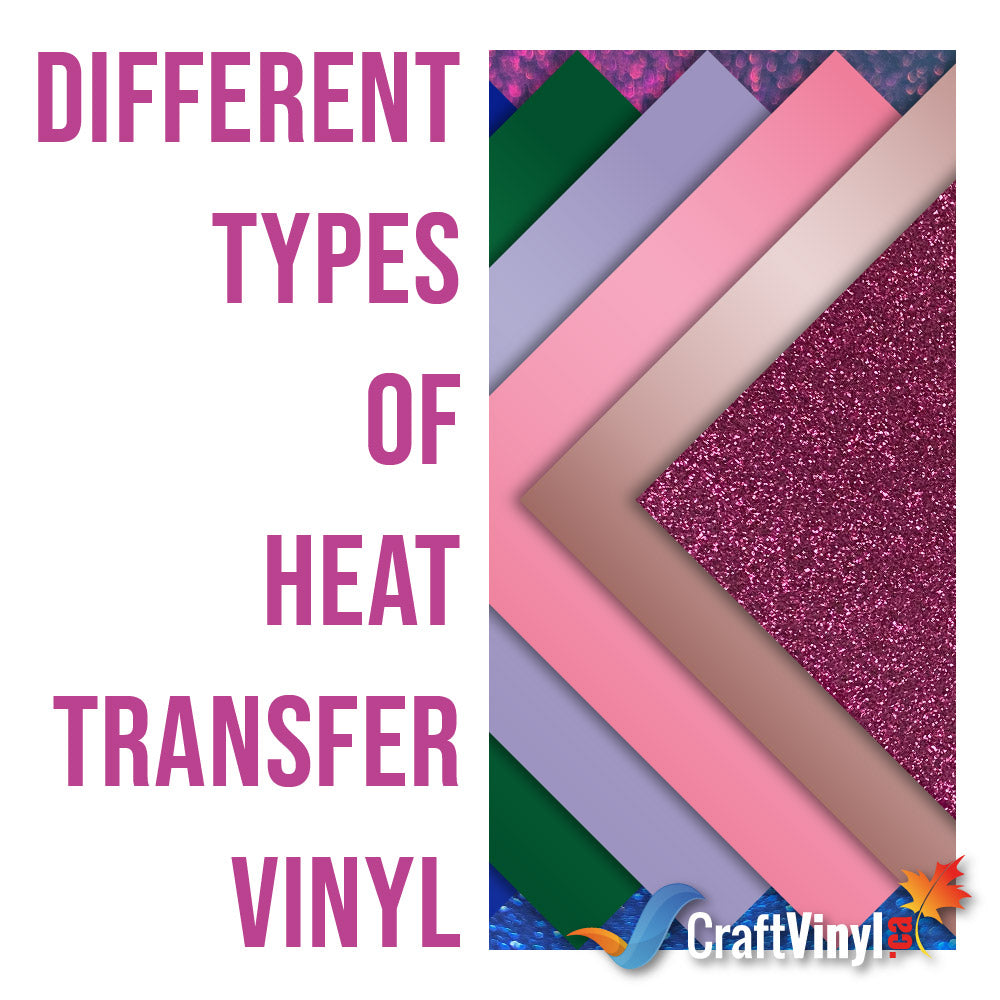 Different Types of Heat Transfer Vinyl
Making something creative is effortless for crafters like you, as boredom can release the potential artist in you! Making Heat Transfer Vinyl designed shirts, pillowcases, tote bags, etc., can be one of the many ways to help yourself unleash your hidden skill!
However, it's no secret that even the greatest in the field were once clueless about how everything worked. The number of HTV types can be overwhelming, especially if this is your first time. Luckily, in this article, you'll learn about the different types of HTV and their purposes!
1. Standard Heat Transfer Vinyl
The most basic type of HTV is well, the standard HTV. Most Standard HTVs apply to cotton, polyester, blends for basic needs, classic designs, and such. A recommendation would be the Siser Easyweed. Aside from the fabrics mentioned, the Siser Easyweed can cling onto leather!
2. Universal Heat Transfer Vinyl
This type of HTV can sometimes be referred to as Low-Temperature Universal Vinyl for undeniable reasons. It applies to cotton, polyester, nylon, spandex, and even genuine leather! It only needs low temperatures and times and is quite the universal type.
The perfect HTV to glam up your workout gear adheres to polyester, matching its' stretchy fabric. It's very lightweight and similar to the Siser Easyweed but a lot more stretchable!
4. Glossy Heat Transfer Vinyl
One thing's particular about this type of HTV. It drags the attention it needs, far from the standard matte finish with most types of HTV. You can use this type of vinyl with cotton, polyester, and other similar fiber types.
5. Glitter Heat Transfer Vinyl
If the glossy finish wasn't enough, maybe Glitter will do the trick! It's the best way to totally up your look, depending on how you feel on any day. This category has variations ranging from textured, smooth, stretchable, holographic, etc.
Are you interested in trying out Glitter HTVs? How about the textured Siser Glitter as a start?!
Achieving specific designs can't be accomplished without a bit of spark. Metallic HTVs might be the thing you need to do. These HTVs have an opalescent/pearlescent sheen and are similar to chrome.
Different brands have different descriptions. For this, we'd like to use Siser Electric as a great example, it can be layered, and it's very durable as it can withstand multiple washing times without losing its' original shine!
This unique heat transfer vinyl offers a suede-like texture, that you can use to up your HTV game. This type of HTV can be weeded quickly and can be layered enabling multi-colored designs! It's an excellent alternative for embroidery, providing a raised look to your design.
Similar to how other variations of HTV work, it comes with a pattern this time! From ombre, camouflage, animal prints, and various creative designs, this type of HTV can help you spice up your looks!
Discover More Great Articles On Crafting
Learn more about HTV. Please click he links below:
SISER EASYWEED HEAT TRANSFER VINYL
TIPS AND TRICKS WEN WORKING WITH HEAT TRANSER VINYL PART 1
Now that you've got the basic HTV types, we're all hoping to see your creative ventures in the HTV community. Please send us a link via Instagram  or Facebook!
For your vinyl crafting needs, please check our website at www.craftvinyl.ca. We offer different Adhesive Vinyl and HTV types perfect for your next project.
Did you learn from this article? Don't forget to share this with your friends. Help them resolve their confusion with the variety of HTV available out there! Stay safe and creative, crafters!