Heat Transfer Vinyl Tips and Tricks Part 1!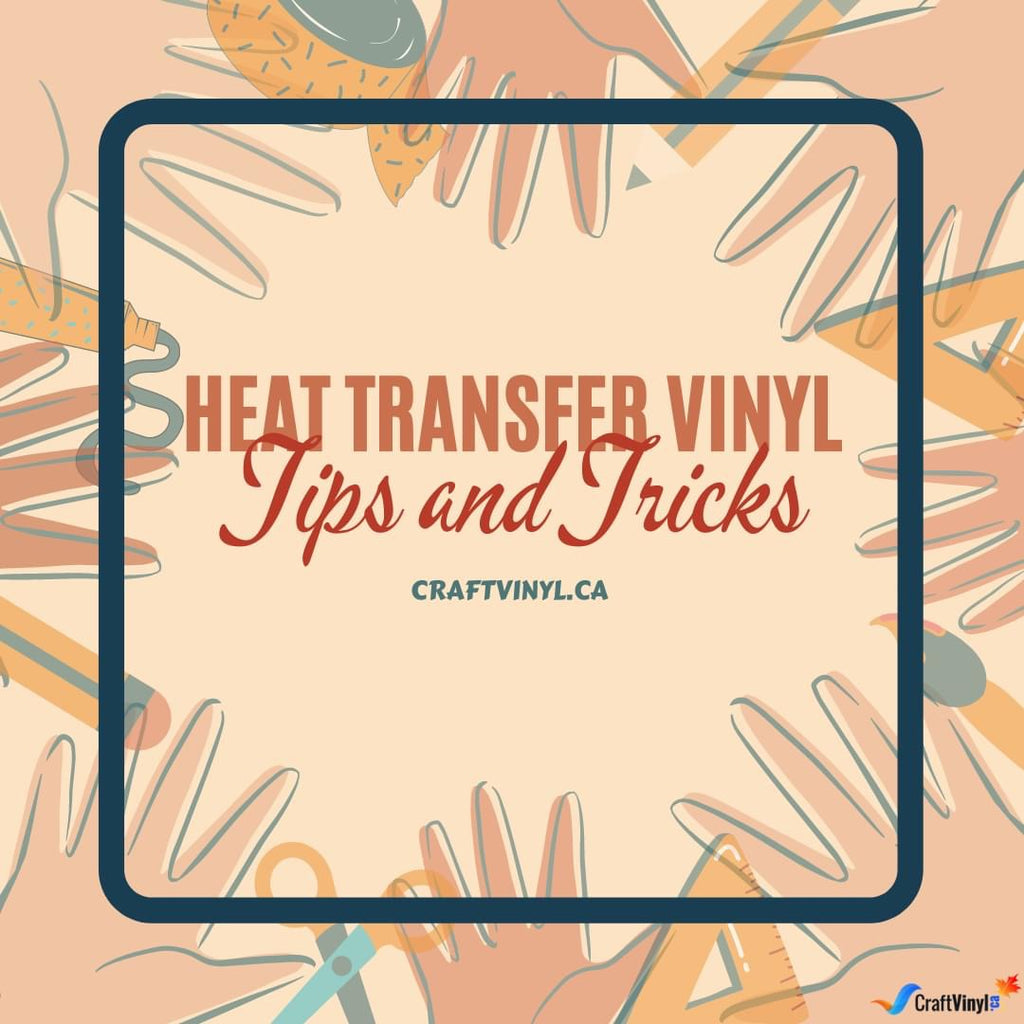 #Vinyl101 - Tips and Tricks when working with Heat Transfer Vinyl Part 1!
Hi there! In this article, we will be talking about more tips and tricks when crafting a new project using Heat Transfer Vinyl. This #Vinyl101 will help make your crafting experience less hassle and more fun!
Last time, we listed several #Vinyl101 to help you out when working with Adhesive Vinyl projects. This time, we will give out another ten tips and tricks when you work with Heat Transfer Vinyl projects.
So without further ado, let's get into it!
1. Use a Hair Straightener on small HTV Projects.
When working on small substrates or surfaces, you can use a hair straightener to press the HTV. This way, you can control the placement of the HTV more than when using a heat press or iron. This trick could also help you to reach the surfaces that heat press or iron can't get on small projects.
2. Use warm to cold water when washing your HTV projects.
To prevent your HTVs from cracking and peeling off the substrate, use warm or cold water when washing your HTV fabric projects. The Heat Transfer Vinyl adhesive is activated when it is in contact with heat, so if you use hot water when washing the project, the bond might be activated and will cause peeling or cracking.
3. Perfect sign to know when the HTV is pressed perfectly.
After pressing the design onto the substrate, check your HTV, and you should see the substrate's texture on your heat transfer vinyl. If you can see the surface of the substrate on the HTV, that's a good indication that your heat transfer vinyl has fully adhered to your substrate. If not, that could mean that your HTV hasn't completely attached to your substrate and that you should press it for a little bit more extended until you can see the texture we are looking for.
This #Vinyl101 is perfect to avoid over-pressing the vinyl and ruining it because of too much heat.
(Note: This trick works best if your substrate is a type of fabric.)
4. An efficient and more convenient way of mirroring.
As we all know, when working with Heat Transfer Vinyl, we have to MIRROR the design before sending it to cut. But sometimes, it could take so much time to mirror each layer, especially if our design has multiple layers. With this # Vinyl101, we'll help you to save so much time and effort.
After working on your design, select or highlight all the images you want to cut before sending it to cut, and then flip the image horizontally. This way, you'll be able to mirror all of the layers in just one click! Make sure that all of the layers are flipped before proceeding with cutting the design.
This trick will also save you from forgetting to mirror the design and wasting your vinyl.
When working with a layered design, it could be confusing and hard to keep track of all your layers, especially if your design has a lot of layers. So, to make sure that you'll cut everything out and it fits together the way it should be, assemble all your layers and put them together.
 Another #Vinyl101 you could try is to put numbers on the carrier sheet of your HTVs. This way, you'll know which layer/piece would go first.
6. The correct way of prepping your final substrate.
Prepping your final substrate plays a significant role for your Heat Transfer Vinyl to stick better. That's why for this next #Vinyl101, we will guide you on how you should properly prep your final substrate.
First is to pre-wash - when working with fabrics as your final substrate, we strongly recommend pre-washing them before applying the HTV. Materials tend to shrink after being washed, so if you use the HTV before washing the fabric, there's a possibility that the HTV will shrink with the fabric and may result in a wrinkled HTV design.
Next is to use a lint roller. This is to make sure that your substrate is free of any lint, dust, and tiny particles that may affect the adhesive of your heat transfer vinyl and might cause peeling.
And the last part of prepping is to pre-press the substrate. Pre-pressing the final substrate would help you apply the Heat Transfer Vinyl easier and faster. The heat from the heat press or iron will dehydrate and remove moisture from your final substrate. It would also remove any wrinkles and creases that may hinder the vinyl from adhering to the substrate correctly.
7. Use a teflon sheet when pressing the HTV.
Before pressing the Heat Transfer Vinyl, make sure to cover the top of the vinyl with a teflon sheet. This cover prevents vinyl from melting and sticking to your heat press or final substrate. 
You could also use heavy-duty magnets to hold the teflon sheet to your heat press. By doing this, you will never forget to put a teflon sheet before pressing your heat transfer vinyl since the teflon sheet is already attached to your heat press!
8. Find the center of your shirt!
Have trouble placing your Heat Transfer Vinyl because you can't locate the center of your shirt? Here's the perfect #Vinyl101 for you to quickly find the center of your HTV on a shirt!
First is to fold your shirt in half (shoulder to shoulder). And then press it until there's a slight crease down the middle. Next, fold the design in half (sticky sides facing out). And lastly, it is to line up both folds and start pressing your design into the substrate.
9.
Use masking tape or painter's tape on glitter HTVs.
Glitter HTVs are thicker than the normal HTVs, and we know the struggles of keeping them stuck on the mat while cutting them. Use painter's or masking tape and tape the edges of the HTV onto the mat to prevent them from peeling off while cutting them.
10. Weed on a warm surface.
When weeding your decal, try weeding on a warm surface like the bottom plate of your heat press. This way, the HTV will heat up slightly and help you pull/weed the vinyl easier.
Note: This #Vinyl101 only works for HTVs with a sticky carrier sheet.
And that's it for this article! We genuinely hope that these #Vinyl101 will help you on your future projects. If you want to know more tips and tricks, let us know by sending us a message on our social media accounts. Or you can check out our posts there as we post #Vinyl101 regularly. We also post new products, project inspirations/ideas, store discounts, and more! Also, check out our online store for your Heat Transfer Vinyl and adhesive vinyl needs!
Stay tuned for part 2 of this article to know more #Vinyl101 Tips and Tricks!
FB: CraftVinyl.ca
IG: CraftVinyl.ca
TikTok: craftvinyl.ca
Website: www.craftvinyl.ca
Thank you for staying with us up until the end! Stay safe and crafty, crafters!
TIPS AND TRICKS WHEN WORKING WITH HTV PART 2
HOW TO APPLY HEAT TRANSFER VINYL ON BURLAP