Vinyl Cutter : How to Earn Money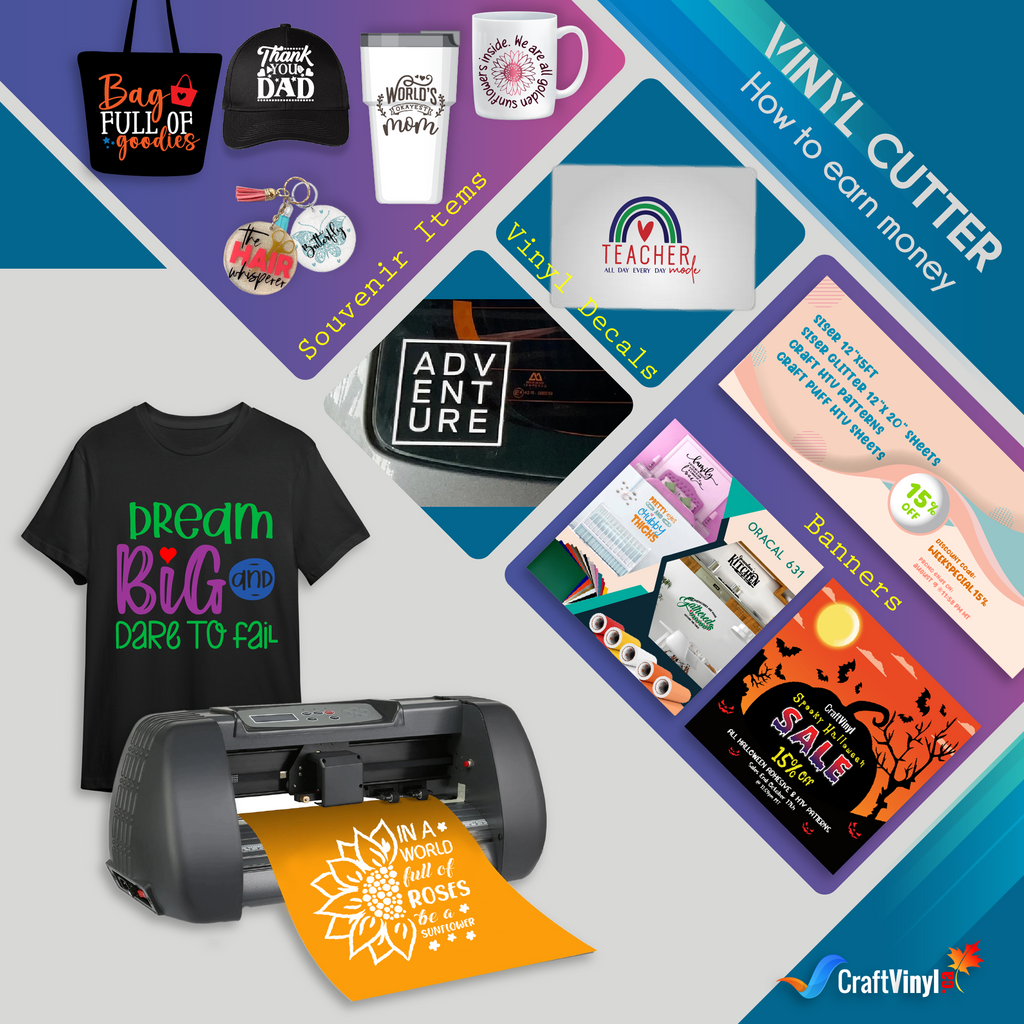 How to Earn Money with a Vinyl Cutter:
Creative Ideas to Start your Vinyl Business
Vinyl cutter has captivated our artistic hearts for many good reasons. This simple equipment has curved its path to becoming a stable presence in any DIY crafters' creative creations. The satisfaction and the gratifying feeling of successfully making something is magic we all yearn to feel. 
While it is true that what led us to the hobby of arts and crafts was our passion, there's no denying that vinyl cutting can also fulfill another purpose. It can open doors for a new income stream, especially in the continuously booming arts and crafts market.
So, how can you turn this hobby into money-making machinery? 
Can you make a profit from selling DIY vinyl decals?
I bet these are the questions puzzling your mind right now. 
Breathe... you don't have to be puzzled anymore.
Today, I'm here to share all the essential information you need to know to jumpstart your first vinyl cutting business venture.
So, scroll down and discover simple yet proven ways you can do to start making money from doing what you love.
 How to make money off of vinyl cutter?
There's money to make off of your vinyl cutter. That's a guaranteed truth! We've all seen it, which probably brought you here.  
There are a handful of choices for you to start getting those dollar bills. Here are a few ideas that can help you decide what to pursue as your first business exploration:
1. Create and sell
Suppose you're an unstoppable creator of different vinyl artworks. This one is for you. Many crafters out there have found success by creating and selling their products. Just make sure to offer something unique and products with outstanding quality. Do such, and you'll have a legion of loyal customers. 
You can start your biz in a smaller market- friends, family, or even workmates. It'll be beneficial to test the water first, especially for newbie sellers. Gain experience. Gather feedback. These simple steps can provide insights that help prepare you to go full-time or expand for large-scale business operations.  
 2.
Create and share
If selling and marketing products aren't in your wheelhouse, this could be the perfect avenue to earn while still enjoying making vinyl projects - BLOGGING and VLOGGING!
You can either write a blog about your fave projects or film yourself while doing it. It would be much better if you could do both as combining them holds more potential for a more significant profit. 
However, you should note that writing a blog or producing video content is not an instant money maker. As you need to grow a fanbase of regular readers or viewers, it can take time. 
To draw more people to your website or Youtube channel, plan for exciting content, share easy-to-follow tutorial videos, and many other things that can set you apart from other content creators. 
3. Create and teach
Another great way to be profitable in this field is by sharing your knowledge and skills with other aspiring crafters. You can offer workshops for folks with the same love and passion for arts and crafts. Depending on your availability, you can have it done twice a week, weekly, or monthly. You can plan for one on one tutorials or organize a group session. Do whatever you like as you are the boss of your own time here.
Remember that venturing into a business entails additional effort and resources. You need to research and think deeply about which direction to go. 
For you to have an even more precise grasp of the potential this business can offer, I rounded up several ideas you might find interesting. Find which vinyl projects you think are the most profitable to sell.
7 Easy and Profitable Vinyl Cutter Business Ideas to Try
 1. Vinyl Decals and Letterings
First on our list are vinyl decals and letterings. These two are the easiest way to penetrate the vinyl cutting business. It's easy to make and not that hard to sell. You need to be creative and offer a wide range of designs to attract more customers.
For vinyl letterings, give your customers a hard time choosing from your rich offerings. Grant them the power to customize through a variety of styles and fonts to choose from. 
For vinyl decals, the sky is the limit. You've got plenty of markets to serve here - from car decals to car enthusiasts, gadget decals for students, and professionals looking for personalized decals.
2. Customized Souvenir Items
Another in-demand option you can dive into is selling customized souvenir items for whatever occasion. Mugs, tumblers, plates, and more... let them name it, and let your business help them have it! Be it a birthday, wedding, anniversary, or just a token to give to friends, you can find customers willing to pay for personalized souvenir items. 
3. Customized T-Shirt (and other Apparel) Printing Business
Another staple enterprise involving a vinyl cutter is customizing T-shirts with customer-chosen designs. From family reunions to corporate events to school activities, there's always a need for personalized shirts. 
And it's not just limited to shirts as you have other apparel to market: jackets, caps, nylon bags, and more. 
With the help of your vinyl cutter and a reliable heat press, it's not too late to have your share of this profitable market.
4. Made-to-order Personalized Magnets
If you're looking for a unique business opportunity, direct your effort to magnet selling. You can produce artistic ref and individualized vehicle magnets with your vinyl cutter and the right resources.  
5. Decorative Wall and Glass Decals
Nowadays, more and more entrepreneurs are relying on vinyl decals to add a splash of color and give their old and boring walls and windows a fresh breath of life. Suppose you're confident that you have the machinery to tap into this market. Prepare for this lucrative venture. However, you need to note that such a market will require a team of experts to ensure smooth business operations. 
6. Banners for Special Occasions 
Most of us love to go out and celebrate with our friends and loved ones. Who wouldn't want a joyful celebration? That's why you might want to include this under your radar of business ideas and who knows, you might be toasting and celebrating your success soon, thanks to your vinyl cutter.  
7. Banners for Promotional Campaigns
Advertisement is essential for a business to succeed and you can help them achieve success by delivering high-quality promotional materials made out of vinyl decals. 
Imagine earning the trust of local businesses in your area; I bet that's a treat you didn't think vinyl cutter is capable of.
 Who would have thought owning a vinyl cutter could lead you to countless exciting business ideas? Still haven't found the proper money-making adventure for you? Check this out! Here are some more inspirations and niches for you to consider:
Cut Arts

Greeting Cards and Invitations

Art Headboards

Vinyl Cut Clocks

Restaurant Menus
Can you make stickers with a vinyl cutter?
It's a big YES!
Vinyl Cutter is one flexible friend to any crafters. It's ultimately designed so that you can quickly turn any image into instant eye-catching graphics. It includes decals and stickers you can use right away.
You can design stickers using a vinyl cutter like you print decals for other purposes. 
Though the settings of vinyl cutters slightly differ from one brand and model to another, you can save these simple steps as your general guide in making a sticker with a vinyl cutter:
Prep your design using illustrator or other design software.

Once done designing your graphics, load the vinyl into the cutter and adjust the equipment to the appropriate setting fit for your vinyl. 

After setting everything, you can then proceed with printing.

As your final step, weed out unnecessary vinyl, and there you have it! You've successfully made a sticker with a vinyl cutter. All you need now is a surface to stick on and have fun with!
Discover More Great Articles On Crafting
Find more quick and easy vinyl projects to add on your crafting menu. Please click the links below:
HOW TO MAKE VINYL STICKERS WITH PRINTABLE VINYL
APPLICATION OF ADHESIVE VINYL ON MUGS
Is the vinyl decal business profitable?
 The vinyl decal business is, without a doubt, highly profitable and what's good about it is that it's newbie friendly. You can start making money from it with small capital and even by yourself. But of course, you do have the option to go large scale. Whether you want a side hustle or start a full-time vinyl cutting biz, the choice is all yours! And speaking of choices, isn't the long list of business ideas to take a thrill on its own? 
 A few friendly reminders, though: Starting a business takes hard work and lots of planning. It's best to create your roadmap first to set where you want to go with your enterprise. Let your passion lead you, and you'll never get lost.
Many vinyl enthusiasts have already found their fortune through this business, and I believe you can enjoy the same success in this industry. So gear up and let your entrepreneurial spirit take the lead.
Learn more Vinyl tips and tricks and share your crafting adventures with us. Please visit us on our pages.
Social Media Accounts:
FB: CraftVinyl.ca
IG: CraftVinyl.ca
TikTok: craftvinyl.ca
For your vinyl crafting needs, please check our website at www.craftvinyl.ca. We offer different Adhesive and Heat Transfer Vinyl, perfect for your next project.