Cricut SVG : The Crafter's Imagery Friend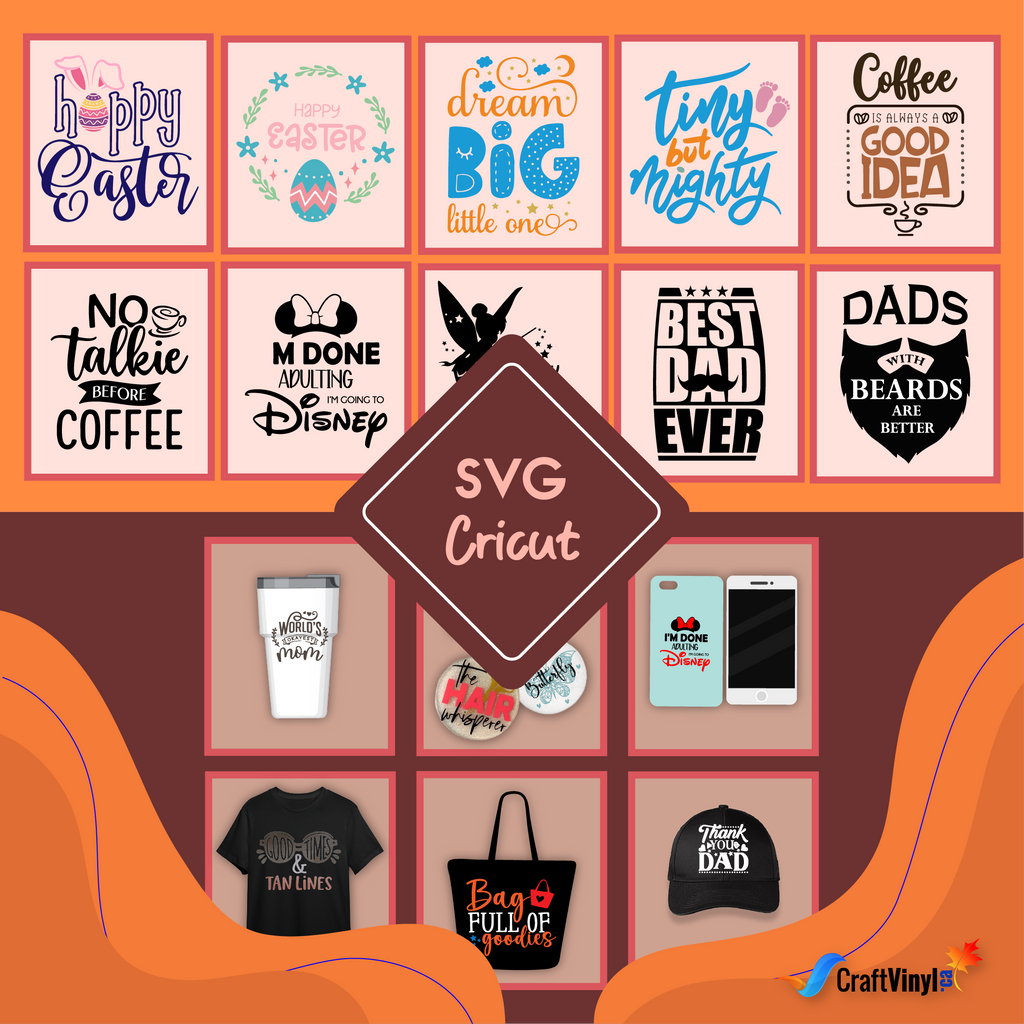 Cricut SVG : The Crafter's Imagery Friend
You open your store for your customized products on time as you have high hope of an exemplary and lucky business flow for this day… And yes! Finally, there's one, then another two shoppers came in and checked around what to buy! Excitingly, there's probably one of them who could do an excellent first pick. Then, make the first sale for your store.
 Ah? But wait? Is it too early to rejoice? Why do customers go out without purchasing an item rather than coming in for a sure buy? And why they're going out one by one after a minute? Why do they take a short glance at your product and then move out to another store? Oh my! Do we get a blurred issue over here? 
If you think your items were of good quality, they're made with durability and come with an excellent price, yet customers are still not impressed; there's no other reason left for this situation. It's not that your items weren't worthy of buying nor not considered good things. Hence your products might probably be on the edge of a tough rivalry! 
With the popularity of product customization and millions of people doing this process, it's a challenge for crafters to slash entrepreneurs. It is to keep their track intact and keep their product's position good when competition in the market increases. Right now, the reality, it's not the price value of your item is concerned. Probably, it's your product's face value that is at stake.
So what to do now? Will there be ways for your product to stand out and get easily noticed by your customers? How could you make your customized product contend or compete with others even without a need to lower its price?  
Introducing the Crafter's Imagery Friend: The Cricut SVG
I got to meet a good friend that can give an instant remedy to your easy-peasy problem! If you're finding routes to keep your product rigid in this competition, erase the pressure and worry not! Chill... 
Here is Scalable Vector Graphic for Cricut to make your custom graphic design eye-catching and be a powerful tool to sway your competitors out! Having this as a significant image imprint on whatever items you sell will guarantee you wouldn't silently display your products in your shop. Instead, it's a brand new look of customized design that can magnetize shoppers without moving a sleeve! Indeed, it wouldn't just represent a pretty face, but it will become an effective means to shout a good sales talk to your clients! 
I know how happy you are now… But thank me later after I introduce you to this good friend of ours and what good fortune it can bring to your venture!
What is Scalable Vector Graphic for Cricut?
Cricut SVG, SVG Cricut, or Cricut Scalable Vector Graphic is a most sought-after and most in-demand pal of every crafter who's especially into design customization using heat printing. 
To explain it elaborately, it is a type of web-friendly image with a unique format that is a highly digitized two-dimensional image file of scalable vector graphics. It is comprised of vector data containing XML codes which make the image constructed using points, lines, and curves. It makes the picture a print or cut file widely readable and editable to most designing software like Cricut Design Space and craft equipment like Cricut Machine. You can download SVG online free of charge, purchase, or you can personalize it. 
What are the Roles and usable functions of Cricut SVG to your Cricut, Design Space, and Design Customization? 
Cricut SVG usable as a Cricut Print File
Gone are doubts about your product can't face a huge crowd of customers! Having Cricut SVG on your customization and printed on your items, your products can confidently negotiate to your customer and be a face of artistic creation carrying a clear light of a torch to your business profit! 
 

How Cricut SVG becomes a Print File? 
Cricut SVG is not just an ordinary image file but an image with multipurpose capability that is handy enough to be a Print File or Art File for your venture. It can be readily available anytime and used for any project. Once it's uploaded, read, saved, and rendered by your design software; thus, it becomes a Print File or Art Template. 
Moreover, it can be modified, resized, filled with various colors with good image quality, and printed with your printers. With that, Cricut SVG as a Print File or Art Template can strikingly welcome your customer's eyes ---- "Sight-wide-open!"  
Cricut SVG usable as Cut File 
Visibly to Cricut SVG, design cutting has never been as innovative and easy as before! With all the steps in creating a product, cutting is one of the most critical parts next to heat application. Crafters rely on their image to be swiftly read by machines and generate the best result as much as possible. 
How Cricut SVG becomes a Cut File? 
 The built-in technology inside the Cricut Cutting machine is intended for cutting images containing vector data. It allows the performing of the cutting process to happen. Cricut SVG becomes a Cut File by carrying your design's digital image inside the Cricut. In addition, the device reads the instruction included in the image because Cricut SVG is an image vector in nature.
Do all SVG Files work with Cricut? 
 Are you asking if all SVG or Cricut SVG work for your Cricut? To find out if "Yes it is" or "No, It isn't,"; the answer, trace back to the technological relationship these two have ever since their development as crafting materials. 
Just like your vinyl materials that became your best craft buddy in any craft and design you want to achieve, Cricut and Cricut SVG are already fated to work with each other, plus with you. Because of the fantastic technology, a Cricut SVG is workable with any cutting machine and design software. In vice versa, a Cricut Cutting machine is workable for all SVG files. 
When isn't a Cricut SVG workable to Cricut? 
In this most sought question, let's clarify things to clear out all confusion. If a Cricut SVG isn't working with your Cricut, it doesn't mean that the image file has a problem. The error or invalidity of SVG only arises when Cricut no longer supports the design software's browser version, or it is required to have an upgrade according to the program compatibility of the Cricut Machine. 
To solve this kind of issue, you can launch your SVG file using another browser such as Firefox or you may use the Design Space desktop (windows or mac) version that doesn't run from a browser. 
How to Use Cricut SVG File on Cricut? 
 Just like how Cricut SVG makes your crafting life easy and comfortable, it won't cost you an effort to use it on your Cricut. Using Cricut Design Space, you can give your Cricut SVG an excellent playground to play with you and your imaginative ideas! 
 Here's a step-by-step guide on uploading SVG files and using them on your Cricut Design Space. Let's get the ball rolling! 
Step by Step Guide on Uploading and using Cricut SVG files to Cricut Design Space
 Step 1: Choose which device you prefer for the image upload. You can use your desktop, laptop, iPhone, or Android. 
If you decide to go with an iPhone or an Android phone, see that your system is up-to-date so you can use it with your design software. 

You can download the SVG file for free or purchase it for your desktop or laptop. By directly saving the image on your device, you can browse it on and upload it later.
Step 2: With the installed and fully set-up Cricut Design Space on your device, launch the software to open it and select "Create New Project." 
Step 3: On the left-hand sidebar of the canvas, click "Upload Image Option." There you'll see two different ways to upload an image depending on the type of image file you have. Since we are working with SVG Cricut, we will choose the "Vector Upload." 
Step 4: To continue, go to "Browse" to search and locate the SVG file you want to upload and use. Then, click "Upload." 
Step 5: After uploading the image, it will direct you to the upload screen to preview the chosen SVG image in the Uploaded Images Library. 
Step 6: To add your SVG image on the design screen or canvas, select your chosen SVG image that is uploaded and found in the design space's image library. 
Step 7: As soon as your SVG file is placed on your design screen or canvas, you may freely start editing, group, ungroup or layer the image. 
Discover More Great Articles On Crafting
Are you starting to love crafting with Vinyl? Come and explore more blogs. Browse the link below to know more:
Where can I find SVG for Free? 
As you thought you had met enough Cricut SVG files out there a while ago was just getting to know. Seeing how Cricut SVG is worthy of being on your team for crafting, I can sense you're more excited to collaborate on more superb and terrific projects! More of our SVG friends are waiting for you in a close meet-up. 
Where? For a craft maker who loves to create their designs or who loves to hunt beautifully unique designs, there are generous websites of SVG Files where you can see our other SVG friends. You download them for free with a variety of designs! Just only for you, we search all around the corners of the World Wide Web for you to know where you can find and meet them! 
1. Craftables
Aside from being an online store for cutting machine supplies and a variety of DIY supplies, Craftables is a total package of crafting sites, whether for personal or commercial use. It specializes in offering almost thousands of free SVG files for vinyl and HTV crafting that can be used for design transferring using a heat press. Most of its images are great for stickers, heat transfer designs, signs, text, logos for wall art, windows, mirrors, and different type of merchandise.
2. HelloSVG
A free SVG site that contains 1500 varieties of SVG designs suitable for personal and commercial use. Without the hassle of looking for what design suits your project, you can now make a magical transformation of seasonal decoration, holiday embellishment, designs with texts, or one for signs just by creating an account with them.
3. Free SVG
A crafter-friendly website with an approximate number of 157 000 free SVG files that are downloadable even without needing an account. The best thing about this site of free SVGs is that users can take images in small or large format with a wide range of image styles such as basic shapes, text, icons, everyday objects, and others. 
4.LoveSVG
A website that offers premium and 12 000 free SVG files for most favorite seasonal designs and image variety for a card, sign, and logo creation. 
5. Bird's SVGs
A free SVG website best for boxes, bags, tags, and 3D card types of items. Using the image file from this website, you can make personal and commercial ventures that are saleable. However, please take note of the little restriction in the usage of their SVG. You can download them for free and use them for commercial purposes, but you can't share the digital designs with others. 
6. Creative Fabrica
For slogans, quotable stickers, beautiful fonts, graphics, and embroidery designs, Creative Fabrica is a good page of an online source for purchasable or free SVG files like this. Most of their images are for Cricut or Silhouette use.  
7. Love Paper Crafts
Beautiful yet affordable crafts for gift cards, season decorations, organizational projects, or scrapbooking? Love Paper Crafts has a vast library on its blog's site. All of their free images are finely curated and pensively styled.  
8. Dreaming Tree
It's an online source of SVG files that provides professional quality images. Their SVGs are commendable for bookmarking designs. 
9. FREE SVG DESIGNS
A resource of free SVG files with good, simple, colorful graphics, fonts, abstract icons, and framing outlines. It is ideal for personal, sign, seasonal, and card decorations.  
10. Craft Bundles
A home of a large selection of free and exclusive SVG files that you can use for commercial purposes. 
11. Design Bundles
A more extensive storehouse of free SVG files in bundles. It contains 100 to 500 bundles of SVGs that are downloadable without cost. 
12. Simply Crafty SVGs
A decent repository of around 100 free SVG files that are two-dimensional or three-dimensional useful for designing three-dimensional objects such as boxes, lanterns, bags, cards, and so on. 
13. Caluya Design
It is a sundry of 1100 free SVG files with various text, seasonal signs, and slogans to design inspirational themes for projects. 
Why is SVG better than PNG or JPG?
It's not that SVGs are the only good-looking image files or the only image that most crafter's eyes see every time their creative hands itching to do something. For technological reasons, many crafters are hooked and become close buddies to it. 
With these following reasons explaining Cricut SVG is better than PNG or JPEG, let your custom graphic be even more powerful and hugely impact your customer's recognition of your customized products.
1. Pixelation
SVG is a Vector image file that does not depend on pixelation. Since it is made of lines, points, and curves, its image clarity is compliant at any angle it is positioned. It can still be precise in terms of quality and doesn't blur, disfigure, or lower its resolution even when you stretch the image.
PNG and JPG Files are Raster Image Files dependent on pixelation, for they are made of combined grids or tiny dots. It makes them inflexible and fixed in resolution. When you stretch it in any direction, it will be vague, distorted, and lower in image quality. 
2. Zoom
Cricut SVG is zoomable at maximum size and can be scaled down even in the smallest detail. Any of the two actions can take place in the vector image without compromising or showing a change in resolution.
You can't zoom PNG and JPG Files too broadly, for they exist at one size. When these image files are overextended, they tend to be pixelated, blurry, and low in image resolution.
3. Graphics
The elements of graphic images which Cricut SVG possesses are not all available in image file formats like JPG and PNG. The graphical elements, such as color, gradients, and shadows, remain or appear clear and solid in an image form. It means when you print a design, it gives you an image similar to the original one.
PNG and JPG Files give you sharp and straight strikes of its edges, affecting the appearance of its graphical elements. It makes pixelation prominent around the image. 
4. Layering
Cricut SVG is suitable for designs that require layering. Its characteristics of being two-dimensional make the image group, ungroup, and divided for a variety of colors.
PNG and JPEG Files are not compelling images for layering. They are flat images with one image layer and without dimension. They can't be grouped, ungrouped, and divided for image variation.
How to Convert a JPEG image file to Cricut SVG format? 
Hey buddy… What's that look like? Aren't you happy knowing why an image in SVG format is better than other file formats? After we realized how SVG could make the graphics placed on our pieces excellent, don't feel bad, and don't even think your friendship is over with your JPEG image file! Your artistic designs in JPEG formats are still usable and not wasted, for you could still convert them into SVG format. Cheer up! How amazing it is to see your circle of friends getting bigger and bigger! 
There are many ways to convert a JPEG into SVG format. Here we present the two ways for you to do it. 
Conversion Option #1: JPG conversion to SVG Format using Web-based Software
 The easiest and handiest way to convert a JPG to SVG format is by using web-based tools or graphic editing software we can find free online. You can directly upload, correct, and download your converted image file on your Cricut design software. Examples of this web-based software are Inkscape, SVGCreator, PicSVG, Convertio, Cute Cutter, Online SVG image converter, and many more. 
Conversion Option #2: JPEG conversion to SVG Format using Cricut Design Space
 Step 1: On your desktop or laptop, open Cricut Design Space. 
Step 2: Select "Create New Project" once the software is launched. 
Step 3: On the left-hand sidebar, select "Upload." Then proceed to the "Browse option" to search and get the JPG image file saved on your device for the conversion. After, decide which image complexity you want to use for the best look of your image. You can choose simple, moderate complex, or complex. 
Step 4: This step will direct you to your editing screen for you to remove the background. This procedure will transform your image into a cut file. Using the three editing options, such as the magic eraser, eraser brush, and a cropping tool, you can clean unnecessary cut lines showing around your image. Click "Continue" once the removal of the background is done. 
Step 5:  For the final step, save your image as "pint then cut image" or "cut image." If you choose "pint then cut image," the color of the image is retained, but if you use "cut image," the colors in your image will be gone.
It's a good time today. Cricut SVG, a new mate to crafting, positively influences everyone. It has brought new inspiration to our graphic designs and a new start-up for a more progressive venture. You don't need to be afraid if your customized items can survive the competition! I am so glad to see you officially starting a good friendship with it! As much as I am excited, I can't wait to see you introduce this to your customers and future clients! With that, we both deserve a big high five! 
Learn Vinyl tips and tricks and share your crafting adventures with us. Please visit us on our pages.
Social Media Accounts:
FB: CraftVinyl.ca
IG: CraftVinyl.ca
TikTok: craftvinyl.ca
For your vinyl crafting needs, please check our website at www.craftvinyl.ca. We offer different Adhesive and Heat Transfer Vinyl, perfect for your next project.