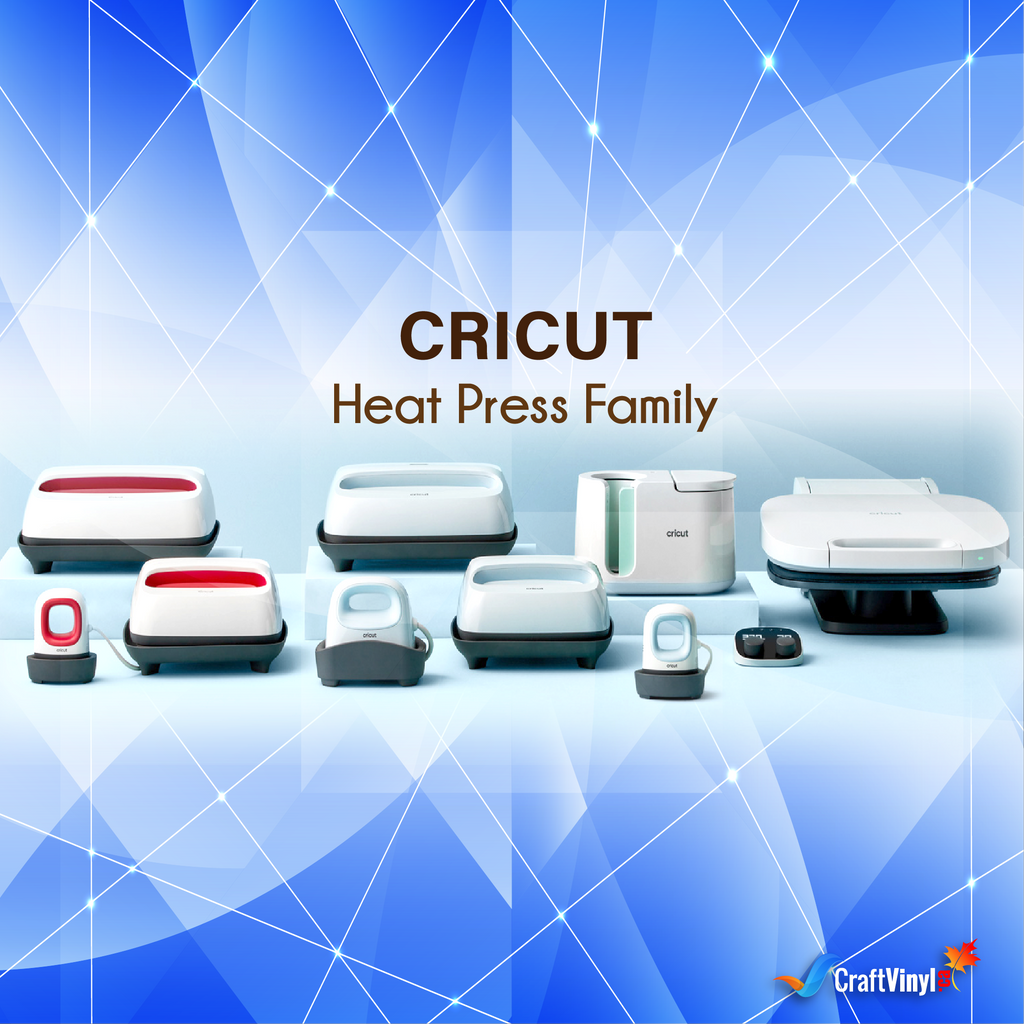 Complete Guide to the Cricut Heat Press Family: 
Finding the Right Heat Press for You
Don't you love it? The joy of getting the perfect heat-transfer results! The satisfaction of having the key to an easy, speedy, stress-free pressing right in front of you. 
That's the vision every HTV-loving crafter aspires to have. And this very same dream is the foundation on which Cricut's ultimate gift of convenience came into existence- an entire lineup of top-notch heat presses!
But if you think getting the right heating tool for all your creative vinyl escapades is that easy, think again. It's a certified dilemma! Of course, I won't let that happen to you, my beloved HTV lover. So stick around, and I guarantee you'll find the destined Cricut Heat Press for you after this. 
So, how do you select which Cricut heat press is right for you?
We anchor our purchase on the size, the type of project you want to make, and even the product's price. All of these can affect our choice. So, here are some helpful factors you need to consider before storming a Cricut store. 
 

1. Projects/Products to Make
Knowing the kind of product, you'll mostly work on is the best starting point in your search. It points you in the right direction and solves half the problem. 
Cricut's Heat Press family is home to different equipment for unique functions. There's one for shirts and other nontextile substrates. You can get one that works best for narrow spaces and tiny materials. Or, if mugs or hats are your game, you'll be happy to know that there's one for that too. 
2. Size of Production
After selecting the type of heat press to get, the next thing you need to weigh is the volume or the scale of your production. Will you be doing heat press projects only to satisfy your hobby, or intend to use a heat press to start a business? 
You don't want to stress about deadlines or working day and night because your heat press can't withstand continuous printing production. On the other hand, you don't want to spend that much money on something that you can't fully reap the benefits of because you're not going to use it consistently.
3. Money to Invest
A good heat press (especially if it's Cricut) is a good investment! The amount of money you're willing to spend is also a determining factor. Say you'll use it to start a business but are low on capital; getting the one within your budget is the sensical option. 
And if you have the means to buy them all, by all means, do it! Satisfy your creative soul and start doing what you love.
Owning each piece in the Cricut Heat Press collection must be a piece of heaven. However, some of us don't have the resources to do so. But that doesn't mean we can't have one. And now that you know what points to look at and elements to consider, it's time to match your preference to an actual Cricut Heat Press. 
Getting to know the Cricut Heat Press Family
Each heat press from Cricut offers unique features. In this section, you'll get to meet each one as I've highlighted their features and drawbacks to help you decide better which Cricut Heat Press you'll welcome into your home. 
Currently, Cricut is selling five variants of heat presses. These are Cricut EasyPress, Cricut EasyPress Mini, Cricut Hat Press, Cricut Mag Press, and the latest addition to the family, Cricut AutoPress.
Cricut EasyPress Collection ( EasyPress 2 & EasyPress 3)
EasyPress is a game-changing addition to the heat press market. As seen in its continuous production and evolution, crafters crave more. From its first version until now that Cricut has released Cricut EasyPress 3, this star will never run out of spark. 
So, what makes Cricut EasyPress special?
This equipment is the marriage between the best features of a home iron and a Heat Press machine. It offers the portability and light weight of a home iron while providing essential elements of a conventional heat press, such as constant, level heating, and accurate temperature control.
 

Here are the things I like about EasyPress:
Portability and Ease of use

Digital Display Monitor

Adjustable Heat Setting
EasyPress -Can be adjusted up to 360°F (180°C)
EasyPress2 and EasyPress3- Can be adjusted up to 400°F (205°C)
Compatible with almost every brand of heat-transfer materials and Infusible Ink products

Proven in producing long-lasting transfers
 What I don't like about EasyPress:
Limited flexibility as you can only use it on flat surfaces

Manual Application of Pressure
 Size:
Both Easy Press 2 and 3 are available in 2 size variants: 
9 in x 9 in (22.5 cm x 22.5 cm) 
With this size, you'll have professional-looking transfers on T-shirts and other flat & regular-sized garments.
12 in x 10 in (30 cm x 25 cm) 
This variant fits perfectly for large textiles like towels, blankets, and more.
Pricing:
According to Cricut.com, here are the latest prices* per size:
EasyPress 2 (9 in x 9in) C$ 229.99

EasyPress 2 (12in x 10in) C$ 289.99

EasyPress 3 (9 in x 9in) C$ 279.99

EasyPress 3 (12in x 10in) C$ 349.99
* Visit Cricut's official online store for the exact price of each heat press. 
 

EasyPress2 vs. EasyPress3
Feature

 

 

EasyPress 2

 

 

EasyPress 3

 

 

Portability/ Lightweight/ Easy to store

 

 

n

 

 

n

 

 

Quick Heat-up time

 

 

n

 

 

n

 

 

Safety Base

 

 

n

 

 

n

 

 

Auto Shutoff

 

 

n

 

 

n

 

 

Safe Touch Interior

 

 

n

 

 

n

 

 

Bluetooth Connectivity

 

 

x

 

 

n

 

 

Compatibility with Cricut Heat App

 

 

x

 

 

n

 

 

Can remember time and temperature settings from previous use

 

 

n

 

 

n

 

 

Countdown Timer

 

 

n

 

 

n

 

 

Temperature Control Setting up to 400°F (205°C)

 

 

n

 

 

n

 

 

Pressure Control

 

 

n

 

 

n

 

 

Size Availability

 

 

9x9 in n

 

 

12x10 in n

 

 

9x9 in n

 

 

12x10 in n

 

 

Warranty

 

 

n

 

 

n

 

 

Customer Service

 

 

n

 

 

n

 

 
EasyPress 2 and EasyPress 3 sports the same design and are equally equipped with the same heating capability, size, and safety features, among others. However, as the name already implies, EasyPress 3 boasts a modern feature that makes heat transfer projects easier than its predecessor.
With its price tag, EasyPress 3 offers a modern twist that's lacking in EasyPress 2. Its Bluetooth capability paired with the all-new Cricut Heat app makes it an instant must-buy. This Bluetooth connectivity lets the crafter digitally control the heat press using his mobile phone or tablet. Plus, the Cricut Heat App provides a helpful guide on almost any heat press-related project. From materials needed and step-by-step instructions, the Cricut Heat App is undoubtedly a welcome addition to the already impressive feat of EasyPress.
Best for:
EasyPress 2 and EasyPress 3 are ideal products for flat-surfaced garments such as shirts, blankets, towels, and others. You can also use it for other nontextile heat press projects like metals and woods. 
 **EasyPress, the first member of the Cricut Family, is no longer available on their online store.
Cricut EasyPress Mini
The most miniature product in Cricut's Heat Press collection, Easy Press Mini, is designed specifically for small and oddly shaped projects.
This product is ideal for adding a personalized touch to small surfaces that larger Heat Presses can't achieve. With its small size and precise tip, infant clothing such as shoes, socks, bibs, onesies, and other oddly shaped objects like hats and stuffed toys become an easy substrate.
Here are the things I like about EasyPress Mini:  
The petite size that's perfect for tiny, narrow, and oddly shaped substrates

It comes with the same safety features as EasyPress: Auto-Shutoff and Insulated Safety Base

Equipped with three heat settings (Low, Medium, and High)

Lightweight and Easy to store

Grip and Handle for extra comfortability

Compatible with almost every brand of heat-transfer materials, Sublimation and Infusible Ink products

Precision Tip that gives you effortless control and accuracy
What I don't like about EasyPress Mini:
Specific functionality makes it an inflexible heat source

Manual Application of Pressure

Nonspecific Heat Setting as you only have Low, Medium, and High 

No Digital Display

No Timer

Considerably Expensive
 

Size and Weight:
The Size of EasyPress Mini's entire body is 4" H x 3.4" W x 2.1" D (10.3 cm H x 8.7 cm W x 5.4 cm D) while its Heat Plate is measured at 1.9" x 3.25" (4.8 cm x 8.25 cm). It's ultra-lightweight as it only weighs approximately 0.8 lbs. (0.35 kg).
Pricing:
Price may vary depending on which version you buy and other available store deals. It ranges from C$ 79.99 to C$ 99.99.
Best for:
The top choice for shoes, stuffed animals, and everything that's unusually shaped and hard-to-reach spaces! You'll have no problem transferring tiny, beautiful graphics around zippers, seams, and buttons, as Cricut EasyPress Mini's precision tip is the best man to do the job. 
Tip: Combine this unique gem with EasyPress, and you'll be unstoppable in conquering almost every heat transfer project! 
Cricut AutoPress
The latest and most advanced heat press offering from Cricut, the AutoPress is the fittest choice for someone looking for a commercial-ready yet home-friendly heat press. Delivering 50 to 100 top-quality transfers is nothing, as this equipment is built for large-scale production.
If that's not enough to wow you, wait until you learn about its state-of-the-art automated features that make pressing an effortless task. With Cricut AutoPress, creating customized apparel requires less effort as it introduces an auto-assistance element. 
Manually adjusting pressure settings will be a thing of the past because this new heat press can measure the thickness of the material you're pressing and automatically apply the perfect pressure. You don't need to hold and patiently wait for the timer to stop, too, as the lid automatically lifts once the timer is up. 
Another key selling point of Cricut AutoPress is its control pods. This new inclusion allows you to easily navigate controls to set the time and temperature. You can save up to four preset settings for quick and easy setup.
Here are the things I like about Cricut AutoPress: 
Lesser effort thanks to its automatic selection of required pressure and auto-release feature

Easy to adjust control pods

Time-saving. You can save frequently used settings for convenient and quick use.

More safety features: it automatically turns off after 13 minutes of inactivity, made from certified temperature-rated plastics

Stylish design and solid steel construction

Larger heat plates vs. EasyPress

Comes with free Cricut EasyPress mats  

Heat setting can reach up to 400 °F (205 °C)

Compatible with almost every brand of HTV materials, Sublimation, and Infusible Ink products

Comes with a one-year warranty
What I don't like about Cricut AutoPress:
Expensive

It can be used only on flat-based materials

Additional effort on the activation (won't function not unless activated through PC/Mac computers, plus the need for internet connectivity)

Smaller heat plates vs. other commercial heat presses
Size:
You can get AutoPress in only one available size: 15 in x 12 in (38 cm x 30 cm)
Pricing:
You can take home this automated heat press for C$ 1,299.99.
Best for:
With its innovative offerings, Cricut AutoPress can be a potential money grabber for small and beginning business owners. Its hands-free automation and auto pressure setting are advantages an aspiring entrepreneur can harness. 
This incredible machine is compatible with a long list of flat-based fabrics and other nontextile materials such as cotton, polyester, nylon, wood, and metal.
Cricut Hat Press
Heads up, hat lovers! It's the one you've been waiting for!
Cricut is already raking success with its sought-after EasyPress, yet that didn't stop them from satisfying our creative clamor when they finally unveiled Cricut Hat Press.
Caps and hats are not the most accessible materials to work on as its surface are naturally curved. Getting Cricut Hat Press is the greatest reward you can give yourself - the gift of seamless heat transfer on caps and hats!
Unlike the first three Cricut heat presses, Hat Press features a small, curve heat plate. This design allows you to customize hats and caps conveniently, no matter how curvy. And with its ceramic-coated heat plate, you'll never worry about uneven heat distribution.
Here are the things I like about Cricut Hat Press: 
Simple and Easy to use

Comfortable Grip

Portable and lightweight

Equipped with Bluetooth connectivity

Compatibility with Cricut Heat App for easy control and step-by-step guided instructions 

Auto-off safety feature 
Another thing that makes this an attractive buy is the inclusion of other functional heat transfer materials. Buying Cricut Hat Press means you'll also be getting Hat Pressing Form, Safety Base, Strong Heat Resistant Tape, and Iron-on Designs. A proper bang for the buck bundle!
What I don't like about Cricut Hat Press:
The only thing that I believe would make this product even more extraordinary is if you could manually adjust its temperature setting. While waiting for that, we're stuck with Low, Medium and High heat settings. 
Size:
This easy-to-grip curvy heat press is 5 in x 3 in (12.7 cm x 7.6 cm) big.
Pricing:
Getting your first Hat Press will cost you C$ 199.99.
Best for:
Creating hats, ball caps, as well as other curvy or rounded garments. With Cricut Hat Press, you'll enjoy a stress-free customization journey!
Cricut Mug Press
Gone are the days when heat press projects are only limited to shirts. Now, you can personalize almost any surface you want, including mugs.
We're lucky to live in an era where Cricut Mug Press exists. This super easy-to-use personalized mug maker is a worthy addition to every crafter's creative arsenal.  
Cricut Mug Press lets you turn a boring mug into one that speaks colors and personality. With just one click, this automated heat press (yes! no manual setting of temperature and pressure here) knows what to do. Just sit back and relax while waiting for the final product. 
Here are the things I like about Cricut Mug Press: 
Easy to use with its one-touch settings

Durability (peel-proof, microwave-safe and dishwasher-safe)

Auto-off Safety Features

Can fit mugs from 11-16 oz (350 to 470ml)
What I don't like about Cricut Mug Press:
Limited Material Compatibility as you can only use compatible Sublimation Mugs 
Pricing:
You can get Cricut Mug Press for only C$ 279.99.
Best for:
Purchasing Cricut Mug Press is a stellar option for personal and business-driven projects. You can create an individualized design as a gift for loved ones and friends. For business-minded individuals, you can use this heat press to kick start a souvenir shop. Customized mugs never go out of season, so you might as well venture into selling vibrantly designed products. 
Cricut is a brand synonymous with quality. So whatever heat press you find suitable to your taste will surely stand out to a brand new chapter in your HTV story.
 Discover More Great Articles On Crafting
 Please click the links below to read other Cricut things you must know:
CRICUT MACHINE: EVERYTHING YOU NEED TO KNOW
CRICUT DESIGN SPACE: A MUST-HAVE SOFTWARE
What is the Cricut heat press best for shirts?
You have two equally reliable options for transferring vinyl decals on shirts. Either choose EasyPress or AutoPress, but whichever way you go, both can deliver professional quality press. 
Though I've shared with you the selling points and the drawbacks of each heat press above, let me help you get a clearer view by telling you what features are unique to each heat press.
Edge of EasyPress 3 over Cricut AutoPress
Portability
With its lightweight and comparatively smaller body than AutoPress, EasyPress is a rational option for those who are always on the go and have small working spaces.
Bluetooth Capability and Cricut Heat App Compatibility
As of today, EasyPress 3 is one of the only two heat presses designed to harness the usefulness of the Cricut Heat App. This trait could be the deal maker, especially for a beginner who wants easy access to tips and step-by-step instructions. 
Here are other factors to consider. Choose EasyPress if:
you prefer handheld, manual heat press operation

you're an occasional crafter who doesn't produce that many shirt projects

your budget for a heat press is C$ 350.00 and below
Edge of Cricut AutoPress over EasyPress 3 
Ease of Use
EasyPress is easy to use too, and there's no denying that, but AutoPress delivers a different level of easiness, unlike any other heat press. Using just 2 of your fingers and without the tiring task of manually exerting pressure, you can finish the project without a drop of sweat.
Automated Features
The most notable edge of AutoPress over EasyPress 3 is the former's state-of-the-art functions. It sports automatic pressure adjustment and auto-release of the lid. 
Here are other factors to consider. Choose AutoPress if:
you intend to open a small business

you make t-shirt projects in large volume

you prefer a more significant heat press

you're willing to invest at least C$ 1,299.99.
As you can see, both heat presses allow you to customize t-shirts of almost any kind. It's just a matter of preference. But if you're still having second thoughts about buying a Cricut Heat Press, let the following insights help you clear your mind.
So, do you need a Cricut Heat Press?
Getting a heat press is an investment. It truly is! But despite this knowledge, many crafters like you are still unsure if they are willing to spend money on this nifty instrument.
While it's true that a standard home iron has proven itself capable of transferring HTV on selected substrates, that's not enough if you desire durable transfers. More so if you wish to take on more complex heat transfer projects soon. 
Long-lasting results and better quality require the application of specific temperature, time, and pressure settings. You can't achieve these factors if you continue to insist on using home iron when in fact, what you need is a reliable Cricut heat press.
It's never too late for a change. Make up your mind and get a Cricut Heat Press today! 
Best Cricut Heat Press for Beginners
What I like most about Cricut's Heat Press lineup is how easy all of them are to use! But for beginners, nothing can ever be friendlier than EasyPress 3. This specific product showcases features that are plain and simple to follow. And with the assistance of the Cricut Heat App, things are more accessible as the app contains almost all the necessary guides an aspiring crafter needs. From different ideas of what projects to try to lists of supplies needed, venturing into the wonders of the HTV has never been this easy.
Cricut has given us what we wanted from the very start: easy, worry-free, and innovative ways to work on our heat transfer projects. Indeed, this company is a standout industry leader that knows how to listen! And with a collection of heat press as good as theirs, it seems their reign on top isn't going to end soon.
Learn Vinyl tips and tricks and share your crafting adventures with us. Please visit us on our pages.
Social Media Accounts:
FB: CraftVinyl.ca
IG: CraftVinyl.ca
TikTok: craftvinyl.ca
For your vinyl crafting needs, please check our website at www.craftvinyl.ca. We offer different Adhesive and Heat Transfer Vinyl, perfect for your next project.