Fall Season 10+ Vinyl Project Ideas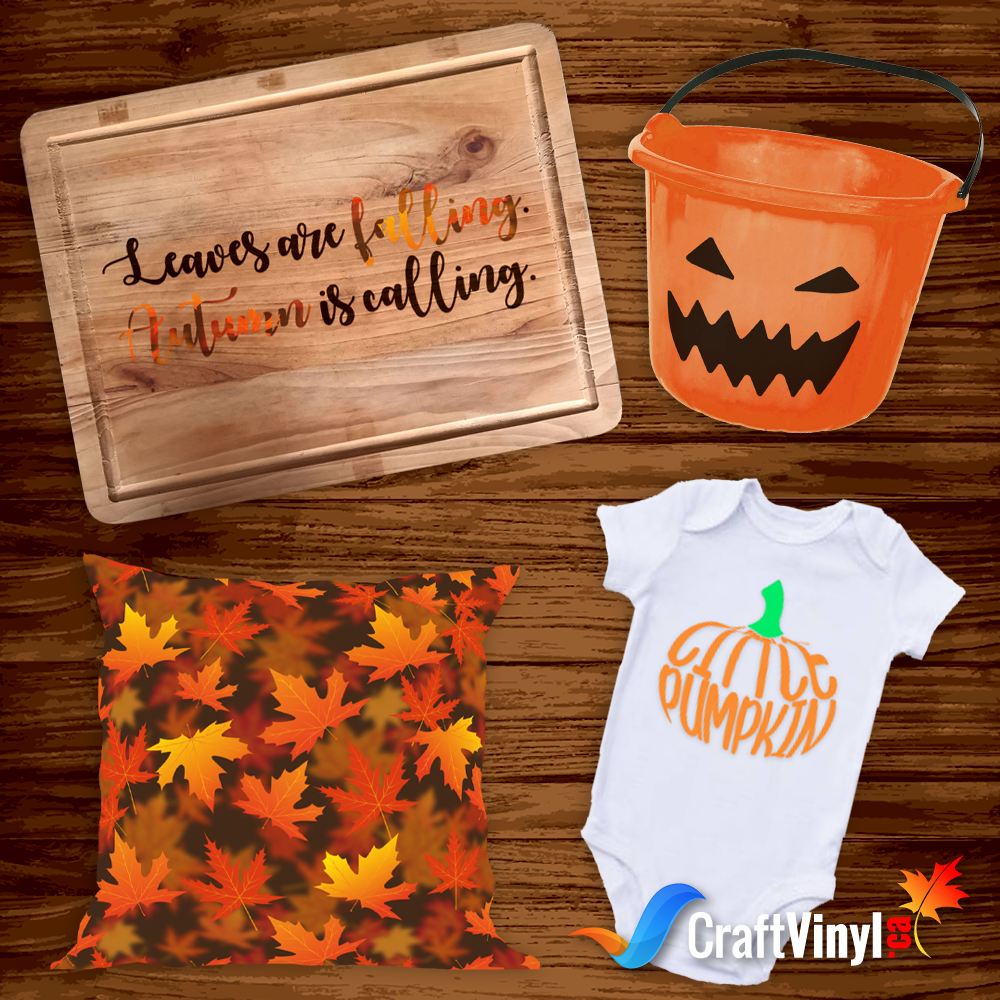 10+ Fall and Thanksgiving Vinyl Project Ideas for Fall Season
Hey Crafters! The fall season is coming, and it's perfect weather for recreational activities! Did you already have plans for this season? Why not start a new hobby in crafting and do some vinyl projects to give your fall season more excitement and joy?
One of the four essential seasons of the year is the fall season, which falls between summer and winter. The beginning of fall seasons varies depending on where you are. There are great scenes in every season. The absence of rain causes leaves to start evaporating, which causes them to fall and be replaced by new leaves in the winter.
Today, you will be inspired and encouraged to decorate all things fall with your Cricut!
Are you ready?
Let's fall in love with the fall season together through these fantastic crafts.
 1. Fall Inspired Coffee Station
 If you love coffee as much as I do, the following ideas will jump your heart! 
Since fall is the best season to get together with your family and friends, sipping in a cup of coffee is a perfect bonding for you. If you don't want to go out and look for a coffee shop outside, why not decorate a small corner of your house with a fall-inspired coffee station?
Hold on! I know what you're thinking. No, it's not as expensive as you think because you can find materials at your home!
Let's do this quick tutorial
What you need:
Chalkboard wood

Coffee mugs 

Heat Transfer Vinyl

Cricut machine
Instructions:
Step 1: Since our theme is about Fall Season, I will design my chalkboard wood with the phrase "Its Fall, Give Thanks ." So on your Design Space, put the text and use cursive font style or whatever you prefer. Please measure the size of your chalkboard wood to ensure that your text will fit perfectly.
For the design of coffee mugs, I will use yellow leaves, green leaves, or a pumpkin for each cup. You can look for the best leaves and pumpkin designs to make them more attractive for coffee lovers. Don't forget to mirror your design!
Step 2: Load your heat transfer vinyl on your cutting machine. Then, weed out the excess vinyl on your designs using tweezers.
Step 3: The next step is to pick up your designed HTV using a tall task mask, then lay it on your chalkboard and coffee mug surface using a squeegee or a scraping tool to flatten it. This would also avoid the rumpling design of your vinyl.
Step 4: It's time to heat up! For your coffee mugs, heat set the temperature of your mug press to 400 degrees Fahrenheit, or 204 degrees Celsius. Using EasyPress, set it up to 310 degrees Fahrenheit for 10 seconds. Next, set the pressure to "medium-heavy" and the timer to 4-5 minutes. When your mug heat press reaches 400 degrees Fahrenheit (204 degrees Celsius), it's time to start pressing. Place your mug with a handle into the heat press with care, careful not to wrinkle or fold the high task mask.
Step 5: After applying enough time, temperatures, and pressure, peel off the high task mask carefully. Allow your medium to cool down completely.
Set up your Fall Inspired Coffee Station on one corner of your home. 
Coffee lovers can't resist this idea of having a fall-inspired coffee station at home!
 2. Fall Inspired Throw Pillow
After having your coffee at your fall-inspired coffee station, let's have some relaxation with our fall-inspired throw pillow. 
Fall is the best time of the year to relax!
Don't you think so?
Heat Transfer Vinyl (HTV)is a great way to dress up your pillows for some perfectly personalized accents within your home. Use your Cricut to cut some gold foil iron-on and apply it to a throw pillow to capture the cozy sense of fall.
Let's start designing your throw pillows 
Supplies You'll Need
Iron-on vinyl

Pillowcase and pillow

Pencil

Scissors

Iron and ironing board
Come up with a design. Since it's Fall Season, I come up to put the phrase "Cozy Season is Fall Season" using a gold color HTV on my white throw pillow case.
Cut out your design. Now, cut it on your cutting machine and weed out the excess vinyl. 
Prep the pillow. Iron your pillowcase to smooth wrinkles so your HTV will adhere flawlessly.
Iron to adhere. Set the iron to the temperature indicated by the vinyl manufacturer's instructions. Press the iron over the vinyl, holding it in each spot for about 45 seconds to one minute. Move the iron around until the entire design has been covered. 
Stuff pillow. Remove the protective cover from the vinyl, insert your pillow, and voila! You can now enjoy your relaxation during Fall Season!
Do you want more? 
I'll give you more! Here's the list of Vinyl projects you can make for the Fall Season
 3. Guest and Family Treat Bucket
I adore treats like lollipops and candy!
Using a metal bucket is a great way to show it off and serve it to your guests throughout the fall season.
If you think the metal by itself could be a little boring, add some adhesive vinyl (or permanent vinyl) with the word "fall." Removable vinyl is an excellent option because you might want to reuse your metal bucket for another occasion.
 4. Cricut Thanksgiving Table Setting
If you want to be an expert at setting the table, heat transfer vinyl and adhesive vinyl can help you.
You can make a Happy Thanksgiving Cake Topper, Gift tags for Party favors, and iron some foil iron-on on the table napkins.
 5. Thanksgiving Plate Placement
These tablecloths will leave a lasting impression on your family and friends. Use an iron-on gold foil and press it at the napkin's base.
Foil iron-on is challenging to deal with. Use the Easypress Mini for this project, or you can also use a standard household iron. However, instead of using foil, I suggest using common iron-on if you can't control the temperature setting.
 6. Thanksgiving Party Favors from Cricut
Make these adorable party treats for guests to take home.
Using your Cricut, cut the present tags and tie them with a hem cord to the 4 oz mini mason jars. You can put some candies inside of your pot.
If you have a limited budget, you can still do this project because you can purchase mason jars for a meager cost.
 7. A little fall gift box
You may use these tiny fall gift boxes as party favors or make these for your children to give their teachers and friends as gifts. I advise using paper at least 12 inches by 12 inches for this craft and setting Design Space's box width to 11.5 inches. Avoid using materials that are too thick for the letters and embellishments because Cricut has trouble cutting them. Use glitter cardstock for the box itself, but glitter paper for the notes.
 8. Fall-themed Coffee Tray
Consider designing a plain coffee tray into a lovely one for the "crown jewel." Use permanent gold glitter vinyl for the tray. This glitter is so subtle, yet it is so chic and sophisticated. You can utilize this and include it in your fall-inspired coffee station at home.
 9. Fall Inspired Kitchen Towels 
A lot happens in the kitchen during the fall season. Say hello to apple pie, pumpkin pie, turkey, mashed potatoes and gravy, and more deliciousness.
 Is it clear that I adore food? 
Why not create some kitchen towels with a fall theme to further highlight the season in your kitchen?
10. Cricut Fall Inspired Banner
I adore the banners that Cricut can produce!
They are not the generic ones you can buy in stores. You can make something original that satisfies all of your requirements if you put your mind to it.
Use glitter cardstock and white twine to hang this "Give Thanks" banner. As a result, every time you see this banner, the fall season will make you feel good.
 11. Home Decor with Candles
Candles are back for the fall!
Although candles can be used in the summer, I feel that doing so is not the same as lighting them on chilly fall and winter days.
But these candles have a decorative function.
Transfer removable vinyl on the plastic the candles are packaged in, and you can purchase a set for very little money at any craft or home décor store.
Use a warm washcloth to carefully wipe the candles if the plastic seems greasy or sticky before applying your vinyl.
12. Cricut Porcelain Food Tray with a Fall Design
Gosh! I can't express how much I loved working on this project enough!
You could therefore design a porcelain food tray to go with your fall-themed table arrangement in addition to your coffee tray. Use a removable black vinyl (or any color you want to contrast to the color of your tray) if you don't want to keep buying trays and may wish to use it for future holidays.
Use it to store wrapped candy or top the tray with a piece of parchment paper to separate the food from the vinyl.
Oh, and use it for cold or room temperature dishes.
 13. Cute Baby Onesies
Without some baby onesies, this post would be lacking.
Admit that there is something unique about dressing our children for the current holiday. On your baby's onesies, display the text "Fall in love with this pumpkin." Pretty sure it will add to the cuteness of your kid!
Have fun thinking of your vinyl project ideas for the fall season. Achieve that fun by starting to create your fabulous projects and sharing them with us!
Simply tag us on our social media accounts and by sending us a direct message through the following accounts listed below:
FB: CraftVinyl.ca
IG: CraftVinyl.ca
TikTok: craftvinyl.ca
For your vinyl crafting needs, please check our website at www.craftvinyl.ca. We offer different Adhesive and Heat Transfer Vinyl perfect for your next project.
 Discover More Great Articles On Crafting
For more Heat Transfer Vinyl projects, please check the links below:
 APPLICATION OF ADHESIVE VINYL ON MUGS
A HEART TO ART V-DAY CONCEPTS USING HTV