Halloween Decor Ideas Featuring DIY with Vinyl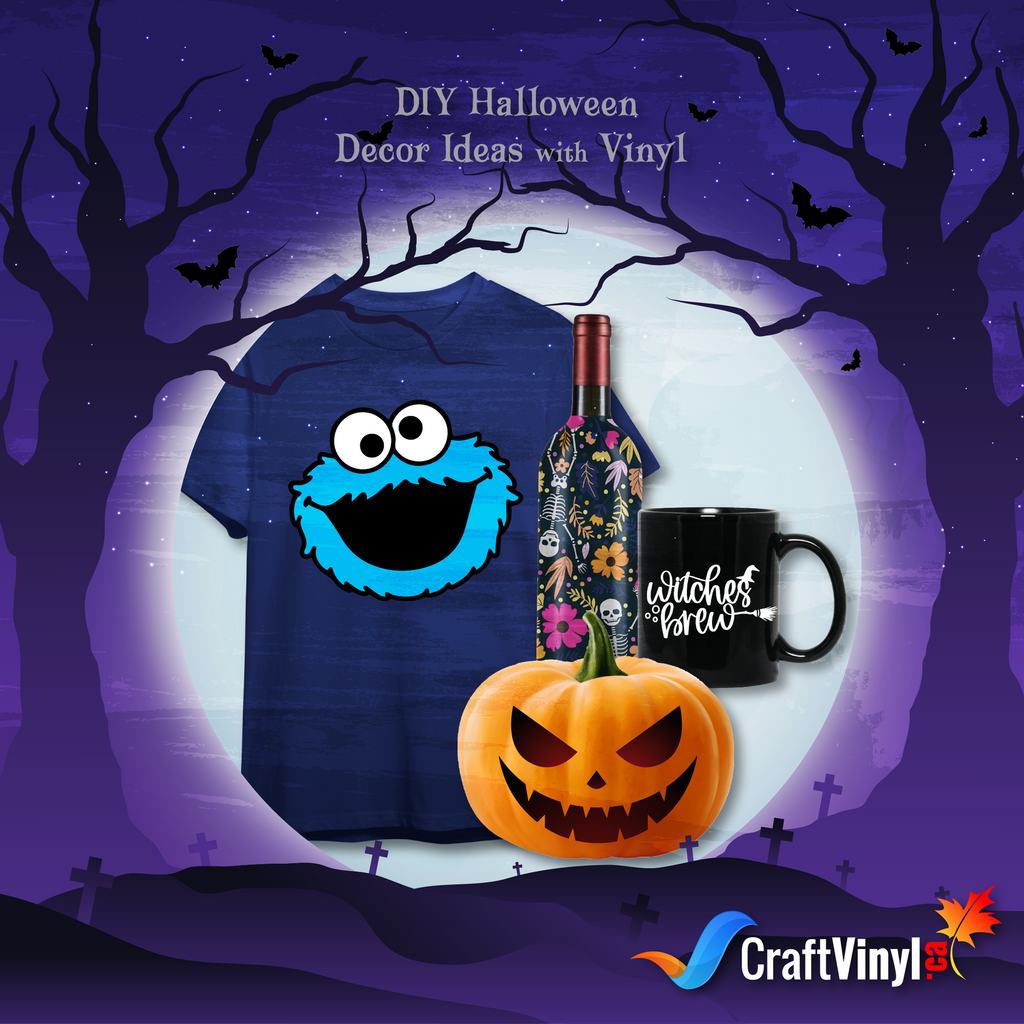 HALLOWEEN DECORATIONS FEATURING DIY
Halloween decor on our house and scary costumes are typically the first things that come to mind when I hear the word 'Halloween.' But given that this is the one time of year when you can dress up in your favorite funny DIY Halloween costume, why not be imaginative with your home's DIY Halloween décor? These original suggestions will ensure that every square inch of your home looks unique and festive this holiday season—not to mention a little spooky! And don't worry if you're short on time. These crafts are quick to put together. 
Want to decorate your entire home with spooky, original Halloween crafts? Halloween wreaths, Pumpkins, or enormous spiders that will amaze partygoers can be used to spook up your porch. We've included both indoor and outdoor DIY Halloween decorations. 
So get ready to become the ghostess with the mostess by adding one or more of these inexpensive DIY Halloween decorations to your home. Just don't be surprised when you become the talk of the neighborhood. 
 

1. Transferware Pumpkins
Grab some Mod Podge. Create a color copy of your preferred plates and trays, cut the paper into strips, and use Mod Podge to attach the strips to a pumpkin or gourd. All it takes to "transfer" your transferware collection to a pumpkin is a quick trip to the color copier.
 

2. Ceramic Crocks Filled with Pumpkins and Mum
Bring it on. Display a variety of crocks on a front porch or stoop, along with flat, wide pumpkins (Musquee de Provence, Jarrahdale, and Cinderella are excellent selections). Potted mums can be mixed in to add texture and color.
 

3. Spool and Bobbin Display
Start piling. Put tiny pumpkins on top of wooden spools and bobbins to instantly transform your mantel.
 

4. Copper Painted Pumpkins
Brighten up. Match your cookware relics with pumpkins painted with metallic copper acrylic paint. Display your goods next to (or inside of) them.
 

5. Etched Vine Topiary Pumpkin
This sophisticated trio is ideal for welcoming visitors to your front door. Place directly on the porch or stack plaid blankets of various colors on a vintage ladderback chair.
 To make: Buy three pumpkins that stack okay—one large, one medium, and one small—in any color combination. The design should be carved out using a linoleum carving tool. The large and medium pumpkins should be stemmed. On a pumpkin, lightly doodle a vine pattern with a pencil. Once finished, use hot glue to affix red berries or beads.
 

7. Tiered Colander Pumpkin Display
Create and present a centerpiece with tiers. Use it on a sideboard or the kitchen table.
Cut pieces of floral foam to fit the bottom and middle colanders' bowls. Next, push the top two colanders (footed work best) into the foam to form your stack. Then, fill the top tier and the spaces between the colanders with mini pumpkins and bittersweet.
 

8. Wine Bottle Candlesticks
Any Halloween event must have an eerie flicker. Spray-paint wine bottles in matte black. Place an orange taper candle in each opening once it has dried.
 

9. Bushels-of-Fun Halloween Party
At your family-friendly event, hang circular wood cutting boards that have been transformed into pumpkins using orange wood stain, paper leaves, and pipe cleaner tendrils. Paper plates painted with orange and yellow craft paint stripes are used to create a candy cane garland. With the help of miniature hay bales and wood crates, add height to the buffet by displaying a seasonal arrangement in a vintage metal container.
 

10. Bubbling Cauldron
Simply combine dry ice (found in grocery stores) and a small amount of water to create spooky fog in a cast-iron Dutch oven.
 

11. Creepy Spiderweb Wall
A Halloween buffet can be made creepier by adding gummy-looking spider webs and eerie branches with black paint. Wrap black-sprayed stems with fake spiderweb material by stretching them across the buffet wall and through the branches.
 

12. Silhouettes Party Buffet
Spooky silhouettes cut from black craft paper add creepy characters to this Halloween buffet spread. Crows adorn an oversized mirror, owls watch over the food, and hands try to break free from a layer cake that is topped with crumbled cookie "dirt" and crawling with creepy plastic spiders. 
 

13. Paper Silhouette Decor
Layers of eerie Halloween-themed silhouettes made from black and red craft paper will liven up a plain white mantel. While members of the extended family carry pickaxes and display their bloody vampire teeth, the house matron is wearing an enormous paper witch hat.
 

14. Giant Balloon Spiders
Blow up a single, sizable, black balloon to serve as the body. For the spider, create one head-sized, smaller, black balloon. Then, join the two balloon knots.
Make the legs by wrapping eight lengths of 12-gauge craft wire or an unfurled wire hanger with black faux fur and hot-gluing it. Create bundles of legs by twisting the ends of the four lengths together. With the remaining four lengths, repeat.
Put the spider together by wrapping a black pipe cleaner around the bunched-up ends of the legs. Where the balloons are tied together at the spider's "neck," cover a pipe cleaner around it. To hang, wrap the fishing wire around the leg.
 

15. Witch Wreath
Dorothy would definitely flee if she saw this wreath! Although we adore this witch's appearance, you are free to substitute a different spooky icon.
To make the wreath, cut 150 2-inch-wide black grosgrain ribbon strips, each 6 inches long. To create a ruffled effect, fold the strips in half and layer them on top of one another on a 16-inch foam wreath. Attach the strips with straight pins. Make a witch silhouette out of black kraft paper. Double-sided tape is attached to the center of a 16-inch round clear acrylic piece. Attach the acrylic round's edges to the wreath form's back using hot glue. Finish with a long-tailed bow.
 

16. Lantern Post Sign
This Halloween, there is no better way to parody the famous Macbeth quote than with a homemade signpost. Black and orange stripes and a fake raven watch guard at the top keep things thematic.
All you need is wood and adhere to your Macbeth quote using adhesive vinyl or heat transfer vinyl. 
 

17. Hanging Cage Prop
Created simply from stacked plastic laundry baskets for outdoor "cages," it will give your neighbors a light fright. Put a few skeletons inside for the full spooky effect.
Discover More Great Articles On Crafting
Check the links below for more vinyl project ideas you must try: 
VINYL PROJECT IDEAS FOR THE FALL SEASON
UNIQUE DIY GIFT IDEAS WITH HTV
Halloween costumes with Heat Transfer Vinyl
Your Cricut machine and Heat Transfer Vinyl give you countless creative options for Halloween costumes and decorations. You can make anything your inventive mind brings up a reality. Let's face it; even if you had hundreds of costume ideas in your head in the months leading up to All Hallows Eve, you probably didn't put much thought into your costume until there wasn't much time left. If your vinyl cutter is on your side, you are in a better position! We've put together a few ideas for some quick(ish) costume inspiration.
TIP: Don't have a craft cutter? If your design is somewhat simple, you can even use scissors to cut shapes or letters out of heat transfer vinyl and iron it on your household iron!
 

1. Cookie Monster T-Shirt Costume
Do you need the ideal Halloween costume for a colleague, coworker, child, teacher, or occasion? What about a quick and simple outfit that includes cookies? The Cookie Monster T-Shirt is the ideal remedy in that case! To complete the look, wear it with leggings or a tulle skirt! Use Siser StripFlock Pro to give your Cookie Monster shirt a soft, fuzzy feel. Who desires an itchy Cookie Monster? Why not use Procreate to make a super simple face and cookie design? Then, import it to your Cricut Explore Air 2 and cut it. Photoshop, paint, or even Cricut Design Space are all suitable options. 
The best feature of our StripFlock Pro is that you can layer it to make the entire design fuzzy and fluffy. Use the blue Performance V-neck T-shirt from Port and Company to go with Cookie Monter's blue fur. You can make a super adorable and easy-to-make costume in just a few minutes. You can create a super cute family costume by pairing it with a baby onesie, a child's shirt, or even a coworker. Fuzzy monsters are ideal for Strip Flock Pro. Everyone wants to be a Cookie Monster. 
 

2. DIY HALLOWEEN SHOES
Who doesn't want an overall outfit for Halloween Party? Decorate your shoes with some Halloween designs using heat transfer vinyl. All you need is a plain sneaker and HTV, your Cricut machine, and a mini craft iron. Let's say that you wanted to put a black cat on the toe of your shoes, and I recommend white sneakers and black HTV to highlight your cat design. 
Start by cutting the cat face design out of your heat transfer vinyl and weed the excess vinyl. To fit the design perfectly to the toe of your sneakers, position it on the toe and use a craft knife to score through the transparent carrier sheet around the edge of the shoe. Then cut along the score lines with scissors.
Once the vinyl is cut down to match the shoe's shape, it's time to apply it! Applying heat transfer vinyl to any surface requires heat and pressure, and it can be tricky to get those when working with a small, flexible canvas shoe.
Instead of using a regular iron, which is a bit large for this project, use a mini craft iron, and I totally recommend it. Make sure not to put the iron directly onto the vinyl design because it will melt it! (Sad face) Cover it with a piece of multi-use paper or a portion of cotton fabric.
And that's it! You can also DIY your shirt and put a black cat on it for a matchy outfit for Halloween! 
Halloween project ideas with Adhesive Vinyl
Halloween is not just limited to Heat Transfer Vinyl. Adhesive Vinyl could also offer a lot of vinyl projects for your Halloween Party! You can remove the Halloween designs immediately and change them into Christmas ones. This season, I prefer to use the removable adhesive vinyl because I don't want my house to look like a haunted one forever.
Check out these simple Halloween project ideas using adhesive vinyl: 
1. Doormats
Compared to the others, this craft project is a little more challenging.
Create your DIY doormat by turning the Halloween SVGs into a stencil, cutting it from removable vinyl or stencil vinyl, adhering it to a doormat, and painting over the stencil's gaps.
 

2. Spooky Halloween Party Mugs
As we all know, mugs are the best medium for adhesive vinyl. All you need to do is to think of scary designs to adhere to your mugs. Why not try to create a skull vinyl design on your black mugs? 
 

3. DIY Halloween Banner
To welcome your guest to your haunted house, put your DIY Halloween Banner in front of your door. It will give your guest goosebumps and a warm welcome before entering your home. 
 

4. Tote bags
I adore covering tote bags with vinyl! For the Halloween Craft Countdown project, you can make a glow-in-the-dark tote bag featuring skeleton pets.
Halloween totes bags would be ideal for collecting all the delicious candy for trick-or-treating!! 
 

5. Towels, linen, and napkins
Do you have Halloween decorations in your house? If so, how about taking it further with Halloween hand towels or dinner party-themed cloth napkins?
Have a scary and fun Halloween Season, my dear crafters! 
 Learn more Vinyl tips and tricks and share your crafting adventures with us. Please visit us on our pages.
Social Media Accounts:
FB: CraftVinyl.ca
IG: CraftVinyl.ca
TikTok: craftvinyl.ca
For your vinyl crafting needs, please check our website at www.craftvinyl.ca. We offer different Adhesive and Heat Transfer Vinyl, perfect for your next project.