Adhesive Vinyl Craft Ideas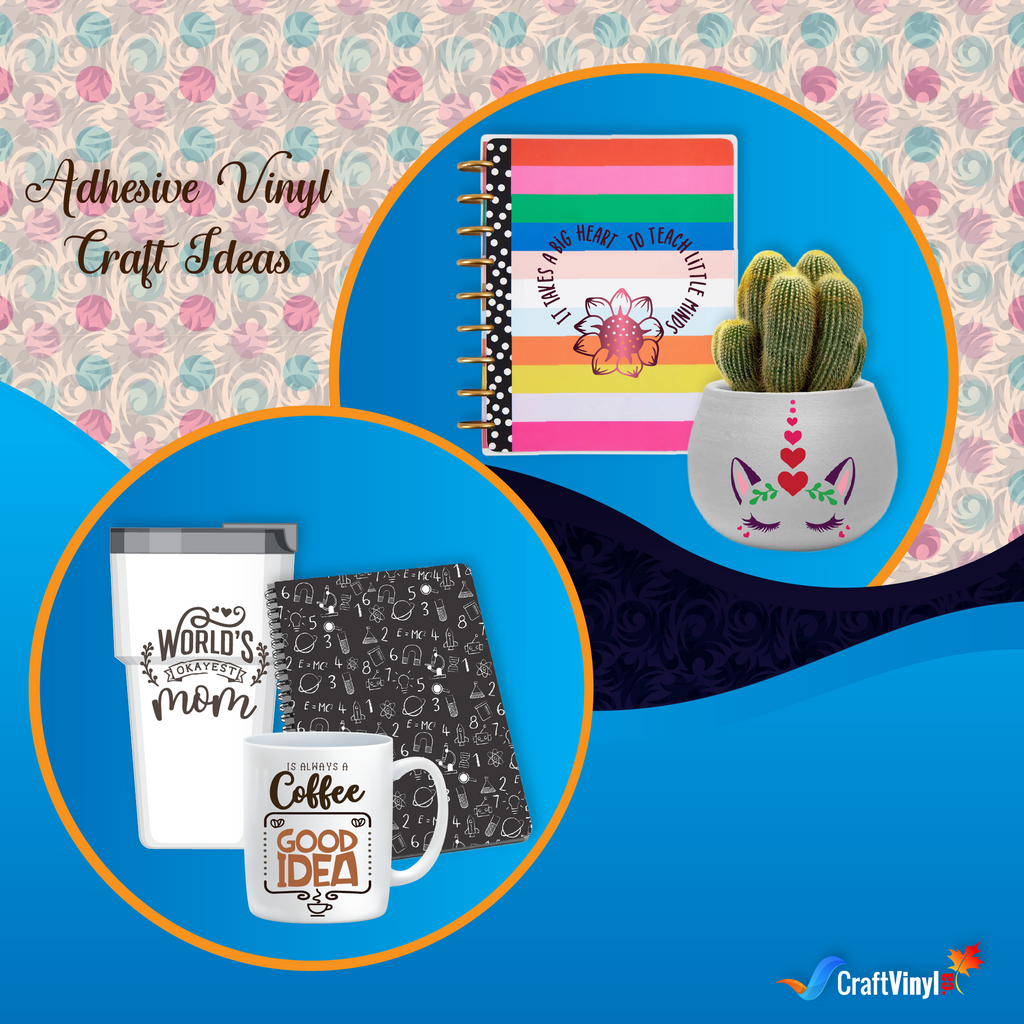 Must-Try Craft Ideas using Adhesive Vinyl
It's been said countless times that just a single vinyl can lead you to a thousand imaginative explorations, that one roll of vinyl alone can fill a room with hundreds of standout showpieces. Well, this is no myth, as one can hold such power in his creative arsenal to do just that. 
And if you're searching for a vinyl that can deliver such a promise, you've dug the right mine as we're about to share another treasure in the Vinyl world that will surely blow your mind- Adhesive Vinyl!
This exciting material is one you don't want to miss. So, let's wait for no further and get our creative juices flowing with a brand-new artistic escapade featuring Adhesive Vinyl!
What is Adhesive Vinyl?
Using an Adhesive Vinyl for the first time is like having a reunion with a familiar stranger. This easy-to-use product has all the nostalgic feel of the same old sticker we once adore during our childhood- only this time with way better quality and more options to choose from!
Adhesive Vinyl is a versatile option capable of turning any artistic vision into a solid piece of work. Thanks to its sticker-like charm, one can have a thrilling adventure in seamlessly creating tons of delightful designs!
As a brief 101, Adhesive Vinyl is a material made up of a combination of two sheets: a thin layer of vinyl with a pressure-sensitive adhesive and a paper backing that acts as its release liner. Unlike heat transfer vinyl, this specific type of vinyl offers a more straightforward method of transferring designs since you won't need any heat press. All it takes is a reliable transfer tape, and you're off to a smooth transfer.
What can you make with adhesive vinyl?
Adhesive Vinyl is perfect for both flat and curvy solid surfaces. Its universal appeal is proven to add aesthetic value to any concrete, plaster, glass wall, and other glass products, metal, aluminum, ceramics, and even a long list of plastic materials.
This general compatibility makes it a top option for creating a handful of DIY vinyl projects, brand logos, personalized decals, signages, banners, decorative graphics, and more. No matter your purpose, be it for personal crafting or as a business venture, your creative fill indeed won't run dry with Adhesive Vinyl. No! Not when you have a spectrum of colors and different textures available to mix and match.
Your imagination is unlimited in bringing out eye-popping designs that won't quickly fade and can stand even in extreme weather conditions. Adhesive vinyl is perfect for indoor creations such as wall signs, souvenir items, and seasonal crafts to outdoor projects like window displays, ads, and car decals. Durability is guaranteed regardless of where you wish to display your work.
Now that we've got a glimpse of what joy awaits with an adventure with Adhesive Vinyl, let's dig deeper and unearth more discoveries with our list of must-try craft ideas for beginners.
Creative Craft Ideas You Must Try:

Adhesive Vinyl Projects for Beginners
Be ready to showcase your skills and let your imagination lead the way with these beginner-friendly Adhesive Vinyl projects.
DIY Custom Laptop & Gadget Skin/ Decal
Let's kick the list off with this ultra-chic way of dressing our laptops and other tech gadgets. Creating customized skin is a fun way to breathe life into our dull devices. Why not add a vibrant pattern that can turn it into instant eye candy? Why not a matching screen wallpaper and laptop skin? Or a constant reminder of your favorite quotation? There's no formula on how you'll embellish it. You can print anything you like as long as it makes your heart happy! 
Glitter Phone/Tablet Case
There are undoubtedly many available ready-made phone cases out there, but putting your own spin on something is a different level of happiness. Here's something your daughter will like- A personalized Glitter Phone/Tablet Case! You can add her name or anything that she wants! And with the other fun prints to choose from, I smell a potential mommy-daughter bedazzling bonding moment coming soon. 
Labels for Pantry Containers and other Kitchen Jars
Are you constantly guessing what's inside your kitchen canister? If whether it's salt or sugar? Then here's another fantastic idea that will thrill our crafty moms. These easy-to-make DIY labels for containers are the perfect answer to your kitchen dilemma. With Adhesive Vinyl, you can create cute custom name tags to help organize your kitchen racks. 
Seasonal Ornaments using Blank Wooden Disc
Adhesive Vinyl isn't just for naming condiments containers and cookie jars. You can use one too to make your house Halloween and Christmas-ready. But beware! Transforming wooden discs into DIY decor is so addicting! Whether it's a cutesy pic of Santa or the terrifying Dracula, these seasonal ornaments can quickly help you get in the holiday vibes. 
Here's a vinyl project that can captivate the hearts of our car enthusiasts. Stylizing your ride with a durable decal has never been this fantastic. From your fave anime, custom monograms, or a vibrant graphic, you can create anything that can turn your car into an instant scene stealer! 
If you're looking out for more outdoor projects using Adhesive Vinyl, then here's another one you should try in the future. Whether you want to jazz up an old mailbox with a new wooden sign or add a rustic feel to your Veranda, you can rely on Adhesive Vinyl to conveniently create different outdoor signages that can last a long time. 
Creative Graphics for your Glass Door and Windows 
It's not just small stuff you can create with this vinyl. One can add a splash of colors, patterns, and prints to your home or office without breaking the bank. You don't need to spend much to enjoy a new window or door display. It takes a little play in your imagination, and eye-popping designs will soon light up your humble home. 
Inspirational Wall Displays
And speaking of your humble home, it would be nice to decorate it with one of your soon-to-make wall displays. Fill your abode with inspirational messages you can hang on your walls. It could be a personal mantra or a borrowed quotation. It doesn't matter as long as it's there to motivate your spirit. 
Personalized Baby's Stuff
Nothing's more adorable than a smiling baby! So, why not give your baby's stuff a makeover with the help of Adhesive Vinyl? It would be sweet and memorable to add your motherly touch to your child's stuff - from his milk bottles, wipes container, bath seat, and more.
Who said you can't nurture your baby while still nurturing your artistic soul? Don't hesitate on this one. Go and give your baby something to cherish when all grown up.
Custom Printed Coffee Tumblers and Mugs
You can customize your name design, picture, and other unique graphics on it. You can't have a list of vinyl projects to try without including some for coffee lovers. And what good way to honor them than by giving them the power to embellish their coffee mugs or tumblers?  
Already overwhelmed with creative ideas? Refresh your mind and be ready to add some more to your must-try list. Here are more DIY projects you can explore using Adhesive Vinyl:  
DIY Succulents and Cacti Pots
Ever thought of combining arts and crafts with your fondness for plants? Imagine all the cute emoji or plant icons you can use in your Succulents and Cacti pots. This adorable artwork is a go-to project for crafters wanting to add a refreshing vibe to their homes.
Perfect for busy professionals! Just make sure to enclose it with a glass frame, and there you go- an instant functional planner! You can also create your personalized dry-erase calendar/monthly planner to schedule your following vinyl projects.
DIY Journal/Notebook Covers
It's always fun to keep a personal journal or a diary! And what's more personal than creating a design that reflects your personality? This idea is ideal for teenagers looking for ways to stylize their notebooks.  
Adhesive Vinyl works as long as it's a solid, flat, or curvy surface. That's why it's no surprise if you decide to add a little design to your cutting machine and other pieces of equipment. Consider conducting an art experiment and transform your cutters and printers into a one-of-a-kind tool with vinyl's trendy prints and other classic prints. 
Are you losing track of your child's growth? Then let this craft idea be your permanent reminder of how fast your kid is growing. This project would go well on your child's bedroom wall, but you can also use a wooden board to display it anywhere within the house.  
Handing a personalized gift is such a thoughtful idea. Whether it's a custom Drink bottle, DIY Wall Art Sign, personalized jars, or more, it's always great to give something fitting to the occasion. That's why we can't continue without considering some DIY gift ideas. 
First is a custom Drink bottle you can wrap as a gift for your nephews and nieces. Just a lovely print of their favorite cartoon character is enough to excite them! 
Another is DIY Wall Art Sign. This project is a terrific way to give something artsy and unique to friends and family. Adhesive Vinyl can also produce an attractive aesthetic but wait till you see it combined with other craft items like dried flowers, plastic leaves, and more. 
Holidays are just around the corner, and if you're thinking of simple yet standout gifts, then holiday-themed jars are an excellent choice. Let each jar spread the joy of the season! Adorn each jar with charming characters like the snowman, Rudolph, a Christmas tree, or even Snowflakes.
Discover More Great Articles On Crafting
Explore other interesting articles about vinyl crafting by clicking the links below:
Consider these crafty ideas as just the tip of the iceberg. Beyond this enumeration are dozens of other inventive projects to try. 
No matter what skill level you're at right now, the convenient experience that comes along with this vinyl is sure to leave you wanting more. So plan now. Make your list and see how many of these creative craft vinyl ideas you can make.
Learn more Vinyl tips and tricks and share your crafting adventures with us. Please visit us on our pages.
Social Media Accounts:
FB: CraftVinyl.ca
IG: CraftVinyl.ca
TikTok: craftvinyl.ca
For your vinyl crafting needs, please check our website at www.craftvinyl.ca. We offer different Adhesive and Heat Transfer Vinyl, perfect for your next project.