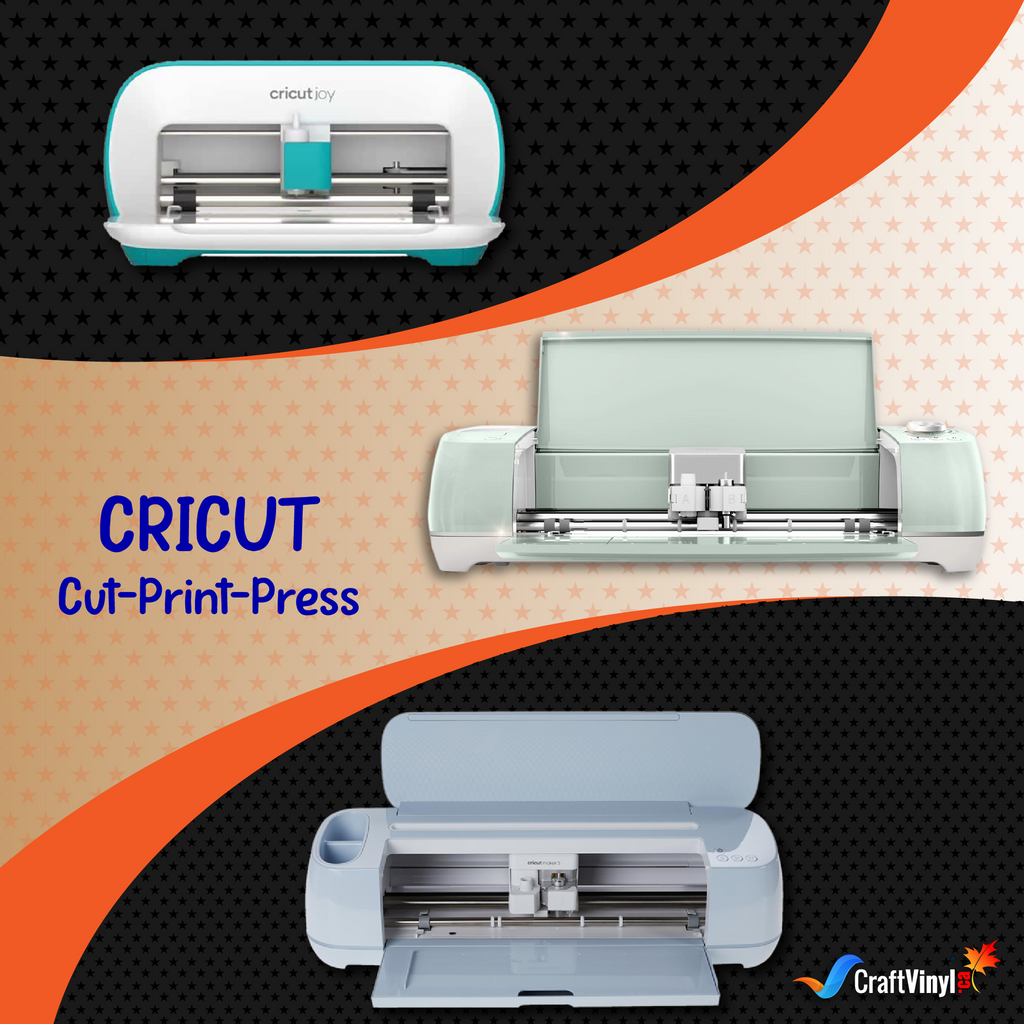 Cut-Print-Press is expressed with Cricut

Hey! Hey! Hurray! Come on, everybody, and let us seize this day with an empowering pursuit! The Do-It-Yourself or DIY fever is consistently soaring high and up above! Its fame and prominence are not only aesthetically living among those who are penny-wise and cost-effective promoters! Mind-bogglingly? This made others realize that it is a spectacular gateway that reveals the other hidden inventiveness, unseen artistic prowess deep inside of them, and a sighted new path in discovering a unique eye for crafting with CRICUT!

So if you have heard what news that the wind blows and that made up your mind to level up your DIY-ing, no need to wait longer! Why? Now is a perfect time and excellent venue to meet a good chump that can help unleash the intense pursuit deep within you and your future project! Wrap yourself up from looking at so many things cluttering your sight for artiness or from an over-the-loop of ways you think can further extract your artsy capability. Whether you begin from none or with a negligible grasp of customization background, this powerful instrument to DIY-ing we know will surely push you in moving forward … Even beyond leaps and bounds in the following stride of personalizing your crafts.

Since you are right here on the right page, you are about to keep promises from us as we guarantee it to come true. Knowing how this mate works and how it can intensify the upgrade of your products, you can get your satisfaction with customization sinewy like never before!
Cut, Cut, Cut! Everything All Starts with One Swift Act of Cutting
"Your eyes sighted good-looking craft images over the internet, and you are left wowed with it!" Did this make you a little envious? Does this make you wonder how they created those sophisticated and knotty designs on the earth? Does the growing frustration of also wanting to do those kinds of designs force your strong hope to wait for this thing to fall from heaven and make your crafting easier?

Well, those following indicators tell you…You badly want and seriously need this craft tool! If you haven't got one, this is the sign YOU NEED THIS IN YOUR CRAFTING LIFE! Or, if you already own one, this is the indication that it's about time for you to take a machine upgrade! It will move your craft vision to more experiences while obtaining confidence! All you need to have right now is this equipment that can make you do various craft activities and chase never-ending possibilities in one swift cut------- The CRICUT CUTTING MACHINE.

What is a Cricut Cutting Machine?
A Cricut Cutting Machine is an overly excellent craft plotter or digital die cutter setting to be like sugar and spice that can make everything nice all in your customization! It is a small but terrible device that can not only cut but could also draw or outline shapes on various materials. As it came from the lead producer of clever art tools, Cricut, this machine's good value for craft investment makes it desired by most crafters to be their sidekick and right hand.


What Can Cricut Cutting Machine Exactly Do For Your Customization?


Performance-filled digitized versatility with speed and accuracy? The next time you'll see fine details of an image or text laid out on whatever craft pages and blog you encounter, you will not just stare at them for minutes, and you will never let go of a deep sigh out of your lungs again. It will remove the weariness in thinking you can't ever do that as well for your surface! Indeed, the idea of designing and cutting your layout with Cricut presents lots of ultimate things you can do with it.

If you didn't know, this smart-tech electronic cutter can instantly switch what designs you could create and cut regularly; beyond your ordinary scissors and printing tools. Like the detailed images and intricate text designs you see not only over the internet but printed on other customized products, you don't need to dub hand to create similar designs like those mentioned. Gaining artistic freedom through this could let you personalize more of your layout and, simultaneously, avoid getting so stressed and "literally" cuts idle time because of the tediousness of cutting multiple or complicated designs.


What is Cricut's Cutting Machine Best Function for DIY-ing?


Are you embracing wide-open the marvels of customization? Cricut Cutting Machine ensures that your creativity, passion, and venture will never be confined inside a box!


The Print and Cut Feature
The Cricut's Print and Cut Feature will always be a well-calibrated function that can set free your colorful concepts to be translated into whatever works you will perform. This print and cut function of Cricut to DIY-ing is the machine's operational capability where crafters widely extend its use until the most out of it. What's more satisfying, this function is much more compatible with making printable designs on heat-pressed crafts using Iron-on or HTVs like Printable Heat Transfer Vinyl.


How do the Print and Cut Feature work?
This so-called Print and Cut Feature of the Cricut Cutting Machine can amazingly allow the generation of any personalized images that pop out of your mind. This feature enables your full-color imprints or text design to be held together using the design software on your computer. To make the "print" function work, you need an on-the-go printer to reproduce your imprints.

For you to proceed in the cutting and the "cut" function part to do work, too, this shall replace the process where you need to cut your design manually. With all the design output you'll obtain, Cricut Cutting Machine will do the work of cutting for you in whatever materials or medium you want to place those imprints.


The Draw and Cut Feature

It's another functionality of the Cricut Cutting Machine which allows the crafter to print its image or make dazzling handwriting designs without using a printer. This feature is best to use if one plans to create a cute, pretty design for sublimation or infusible inks.

How do the Cut and Draw Feature work?
You can operate the Cut and Draw by changing the accessory, such as the machine's blade, into an infusible pen and markers designed for Cricut. The pen or marker and the blade must be loaded as an accessory to Cricut to enable this function. Through Cricut Design Space, the command in the "drawing" will automatically sketch and, after, "cut" the image elements according to the set instruction. Meanwhile, both "draw" and "cut" functions can also run at the same time as a function while doing two types of commands. As long as the drawing elements for draw and cut are correctly selected, you can do it simultaneously.

What Craft Essentials can Maximize Cricut's Print & Cut Feature?
I bet you'll going to agree with me on this. Cricut Cutting machines has opened up all the dimension of the DIY universe you never knew would exist! Whether doing item customization for fun or as a hobby, this can make your ideas always land in one extensive career! Having a solid choice of taking the Cricut Cutting Machine to your working table is one of the best crafting decisions you have ever made in your entire DIY life!

A printer as Cricut's Ultimate Companion for Print and Cut Feature
Ensuring that Cricut Cutting Machine is used to the extent of its potential while its feature is applied all over your projects… Here is a "great craft accessory" that slashes the "proclaimed partner" of every Cricut Cutter! A "whizzy tool" that can take you closest to the full advantage of every creative breakthrough with Cricut cutters… It's no other than but a PRINTER. Yes! Don't you believe it?

Despite being an everyday accessory we find at home or in DIY shops, a printer can also transpire your work to any medium. To understand why a printer is a required must-have, we will walk you through what you need to know and how it cooperatively works with a Cricut!

Do we need a printer for Cricut?
If your plan is only to cut your design and place it in various materials, we can say a printer is not so essential in this situation. And that isn't a bad option. However, it would be best if you thought twice about seeing your DIYs flying to the next level of artistry.

Performing an all-inclusive craft set-up, having a Cricut with a printer by your side only means one good thing. You don't want to fail in experiencing the extreme versatility of a complete set-up for crafting and the excellent tandem between a Cricut and a printer. Not only that, remember a Cricut without a printer will fail you to use, apply, and achieve the best possibilities along with its print and cut feature for most of your design projects!
Come to think of this as well. If you want individualized plus personalized imprints, how could you solely make it with a Cricut Cutter only? Perhaps, how could you also have your designs on Cricut's Print and Cut materials or in a Printable HTV without a printer? So at this point, we can conclude a Printer is a must!

Isn't a Cricut a printer too?
Did you buy Cricut Machine, and when you are going to use it, you realize the word "print" where it was usually connected is not the same as you expected?

This is probably the most confusing of other crafters. Also, a visible reason why some opt to use a Cricut without a printer. To clear things out, Cricut Machine may craft equipment capable of producing designs on any materials. Yet, it isn't a machine that can print and generate your image through inks. This machine's role is not to create imprints through inks. But, helps your image get into a complete process of becoming a printed image through cutting. It will be helpful if you understand the answer to this question by thinking printing and cutting are separate functionalities. Both are performed by different craft equipment and become more powerful tools when combined.

Why do we need a Printer for Cricut?
As we always say, the victory behind a successful project relies upon the team-up and cooperation of all materials. A curated, customized project in a printer for Cricut is always great. It can deliberate a work as a Cricut does. It means if a Cricut can produce very detailed, easy, or complex designs, a printer must equally do what it does to be its companion. Printers for Cricut enable us to provide highly professional and well-customized design items for commercial purposes for every crafter's project. Moreover, it allows one to print a graphic to all or most types of materials or mediums in any size. With that, it definitely won't dismay you. It won't let you be stuck and limit your artistry.

Can we use any printer for Cricut?
Having a dependable printer for your print and cut projects will be not too easy or complicated. And no small or vast project for you to take on! Experiencing a seamless reproduction of your design by printing your image in a printer will always have to be done with the right and compatible printer device for your Cricut Machine.

To put things in a simple context, even though there are lots of printers you can purchase in the market, this doesn't mean all will work for Cricut. Often, images used for print and cut features of Cricut are imprints that come with minute to elaborative details and consume heavy usage of inks.

About Technical
A printer you must acquire should provide you with quality inks. Inks that aim to print a full-color image without blurriness or bleeding of image result. In addition, too, print and cut images are applied using specialized materials usually sensitive to heat. Therefore, the printer you'll choose for the printing process is a printer that doesn't utilize much heat. If the printer can release heat to print an image, this will damage the heat-sensitive material of the printed image. And may also damage the printer itself.

This only shows explicitly that the printing requirement of Cricut's cut projects is up for heavy-duty. With strong craft endurance, it will successfully perform the task until after pressing. Therefore, the printer must be able to carry out the printing process like how Cricut does its work. In conclusion, you still have to check the printer specifications available in your work room. Or the one you intend to purchase, along with which materials your chosen printer can handle accordingly to where the image is to be printed and applied.
Discover More Great Articles On Crafting
Click the links below for more crafting informations that might be helpful for your crafting journey.
HEAT TRANSFER VINYL VS. PRINTABLE HTV
What Printers work Best for Cricut?
A printer that works best for Cricut is nothing but a printer that can do more specified printing tasks, especially to the type of specialized material in which the customized image design is to be placed. As we search and survey all over the DIY community, only one kind of printer clangs to every ear of crafters, and it's no other than INK-JET TYPE OF PRINTERS.


Ink Jet Printers In General
Ink Jet Printers are the most recommended types of printer compatible to work on Cricut Cutters and with most print and cut materials. These types of printers are usually in a comprehensive format containing eco-solvent, solvent, or latex inks. Which makes its printing range not only limited to printing official paper works using regular copy paper. This printer type can also work on various art media with different weights or thicknesses. Even with an oversized one that a traditional printer can't do. Hence, Ink Jet printers can accommodate imprints with excellent, high resolution, and professional quality in terms of color accuracy. Which is a print requirement for print and cut materials.

Another aspect that makes this printer type compatible with Cricut, Ink Jet Printers can produce images through a precise sprinkling of ink droplets ejected from cartridges rendering digital imprints with collections of thousands of pixels. This only means that this printer favorably provides you images through inks without using heat to print your imprints. In this case, you can safely run print and cut materials with heat sensitivity issues without experiencing material damage.


NOTE to consider:
Do not use a Laser Printer for your Cricut or Cut and Print Materials. Aside from the fact that Laser Printers are limited to printing images on regular paper, this type of printer uses a "laser" producing heat that breaks down the printer toner to create an image. In this way, it can melt your materials that are sensitive to and may cause damage to the printer itself.

What is the Best Printer for Printing Vinyl and Printable HTV
We are down hunting for the best printer for our print and cut materials to be catered by vinyl and Printable HTVs. Even if there are no specific printers that Cricut recommends, it is constantly elevating to know that highly compatible printers are already available for our users with materials like HTVs and Vinyl. Just in case there is a printer that makes your heart beat fast, you will know if it's the one when it can carry out the printing process like how Cricut does its works! I know deep inside you shout the excitement of choosing a superb printer to be your companion in your project! Whether you tell me or not.

Here only for you, is some printers we know could work best for your vinyl and Printable HTV crafting.
 LIST OF INK JET PRINTERS FOR VINYL CRAFTING
BEST PRINTER FOR PRINTABLE HTV

 

PRINTER CAPABILITY

 

ART MEDIA TYPE

VINYL

PRINTABLE HTV

EPSON WF-7720 WIDE – FORMAT ALL-IN-ONE PRINTER

 

   

Best in Versatility

 A big printer that can manage files from smaller devices such as tablets and smartphones

Gives high-quality borderless prints and scans

With a wide format of 13"x 19" and scans up to 11" x 17"

Utilizes pigment ink and gives fast imprint results.

 

 

 

 YES

 

 

 

 

 YES

 

EPSON WF7710 WIRELESS PRINTER

 

Best Color Inkjet Printer

Great for mixed media.

Good in ink color and ink color depth similar to the image of design one is printing and won't fade quickly when applied to the fabric

Excellent for heat transfers with a DURA Brite Ultra Pigment Ink lasting up to 84 years.

Comes with great resistance to smudging, fading, and water.

Supports Sublimation ink.

 

 

 

 YES

 

 

 

 

 YES

 

EPSON HD XP-15000

 

  Use for heat transfers and printable vinyl where HD details and colors of the imprint are achievable.

 Because of its 6-color Claria Photo HD inks, this can contain colors that other printers can't obtain and these are the red and gray cartridges.

 With long-lasting and unfading print to the substrate.

 

 

 

 

 YES

 

 

 

 

 

 YES

 

Epson Artisan 1430

 

 

With almost similar Photo-graphic and high definition image quality through its 6 cartridge Clara Ink.

 Wide format Printer for borderless printing for mixed media, sublimation, and inkjet transfers.

 

 

 

YES

 

 

 

 

YES

 

Epson Stylus C88+

 

  A budget printer with high definition plus true-to-life image resolution and colors for borderless printing.

   

Supports Dye Sublimation

 Possess durable pigment inks that are quick dry making your imprint smudge-free.

 

 

 YES

 

 

 

 YES

 

CANON PIXMA iX6820

 

  One of the best business printer

   

Its multi-functionality best fits for commercial use producing clear and crisp with unlimited high-resolution printing possibilities.

  Ink saver printer through its canon eco-driver technology.

 

 

 YES

 

 

 

 YES

 

CANON PIXMA

Pro 100

 

 

Known to be the best professional printer

 

It is said to be a professional printer by showing its flexibility in terms of its speed to print spectacular large imprints with a great level of digital quality in minutes.

  It has 8 color inks so image colors come with complex options.

 

 

 

YES

 

 

 

 

YES

 

EPSON WORKFORCE ET-3850

 

 Best printer for sticker making and Cricut.

   

A super economical printer that is cartridge free and can print images with maximum resolution.

 

 

 

 YES

 

 

 

 YES

 

 

 
We are so delighted to see you enjoy another precious crafting moment in your work room. Together with all your companions to crafting! Since you are more than ready to spend any of your business and leisure time making boundless crafts while taking the express lane of product results with Cricut, we will let you go but don't worry; this is just for now!
Please don't forget to share your crafting adventures with us. Visit us on our pages.
Social Media Accounts:
FB: CraftVinyl.ca
IG: CraftVinyl.ca
TikTok: craftvinyl.ca
For your vinyl crafting needs, please check our website at www.craftvinyl.ca. We offer different Adhesive and Heat Transfer Vinyl, perfect for your next project.
And now we are all set to embrace all the opportunities under the sky and heaven!
We are looking forward to seeing you again at our next session! See you!