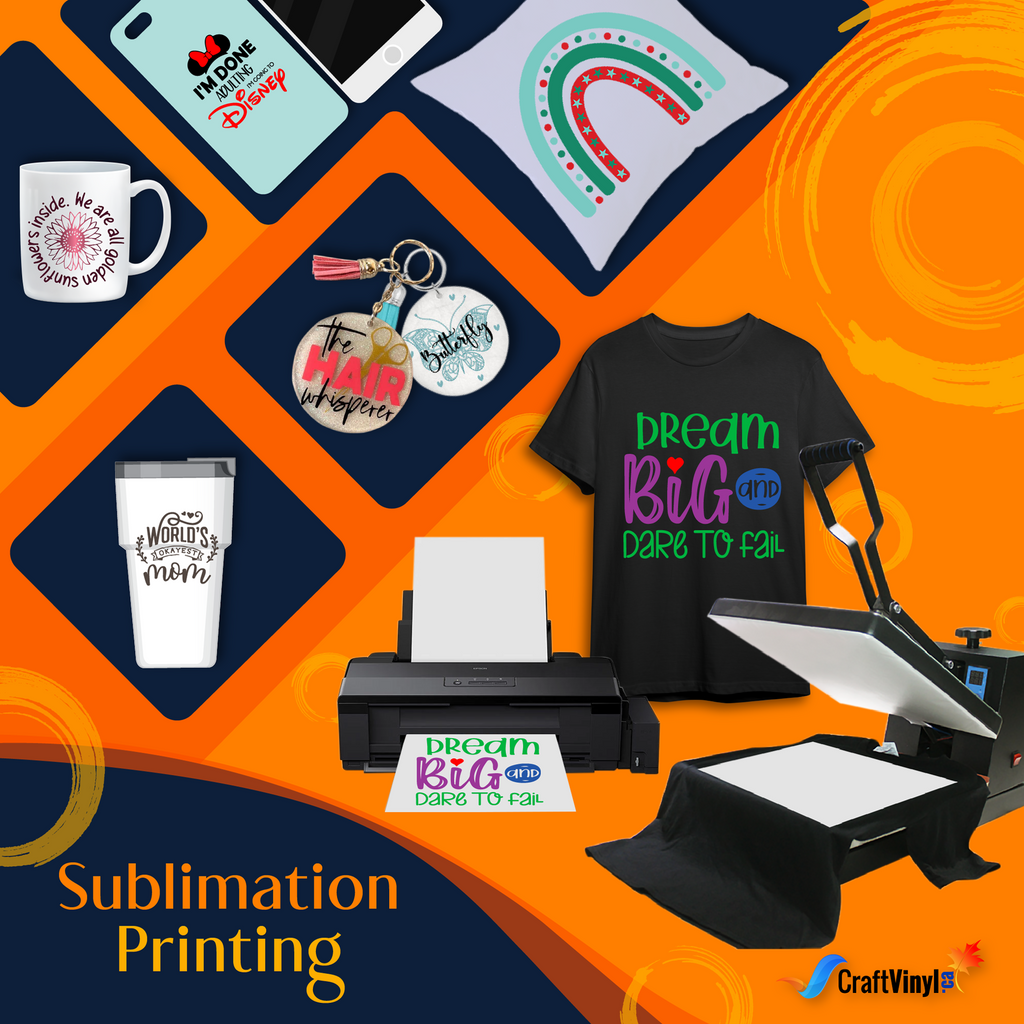 LEARNING SUBLIMATION PRINTING 101
Are you new to the Crafting and Do It Yourself world? Suppose you love to make personalization stuff or launch a personalized gift business. In that case, sublimation printing is one of the most straightforward processes to master and produce fantastic results with the highest quality that everyone will love! 
To learn everything about sublimation printing, keep reading this post. We'll take you step-by-step through the essential information you need to know before starting your sublimation journey.
First and foremost, let me discuss what sublimation printing is. It would be easy if you're a hustler working with Heat Transfer Vinyl.
 What is sublimation printing?
A Digital printing technology called sublimation printing makes it very simple to make personalized gifts. Sublimation involves printing a photo-quality image to create an exclusive and one-of-a-kind personalized item on items like shirts, mugs, photo frames, phone cases, bags, and tiles. It uses pressure and heat to transfer a design from sublimation paper to a piece of fabric or material (between 350 – 400 degrees). It is a quick and affordable method for businesses and consumers at home to add customization to products by converting the solid ink particles into a gaseous state.
So how this sublimation printing works? 
Over the past few years, sublimation printing's popularity has grown due to the high quality of the finished product. But before you try it yourself, you must first learn how to create the designs (by watching tutorials or reading guides like this one), just like with all other types of printing. If you're curious about how sublimation printing functions, read the explanation below to understand better what it entails.
The process of dye sublimation printing is straightforward, so you don't have to worry even if you are new in this field, and you'll be surprised when you see that your outcomes are excellent! Therefore, the steps you should take to get started with this personalization technique are as follows:
    1. Pick an image from your computer.
You can edit it using graphic design software or use it as is. Nowadays, there are many free graphic editing options, so don't worry if you feel bad about editing.
    2. Print the image.
Print the image using an inkjet printer with sublimation.-specific inks and paper.You should be aware that your sublimation printer needs to be exclusively used for this process. Since you will need to clean the ink tubes of a previously used printer (using conventional inks), we do not advise doing so. 
    3. Placing your sublimation paper.
Put the printed side of the paper against the surface of the things you want to customize. If you are designing a mug, place the paper's printed side against the surface and fix it with heat-resistant tape.
    4. Heat Application
Place the item on the heat press and the printed paper after adjusting the proper temperature, pressure, and time settings. Oops! Don't forget to put parchment paper. To apply heat, close the press; this is when SUBLIMATION occurs. Heat activates the ink, causing it to quickly change states from solid to gas and blend into the object's surface. Isn't it amazing how science and technology work? That's fantastic! 
Carefully remove the item from the heat press after the set time has passed. Because the press can get very hot, we advise wearing protective gloves or using a thick towel (if you are a minor, please ask for help from your parents). Then, carefully remove the paper.
And that's it! The printed item is now ready for giving. I can't wait to see your printed items! I know that you can learn these simple steps. 
 

WHAT DO I NEED TO DO WITH SUBLIMATION PRINTING?
We want to produce the best outcome. So, investing in the materials needed for sublimation printing is a must. Plus, you can't do your projects with limited materials! See the supplies and materials for your sublimation printing journey!
Assuming you already have a computer at home, you only need to spend money on the following items:
1. Computer & RIP Software
Some sublimation printers come with the software needed to configure the content to print. The term "Raster Image Processor" (RIP) refers to a computer program. Although not all printers come with it, RIP can be purchased separately. It is a must that the software and the type of printer are compatible.
2. Cutting tools
Another item advised for sublimation is a cutting tool, such as a knife or rotary blade. When producing original fabric items, this is necessary. Some cutting tools offer multiple options in a single system to accommodate various needs. 
3. Inkjet Printer
You will only use an inkjet printer for sublimation. When choosing your printer, you must decide whether you require a small format (A4 or A3) or a medium/large format printer. Small printers are more affordable, and their size is sufficient for imprinting small items like bags, phone cases, photo frames, mugs, and other accessories.
4. Sublimation-specific inks
Sublimation ink must be of the utmost quality to get flawless results. Use sealed cartridges to ensure supply channel purity and prevent printhead problems. You can achieve the full-color spectrum by installing all four introductory color cartridges (cyan, yellow, magenta, and black). The color profile for your printer model and ink type must be provided to you by sublimation ink manufacturers. With the help of this color profile, you can easily manage the colors on your computer to create a color spectrum that is identical to the original. On paper, colors will appear muted; you don't have to worry because that is normal. You should, however, obtain colors that are close to those in the original image after transferring the design. The color profile will make this possible.
Sublimation paper works similarly to an ink transfer sheet. Of course, it must first be printed before the design is transferred to the item using heat from a heat press. You must use high-quality sublimation paper for maximum DPI resolution (dots per inch) and ink transfer. Whatever surface you want to sublimate, there is only one type of sublimation paper (fabric, porcelain, wood, metal, etc.).
6. Heat Press
Depending on the items you plan to personalize, you must decide what kind of press you need. Compared to other techniques, heat is more critical for heat presses than pressure. You might want a flat heat press to print on flat items (clothes, photo holders, handbags, keychains, photo panels, etc.). The size of your press's platen will determine the most extensive surface you can sublimate, so keep that in mind when selecting it. However, there are presses explicitly designed for sublimating images onto mugs, the mug press. A combo press with multiple interchangeable platens is another option for greater customization flexibility. Combo presses are a good choice if you're starting.
Thanks to their interchangeable accessories, you can sublimate any product with them in an affordable way. It's also important to mention the oven, which has become increasingly popular for customizing phone cases. The iSmart range offers a 3D printing effect by allowing full sublimation on the case's uneven surface.
Get the best supplies you need to achieve the best outcome you wish!
I hope you take note of all the needed items to start your journey on sublimation printing! 
WHICH IS BETTER, SUBLIMATION PRINTING OR HEAT TRANSFER VINYL?
I want to make some printed items, but it feels it is somehow complicated to choose and use, sublimation printing or Heat Transfer Vinyl. 
I know you are a little confused about the difference between sublimation printing and heat transfer Vinyl, especially when you are just starting your crafting journey. 
So let's clear this matter with you so you'll have a better decision after.
How do sublimation and heat transfer differ from one another? Due to similarities in the use of heat presses, the two forms of printing can be mistaken for one another, but there are significant differences between them.
Differences Between Sublimation and Heat Transfer Paper
 Colors of Clothes
The color of the clothing you can transfer to is one of the critical distinctions between the two techniques. Any hue, light or dark, is transferrable. Using heat transfer printing, you are not limited by the color substrate on which you wish to transfer an image.
Alternately, sublimation only allows you to print on light-colored clothing. You cannot sublimate on dark colors because sublimation stains the fabric during the transfer process. It is a result of the process's scientific basis. 
Type of Substrate and Fabric
With sublimation, your options are limited to polyester-coated hard surfaces or white and light-colored materials. Cotton or other textiles is not applicable for sublimation. It is impossible to buy a mug or other object from the store and sublimate on it; the item must have a polymer coating that permits the sublimation process.
With heat transfer paper, there aren't many things you can't transfer. Any fabric, including polyester, cotton, blends, nylon, and more, can be utilized with heat transfer paper. You can also sublimate on complex surface objects without a polymer layer.
Longevity and "Hand" of the Image
You won't be able to feel the picture on the shirt or surface since sublimation takes place when the polyester fabric is colored. It uses a very delicate touch. It is also more resilient than heat transfer paper and won't crack over time as a heat transfer paper design may.
You can feel the design on the shirt since heat transfer paper leaves an image on top of the cloth. 
Weeding
Depending on the heat transfer paper you use, you might need to "weed" or cut and trim your design before applying it to your substrate. There are no self-weeding transfer papers for inkjet printers available. For laser heat transfer paper, there are some self-weeding possibilities. There are two-step self-weeding transfer papers available for heat transfer.
With sublimation, there is no need for weeding or cutting. There is no weeding or cutting because only the portions of the paper with sublimation ink are transferred to the garment or substrate.
Startup Expenses
Heat transfer paper is the less expensive starting point between sublimation and heat transfer paper. An inkjet or laser printer, a heat press, heat transfer paper, and the substrates you want to adorn are all you need to get started.
Compared to heat transfer paper, sublimation has a higher startup cost. You will require a sublimation printer, a heat press, sublimation paper, and the substrates or clothes you wish to adorn for sublimation.
There are several ways of decorating clothes, and sublimation and heat transfer paper are frequently contrasted when it comes to this matter. We can't say for sure which is preferable because it depends on your needs for your business and what you want to accomplish or beautify. So, the choice is still yours!
 Discover More Great Articles On Crafting
Check the links below to laern more about Heat Transfer Vinyl.
A BLAST FROM THE UNEXPLORED-SUBLIMATION ON GLITTER HTV
HOW TO LAYER HEAT TRANSFER VINYL PERFECTLY
CAN A REGULAR PRINTER PRINT SUBLIMATION?
I know that you wanted to experiment with sublimation printing BUT! You still need to consider the necessary and compatible materials for sublimation. If you have a regular printer and ask, "can a regular printer print sublimation?" 
The quick response is YES! As long as it meets specific requirements.
If you try printing with some sublimation paper you've found, read this guide first. It might just save you some ink!
First, you must use dye-based inks rather than pigment-based inks in the printer.
Second. The ink must be sublimated onto the substrate using heat, so it must be able to reach high temperatures.
So you might be thinking about what things make an excellent sublimation printer. 
HP Printers are pretty good, but that doesn't mean that other companies' printers can't be used for sublimation printing. 
Brother printers, on the other hand, are also another good option. Canon printers are also commercial printers providing you with the best result for your business. 
To produce printed results, the majority of printers use sublimation technology. Therefore, you are free to select any printer from a well-known brand.
However, Epson printers are the most well-liked and effective sublimation printers on the market.
 

DO YOU NEED A CRICUT FOR SUBLIMATION?
Sublimation printing is quite different from Heat Transfer Vinyl, yet some materials needed could be used for both. 
Do you believe that you need Cricut for sublimation? 
Well, it's a big YES! It turns out it's possible to use Cricut Design Space for sublimation printing. 
If you wanted the ability to use your Cricut's Print, then Cut feature along with your sublimation prints, go ahead, and do it! How amazing to combine the power and precision of Cricut and the sublimation printer's flexibility and range of color! 
The simplest way to use Cricut Design Space for sublimation is to upload sublimation PNG files using the upload feature. It will most likely be your best option if you're not a designer. But even though Cricut Design Space isn't the most robust design program overall, you could build complex sublimation designs from scratch using images and patterns. Therefore, an excellent place to start is by uploading designs already created by others or by you in another program.
Cricut provides a substitute for sublimation that functions almost the same way by using something called infusible inks. There are a few limitations to this novel choice. Special infusible transfers from Cricut can adhere to fabric using a chemical procedure similar to how sublimation dye adheres to surfaces when heated. These infusible transfers, according to Cricut, are only compatible with specific blanks that Cricut manufactures and sells.
HOW TO DO SUBLIMATION PRINTING ON SHIRTS
It's sad to see all your favorite t-shirts look worn out with cracked or faded designs. So if you want a new shirt with unique designs that will last long, why not switch to sublimation printed shirts? This unique printing method creates detailed designs that never wear out! Are you ready to learn how to do sublimation printing on shirts?
You can quickly learn how to do sublimation printing on shirts once you have your basic supplies. To begin, follow these step-by-step instructions.
What Do I Need to Make Sublimation Shirts?
Although the initial investment may seem high, consider that this kind of printing is quickly rising to the top of the market in terms of quality!
Let's start with the necessary supplies to get this type of printing. 
You will need a sublimation printer to get started. Most artists prefer to purchase a printer that is made to work with sublimation dyes. You can also turn a regular inkjet printer into a sublimation printer. 

Without a heat press, you cannot create sublimation prints. Contrary to other types of home printing, you cannot use your iron and ironing board for this; however, if you only need to make small sublimation designs, you can use a small press like the CricutEasyPress.

The most important thing to understand about sublimation transfer paper is that you must use paper made specifically for the sublimation process—you cannot use regular heat press transfer paper! The ideal piece to use is reasonably thick and resists wrinkling. You also need transfer paper treated with specialized chemicals to aid in gasifying the dye particles.

Last but not least, you will also need shirts to print on! Keep in mind that sublimation printing works best on 100% polyester shirts.
Getting Ready
You must first prepare the surface of the shirt and download your design before you can attach the printed design to a t-shirt.
To prepare a shirt for printing:
Wherever you want to apply the design, make sure the surface is flat and smooth by using a heat press or an iron. Any wrinkles will leave gaps and streaks in your design!

Use a lint roller on the shirt several times before applying the transfer paper. This step is essential because even the smallest fuzz or lint particle will cause smears and blotches in your design.

To prevent dye from bleeding to the shirt's backside during the heat press process, insert a piece of heavy paper.
To get your design ready:
This procedure can be as complicated or simple as you like. If you want to use a ready-made design, you can easily find and download many free graphics online. Another option is to use a digital image.

Remember that you will apply the transfer paper to your shirt upside-down. If your design contains any text, you must "mirror" it. Most design programs have this function, which is simple to find.
Making a Print
The best part of sublimation printing is creating a print on clothing! You get to witness the process' magical process in action. But before that, you have to think about your shirt's design. Since sublimation lasts long on a shirt, your design would be one of your favorite. It could be your name, company name, logo, favorite bible verse, or any images you prefer! It's your choice anyway. 

Print your image or lettering onto sublimation transfer paper using your sublimation printer. The design might appear duller than you had anticipated, but as heat is applied later, it will become brighter! 

Next, adhere your design to the shirt's fabric with the ink side facing out. Make sure to set it down directly, without sliding or smearing. You might even want to use heat-resistant tape to fasten the paper's corners for even more security.

Next, spread a Teflon sheet over the paper as protection. Your heat press will come with this protective sheet.

For the temperature to use on your heat-press, consult the transfer paper package. Usually, we use a temperature range of 360°F to 400°F for sublimation printing.

The timing will vary depending on the sublimation paper you used. In most cases, you'll place the design in the heat press for between 30 and 40 seconds, but read the paper package for more information!

After the heat pressing, remove the Teflon sheet and carefully peel the transfer paper away.
And voila! Say hello to your colorful shirt!
Here are my tips on doing sublimation printing on shirts:
A shirt with sublimation printing will last as long as the polyester fabric can hold up. Sublimation prints won't fade, crack, or peel. A polyester t-lifespan shirt depends on various factors, including how frequently you wash it, but generally, these shirts still look vibrant and colorful after ten years of use.
However, 100% cotton does not respond well to sublimation printing. Cotton will immediately wash the dye out of it. Try a tri-blend fabric that still contains a significant amount of polyester, ideally at least 75%, if you prefer softer or more stretchy t-shirts.
Did you get amazed with Sublimation Printing? Try it now to see more colorful and lively designs on your shirt!
Learn more Vinyl tips and tricks and share your crafting adventures with us. Please visit us at our pages.
Social Media Accounts:
FB: CraftVinyl.ca
IG: CraftVinyl.ca
TikTok: craftvinyl.ca
For your vinyl crafting needs, please check our website at www.craftvinyl.ca. We offer different types of Adhesive and Heat Transfer Vinyl perfect for your next project.