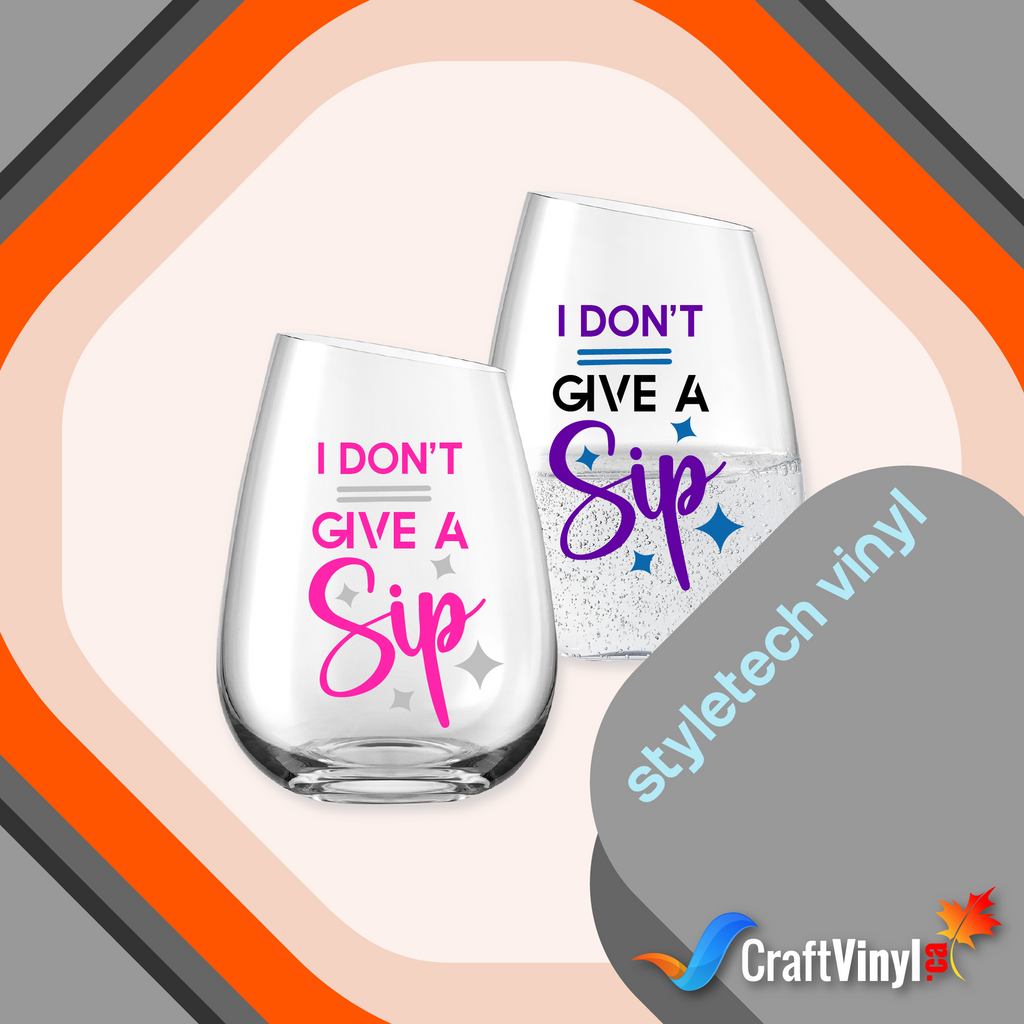 Learning StyleTech Vinyl 101
Are you a master at vinyl crafting? Do you enjoy coming up with new ideas, using fresh materials, and mastering new tools? If so, you probably already know how to do many basic crafting tasks. Maybe you're frequently experimenting with new ways to personalize items like bags, drinking glasses, shirts, wood, tumbler, and other mediums to make them a little more unique.
You're probably constantly looking for exciting new materials to work with. Am I right? So now I will share with you this great item that will surely unleash your creativity and will run your imagination so wild! 
I'm getting curious and can't wait to read the latter part! What is this?! 
-It's StyleTech Vinyl! 
So how does this StyleTech vinyl differ from the other? Well, this one is softer and more accessible to weed than most other manufacturers' vinyl. Added to that, it offers different types with different colors of vinyl.
To begin your journey with Styletech Vinyl, read this blog first; you can create perfect and excellent vinyl ideas after! 
 

DIFFERENT TYPES OF STYLETECH VINYL
Being creative is constantly looking outside the box, I mean, you always look for different types of materials to choose the best one that will fit your project. The good thing is that StyleTech offers different kinds of vinyl with different colors, so you can achieve the outcome you desire! 
StyleTech Vinyl has a look you want with 14 distinct product lines! StyleTech Vinyl has a craft vinyl for every project, including Color Change (Temp Change), Transparent Glitter, Metalized, Opal, and everything in between.
This vinyl offers two varieties of Color Change Vinyl. This vinyl changes color by adding either hot or cold liquids. Transparent Glitter is another option; it is the only vinyl in the world to have glitter on both the front and the back, ensuring that your projects never lose their radiance. Vinyl with a pressure-sensitive permanent adhesive makes up all of the films. The Opal, Metalized & Chromes, Polished Metal, and Luster product lines are a few examples.
Okay, I know you're pretty excited. Let me further discuss first each type of StyleTech Vinyl. 
Metalized and Chrome StyleTech Vinyl offer all the WOW you require for all your projects. 
There are 25 colors in this product line, including Purple Mist, Rose Gold Chrome, Rainbow Mist, and Rain Silver.
Introducing StyleTech's color-changing vinyl. This Color Change Vinyl has two types, Sun Vinyl and Temperature Change Vinyl. Sun Vinyl is a UV-reactive vinyl that changes from white to color in the sun!
Temperature Change Vinyl changes color based on temperature.
The cold films, which change color when exposed to cold temperatures, include: 
Cold Blue (clear to blue)

Cold Pink Purple (pink to purple)

Cold Pink changes (clear to pink)

Cold Purple (clear to purple)
It also has hot temperature color change vinyl: Red Hot Yellow, which changes from red to yellow when exposed to heat.
Sun Vinyl
A UV reactive vinyl called StyleTech Sun Vinyl turns from white to color in the sun! Water bottles, coolers, and many other items are perfect for this color-changing vinyl! 
Four colors are available: yellow, pink, purple, and blue.
Transparent Glitter
This type of vinyl is the only vinyl with colored glitter on both the inside and outside. It is excellent for glassware!
Available in 24 colors, including Rosy, Magenta, and Holographic.
If you want an entire spectrum of colors on one vinyl sheet, opal is exactly what you need! The colors change as you move them around.
Available in 9 colors: White, Blue, Pink, Yellow, Green, Amber, Orange, Bright Green, and Gold. 
Ultra Metallic
The first glitter vinyl was created for the craft industry. Many incredible colors are suitable for use both indoors and outdoors.
Tiff Blue, Fluorescent Pink, Coral, and Rosy Gold are among its 26 color options.
Texture
A unique line of craft films that offers…well, texture. With these films, you can create the look of tapestry, brushstroke, linen, or woodgrain. Perfect for when you want to make the look but can't get the material.
Tapestry is available in Purple, Red, Royal Blue, Champagne & Silver
Brushstroke is available in Royal Blue, Bright Green & Red
Linen is available in Champagne, Sky Blue & Silver
Woodgrain is available in Bronze, Silver & Champagne
Luster
Luster offers a satin finish that is neither glossy nor matte and is based on the film, same with vehicle wraps. This vinyl gives your projects a rich, in-depth appearance.
Thirteen colors are offered, including champagne, magenta, and teal.
FX Ultra
Another glitter vinyl, but this one is more subtle. Unusual colors produce a striking appearance with a hint of holographic flake.
Available in 13 colors, including Purple, Silver, and Pacific Teal 
Bright, metallic-looking type of vinyl that adds a shine and pop to whatever project you are working on.
Available in 13 colors, including Rosy, Teal & Sky Blue.
BRIGHT, BRIGHTER, BRIGHTEST! They glow during the day and at night when exposed to black light.
Six colors are offered, including pink, yellow, and orange.
Transparent
This vinyl type is just what it sounds: transparent with a hint of color. Excellent for use on glassware, windows, and anywhere else you want a distinctive look!
Available in 27 different colors.
Removable Matte
It's a REMOVABLE vinyl that is ideal for placing on a wall or mirror! For up to two years, you can remove it effortlessly and cleanly. Great for temporary or medium-term graphics
When you want to stick something up for a week, a season, or longer, but you want to take it down without a problem, this is what you need. This vinyl is suitable for a special occasion; you can instantly change your Halloween designs to Christmas!
Thirty-three colors are offered, including Coral, Tiff Blue, and Mint.
Designed for glass, this vinyl is great for adding monograms or a unique effect. 
Available in five colors: white, red, blue, green & pearly white.
I know that you now have a hard time choosing what type of StyleTech vinyl. And I will show you a tutorial and Vinyl Project Idea using the color-changing vinyl of StyleTech since it is somehow unfamiliar to you. 
Let's create stunning, elegant, and unique drinking glass using this Color Changing Vinyl. How do these types of vinyl differ from a regular ones? When the vinyl gets cold, the vinyl color changes. The color is more intense when the glass is colder. The cold vinyl returns to white when you touch it with your hand. This vinyl will give you a lot of fun! I swear! 
Let's start!
DIY Glass using Color Changing Vinyl!
What you need:
Color Changing Vinyl in Blue, Pink, and Purple

Metalized Vinyl in Rose Gold

Transfer Tape

Butterfly Cut File (or any design you prefer to use) 

Cutting Machine

Drinking Glass
The Pocedure:
1. Using rose gold vinyl, cut the top layer of the butterfly file. Use the color-changing vinyl to cut the bottom layer. Transfer the rose gold layer over the color-changing vinyl after weeding it.
2. Then you can transfer both to the drinking glass simultaneously. Doesn't it appear to be painted glass? Although this vinyl is dishwasher safe, I still prefer to hand wash my own to ensure a longer lifespan. Have fun crafting and creating with color-changing vinyl!
Aluminum Luggage Tag Decorated with Adhesive Vinyl
Another project you can create using StyleTech Vinyl is Aluminum Luggage Tag Decorated with Adhesive Vinyl. This project idea is for those who love to travel.
There are many options for blank luggage tags, just ready for decorating. The best design you can put on a luggage tag is your name and initials, so you can quickly identify it. But you can also download the design into your craft cutter software that would fit on your tag. 
After that, cut out the design in your chosen colors using your Cricut or other cutting machines. Of course, weed out your vinyl and use the transfer tape to adhere the adhesive vinyl onto your surface.
Make sure you use the scraper tool to get it to adhere. Then, stick your design on your luggage tag carefully.
That project idea was soooo easy! You can do it in just a matter of time! Indeed, StyleTech Vinyl is a user-friendly craft material!
Discover More Great Articles On Crafting
Learn more Vinyl tips and tricks by clicking the links below:
TIPS AND TRICKS WHEN WORKING WITH ADHESIVE VINYL PART 1
BUDGET HACK - NO TRANSFER PAPER OR TAPE NO PROBLEM
IS STYLETECH VINYL PERMANENT? 
Think smooth when we are talking about non-porous materials! You need a smooth, unblemished surface, like glass, plastic, or metal, so the vinyl's adhesive can adhere to it evenly. The majority of non-porous, clean surfaces can hold Styletech vinyl.
Evenly textured surfaces like wood or canvas can be adhered to with vinyl, but only after the surface has been appropriately prepared (usually by applying paint, primer, or varnish).
So, Is StyleTech Vinyl permanent? 
YES! 
Remember that all vinyl has a permanent adhesive and will typically adhere for up to five years outdoors, with the exception of the Matte Removable line. Styletech vinyl is NOT a heat transfer vinyl, which you can apply to fabrics like shirts.
The typical lifespan of StyleTech Vinyl is FIVE years! It includes Ultra Metallic, Craft Vinyl, Matte Removable, and Ultra FX films. The average lifespan of the transparent glitter, transparent, and polished metal is slightly less, at four years. The Opals films typically last around two years, while the Luster films last an average of 3 years.
Although you can put StyleTech vinyl in the dishwasher, we strongly advise hand washing any items with vinyl to help your lovely project last longer. You can be sure that Craftvinyl's StyleTech is of the highest quality! 
WHAT ARE THE CRICUT SETTINGS FOR STYLETECH VINYL
Styletech vinyl is self-adhesive/pressure sensitive, and you can cut it on any hobby cutter (Cricut, Silhouette, a paper punch, die cuts, etc.). All cutting machines, including Cricut and Silhouette, are compatible with StyleTech vinyl. We are aware that it can be challenging to set up the vinyl because there are so many different machines available. But do not worry, as we are here to guide you.
Then, what is the Cricut setting for styletech vinyl?
Below is a guide that will help you to set up your Cricut cutting machine for your StyleTech vinyl. Have fun in craft using your StyleTech Vinyl!
CRICUT SETTINGS FOR STYLETECH VINYL
FOR POLISHED METAL, OPAL, LUSTER, METALLIZED
SPEED: MED
THICKNESS: MED
BLADE: 4
FOR ULTRA FX, TRANSPARENT GLITTER, REFLECTIVE
SPEED: MED
THICKNESS: MED
BLADE: 5
FOR FLUORESCENT, CHALKBOARD
SPEED: HIGH
THICKNESS; MED
BLADE: 3 (USE 4 FOR CB)
FOR GLOW IN THE DARK
SPEED: MED
THICKNESS: LOW
BLADE: 4
Note: We always recommend TEST CUTS to avoid frustrations!
Don't forget to share your crafting adventures with us. Please visit us on our pages.
Social Media Accounts:
FB: CraftVinyl.ca
IG: CraftVinyl.ca
TikTok: craftvinyl.ca
For your vinyl crafting needs, please check our website at www.craftvinyl.ca. We offer different Adhesive and Heat Transfer Vinyl, perfect for your next project.