CRICUT DESIGN SPACE: CREATE YOUR OWN DESIGNS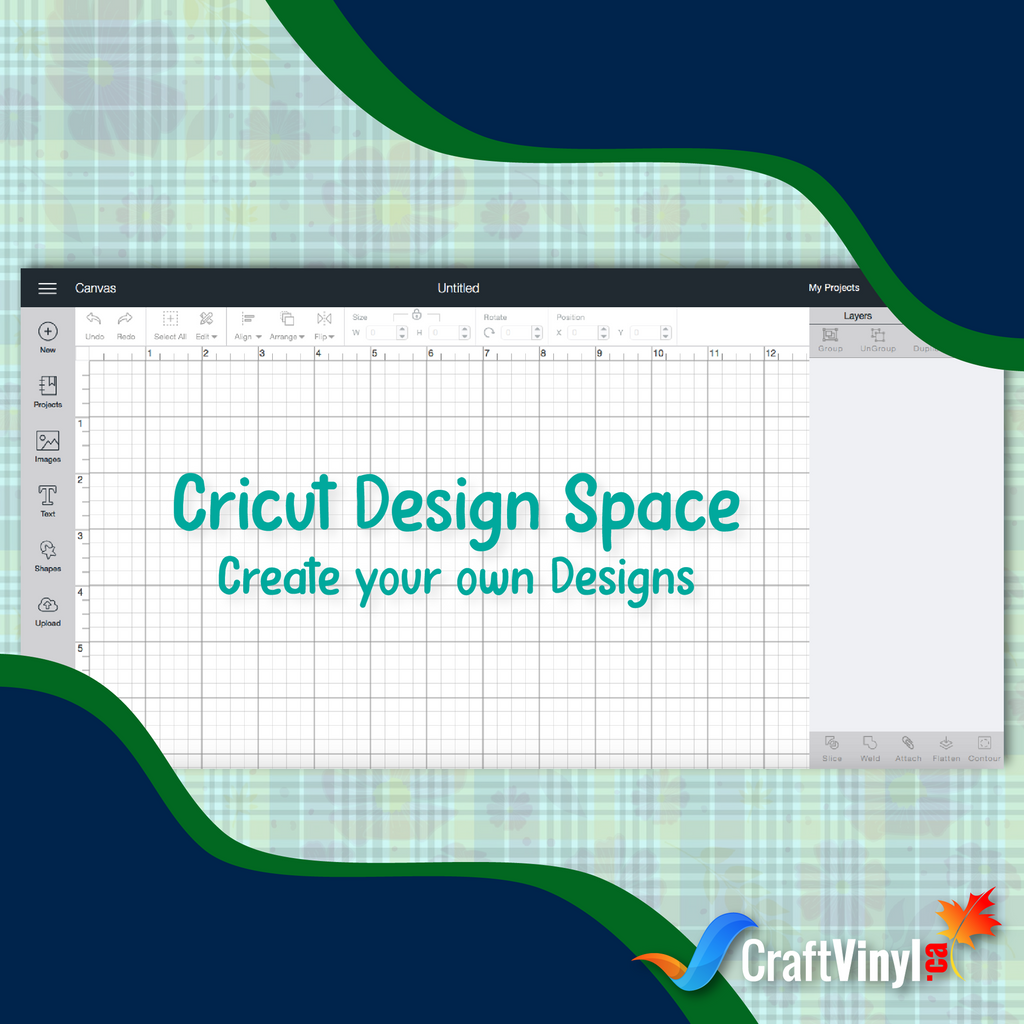 CRICUT DESIGN SPACE: CREATE YOUR OWN DESIGNS
Hey there crafters!
Are you now listing the designs and theme for this coming Holiday Season? Run projects are rag projects. And we don't want our project to be like that. It's better to be prepared than to rush your designs! 
So, now we will talk about Cricut Design Space- must-have design software that you can't live without! 
If you've been wondering how to use Cricut Design Space with your Cricut, this post is for you. This article will review the program's basics and offer advice to help you use your Cricut Design Space to create incredible designs.
For beginners, what in this world is Cricut Design Space?
Another very user-friendly design tool for creating items with your Cricut machine is Cricut Design Space. The operation of Design Space will be familiar to you if you've ever used a program like Inkspace, Illustrator, or Photoshop. But don't worry. Design Space is simple, even if you've never used a graphic design program. So now, let's try learning and working with the program without hesitation!
Cricut's Design Space Program
Design Space program connects to all of its machines to allow you to cut out items for use online or locally on your computer. In a nutshell, that is the response, but it DOES SO MUCH MORE than that. Imagine if Pinterest had a baby with a magical website that does all your crafting for you. That's Cricut Design Space! You can use the web-based program Cricut Design Space to browse countless predesigned projects and create your own on your desktop, laptop, tablet, or phone. Over 75,000 images, 400 fonts, and more than 800 Make it Now or ready-made projects are available in Cricut Design Space.
Click "Go" to begin the Make It Now projects, which have already been completed for you. There are a ton of ideas in Design Space to get you started on your next masterpiece. Browse and experiment with a vast selection of projects, fonts, and images. You'll always find something new, inspiring, and fresh because Cricut constantly adds more.
What's more interesting is that you can use your fonts and upload your jpeg and SVG files with Cricut Design Space, which we will discuss further in the latter part. 
IS CRICUT DESIGN SPACE FREE?
Although Cricut Design Space is a free program, you may purchase a paid subscription called Cricut Access. Without a Design Space Subscription, each image you use will cost you about $1, and each Make It Now project you buy will cost you between $3 and $7. Essentially, it will operate as an "a la carte" service. Choosing what you want and paying for it are both up to you.
Keep diving and learn everything you need to know about Cricut Design Space, including; how it works to customize designs, what projects you can do, how to upload your image and turn it into a Cricut decal, and much more!
Getting curious about what Cricut Design Space could offer? Read this blog!
CAN YOU MAKE CUSTOM DESIGNS WITH CRICUT? 
Doing a vinyl project is sooo exciting because I can show how creative I am! But you know what gets me more excited? It's customizing my design! Let's be honest here. Choosing a ready-made design is far easier than customizing one. In customizing, you own the design, and it's like your name and creativity stick on it. Like, "Oh, wow, who made that design on your shirt?" You'll be proud and boast that you made it yourself! But you can't do that without the help of Cricut.
So, can you make custom designs with Cricut Design Space?
YES, YOU CAN! 
We love and enjoy creating custom designs with vinyl, whether for heat transfer or adhesive vinyl. One of its advantages is you can create your cutout shapes using a Cricut machine. You can create an image in a vector graphics program, like "Adobe Illustrator" or "Inkscape," and convert it to a format that Cricut recognizes, rather than relying solely on the pre-made designs that come with the machine. You can convert an image, then resize or otherwise alter it to personalize further for any project you can think of.
Keep reading to learn how to customize your designs using the necessary tools in the Cricut Design Space.
WHAT PROJECTS CAN YOU DO WITH A CRICUT?
Making a vast range of different craft projects is possible with a Cricut. The only limit is in your creative imagination, and I'm not exaggerating!
Creating vinyl projects is much easier and faster when you have a Cricut Machine. Aside from shirts, what tasks can you do with a Cricut? 
List of projects you can do with a Cricut:
Wearables – custom t-shirts, hoodies, hats, canvas shoes, and other wearables

Paper crafts – cards, stationery, bookmarks, and art cards

Accessories – tote bags, leather jewelry, wallets, and other accessories

Home decor – wall art, signs, wine glasses, etc.

Sewing projects – quilts, plush toys, bags
Wait, here's more:
Custom pantry labels- put labels on your pantry or jars to identify what you need.

Handmade greeting cards- imagine how your friends would appreciate this card! 

Paper banners and party decorations-you don't need to spend a lot of money because you can DIY your paper banners and party decorations. The advantage of this is you can customize whatever design you prefer.

Custom stickers: If you want to create stickers, but the store has limited stock, you can now make them on your own limitless. 

Custom painted wooden sign-wood design is now widespread in stores like coffee shops. You can customize the wood design by adding a more inspirational message. 

Monograms for a mug, cup, or tumbler- of course, a mug, cup, or tumbler is one of the best mediums we can put the decoration. 
You can also try to do these:
address envelopes and invitations

stencils for glass etching

stencils for a painted doormat

quilt blocks and applique shapes

vinyl decals for car windows-

leather earrings and bracelets
Aside from doing your vinyl projects, did you know that you can make money with the help of your Cricut? A Cricut machine may let you cut more and create more, whether you prefer paper crafts, custom apparel, and home decor. You can come up with countless project ideas using a Cricut. 
Many create customized t-shirts, mugs, vinyl decals, and other crafts using their Cricut to sell them online or at craft fairs. That's a great idea if you're thinking of a small business! 
The craft will not just satisfy your creativity but also your pocket! It's a win-win situation! 
HOW DO YOU TURN A PICTURE INTO A CRICUT DECAL? 
Have you heard you can use Cricut Design Space to upload your images? It's true! One of Cricut Design Space's most powerful features is taking your uploaded photographs and turning them into cuttable shapes.
I think the Upload button is one of the essential buttons among all. If you ever want to cut your artwork or files that you find outside of Design Space, you'll need to know how to use this function. Learning how to submit your images to Design Space enables you to create completely original projects, whether you want to utilize your designs, drawings, or family photos.
Beginners, who use the Cricut may ask, "Can I turn my images into Cricut Decal? And every time, I respond with an enthusiastic "Yes! You may upload whatever picture you want for free using Cricut and Design Space, one of their best features.
UPLOADING A PHOTO IN CRICUT DESIGN SPACE
Are you prepared to discover more about Cricut Design Space picture uploading? If so, this blog post is specifically for you. We'll briefly discuss the files you can use and the upload process for Cricut Design Space. 
You can upload your photographs to Design Space, and it will transform them into cuttable objects. Basic and Vector are the two categories of uploaded images. Basic Images, also known as raster images, include .jpg, .bmp, .png, and .gif file types. These files are uploaded as a single layer, and you can edit the image during the upload process. Vector Images include .svg and .dxf files. These cut-ready images that uploaded as designed. Files designed with layers will automatically be separated into layers after uploading and saving. 
To begin uploading images to Cricut Design Space so that you can create projects without making purchases, follow this:
Step-by-Step Guide
1. Launch the Cricut Design Space application on your PC or mobile device.
2. Select the "New Project" button on the screen's top right.
3. Click on the "Upload" button on the bottom left of the screen.
4. In the middle of the screen, click the "Upload Image" button.
5. Click "Browse," then search the folders on your computer or mobile device for the file you wish to upload. For this, you can utilize JPG or PNG files. Additionally, SVG files can be uploaded and used immediately without completing steps 6, 7, and 8 
Here are some advantages why other crafters prefer to use SVG files for importing images into design space.
The most straightforward files are SVGs since they are easily scalable and ready to use.

The best photographs are always those with a lot of sharp contrast.

Likewise, images with simple shapes (complex ideas can be challenging to cut with a Cricut)
 6. Choose the Image Type after clicking on your file from Simple, Moderately Complex, or Complex. Design Space explains each of the kinds in detail.
7. After clicking "Continue," you may manually remove the image's background or use Cricut's automatic background removal function. You can crop any undesirable portions of the image on this screen.
8. Choose whether you want the picture to be a "Cut Image" (the Cricut will cut the lines) or a "Print then Cut Image" by clicking "Apply & Continue" (you will print the design on a printer and then cut out the lines with your Cricut). 
9. Click "Upload," and your image will appear in your "Recent Uploads" folder!
10. Click the uploaded image and then select "Add to Canvas" in the bottom right corner of the screen to add it to your new project.
Also, you can get free images from various sources and use them in Cricut Design Space. If you intend to sell the finished product, be sure you can use them legally for your project.
UPLOADING FONTS IN CRICUT DESIGN SPACE
Aside from images you can upload, did you know you can also upload FONTS in Design Space?
You can also choose the best font that suits your image!
Although Cricut offers some basic free fonts, it's always enjoyable to experiment with other fonts for craft projects. Follow this easy step-by-step tutorial to start adding fonts to Cricut Design Space so that you can begin to do your vinyl projects:
1. Download the font of your choice to your PC.
2. Install your font on your computer
3. Click the "New Project" button in the top right corner of the Cricut Design Space software when it opens.
4. Click on the Text tool on the left-hand side of the screen
5. Enter the desired word or phrase, then select the desired font from the Font drop-down option in the top left corner of the screen.
6. The menu should show all the fonts installed on your computer once you choose "System" fonts at the top, including the new font. Select the font you wish to use by clicking it.
No wonder you can do that. 
Discover More Great Articles On Crafting
Click the links bolow to learn more about Cricut and Vinyl crafting.
VINYL CUTTER: HOW TO EARN MONEY
CRICUT MACHINE: EVERYTHING YOU NEED TO KNOW
HOW DO YOU CUSTOMIZE DESIGNS IN THE DESIGN SPACE
Your images can be uploaded and cut using Cricut Design Space. It makes any project easy to customize. You may design and create anything you want by learning the necessary tools found in Cricut Design Space.
Let's start this tutorial on how you will customize your preferred design!
In Design Space, the Edit bar gives you access to tools for editing text and images, including Linetype, Fill, Size, Rotate, Mirror, and Position. Additional choices for text layers include line spacing, letter spacing, font style, etc.
EDIT BAR COMMANDS
Undo/Redo

- 

Redo previously undone actions or undo commands that have already been done.

Linetype-

The line type of your material on the mat dictates how the machine will interact with it. With your Cricut device, you can cut, draw, or score.

Cut -

 Cut a layer using a blade. 

Draw -

 Draw a layer with a pen. 

Score -

 Score the layer with a Scoring Stylus or Scoring Wheel.

Linetype swatch

 - Choose this swatch to add more attributes to your layer. The chosen Linetype determines the choices. If Cut or Draw, the swatch will be solid, while for Draw or Score, the swatch will be an outline with a slash across it.

Cut attributes -

 available when the Cut Linetype is selected.
COLORS
Choose from the palette of material colors to easily match project colors. The color swatch for the chosen layer will get a checkmark.
Basic colors

 - Select from a range of primary colors.

Advanced

: Use the slider to choose a color from the custom color picker or type in the desired color's hex code.
From the drop-down menu, pick a Cricut pen type. Then it will display the available colors for that pen type in a new list. The Draw Attributes option is available when you choose the "Draw" Linetype.
Fill – Choose a color or pattern to fill your image layer for Print Then Cut. Available when the Cut Linetype is selected.
No fill

 - Denotes that the selected image layer has no fill set. And will cut only the layer. Helpful in returning a layer to a cut-only state after fill has been applied.

Fill swatch

 – Select the Fill swatch to choose additional Fill attributes for your image layer.

Fill attributes –Choose color or pattern fills for your Print Then Cut images using the fill properties.
Original artwork -Choose this option to return a Print layer to its initial fill state for original artwork.

Color-

 Choose your Print Then Cut color from the current material colors, a simple color palette, the custom color picker, or inputting a hex color code.

Pattern-

 Fill your image or text layer with a design. Filter by color to narrow your pattern search, then use the Edit Pattern tools to adjust the pattern scale and orientation within your image.

Print 

- Select "Print" to open the Print Then Cut color and pattern menu.
MORE COMMANDS
Select All/Deselect

 –Select everything on the canvas at once with the Select All/Deselect button.

Edit -

 Use this drop-down to find standard edit tools: Cut, Copy, and Paste.

Cut -

 Remove an image from Canvas and copy it to your clipboard so you can paste it at a later time.

Copy –

 Copy an image to the clipboard to paste at a later time.

Paste –

 Paste a copied or cut an object from the clipboard onto the Canvas.

Align-

Define the alignment margin for two or more objects. Your objects can have horizontal or vertical centers and alignment to the left, right, top, or bottom. You can also arrange your items in even vertical or horizontal distribution.
SETTING MARGINS
Set the left margin of two or more items with the "Align Left" command. The leftmost border of your leftmost object will be the margin.
Define the horizontal center point of two or more items using the center horizontally command. The exact horizontal center of each chosen object will serve as the focal point.
Set the right margin of two or more items with the align-right command. The rightmost border of your rightmost object will be the margin.
Set the top margin of two or more objects with the Align Top command. The margin will take the top edge of your topmost object.
Center Vertically - Identify the intersection of two or more items' vertical axes. The exact vertical center of each chosen object will serve as the focal point.
Set the bottom margin of two or more objects with the Align Bottom command. The margin will take up the bottommost edge of your bottommost object.
Move the center points of all selected photos using the Center command. The pictures will be piled on top of one another.
Moves selected photographs are uniformly spread between the left and right margins of your selection when you choose to distribute them horizontally.
Move selected photos, so they are uniformly spread between the top and bottom edges of your selection with the Distribute Vertically command.
MOVING YOUR OBJECTS
Arrange -

 Change the order in which objects appear on the Canvas, including Move to Back, Move Backward, Move to Front, and Move Forward. Changes will reflect in the Layers Panel.

Send to Back

 - Send the selected object to the back of the stacking order. This command will make the thing appear at the bottom of the Layers Panel.

Move Backward

 - Move the selected object one layer backward in stacking order. This option will make the object appear one layer lower on the Layers Panel.

Move Forward

 - Move the selected object one layer forward in stacking order. It will make the object appear one layer higher in the Layers Panel.

Send to Front

 - Bring the selected object to the front of the stacking order. It will make the object appear at the top of the Layers Panel.

Flip 

- Flip an object horizontally or vertically.

Flip Horizontal -

 Flip an image horizontally at the center of the object.

Flip Vertical 

- Flip an object vertically at the center.

Size

: You can change an object's width or height by typing an exact value or using the stepper to change it by 0.1 units at a time.
Note:
If the size is locked, changing the width or height will affect the other variable accordingly. You can unlock the image aspect ratio by simply clicking the Lock symbol. At the same time, adjust the width or height separately.
Rotate:

 Rotate your item by entering an exact degree or using the stepper to rotate your object by one degree at a time.

More -

 On some screen sizes, not all of the tools on the Edit bar will display. If so, a "More" drop-down menu will show up.

Position:

 Change the object's position by placing an exact distance from the canvas's upper-left corner or by using the stepper to change it by 0.1 units at a time.
Did you follow the steps in customizing or personalizing your Cricut design? If YES, that's awesome!
There is another option to create your design, and this is by using:
Ready-to-Make Projects in Design Space.
YES, Cricut does offer free images in the Cricut image library in Design Space. To find these, click on the Image menu, and then click the "FREE" filter when searching for an image.
Professional artists' Ready-to-Make projects are available in Design Space. These Ready-to-Make projects cover various topics, such as home décor, clothing, paper crafts, and even several FREE projects. Regularly, new projects are added. All you have to do is gather your materials and head out to start a project.
You can browse the many Ready-to-Make projects on the Design Space Projects page. Use the Categories menu or search bar at the top of the screen on a Windows or Mac computer or the top of the screen when on the Home tab in the Design Space mobile app to choose a project category.
The project details screen will open once you click on a project you want to create. It includes a list of all the information you will need to do the project, such as:
Project Name

Difficulty Level

Estimated Completion Time

Materials Required

Instructions 

Cost of the project (if any)
Take note of this:
You buy the images, fonts, and patterns used in a project when you buy it, and they are added to your account permanently. If those resources are used in another project, you won't be charged again for them.

To avoid mistakes that could be made by resizing or unlocking the aspect ratio of a pattern piece, many of the sewings and insert card Ready-to-Make projects do not have the Customize option.
Indeed, you'll likely be impressed by the Cricut machine's ability to cut even the most complex designs quickly and perfectly and its excellent features in Design Space! Now, why don't you start to invest with Cricut and start your craft journey? It'll be fun and exciting, I swear!
Please don't forget to share your crafting experience with us!
Social Media Accounts:
FB: CraftVinyl.ca
IG: CraftVinyl.ca
TikTok: craftvinyl.ca
For your vinyl crafting needs, please check our website at www.craftvinyl.ca. We offer different Adhesive and Heat Transfer Vinyl, perfect for your next project.