Woodburning Design with Vinyl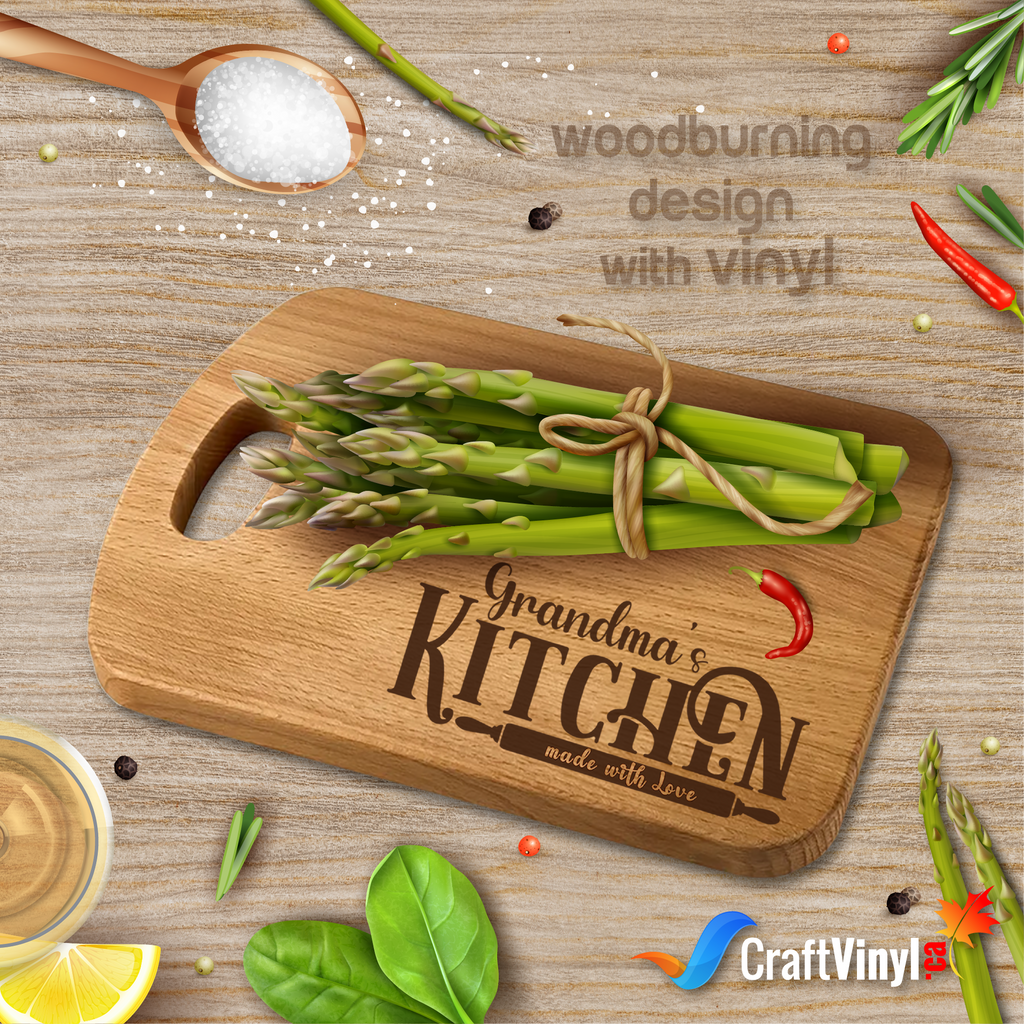 Woodburning: A Fire-tistic Design Customization for Do-it-Yourself Projects
Here we are again, my buttercups and crafty fellas! We are intensifying our craftsmanship again into another sphere found in pursuing our do-it-yourself crafts. Guess what? We got a brand new lifework that not only catches everyone's eyes and stirringly captivates everybody's attention. But it is something that will rekindle our creative minds into blistering creativity and ideas! Isn't this intriguing and white-knuckling? Well, one thing I guarantee to you, these will be positively splendid and intrinsically inexplicable!
Now, without hesitation and reservation, get ready for blow-by-blow details of what we will be doing today and what result we expect! Once we disclose what we are referring to, prompt yourself up to grab your kits, tools, and your working table to be set on fire. Note that changing the blog page or clicking next is not allowed, or you'll miss everything at your own risk! So what are we waiting for? Let's dive, plunge in, and let's get crafting! 
Vinyl, Wood, and Fire: To Make Collaboration for a Contemporary Customization 
It's LITERALLY FIERY and FLAMING…With a pull of new inspiration, we will immerse ourselves and be occupied once again by a rarity of art called WOODBURNING. Long before we knew, this technique in creating unique and finely decorative designs existed during ancient times. And now still thriving in its presence with more risen popularization through the modern touch of customization in a do-it-yourself form. 
Woodburning is a spectacular work of art that one may be looking for. One that can give inimitable and quality pieces to make. And a good DIY to generate at this perfect time. Or should we say this is the exact method where artistic ideas one has now should transpire and where a creative idea should be! 
A Deep Probe, Exploration, and Everything about Woodburning 
What's this called when you burn designs onto wood? What's Woodburning?
Woodburning is a form of pyrography plus a technique in creating skillfully and divinely beautiful detailed pieces of art, images, words, or texts using fantastically decorated design patterns such as stencils. Once it is exposed through a fine flame, it divulges the "burnt" look of a design placed on the top of the surface of a specific wood type and presents a beautiful piece of art. 
Are Woodburning and Pyrography aren't the same? 
Clearing out some clouds on your thoughts. Remember first that pyrography shouldn't be called Woodburning. Even though Woodburning can be called pyrography as a form of it. Woodburning concerning pyrography can be a word synonymous with this form of art. Others may interchangeably use it yet still possess minor and critical differences.
To explain further, Pyrography is a form of art in writing designs on any receptive wood surface with fire using heated objects like burning tools with nibs and tips functioning as "heated metal pens." On the other hand, Woodburning is a subtype under pyrography that also uses a flame to create a design without using heated objects to function as heated metal pens. Instead makes the design creation possible by exposing the surface of a specific wood type directly through a flame. 
When Woodburning is combined with design customization on wood with vinyl, how will these now work? How do these two form a customized result?
Woodburning diversified to other craft materials for DIY-ing, has maybe vexed your interest. At the same time, it fears you if this can place a design on a wood surface, especially if it's mixed with a heat sensitive like vinyl, or would turn this material into ashes most likely. Nonetheless, I'm going to tell you, don't worry much; instead, trust the process and see the magic take place! Later on, as we go deeper into how vinyl may work on this method of design making, you'll understand and appreciate more of it while justifying that it's possible.
At this moment, WOOD is a medium for the base material. And "FIRE" is the primary tool and star to reveal the genuine look of designs shaped by your VINYL, serving as the stencil in this project. The allegiance of these three indeed brings a twist breaker for an exclusive one-off and team-up of an excellent avenue of design personalization. It is a superbly subtle piece your hands must wait to craft personally.
What is the best wood for Woodburning? 
When it comes to Woodburning, there are varieties of wood blanks that can be used in this art. Yet, depending on your preference, take note that it doesn't just hastily grab and pick any wood in front of you. Remember, still consider the type of wood that will work best and cooperate for your project. 
Wood requirements in choosing wood for Woodburning:
1. Your chosen wood must be unfinished or untreated. It shouldn't have paint, oil, wax, or stain coatings. It is plain and straightforward, not advisable because it won't give you the apparent result of the burnt image you are expecting. And layers of wood, when burnt, release toxic fumes or gases that are detrimental to your lungs and the environment. 
2. Choose a type of wood with a tighter and little grain, lighter in color, and comes with a smoother surface. For such reason, wood with more loose grain and deeper or visible fissures will be challenging to burn, produce more smoke, and affect your final product's appearance. 
3. Do not use MDF as a wood blank for Woodburning. MDF, even if it's tough and durable, is considered not the best material for mainly its artificial component, and resin binders make it very sensitive to flame. Burning a design on its surface will be difficult to manage and produce an overcooked appearance of wood fibers. 
4. Make sure your chosen blank is well sanded for a smoother surface creating a more presentable look of the finished output. And for it to become well receptive to the process it will undergo. In addition, if vinyl will be used as a stencil for the design imprint, it will likely be for the vinyl material to adhere, producing bubbles and may cause bleeding on the surface when Woodburning takes place. 
5. If you are a beginner, use a softer type of wood that is quickly burned and contains lighter color to see the burned lines easily. 
A list of Woods Good for Woodburning is the following: 
Basswood (a good choice for this art, with uniform grain and good for detailed design for Woodburning) 

Poplar ( in the absence of basswood, these can be a good alternative)

Maple (another alternative for basswood, can give your design a more polished look) 

Plywood (famous choice for wood projects for its toughness and durability. However the layers of its veneers will be a little challenging yet still workable once you master managing its wood lines)

Birch Wood

Pallet Wood

Pine Wood

Oak Wood

Beech

Walnut 

Cherry Wood

Studio wood panels

Albus wood
What is the best heat tool and best temperature to use for Woodburning? 
Choosing a good wood is just one part that makes our customized Woodburn design show up gorgeously on a wood surface. Ideally, another thing that makes this technique better is the amount of heat that enables it to "cook" the wood surface well while revealing the beauty of the applied designs. When using fire as the primary tool for this project, we should use a heat tool that can give us the hottest setting. 
One that is best to use is a heat gun. It can provide at least the maximum heat requirement of 495°C to 659°C for added extra heat. As you notice, Woodburning's heat level is much higher when doing pyrography that uses heated metal pens, but this will be fine. To Woodburning, we don't directly engrave the designs by burning them, but we burn the designs by exposing the surface of the wood to the heat source. Moreover, think that the thicker your wood is, the more heat is needed to penetrate the wood surface, reveal the imprint, and speed things up. Depending on how you adjust the heat or keep moving it on the surface enables you to experiment with a perfect setting and come up with a darker or lighter appearance of your image. You may also use a torch as an alternative without a heat gun. 
Aside from creating designs using a wooden cutting board for Woodburning, what other project ideas can we make from it?
So you know, there are many notable ideas to create using Woodburning. If in case we want to try them for future projects, these will be truly satisfying and best for your home decorations and gift-giving! You'll never know; even adding this to your menu of products in your business will leave a positive impact. 
Beat or Drinking Coasters

Personalized Wooden Spatulas, Wooden Spoons, and other Cooking tools made of wood

Wooden Bookmarks

Trivets 

Wood Ornaments for Holidays

Serving Tray

Cutting Board

Door sign

Labels

Standing or Hanging decorations for Walls

Key chains
Two Ways to Design Customization with Cricut and Woodburning Technique
We are almost heading down to the most exciting part of this craft! I know you are very excited and have enormous expectations for an incredible hands-on experience with all the flaming action of applying design through Woodburning. But hold on, calm yourself, and relax because we will cross the bridge immediately as soon as we get there in a few minutes!
Since we don't just want you to jump off the cliff without equipping you, we need first a quick walkthrough of the two ways of design customization you can do using your Cricut and the design technique of Woodburning. Then, later you could choose which of them you like the most or which could fit you the most. By the way, whichever is your pick, we will be guiding you also on how to apply it on a wooden blank like a cutting board. And this could be an option in creating your first Woodburn masterpiece! 
For the pleasure of your artistic eyes, here are the two ways to design customization with Cricut and Woodburning techniques. 
1. The Chemical Woodburning with Ammonium Chloride
Having a "Woodburn" effect on a wood surface through a technique called Woodburning can mystically show up designs full of artistry. Yet, playing with fire in this process is real! It's like a kind of magic! Yes, it is! 
As we all know, once a fire is involved in a particular process of design customization, it can be a bit dangerous if one doesn't have the correct tool. No matter how easy to make patterns on stencils with Cricut is; it calls for extra caution when one doesn't have a trained hand for some metalworking this technique involves. And this might be a little bit frustrating to manage if one is not used to it. Fortunately, there is a much safer, easy, and more straightforward way to do this! With a bit of mixing skill and a combination of ingredients found at your home or one that is commonly used way back in your science subject experiment is food safe and a non-toxic solution for Chemical Woodburning called Ammonium Chloride. 
What is Ammonium Chloride? 
Ammonium Chloride is a food additive mostly found in licorice condiments, sports drinks, cereals, pudding, and cheese. When it is mixed with other ingredients for chemical wood burning, this serves as the principal agent forming a gel that can burn the surface of the wood.
How does Ammonium Chloride work in design customization with Cricut and Woodburning? 
Once Ammonium Chloride turns into a Wood-burning chemical gel, it will be applied directly on a wood surface where vinyl is affixed It will serve as a guide to shape the design stencil pattern on the wood. As soon as the solution is absorbed into the wood fibers and the vinyl is removed, it will be exposed to a high heat of a heat gun, causing it to react. As a result, the Ammonium Chloride decomposed through heat reveals the final look of the surface by the darkening of the wood surface. 
What is the recipe for making Chemical Woodburning gel with Ammonium Chloride?
You can effortlessly make your Wood-burning chemical gel in just a matter of stirring and a minute of patience. Let me give you the honor of passing this heirloom of the recipe for your DIY-ing!
Materials: 
Mini Mixing Bowl / Glass of Bowl

Stirrer / Spare Spoon
Ingredients: 
You can measure and mix all the listed ingredients in a glass bowl. 
1 Tablespoon of Ammonium Chloride

8 Teaspoons of Thick – it ( Thick –it is a cornstarch powder that dissolves easily and thickens the solution into a gel so it won't outflow under the vinyl) 

½ Cup of warm water
Note:
 If the amount of gel made in this version of the recipe is much, you can keep the excess in a well-covered glass container for several weeks out of direct sunlight. Perhaps you want just a tiny amount of this; you can follow this version two of the ingredient's measurement. 
1 Teaspoon of Ammonium Chloride

2 ½ Teaspoons of Thick – it 

8 Teaspoon of warm water
 

2. The Woodburning with Scorch Marker
A no-mixing, non-toxic, and marker-like version containing a chemical Woodburning agent inside of it is an incredible invention to make every crafter's life convenient, and it's none but the Scorch Marker! This is another most in-demand craft marker for the Woodburning technique that aims for a crafter to place its design through a vinyl stencil with a similar experience of drawing or writing on a wood surface. It is made of a précised tip or a replaceable brush tip to swiftly and flexibly maneuver an artistic touch to any Woodburn project you make! 
How does Scorch Marker work in design customization with Cricut and Woodburning?
Similarly, when used to draw the design using a stencil vinyl, the marker liquid this Scorch Marker contains also performs a chemical reaction between the wood surfaces once heated on a heat source.
Creating Personalized Design with Cricut and Woodburning on a Cutting Board
Finally, this is the moment of truth you are waiting for! After all the long game of waiting and learning, we can now finally try and do Woodburning on our very first masterpiece using a Wooden Cutting Board! Now I have given you the signal, get those craft materials and heat gun out, and let's set a craft-making on fire with the craftsmanship! 
The Materials needed for Woodburning are a Wooden Cutting Board 
Pre-mixed Chemical Woodburning Gel / Scorch Marker

Design Stencil Patterns made of Permanent Vinyl 

Chosen Cutting Board Wood Blank 

Heat Gun

Transfer Tape

Cricut Cutting Machine

Weeding Tool

Eye Protection Glasses

Gloves

Paint Brush

Respirator
Step-by-Step Guide for Woodburning a Wooden Cutting Board
1. Design Making and Preparation of the Stencil
Start personalizing your design software or upload your pre-made image layout on your computer's design software. 

Resize your layout proportion to the size of your wood blank. 

Once all are adjusted, start loading your design on the cutting machine and apply the appropriate cutting setting according to your vinyl. 
2. Prepare the Wood Blank
Double-check your wood blank if it's unfinished and untreated. After, also see if the surface of the blank is smooth and, if not, do some little polishing by sanding its face. To remove the dust and other dirt, use a lint roller. 
3. Weeding of the Stencil

 
Using the weeding tool, remove the excess vinyl by weeding in reverse. 

When weeding in reverse, we remove the parts we want to Woodburn in the wood's surface. 
4. Transferring the Design
Using a transfer tape, transfer the design by placing it on the vinyl and make sure to scrape it well to remove all the air pockets and ensure no bleeding arises underneath the stencil once the Woodburning agent is applied. 

Remove the vinyl's backing, and affix your design to the wood surface. Then, scrape it again to ensure the vinyl and transfer tape is well affixed with no bubbles or wrinkles. After, slowly remove the transfer tape. 
5. Applying the Woodburning Agent
If you're using your pre-mixed Woodburning gel, use a paintbrush to paint enough of the solution on the exposed area of the stencil. Once everything is coated lightly, please wait for it to sit in the wood fibers for about 10 to 20 minutes. Meanwhile, if you're using a scorch marker, usually trace onto the open area of the stencil as if you are drawing. 

Do not apply a thick gel coat because it can bleed on the surface and may cause burning in some areas that shouldn't burn. 

Check if the surface is arid, and carefully remove the entire stencil. 
6. Woodburn the design using a Heat Gun
Before letting out a flame on your heat gun, always observe safety and wear your gear. As much as possible, do the Woodburning in an open area. 

Set your Heat Gun at 495°C to 659°C and have the flame of the heat tool touch the wood surface that has the Woodburning agent. Then keep moving to create light to a darker shade of your design. This will also avoid over-burning and avoid accidental burning of design without Ammonium.  

Once all your designs are revealed, you can rinse off the Ammonium if you use the gel. But, if you use Scorch Marker no need to rinse because it's formulated food safe. 
Discover More Great Articles On Crafting
For other vinyl project ideas, please click the links below:
UNIQUE DIY GIFT IDEAS WITH HTV
Sealing the Cutting Board with Woodburn Design 
After Woodburning is done, the only thing that's left to do and to think about is whether to seal or not seal your cutting board! Sealing a cutting board isn't just for aesthetic reasons. Although it adds more uniqueness to your finished project, it's still a matter of battling between your minds! If there's something you can use to seal this without comprising food-safety of every food to be cut on your cutting board is a big question. So how do you think you seal a Cutting Board properly? 
The sealing of cutting board is too handy and guarantees food safety through Wood Sealant Oils, namely, Linseed Oil, Beeswax, Walnut Oil, Tung Oil, and Mineral Oil. By using a lint-free cloth or paper towel, you can evenly pour, rub it directly. Then, let any of this oil be absorbed into the cutting board. This type of Sealant oil is considered adequate because it can penetrate deeply into the wood. Thus, provides good protection against water and any scratches, and is non-toxic. 
Important reminders to note:
if your cutting board will undergo frequent washing, especially with soap, apply sealant monthly or as frequently needed. Avoid any oils with harmful contents or lacquer sealants. It will leave residue on the food and is dangerous when consumed. 
That's it! We are all done, for now, my buttercups and crafty fellas! Take a homey opportunity to try your new masterpiece and ever-gorgeous Woodburn Cutting boards in the comfort of your kitchen. We can't wait to see your finished project flaunt its beautiful design while cutting good food presentably!
Learn more Vinyl tips and tricks and share your crafting adventures with us. Please visit us on our pages.
Social Media Accounts:
FB: CraftVinyl.ca
IG: CraftVinyl.ca
TikTok: craftvinyl.ca
For your vinyl crafting needs, please check our website at www.craftvinyl.ca. We offer different Adhesive and Heat Transfer Vinyl, perfect for your next project.