Cricut Hacks, Shortcuts, and Hidden Features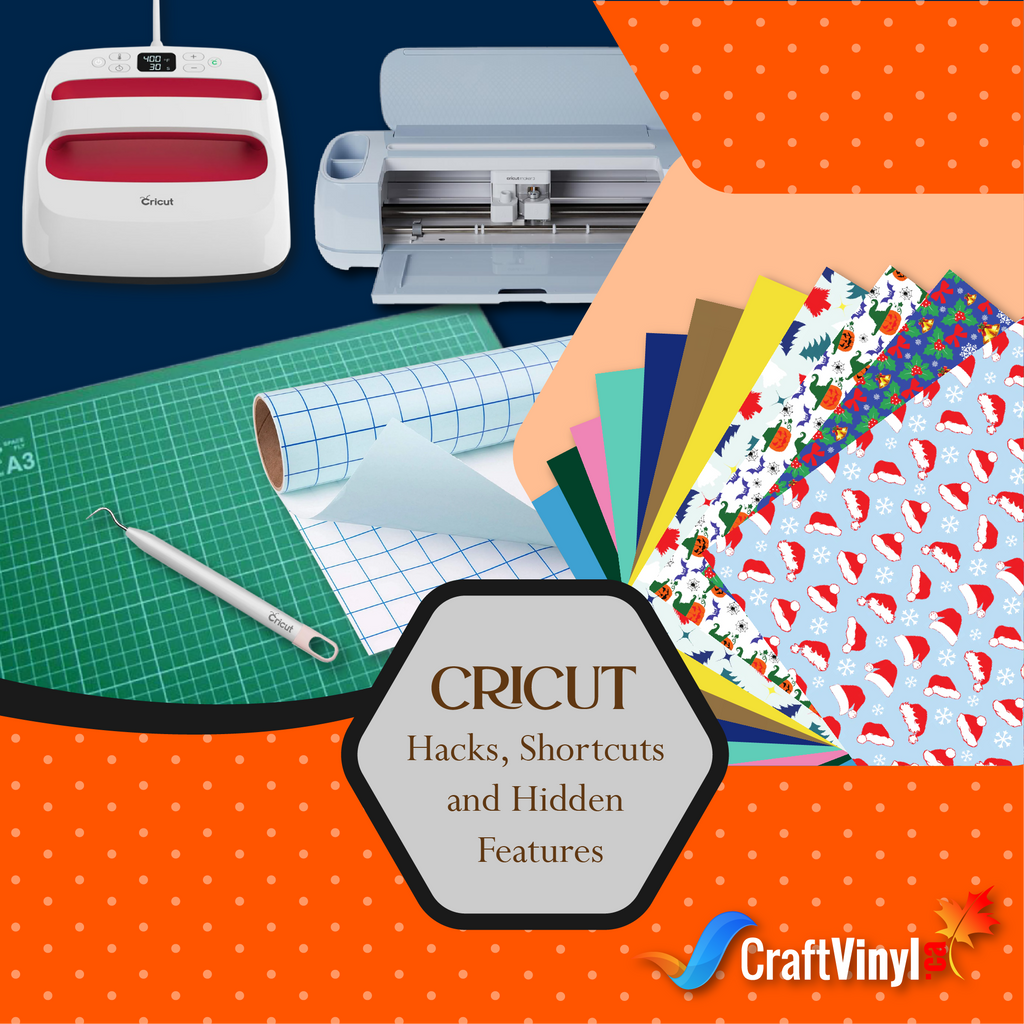 The Ultimate Cricut for Dummies:
The Edition to Easy-Peasy Crafting and Customization
Hey, my lovely Crafty Fellas and DIY-ers out there! Have you seen the latest? If not yet, come and hurry because you need to check this post immediately! 
Guess what? What you have been waiting and hoping for has now finally arrived! We are so thrilled to share with you another gem of learning beyond the space of your craft room, and it's only to be found here on our special round-up! And this time, it doesn't matter if you're a beginner, a pro, or just a big fan of do-it-yourself projects. What matters now is you're here ready to harvest amazing breakthroughs that you wish you had known in the longest time of your crafting! 
Searching all the vast corners of the World Wide Web community sets the arrival of the best tips, tricks, hacks, shortcuts, and unfolding of hidden features of our best companion to customization, Cricut. Revealing in no time is a compilation of pathways to more accessible and efficient crafting of most of our creations. Let's all wave an excellent cheer for "The Ultimate Cricut for Dummies" to land a sure-shot guarantee of you living through easy-peasy crafting and customization as easy as 1-2-3! Unleashing now is the best of the best ideas that surely up-skill our prowess in utilizing Cricut in our Cricut Projects.
 

The Craft Saving Cricut Hacks 
Are you craft wiser and craft smarter? Here are the new inspirations that will motivate you to craft more beautiful pieces! Without feeling intimidated by your materials or groping how your project's process with your Cricut will turn out, reach a paramount execution of craft customization by mastering these 10 Cricut Hacks serving as an excellent lifeline to any DIY products you're making. 
Cricut Hack#1. Ikea Plastic Bag Dispenser, a Good Organizer for Vinyl Materials in Rolls
Raise yourself from getting drowned against stumbling and dropping HTVs, vinyl, and other sheets of craft materials inside your craft room! An Ikea Plastic Bag Dispenser that's very economical and comes with perfect size holes enables you to place your vinyl materials in a good fit of rolls. This plastic bag dispenser is so lovely and functional that it can be mounted on walls by screwing it. Ikea Plastic Bag Dispenser can create easy access when you need to choose what vinyl you'll use, lets you display vinyl rolls orderly even in by colors, and gives you plus your materials a lovely space to breathe. 
Cricut Hack#2. Command Hooks to Display Cricut Mats Neatly
If you're one in me who loves to buy extras and gets a tremendous sense of fulfillment after completing the set of Cricut Mat in a variety of its grip, why not harvest more worthwhile satisfaction by using Command Hooks? Command Hooks to flaunt, to line up, and to hang up those lovable set of cutting mats of yours is a delightful way to view them vertically or horizontally in any particular spot you want them in. By sticking the mats anywhere in your chosen area and without needing painstaking drilling holes in your walls, you can quickly grab those craft accessories right at the benefit of your arm's length. 
Cricut Hack#3. A Well-keep and Organized Scraps of Vinyl Materials in a Binder
Take a permanent exit from your chaos for these messy room problems bothering you daily by having your vinyl scraps held all in one using binders with plastic dividers! Through this, you can keep and find all your vinyl scraps piled according to their colors and materials with no chasing of time. It's a convenient and cheap way to save your excess vinyl from being wasted and use them until even the last bit of their pieces. 
Cricut Hack #4. Pegboards for Cricut Tools
Got dizzy figuring out where was the last place you put your tools down? Say no to missing or disappearing tools again with Pegboards for your Cricut Tools! Even if they're made with basic items, Pegboards are an excellent go-to choice to house your staple crafting stash and are always open to lodge hefty to small apparatuses to DIY-ing. With incredible functionality and organization, these are valuable means to easily find whenever you need your Cricut tools, easily reach them at times you need them, and have excellent access to track accessories you use the most.
Cricut Hack #5. In the Absence of some Cricut Tools and accessories, there's always a good alternative option ready to stand behind your back 
No weeding tools or no scraper to burnish vinyl materials on your surface? Your resourcefulness can easily solve not a problem for these kinds of scenarios to find one-of-a-kind alternatives! 
Without a squeegee or brayer, a 

gift card or old credit card 

is your no-cost and easy-to-find alternative!

 

This could let you apply your vinyl evenly and smoothly to your cutting mat or substrate's surface. 
The next candidate for a Cricut tool alternative, and when a weeding tool doesn't show off, it is incredible to be found among your beauty essentials. Well, believe it or not, your 

Point Tip Tweezers

 aren't just suitable for removing fine and ingrown hairs, but it set to be the best replacement to eradicate splinters of excess vinyl around your design! Don't belittle these types of tweezers; despite them being a tool for beautification, it's as sharp and precise as a weeding tool too!
Run out supplies of Teflon sheet without warning? Don't lose hope for 

Parchment Paper

 A.K.A 

Baking Paper

 is here to save you! A parchment paper used for baking is undoubtedly known for its excellent substitution ability for Teflon Sheets when pressing t-shirts. Similarly, this material can perform its duty to protect any design due to its heat-resistant capability enduring temperatures above 400 degrees Fahrenheit. It can be easily found in any grocery store for a very economical price and is guaranteed to be reusable for the following applications! 
Cricut Hack#6. Dull Cricut Blades can be Sharpen with A Foil 
Stop rubbing your eyes multiple times because it's neither not an illusion nor not an imagination if you didn't see any cuts on your vinyl after it was loaded on the Cricut Cutting Machine! Several reasons your blade gives you this kind of cut on your design. 
First, there's a dirt stack on it that needs to be removed. To clean this, you need to push down the blade's plunger to expose and carefully remove what needs to be removed. Secondly, it's because the blade of your cutting machine needs to be sharpened and needed to get it back from its precise way of cutting. To do this, you just need to make a firm ball of rolled aluminum foil where you can poke the blade inside. By poking the pointed part of the blade, notice that it gets your blade from its fine point and deep-cut ability in a much better way. 
Cricut Hack#7. Keeping your Cricut Cut Mat Clean using Dish Soap or Water Wipes
Hey buddy! Are you having some marks of infusible inks left by your infusible pens on your Cricut Cutting Mats? Or are you worrying if even some other markings caused by different materials you put into your cutting mats will permanently stay on its surface or not? This isn't a thing you should worry about, for you can easily wipe this out without needing a special remover to erase all of these things! Just dish soap and a sponge or non-alcoholic wipes will effortlessly remove those unwanted traces of drawings on your cutting mat's surface. These two could help your cutting mat retain its cleaner look as if nothing had happened and regain its stickiness to be ready for numerous other rounds of use!
Cricut Hack#8. Erase Unwanted Debris using the Irresistible Cleaning Power of Lint Rollers
Sometimes we cannot blame our cutting mats for becoming inviting to different materials on their surface for their very friendly as a craft accessory. The only disadvantage of it becoming so welcoming to a variety of craft materials; even dust particles, strands, and unnecessary bits of materials it accommodates them to the point of making them stick toughly on its surface. Due to this, the effectiveness of it holding a vinyl when cutting is diminished. With that, one of the swiftest ways of recovering its grip is only by using a lint roller which can pick up even the smallest and toughest remains sticking on it.  
Cricut Hack#9. You don't have both the tweezers and the Weeding Tool, and it's necessary for your wedding needs? You can always DIY a Weeding Tool for your Urgent Needs. 
What if you don't have any available Point Tip Tweezers? Hey! Please don't panic, for it is not a dead end yet! If your alternative weeding tool isn't found in your makeup pouch, well, there's another one you haven't checked. Want to know where is it? Look and see your mom's stuff with her favorite hobby! Bingo! A sewing needle plus your mom's mechanical pencil to list down measurements is an excellent DIY replacement for a weeding tool called Pen Pin. By inserting a sewing needle inside a mechanical pencil, you can create a super sharp needle pencil that can easily twinge excess vinyl around your design!
Cricut Hack#10. Never throw away Cricut Covers to prolong the life of your Cutting Mats
Is my cutting mat clean and free from any filth? Did my cutting mat hold my vinyl with a good grip while cutting? Avoid having the same doubts whenever you lay and cut all your design projects on a Cricut Cutting Mat! By putting additional TLC and covering it every after usage, you will not need to keep thinking of the qualms that may bother your cutting process. Instead, have the protective covers that come with your cutting mat. This is not just a plastic cover to be discarded after buying this craft accessory. Still, it's a thing you need to keep all the time to safeguard your mats against tons of dust or unwanted debris, causing them to be less sticky over time. Doing so will help your cutting mats extend their life to last longer, maintain their usage effectiveness, and even save your own money. 
The Cricut Tips and Tricks to Pin, Save, and Share!
Starting simple or complex projects with less or more basic skills to DIY-ing will help you make it through by listing out these legendary tips and tricks to all or most of our DIY ideas using a Cricut! This pack of brilliant ideas is considered indispensable "essentials" that can make you effective in customizing and creating your craft process proficient.
Tip and Tricks#1. "Mat Flip" (To remove the Cutting Mat to the attached Materials rather than removing the linked Materials to the Cutting Mat)
So you think your Cricut Cutting Mat is only firm when it passes on the blade of your cutting machine? Na-ahh-ahh! It's more challenging than you think! When swirls and curls cause your materials to rip, your mat can keep up these troubles just by flipping the face where the fragile material is placed down. Then the gradual bending of its lithe body will make any materials easily removed or separated from its surface without any trace of wreckage and keep everything intact. 
Tips and Tricks#2. The Magic of Cornstarch
No more playing of hiding and seek between your eyesight and your cut lines! Make every indistinguishable and hidden cut line accurately visible and noticeable with a sprinkle of cornstarch on your vinyl material. The cornstarch will go in between the cut lines making your weeding skillfully and done more rapidly.  
Tips and Tricks #3. Washi Tapes or Painter's Tape to back you up through Thick and Thin
When the time has come, your favorite mat has lost its stickiness, don't think it wouldn't serve its duty till the end! With the help of Washi Tape or Painter's Tape, it can hold vinyl to keep in place while cutting or can keep your vinyl stay still without curling and rolling.
Tips and Tricks#4. Slits for Curve Surface
Jump over the obstacle of affixing design on your substrate's round or curved surface! It may not be easy to apply the method flatly on this kind of surface but cutting slits in between makes it stress-free and air pockets-free!
Tips and Tricks#5. Re-cutting for best Cut lines
Before unloading your material to the cutting machine, press the "C" button for the second time. This way, it'll get your mat back and do some re-cutting precisely as the exact score you used, resulting in deep cut lines if cutting isn't thorough enough. 
Tips and Tricks#6. The First Aid to Accidental Weeding Out in the Part of a Design
If in case of accidentally weeding out a part of your design, reprint that lost part by hiding and ungrouping the other present design on the layer's panel.
Tips and Tricks#7. Weed quicker with a Container or Lint Roller
A small container or lint roller beside you can prevent minute particles of excess vinyl from returning to your weeded areas. Using any of this will make those tiny bits quickly get off your weeding tool's hook and speed up the phase of your weeding. 
Tips and Tricks#8 Cut All at Once with One Material yet in Multiple Colors
Get your cutting with multiple layers of color with your Cricut finished all at once by moving all the cut elements in one same mat using design space. Then, once all are placed on the same mat in the cutting machine, it will be able to cut the design with its corresponding section along the colors of vinyl. 
Tips and Tricks#9 Pat your Brand new Mat to Lessen Its Stickiness
The brand-new cutting mat can be tacky, causing trouble for materials to get off its surface. To reduce the mat's tackiness or excess grip, one can "pat" or "touch" the mat's surface using its hand. In this way, the oil from your hands as it touches the mat diminishes its stickiness.
Tips and Tricks#10. Contact Paper for Less Sticky design Transferring 
A clear contact paper is a lightweight grip that can easily let go of your vinyl. In transferring your design to your surface, a transfer tape can be super tacky, making the vinyl challenging to remove and causing other issues. If you still prefer transfer tape, try sticking it to other clean surfaces before applying it to your design to make it less adhesive.
Discover More Great Articles On Crafting
Check the links below for more vinyl tips and tricks and project ideas:
ADHESIVE VINYL- A BEGINNER'S GUIDE
UNIQUE DIY GIFT IDEAS WITH HTV
Cricut's Shortcuts and Hidden Features
Level up your "techiness" and knowledge by advancing and updating your skills using numerous functions and revealed features of Cricut with Design Space! As we always thought that other crafters probably know these functional keyboard shortcuts whenever Cricut is at hand for their usage, many are still unacquainted with the value combinations of its keys. Others are still unaware that one can press a combination key on a keyboard to move, navigate, and manage the design process quicker and faster. While the Cricut's hidden feature always left crafters open mouths when they learned that they could do certain functions on their machine. 
General Shortcuts to Cricut using Keyboard for Windows and Mac

 

Keys

 

 

Function

 

 

Windows

 

 

Mac

 

 

 

Ctrl+S

 

 

CMD S

 

 

Save

 

 

Ctrl + C

 

 

CMD C

 

 

Copy

 

 

Ctrl + V

 

 

CMD V

 

 

Paste

 

 

Tab

 

 

Tab

 

 

Open and Close Menus

 

 

Ctrl + X

 

 

CMD X

 

 

Cut

 

 

Ctrl A

 

 

CMD A

 

 

Select All

 

 

Ctrl + Shift Z

 

 

CMD +Shift Z or CMD Y

 

 

Redo

 

 

Ctrl + Shift S

 

 

 

Save AS

 

 

Ctrl + ]

 

 

or

 

 

Ctrl up arrow

 

 

CMD Up arrow

 

 

Send Forward

 

 

Ctrl + [

 

 

or

 

 

Ctrl down arrow

 

 

CMD Down arrow

 

 

Send Backward

 

 

Ctrl + Shift + ]

 

 

 

Send Front

 

 

click Ctrl + Shift + [

 

 

 

Send Back

 

 

Ctrl + G

 

 

CMD G

 

 

Group

 

 

Ctrl + U

 

 

CMD U

 

 

Ungroup

 

 

Ctrl E

 

 

CMD Q

 

 

Quit or Exit

 

 

Ctrl + D

 

 

 

Duplicate

 

 

Ctrl +

 

 

or

 

 

Z + click on mat

 

 

Z + click on mat

 

 

 

Zoom in

 

 

 

Ctrl –

 

 

or

 

 

Z + Alt + click on mat

 

 

Z + Alt + click on mat

 

 

Zoom out

 

 

Ctrl + 0

 

 

 

Zoom 100%

 

 

Ctrl + 1

 

 

 

Zoom Fit to Current Screen Size

 

 

Ctrl + O

 

 

CMD O

 

 

Open Project

 

 

Ctrl + T

 

 

CMD T

 

 

Add Text Box

 

 

or

 

 

Quick Type

 

 

Ctrl + N

 

 

CMD N

 

 

New Project

 

 

Ctrl + Z

 

 

CMD Z

 

 

Undo

 

 

Ctrl + P

 

 

CMD P

 

 

Print, Cut, Go

 

 

Del

 

 

Del

 

 

Delete

 

 

ESC

 

 

ESC

 

 

Exit Hide Contours and Edit Group modes

 

 

Alt + Click on height or width handle

 

 

CMD mouse down

 

 

Scale non proportionally by height or width

 

 

Space bar and drag screen up or down

 

 

Space bar and drag screen up or down

 

 

Pan Screen

 

 

Right/Left/Up/Down arrows

 

 

Right/Left/Up/Down arrows

 

 

Nudge objects

 

 

Shift Right/Left/Up/Down arrows

 

 

SHFT Right/Left/Up/Down arrows

 

 

Big Nudge  objects

 

 
Note: 
To perform these shortcuts on your Keyboard always be on your canvas at Cricut Design Space
The Cricut's Hidden Features

 

Hidden Feature

 

 

Description/Function

 

 

Duplicate Design

 

 

To produce manifolds of copies of similar designs on your Design Space Canvas, do the following options: 

 

 

Option 1: Right Click, then select Duplicate.

 

 

Option 2: Go to the Layer's Panel in the upper right corner to Duplicate the Image.

 

 

Option 3: On the "Make It" option found in the upper left corner see "Project Copies" and change the number of copies of your design and it will be "duplicated" as many times it was set. If in case the image isn't enough to fit in one mat the Design Space will automatically add the mat you needed. 

 

 

 

Show and Hide Canvas Grid

 

 

         ·   Showing Canvas grids helps you in guiding the position of your      image while the Hide Canvas grids enable you to picture out the final  look of your design neatly looking in your sight.

 

 

 

          ·     By clicking once the little square down the upper left corner of the undo or redo arrows in Design Space canvas, you can remove the small square visible in your canvas, and by clicking it twice again, you can remove all the visible lines.

 

 

Set Most Used Materials to Favorites

 

 

You can add to "Favorites" your most used materials by clicking the "star" of your selected item. It will enable shy away from long browsing of your frequently chosen material from time to time. 

 

Switch On Fast Mode

 

 

Cut or write with the twice speed in your Cricut by toggling on the switching of Cricut's "Fast Mode" found on the Cut Screen. 

 

 

Note: This may not work on cutting designs using thin materials or projects with intricate design details.

 

 

 

More or Less Pressure Option

 

 

           ·  It is an option available on your Cricut if your machine's blade is new or old. This enables you to deduct pressure on the new blade to avoid accidental cutting of your mat while you may increase pressure if your blade is old for it to perform the better cutting.

 

 
Could we conclude that you're finally a "master" of your Cricut Machine? Sure you are! We hope that this Ultimate Cricut for Dummies gives you great ease in any crafts you make in the present and future. Always pin and save this on your bookmark, plus never forget to share this blog, for sharing is caring. It helps more than you know!
Please visit our page to learn more Vinyl tips and tricks.
Social Media Accounts:
FB: CraftVinyl.ca
IG: CraftVinyl.ca
TikTok: craftvinyl.ca
For your vinyl crafting needs, please check our website at www.craftvinyl.ca. We offer different Adhesive and Heat Transfer Vinyl, perfect for your next project.