Adhesive Vinyl- A Beginner's Guide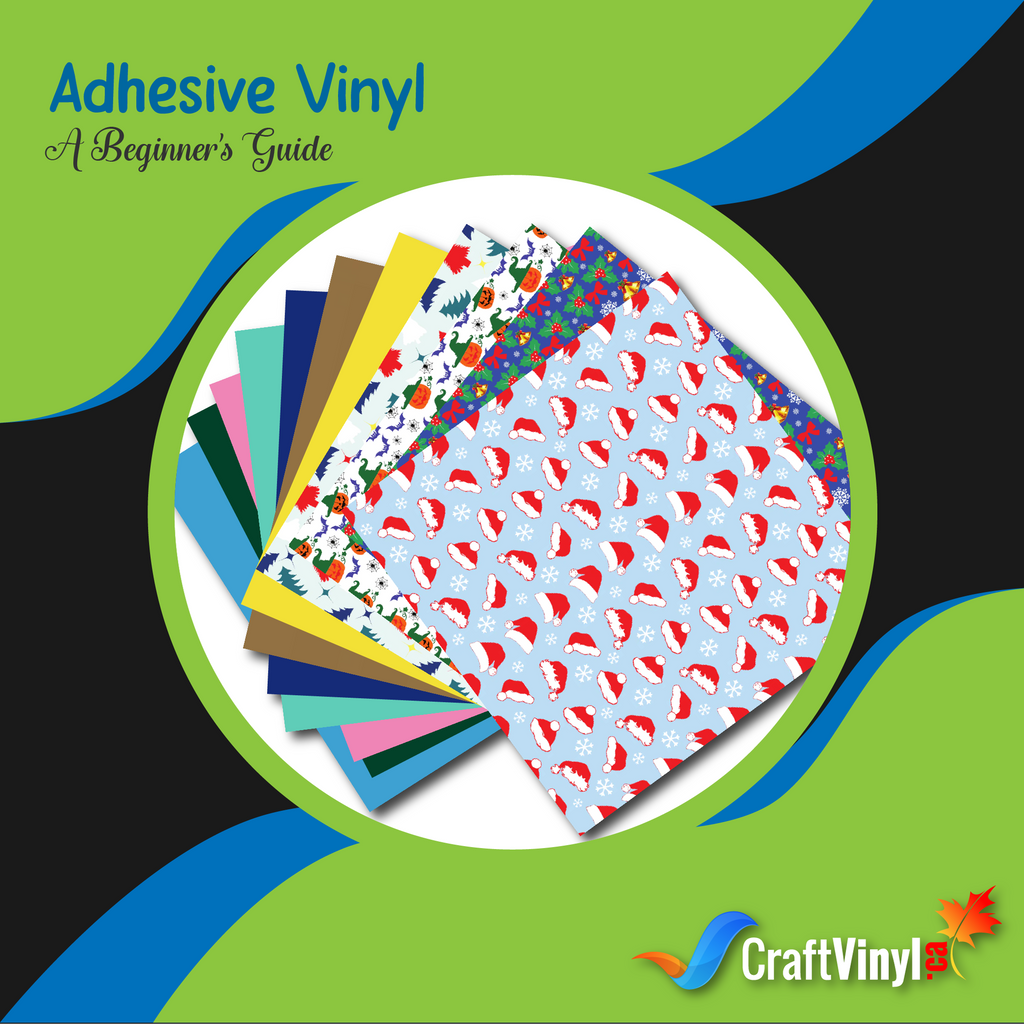 What is adhesive vinyl used for?
Advertisements, business or personal signs and logos, walls and windows decals, or even car graphics, all of these eye-catching graphic designs are typically made with a thin, flexible, self-adhesive material called adhesive vinyl.
Adhesive vinyl is durable and can also be waterproof, which makes it very versatile. It comes in many forms, like matte, glossy, metallic, glitter, patterned, and many more. Yet, it consists of two main types, removable vinyl, and permanent vinyl.
Removable vinyl is best for temporary applications such as indoor signs and wall decals. It mostly comes in a glossy finish. It usually has a matte finish. While permanent vinyl, also known as "outdoor vinyl," is perfect for water bottles, coffee mugs, car decals, and any outdoor application.
Many crafters loved permanent vinyl for its long-lasting adhesive that can withstand elements. Although it's not truly permanent, it can last for up to eight years, unlike removable vinyl, which can be used for up to three years.
How does adhesive vinyl work?
Adhesive vinyl always comes with an adhesive on one side with a temporary cover called a backing sheet. Your chosen design is cut without cutting through the backing paper, usually using an electronic cutting machine such as Silhouette Cameo or Cricut. After cutting, remove the excess vinyl, leaving your design on the backing. We call this process "weeding." Then, the vinyl is now ready to transfer to its desired location using a transfer tape or either by hand. Continue reading this article for step-by-step instructions on how to apply adhesive vinyl.
Can you use adhesive vinyl on shirts? 
Knowing which kind of vinyl best suits your project is one factor that affects the successful application of vinyl on its surface. Therefore, choosing the "right" type of vinyl for your desired project is very important. And if you are planning to make a DIY design on a fabric, like a shirt, it might be attempting to use an adhesive vinyl for a fast and easy application using less equipment.
Adhesive vinyl is similar to a sticker. It is a good choice for smooth surfaces but is not a good choice for fabrics. Although you can use adhesive vinyl on garments like shirts, it will not last long. It will easily peel off of the material and will not withstand washing.
So, using adhesive vinyl on shirts is a big NO!
How do you apply adhesive vinyl?
Working with adhesive vinyl is easy. It is fun and addictive.
Are you a newbie to this fantastic world of vinyl? No problem. Now, I will walk you through how to apply adhesive vinyl.
Before we jump in, you need to gather a few supplies to get started:
This project won't be successful without our main ingredient!
Any adhesive vinyl will do. Just check if it has a paper backing because if not, maybe you are using a heat transfer vinyl (HTV).
Making your design and cutting it by hand is an enjoyable thing. But using a cutting machine makes it smooth and easy. You can try Cricut Explore or Silhouette brand cutter.
This tool is for removing excess vinyl on your design after cutting.
It will serve as the bridge to transfer your design to its surface. I recommend a transparent transfer tape.
Something to put your vinyl on
Maybe a blank mug, clear bottle, wood crafts, or anything that has a smooth and solid surface.
Can't you hear it? It's calling you and begging to be customized.
A squeegee, a credit card, or any application tool
I know how excited you are, so let's get started.
Step 1: Prepare your Design
Using a special file that works with your cutting machine, choose a design and open it to the machine's software program. Make sure that the size fits your project. It can't be too big or too small; otherwise, the vinyl will not suit your desired design.
Step 2: Cut your Design from the Vinyl
Now that your design is sized and ready prepare your cutting machine. Put your vinyl on the cutting mat with the paper backing side down. Choose the setting that works for your vinyl and send the design to your machine to cut. Remember, when cutting adhesive vinyl, your goal is not to cut through the paper backing. And since you are new to this, I highly recommend you do a test cut to ensure your cut setting and avoid a setback.
Step 3: Weed the Excess Vinyl
After cutting your adhesive vinyl, remove the unwanted parts that are not included in your design, just like eliminating grass in your garden for your plants to grow healthy. That process is called weeding. You may remove the excess vinyl by hand, but use your weeding tool for some small and complex parts.
Step 4: Apply Transfer Tape
Make sure that your blank surface is smooth and clean. Place the transfer tape over your vinyl. Press the transfer tape using your application tool to help it adhere to the vinyl. Pull downwards at an angle starting from one corner to remove the vinyl from the paper backing.
Step 5: Transfer your Design
Carefully put the vinyl decal at the desired location on your project surface. Note that it will stay exactly where it is; you cannot pull it up or move it around. Use your application tool to press from the center of the design, moving outward to remove any air or bubble. Finally, remove the transfer tape by slowly pulling it as we did earlier with the vinyl. Pull downwards at an angle starting from one corner.
There you have it! It's easy peasy, isn't it?
You can now design anything on your own.
What can you put adhesive vinyl on?
Now that you know how to apply adhesive vinyl, have you ever wondered what you could put adhesive vinyl onto? As a craft enthusiast, you indeed do. Come on and check this list:
Glass

 – coffee mugs, bottles, pantry containers, windows

Metal 

- insulated double-wall ramblers and tumblers, buckets, fridges, cars

Plastic

 – tumbler, bins, phone case and cover, toys, acrylic dishes, and trays, school supplies

Ceramics

 – mugs, base, jars, bowls, plates

Wood

 – signs, souvenirs, cabinets, frames, home décor, chalkboard, clipboards

Paper

 – notebooks, boxes

Canvas

 – home decors
Anything with a flat, hard, and smooth surface can be a substrate for your adhesive vinyl. What about canvas? It's sometimes rough and coarse, maybe tight or loose. Yes, adhesive vinyl can stick to the canvas, but you need some technique.
Let me show you how.
Step 1: Apply acrylic paint to your canvas. But for those who don't want to paint, you can use a board to fill in the open area of the canvas to give it a smooth surface.
Step 2: Place the transfer tape over your design vinyl. Remove the paper backing.
Step 3: Allow the vinyl to adhere to your canvas by burnishing it.
Step 4: Remove the transfer tape slowly.
The vinyl is now successfully transferred to your canvas.
Discover More Great Articles On Crafting
Please click the links below for other vinyl crafting blogs:
Does adhesive vinyl last outside?
The lifespan of vinyl depends on its environment. Factors such as sun exposure and climate significantly impact the vinyl's length.
Permanent vinyl is made with a clear solvent-based adhesive designed for outdoor projects. This vinyl is an ideal choice for anything that is exposed to sun and rain. It is fully waterproof and can withstand exposure to elements. It can last for up to eight years.
Meanwhile, Removable vinyl comes with water-based adhesive making it best for indoor projects such as wall graphics and decors. Its lifespan is up to three years, but if you use this vinyl outdoors, it will peel off too soon.
It is essential to match the style of your project with the correct type of adhesive vinyl.
Does permanent vinyl stick to wood?
Let me guess why you are here and reading this article: either you want to put a design on wood, or your vinyl won't stick to wood.
It's a YES! You can use permanent vinyl on wood.
For your permanent vinyl to last up to eight years, the adhesive must have a firm bond with the substrate. And to achieve that longevity, the substrate must be smooth.
To make the vinyl work better on wood, we recommend coating your project with acrylic paint or crystal clear coat before transferring your vinyl. Just make sure to use paint that does not resist vinyl.
You need to consider several factors in crafting vinyl on rough surfaces like wood.
To get the job well done, here are some tips and tricks for you:
 Sand the rough surface of the wood to make it feel smooth to touch. 

Before applying the vinyl, clean the sawdust and residue on the wood.

Before applying the vinyl, allow a few days for the paint or coating to cure.

Press the vinyl down with a transfer tool so that no portions of the design get left behind on the transfer tape.

If some of the vinyl parts are coming up with the transfer tape, give it some time and moisten the tape.

Seal the wood to ensure that the vinyl sticks properly, but let the vinyl adhesive cure for about 24-48 hours before applying the seal, so the adhesive doesn't mix and cause the vinyl to peel.

You can also try the stencil option and paint the wood.
How do you seal vinyl with Mod Podge?
After flawlessly installing your vinyl to a rough surface, sealing comes next. Sealer keeps your vinyl graphics looking good and protected and makes the surface easy to clean. It also keeps the vinyl from peeling.
Mod Podge Acrylic Sealer protects your project and reduces tackiness. This easy-spray product creates a strong, crystal-clear, non-yellowing acrylic seal. It dries quickly and won't drip when applied. It comes in gloss and matte.
Let's seal a DIY-designed wooden cup with Mod Podge clear acrylic sealer today.
 We will use the following materials:
Mod Podge Clear Acrylic Sealer

Your DIY Wooden Cup

Rounded Sponge Foam

Masking Tape

Stick
The Steps:
Make a little hole at the center of your rounded sponge foam and insert the stick. This will serve as your handle.

Put the handle inside your wooden cup. Be sure that the rounded sponge foam occupies the entire space of your cup, so it is tight enough to hold the glass for spinning while spraying.

Using masking tape, fasten the top of the cup to the sponge.

Now we are ready for spraying. This Mod Podge is safe to inhale, but the odor is relatively mild. So let's do it outside with a face mask on. Shake the Mod Podge first. For the first coat, spray the sealer directly on the cup with three vertical strokes, top, middle, and bottom. Next, rotate the cup by spinning the handle and repeat spraying with the same stroke until the entire surface is filled. Let it dry for 10 minutes.

Repeat the spraying process two or more times, depending on the type of effect you are trying to achieve. If you want a soft, smooth surface with no ridges, apply at least 5 to 6 coats.

Leave the project for at least 10 hours to ensure that the acrylic sealer is already dry.
That's it! Your wooden cup is sealed. You can now display your project.
A Friendly Reminder:
Please choose the right product for the right project; this is how it always goes for your graphic vinyl to be applied perfectly. Also, installation is the key for your vinyl to adhere smoothly.
With this blog, I'm sure you are now confident enough to explore the wonderful world of vinyl crafting. And for the newbies out there, keep on trying. Customize, Do It Yourself, and give it a go!
Learn more Vinyl tips and tricks and share your crafting adventures with us. Please visit us on our pages.
Social Media Accounts:
FB: CraftVinyl.ca
IG: CraftVinyl.ca
TikTok: craftvinyl.ca
For your vinyl crafting needs, please check our website at www.craftvinyl.ca. We offer different Adhesive and Heat Transfer Vinyl, perfect for your next project.