SISER EASYPSV 101 : LEARNING THE BASICS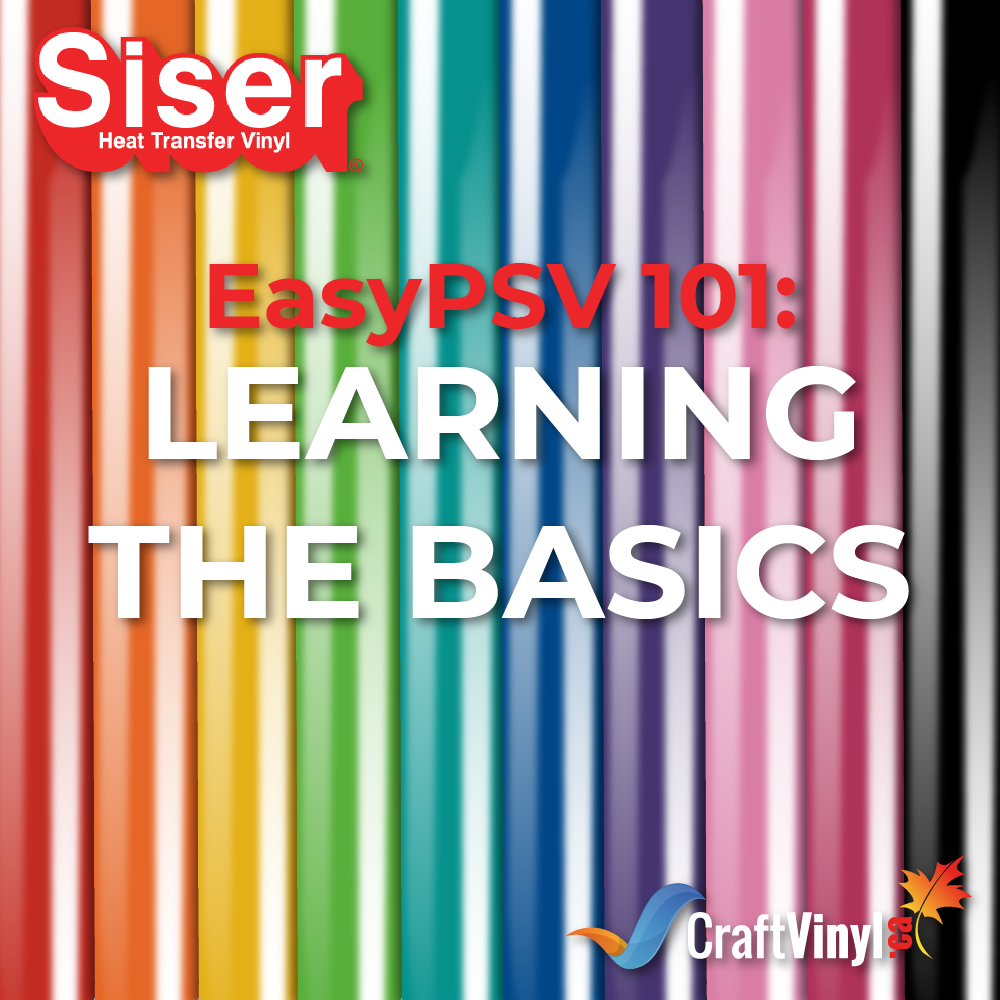 With Heat Transfer Vinyl, there were no new decorating possibilities before, but now there are! Siser has introduced a new EasyPSV vinyl range! Thanks to pressure-sensitive vinyl! Since EasyPSV does NOT need heat to activate the adhesive, it can go on items that would typically melt (or have other adverse effects) from the high temperature of a heat press or home iron. For example, you can decorate painted drywall and plastic baggies with PSV but not HTV.
HTV vs. PSV
A good rule of thumb regarding vinyl is that if the object you want to decorate can handle the heat without adverse effects (melting, discoloring, etc.), you can decorate it with HTV. You'll likely look to PSV as the answer for everything else. But if you're a crafty person, you might have noticed that some crafters prefer PSV while others recommend HTV for decorating wood. So who is correct? Well, they both are! You can use HTV or PSV to adorn some goods. Choosing which vinyl you use can depend on your preference and the colors your project calls for, or it can even come down to what you have on hand.
Let's look for more important details and features of Siser EasyPSV.
WHAT DOES EASYPSV STAND FOR?
Before you begin crafting, you should be familiar with your materials. It is supported by instructions that will undoubtedly assist you in handling the material.
So, let's begin with the basics. What does PSV mean in crafting?
PSV stands for PRESSURE SENSITIVE VINYL.
Pressure-sensitive vinyl gets its name because it is made of polyvinyl chloride (PVC) film with a thin adhesive layer applied to the backside. The adhesive-coated backside is pressure sensitive for long-term installation, but there are also removable adhesive options if you want a short-term application. Vinyl film is available in various thickness gauges and base colors (white and clear are the most common).
Product Introduction
Siser EasyPSV is an adhesive vinyl similar to StarCraft HD, Styletech, and other available brands. Siser has previously been mostly recognized for Heat Transfer Vinyl products and associated items. Still, the company enters the adhesive vinyl craft industry with the new EasyPSV range of adhesive vinyl. 
Siser also offers a unique range of colors that differs somewhat from those seen in other lines of competing products. Use EasyPSV removable by Siser to create worry-free décor that you can replace frequently. This temporary pressure-sensitive vinyl takes the guesswork out of decorating. You don't have to worry about the sticky vinyl leaving a gooey mess behind or, worse yet, removing some of the walls! EasyPSV Removable can last up to 3 years, but you are always free to switch it up. And who wouldn't with such a chic matte finish?
Moreover, PSV's ideal thickness makes it simple to cut, weed, and apply with wide format and craft cutters of all kinds. The new go-to adhesive vinyl for creating decals that can decorate almost any hard surface, such as glass, wood, plastic, and so much more!
Let me walk you through the features and specifications of Pressure Sensitive Vinyl that will give your creativity pleasure to know this vinyl.
Features:
Pressure-sensitive vinyl quickly adheres to hard surfaces by applying pressure. No heat necessary!

High durability - lasts up to 3-5 years

Outdoor-rated to withstand rain and UV exposure

This applies to glass/mirrors, wood, plastic, metal, and ceramic substrates

Works great with other Siser products and can be used for multi-color layering vinyl applications

Siser Application Tape recommended for successful application
Specifications:
PVC composition

3.0 mil thickness with a gloss finish

Recommended for use with a 45 or 60-degree cutting blade

Not recommended for use on drywall or other painted surfaces

Not recommended for use near flame or heat source, with microwave, or dishwasher
WHAT IS SISER EASYPSV USED FOR? 
After knowing what Pressure Sensitive Vinyl is, your next step would be choosing your preferred medium to complete your vinyl project. Since Pressure Sensitive vinyl is the new go-to adhesive vinyl for creating decals, decorating hard surfaces is now possible!
Easy PSV Permanent is the decal vinyl to use for long-lasting projects. Easy PSV Permanent is tough enough to withstand outdoor elements like sun exposure and rain, making it ideal for car graphics, porch signs, and outdoor tools or equipment. Using pressure-sensitive vinyl, you can decorate objects with your name or even the name of your business for up to 3-5 years. Any hard surface will be transformed into a work of art, thanks to Siser EasyPSV!
Below is a simple guide for using Heat Transfer Vinyl and Pressure Sensitive Vinyl or both in the same medium.
Heat Transfer Vinyl (HTV)

 

 

And Pressure Sensitive Vinyl (PSV)

 

 

Pressure Sensitive Vinyl (PSV) is for Hard Goods

 

 

 Canvas

Wood

 

 

Acrylic

 

 

Cardboard

 

 

Cardstock

 

 

 -Ceramic

-Plastic

 

 

-Metal

 

 

-Vinyl

 

 

-Drywall(Removable PSV only!)

 

 
You can also use removable EasyPSV to add a little whimsy to your washing machine, changing its design as often as you switch your style. EasyPSV Removable includes all kinds of popular home décor colors so you can go vinyl crazy and decorate without a care… and then redecorate a few months later! If home décor isn't your thing, you can always temporarily decorate electronics, instruments, or your vinyl cutter.
IS SISER EASYPSV REMOVABLE?
Siser EasyPSV comes with either a permanent or removable adhesive. You can easily spot the difference by checking the back of the vinyl. If it has a gray grid line then it's permanent. If the grid is mint, then it's removable. That paper line goes face-down when cutting, so the colored vinyl side is exposed to the blade. 
So, if you are asking if Siser EasyPSV is removable, the answer is YES.
Some crafters often want to change the designs of their medium. But we must consider that putting new designs and decorations on our medium is costly. And if you are on a tight budget, removable vinyl is what you need to save some pennies. Therefore, Siser's EasyPSV will save you in this situation.
Siser EasyPSV Removable comes off cleanly and quickly without any special tools or solvents for care-free customizing!
You can use the same medium with different designs using this great vinyl. Here are the removal instructions in case you want to remove your pressure-sensitive vinyl.
Instructions for Removing your PSV
If the EasyPSV peels up but leaves an adhesive residue, use an adhesive remover to clean the area. 

If the EasyPSV is stubbornly sticking, the heat from a hair dryer or garment steamer can help loosen the adhesive. 

However, heating is not recommended for glass due to possible shattering. To remove Permanent EasyPSV from the glass, saturate the decal with soap and water. 

Cover with plastic wrap and let sit for a few hours before attempting to remove. An adhesive remover may still be required to clean all adhesive from the surface after removing the EasyPSV. 
CAN YOU SUBLIMATE ON SISER EASYPSV?
Print and cut full-color designs with Siser EasyPSV! 
Another feature of Siser EasyPSV is that you can sublimate on it. Now you can print your designs on this adhesive vinyl – EasyPSV Printable! EasyPSV Printable is excellent for long-term applications on hard objects for up to 3 years because it has a glossy surface. EasyPSV Printable is compatible with EasyPSV Application Tape, and all you need to adhere to full-color designs for a long time is transfer tape and a squeegee!
Note that this is incompatible with Inkjet, toner, or sublimation printers.
I will show you how to sublimate on curved surfaces like a tumbler with relief cuts.
To stick with my New Year's resolution of drinking more water, I'm creating some DIY motivation: a customized water bottle to help keep me in line! But decorating curved surfaces can be tricky sometimes, so I'll make it easy and show you how to use relief cuts with EasyPSV.
You will need your basic vinyl supplies:
Vinyl Cutter (Cricut, Silhouette Cameo, Brother ScanNCut, you name it)

EasyPSV Permanent (I'm using Totally Teal)

EasyPSV Application Tape

Your favorite Weeding Tool

Squeegee

Scissors

Dawn dish soap/water mixture or isopropyl alcohol/water mixture

Lint Free cloth (paper towel not recommended)

Water Bottle (or any cup/tumbler)
Instructions:
1. Cut
The first thing to do is to cut your design out of your vinyl, of course. Load your EasyPSV onto your cutting mat (or straight into your vinyl cutter) with the vinyl facing up (liner-side-down). DO NOT MIRROR your artwork; this needs to be cut forward-facing, just like any regular adhesive vinyl.
Once the cutter is finished doing its thing, grab your weeding tool and start plucking away the unneeded PSV, leaving your original artwork on the liner.
Then all you need to do is to apply EasyPSV.
2. Applying a Tape
Put application tape on top of the decal vinyl and give it a good rub-down with your squeegee.
3. Clean the Surface
Before we get to relief cuts, ensure your tumbler is clean and free of dust. Also, try to minimize any fingerprints once you have the bottle clean. We do not want any dirt or skin oils getting onto that adhesive. You can also use 70% isopropyl alcohol diluted with some water to clean up any fingerprints.
4. Utilize Relief Cuts
If your design is straight up and down, you may not even need relief cuts.
But if your design has pieces that wrap around the curve, like the tendrils on a dreamcatcher, then you'll likely need to utilize relief cuts. Remove the liner from the EasyPSV to expose the adhesive, then use your scissors to cut little slits around the artwork. Thanks to these little cuts, you can now apply the EasyPSV to your tumbler in sections. I call these "relief" cuts because they "relieve" tension from the application tape while applying to curved surfaces. This tension relief allows you to manipulate individual parts of the decal to prevent creases or bubbles that may occur if we just slap it on in one piece.
5. Design Application
Start by tacking down the middle of your design. Then draw a line with your finger going down the graphic. Then you can apply each section by pressing it onto your tumbler with your fingers. When the whole picture adheres to the tumbler, go back over it with a squeegee before removing the Application Tape.
I told you that would be easy! Let the vinyl sit on the cup for at least 24 hours before enjoying a healthy water beverage. Letting it sit will ensure the EasyPSV has fully bonded to the bottle. Remember, we recommend washing these by hand for a long-lasting decal!
Discover More Great Articles On Crafting
Please click the links below for more vinyl products you might want to use for your following vinyl projects.
ADHESIVE VINYL- A BEGINNER'S GUIDE
SISER EASYPSV CUT SETTING
Cutting any vinyl is an essential part of your vinyl project. To achieve your preferred designs, you must cut them perfectly. While working on your Siser EasyPSV, you should note the cut settings for different cutting machines. 
After following these simple settings, I promise you will cut your vinyl designs appropriately. Check it out!
Cricut Explore Air

 

 

Blade: AutoBlade,

 

 

Standard

 

 

Setting: Vinyl

 

 

Cricut Maker

 

 

Blade: AutoBlade,

 

 

Fine-point

 

 

Setting: Heat Transfer, (Non-Cricut)

 

 

Brother Scan N Cut DX

 

 

Blade: Standard, 3

 

 

Cut Speed: 1

 

 

Cut Pressure: 2

 

 

Silhouette Cameo 4

 

 

Blade: AutoBlade,

 

 

2

 

 

Material: Vinyl, Glossy

 

 

Force: 7

 

 

Speed: 8

 

 

Roland GX/GS-24

 

 

Blade 45 degree

 

 

Gram Force: 80-90

 

 

Offset: 250

 

 

Speed: 30-50 cm/s

 

 

Graphtec

 

 

Blade: 45 degree

 

 

Gram Force: 9

 

 

Tool: CBO9U+0

 

 

Speed: 30 cm/s

 

 

US Cutter Titan 2&3

 

 

Blade 45/60 degrees

 

 

Gram Force: 50-55

 

 

Speed: 300mm/s

 

 

*Blade Advancing Varies

 

 

Mimaki CG-60SR III

 

 

Blade: 45 degrees

 

 

Gram Force: 50

 

 

Offset: 30

 

 

Speed: 20-30 cm/s

 

 
A friendly reminder:
Settings may vary based on the blade condition and age of the machine. Always perform a test cut before cutting designs. 
HOW DO YOU USE SISER EASYPSV
If you are a hustler vinyl user or just a beginner, these instructions will significantly help you use your EasyPressure Sensitive Vinyl. Follow these simple tutorials and see the best result of your EasyPSV project.
Surface Prep Instructions
For best adhesion, remove any dirt, dust, grease, etc., to prepare the surface you want to decorate with EasyPSV. The following cleaning method is not recommended for porous surfaces such as unfinished/untreated wood. It is recommended that all other surfaces be spot tested with care before cleaning the entire application area. 
You can clean non-porous surfaces with a mix of approximately two parts water and 1 part isopropyl alcohol (70% or higher for best results) or a non-ammonia-based window cleaner. Use a microfiber or lint-free towel to clean the application area with the mixture. Paper towel is not recommended since they will leave behind small bits of paper that can become trapped under the EasyPSV during application. Ensure the area is arid before applying
Application Instructions
1. Place EasyPSV with the liner side down and cut your design. (DO NOT reverse/mirror your design.)
2. Weed excess vinyl.
3. Remove the application tape's paper liner. Place the tape on top of EasyPSV and burnish with a squeegee.
4. Lift the application tape and EasyPSV away from the paper liner to expose the removable adhesive.
5. Place the application tape on your desired object and burnish with a squeegee to fully adhere to the design.
6. Gently peel away the application tape, leaving just your EasyPSV design on the object
Another friendly tip: 
For storage instructions, avoid direct sunlight and extreme temperatures. Ideally, temperatures should not surpass 70° F and 50% relative humidity. EasyPSV Permanent has a shelf life of up to 1 year when stored properly.
Learn more Vinyl tips and tricks and share your crafting adventures with us. Please visit us on our pages.
Social Media Accounts:
FB: CraftVinyl.ca
IG: CraftVinyl.ca
TikTok: craftvinyl.ca
For your vinyl crafting needs, please check our website at www.craftvinyl.ca. We offer different Adhesive and Heat Transfer Vinyl, perfect for your next project.
And that's it! I know that you can follow this super quick and easy tutorial! 
Happy Crafting!