Balloons and Vinyl Stickers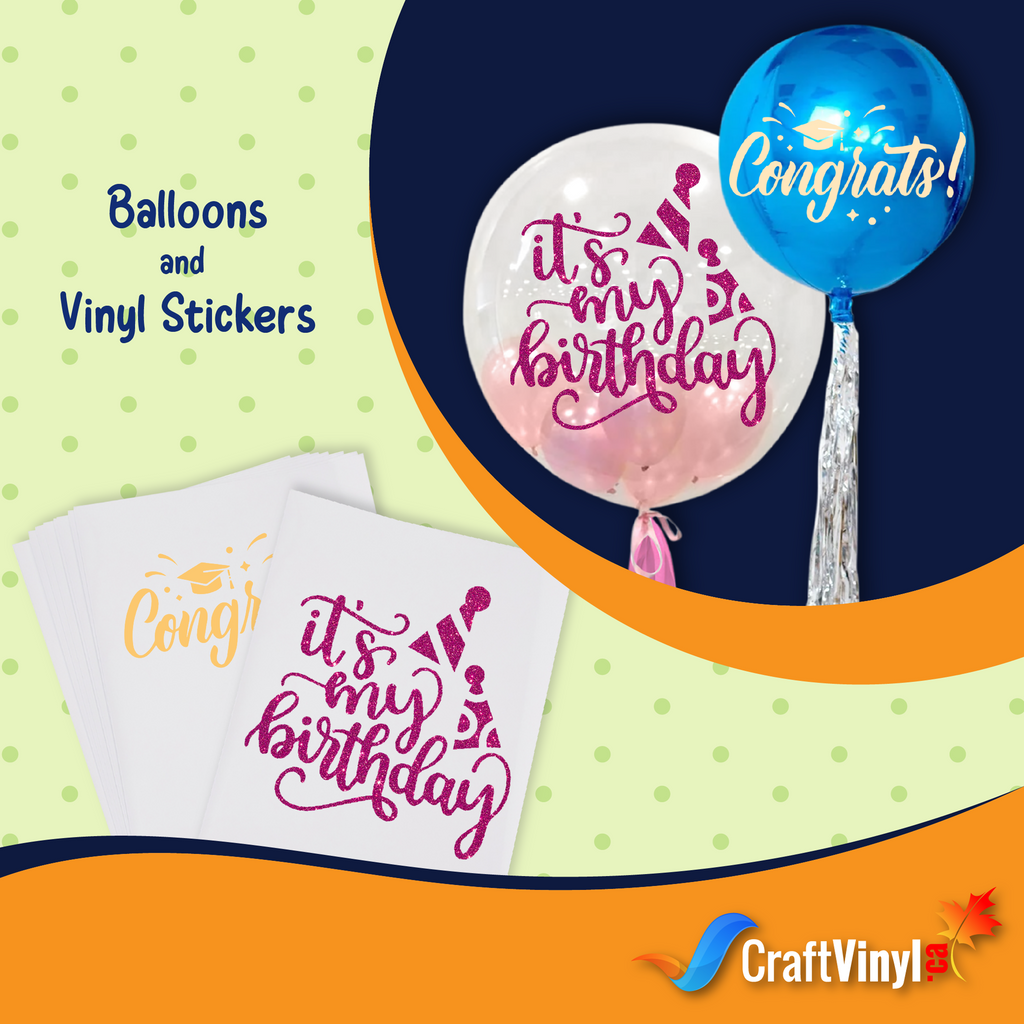 Balloon Talk: A Colorful Customization Bonanza using Balloons and Vinyl Stickers
It's stupendous! Two worlds will collide for a bazillion intensity of clever and artistic impressions! When and where? Oh well, it is happening right now! E-X-A-C-T-L-Y AS IN RIGHT IN THIS MOMENT! It's even popping and hopping in different crafting rooms of DIY enthusiasts and DIY fanatics! If you haven't heard about this significant phenomenon, it is about to take place and about to capture the whole Do-It-Yourself Community and even you! 
Po-poppa-pop! Pop! Pop! Eyyyy… Buddy! I was at the door entrance, yet we hear your minds popping out with unstoppable numbers of ideas now! If I'm intrigued by what's circling your mind, I guess you are more fascinated by what's craft to be revealed right before your sight. I have that big craft revelation now with me! Do you think I should tell you now? Or Should I wait some more time to let you embrace the excitement? Hmm? Let me think. Okay, I'll tell you after ages!-----Haha! And that's a joke! Where do you think you're going? Uh-oh! You will not go anywhere if you know that we will have A COLORFUL CUSTOMIZATION BONANZA USING BALLOONS AND VINYL STICKERS! See? You quickly step back here, for you cannot hold to miss this, and confidently you wouldn't let yourself feel the regrets of not coming for today's blog! 
Come on! Buckle up, my buddies, for we will start at this instant with our fruitful and combinational bonding with our vinyl, craft tools, Cricut, and the balloons as the special guest substrate to our craft table. I swear you'll enjoy this, and we will make sure that after all the actions in this session, you will love craft customization even more! 
The World of Balloons and the World of Vinyl Stickers to Come Together
There's no doubt when it comes to great gatherings; balloons are something you should not forget to list as your number one party essential. And you know, without it, we can say that a party is not complete! Imagine how certain events will look without the touch of it. Indeed, you would not want your walls, stages, and entrances to be too plain and make your guest feel like more empty spaces need to be filled in or make everybody think that something is missing. Likewise, a suitable balloon or decoration setup will also need good decorative materials to have more spice and be extra captivating. With that, the twists and fantastic design vibes will also be possible for a balloon to achieve through the artistic assistance vinyl can give! 
The way to Customizing a Balloon: Vinyl Stickers
With the ever-trending popularity and never-ending surprises a balloon can make, does it ever cross your mind to have other routes that could give you the fastest decorative results for balloon customization? I bet you could not think of different ways and other options. Am I right? Of course, the only way we could adorn and customize our balloons is also only through vinyl materials. Did you know that out of it, you can make any event venue beautiful and stand out? Surely it is!
With just a little help from your cut plotters, you can place the touch of your artistry seen by your creative eyes! We can form and generate personalized designs on any balloons we choose to use from our vinyl materials by cutting them on our cut plotters. When vinyl is cut in different shapes, texts, wordings, or design layouts, this becomes Vinyl Stickers which make the application of design on the surface of balloons clean, nice, and accessible. Through Vinyl Stickers, you don't need to get your head aching painfully by thinking of what design will fit your party or when it's time the design you are looking for is coincidentally out of stock. Compared to those balloons with pre-printed designs, Vinyl Stickers on balloons can be available any time you want with any designs you like at any theme of events you are preparing. 
If we use Vinyl Stickers to Decorate balloons, what type of Vinyl should we use?
"Eeny, meeny, miny, moe, which of these types of vinyl should we pick? Should we choose Removable Adhesive Vinyl? Is it a yes or a no? Should we pick Permanent Adhesive Vinyl? Is it a yes or no?" 
And that's how fast you shift my frenny! A while ago, we were all happy talking about vinyl stickers, and now you being joyous, suddenly become confused? Wait…I hear you singing "Eeny, Meeny, Miny, Moe" too, which would mean… Ahh! Got it…You are torn between the two types of vinyl you'll pick to customize your decorative balloons! As evident as it is, you don't have to make your choosing time long and complicated because it is so clear PERMANENT ADHESIVE VINYL is the one for you and your customized balloon!
So why choose Permanent Adhesive Vinyl? I assure you that this vinyl can give you the professional look of the design you are targeting to reach! Since vinyl is cut using a cutting machine and when it is weeded, it is handy too, and this can give you nice and clean design edges. Permanent Adhesive Vinyl is strongly fitted for a substrate like a balloon, whether they are used inside or outside a venue, this can give you design permanence, and it is waterproof that can overcome any test of environmental elements when exposed to it. When you affix it to the surface of any balloon, it will lay neatly flat. In addition, your balloons can offer you a variety of colors likewise to Permanent Adhesive Vinyl which can also provide full-color variation and an excellent glossy finish. 
How do we make Vinyl Stickers for Balloons?
Whether making vinyl stickers is your first time or not, the process of making a design with it using our Cricut is not far from how we lay out our imprints to the most used Heat Transfer Vinyl. There might be extra steps to make, but as long as you have your cutting machine beside you, you can design and cut your Vinyl Stickers in any shape, size, or color you want! 
Materials Needed: 
 

Cutting Machines

Permanent Adhesive Vinyl 

Transfer Tape

Weeding Tool

Scissors

Cutting Mat
Steps in Making Vinyl Stickers using Cricut
1. Design Preparation
On your Design Space, create your own desired layout. It can be a text or an image. You may also upload a pre-made design downloaded for free or one purchasable. 

Next, adjust the size of your layout proportion to the measurement of the surface of your balloon.
2. Design Cutting
Start placing your Permanent Adhesive Vinyl liner side down on the cutting mat. 

Select the appropriate cut settings applicable to the vinyl material. 

Load the vinyl material on the cutting machine, and click "Make It" in your design software to run the cutting process. 

When cutting Permanent Adhesive Vinyl, we don't need to mirror it. It means we can engrave on the cutting machine as it is. 
3. Weeding
Carefully remove the excess vinyl material on your design using a weeding tool. 
4. Application of Transfer Tape
Before you affix your design to your surface, we need to place it on a transfer tape first. 

On its sticky side down, make sure to burnish to keep your vinyl material affixed to the transfer tape. 

Take note that the transfer tape will help you transfer your design quickly. If you prefer to attach your design later or have created excess vinyl stickers, transfer tape will help you store and save your pre-cut vinyl stickers for later or future use. 
Why should we revamp and customize balloons using vinyl stickers? 
Vinyl on balloons truly comes well together and will give your event a huge wow factor. In fact, for many good reasons, there are no whys or wherefores why you should be confident applying it or personally putting it on your balloon decorations! Impossible at first look, but it's possible as it seems and as we have never expected! 
To bring more confidence in giving yourself a good start in personalizing balloons with vinyl stickers, here are the reasons for you to see!
1. DESIGN COMBINATION
Adding Vinyl Stickers in customizing balloons marks a boundless decorative quality that creates colorful combinations of designs.
2. CARTOON OR DRAWING
Embellishing balloons with vinyl is not only limited to designs like texts of varying sizes or fonts, but one can generate cartoon or drawing types of designs on its surface. 
3. THEME EVENTS
Varieties of Vinyl to add to your balloon decorations will surely complement and make any event venue Instagram-worthy and help you beautify whichever events and theme events you will organize.
4. EXPRESS THOUGHTS
Make any special events remarkable and unforgettable because the customization of balloons with vinyl is unending! Don't you know that you can stick unique thoughts and surprising messages, ask a beautiful, once-in-a-lifetime question and even touch the heart of your loved ones using this? Well, it is yes, and definitely yes! You can express whatever is in the bottom of your heart or whatever is inside your mind without filtering any on these special celebrations ----- Mother's Day, Valentine's Day, Wedding Proposal, Grand Opening of Business Stalls, Bachelorette Party, Christening, Baby Shower or Gender Reveal, Welcome Home Party, and Christmas Day!
5. DURABLE
Aside from the fact that applying vinyl on balloons is quick and easy, it is also very durable. Even if this is to be used as a decoration placed outside or inside a function hall or in your backyard party, it will undoubtedly maintain a gorgeous imprint, guarantee to be water-resistant, and permanently clings to the balloon's surface throughout the time of celebration. 
What are the Best Types of Balloons to use for Vinyl Stickers? 
Even though you commonly see balloons at any event or party… Even if they are easy to find and purchase during your decoration needs… It can still be extra challenging to search for the perfect one. It can also be confusing sometimes that even if you thought you had picked the right one, you are still left feeling if the type of balloon you choose will work well when you put vinyl. 
Oppss….Wait…. Before you get your lips pouting and your face frowning in many worries of what you read a while ago, hey buddy, cheer up, for we haven't started that much yet! We are always here by your side and consistently to help you have the best options. Don't fret in thinking there's no balloon to house your vinyl where there is! So before shopping for your decoration needs, try to scout and get these balloons for your customization! 
The Foil Balloons or Mylar Balloons
Have a sparkle of festive flair to any party theme using Foil Balloons! Out of the balloons we know, foil balloons, also known as Mylar balloons, are one of the inflatable decorative materials with unique features. This type of balloon is great for a combination of decorative styles usage for it is available in a range of different shapes and sizes and is easy to use. Its fancy look, like a mirror-type appearance, makes it super appealing for our "selfie" buddies and is not harmful to health. This only means it is safe to use because it does not release any toxic chemicals and is not detrimental to people with allergies because it is hypoallergenic. 
To our knowledge, this type of balloon is made of thin metalized sheets consisting of polymer films covered with thin layers of aluminum metal and contains nylon components. With these elements, we can see that foil balloons are shiny and silvery in appearance that can give your decoration an elegant or gorgeous impression. You can fill it with helium gas, and it is a considerably longer-lasting and a little costly option in the absence of latex balloons. Yet, it is advisable to use only indoors due to safety hazard purposes. For such reason, when a foil or a Mylar balloon is filled with helium, it may be able to conduct electricity, causing a power outage when it accidentally escapes through outdoor use. 
The Latex Balloons
The golden one in the benchmark among all types of balloons is the Latex Balloons. Latex might be the oldest variety and one we commonly see at most parties. It wide span, yet in terms of usefulness, classically doesn't fade! Thi  balloon is made of latex, polychloroprene, rubber, or nylon material that enables it to elastically stretch times its standard size when air is taken up inside of it and is biodegradable. This vast assortment of colors offers better pallets than primary colors like pastel, darker, fashionable, crystal, pearlized, metallic, reflex or chrome, and jewel tone pallets. It is incredibly economical and can be filled with gas or air. 
Latex Balloons may offer us its two classifications depending on your decorative needs. One is Regular Latex Balloons which are best for everyday embellishment needs of any celebrations and may also accommodate helium gas to inflate it. However, a little downside of it is they won't last as long as the second type of Latex Balloons does. Meanwhile, Helium Latex Balloons, the dual classification of Latex Balloons, are designed specially to get inflated with helium gas. This means this balloon type can keep and let your design be displayed floatingly longer than a Regular Latex Balloon can do. 
The Bubble Balloon 
Get this pack of bubble balloons to your cart before it runs out of stock! A versatile and multipurpose type of balloon that is handy anytime for your personalization using a variety of vinyl stickers. Hurry now! 
Excellent at it is; it is a non-allergenic balloon variety made of transparent, elastic, and plastic materials that are ideal for indoor or outdoor decoration. The non-oxidizing component contains its life longevity and capability to get inflated while having an approximate curvy shape, giving you the security for it to last the longest. You can also expect to embellish it freely using any designs and type of vinyl stickers you prepared. Having its surface like a clean canvas because it can be available with no prints, in black or white, this can let you have a blank surface giving you a perfect space to draw or write your own words out of vinyl stickers. 
Moreover, as part of its changeability, aside from the surprise messages that your text design contains, bubble balloons can also be filled with confetti inside to add effect to it. You may also place another balloon internally to add or change the color effect or insert a cute little bear to add more surprise and sweet gestures for your loved one! Before we forget, these bubble balloons are great for Gender Reveal, New Baby Welcoming, Birthdays, anniversaries, Engagements, Wedding Proposals, and others. 
How do we apply Vinyl Stickers on Balloons? 
It's about time for your stunning designs to lie down and cling to your balloon's surface using your customized vinyl stickers! I know you are so excited to apply those vinyl stickers you make using your own hands. Since we are already here, we will not keep you waiting or your joy hanging because you deserve to know the steps and tricks to make your design application a breeze!
Materials:
Balloons ( You chosen variety)

Pre-cut Vinyl Stickers 

Manual Balloon Air Pump or Helium Gas Pump for Balloons

Painter's Tape

Cloth

Wet Wipes 

Other Decorative Materials
Step by Step process in Applying Vinyl Stickers on Balloons
First Step: Inflating the Balloon using a Manual Air Pump or Helium Gas Pump. 
Locate the opening of your balloon found on the bottom or tail of it and attach it to the nozzle of the manual air pump or helium gas pump. Make sure to rib the nozzle enough for the balloon's opening to permit a tight hold on it. 
Second Step: Start Pumping and Filling the Balloon with air or helium gas.

 
Hold the balloon in place and pump. 

When you achieve the desired size of the balloon and inflation level, you may remove the balloon's tail from the pump's nozzle. 

Pinch the neck part near the balloon's tail to shut the opening so no air or helium will escape. 

Tie the balloon in a knot to close it. 
Third Step: Vinyl Sticker Application to the Balloon's Surface
Before sticking your vinyl sticker on the balloon, ensure its surface is clean. Using baby wipes or a cloth, you may first wipe the area where you will attach the design to ensure it is free from dirt. 

To avoid the balloon from rolling or moving, using painter's tape or a low tack tape, you may tape it down temporarily on your table's surface. 

To reduce the tackiness of your transfer tape where your vinyl sticker is in place, you may stick and peel it back up on a cloth to reduce its adhesiveness. For such reason, applying it on the balloon's surface will easily peel off. 

Slightly cut the edge of the transfer tape by snipping and clipping it. This will make the design easily placed on round surfaces like a balloon. 

Start placing the vinyl sticker with transfer tape on the area where you want to position it. Once done, you may burnish some parts of the vinyl stickers to secure everything is well affixed on the surface. 

Remove the transfer tape carefully. Repeat the same process if you have remaining balloons to decorate with a vinyl sticker. 
Discover More Great Articles On Crafting
Please click the links below for more incredible projects using vinyl:
HOW TO ETCH METAL WITH VINYL STENCILS
Finally, we are done! In just a few steps, you can now create various styles on your balloons for your upcoming events! How's that? I'm so glad you found it easy to follow every part of our journey, especially when it comes to customizing balloons. 
Buddy, we can't wait to see your creations. We hope to see your customized balloons inflated with gorgeousness and alluring appeal. We are looking forward to hearing about your experience soon. Please visit us on our pages.
Social Media Accounts:
FB: CraftVinyl.ca
IG: CraftVinyl.ca
TikTok: craftvinyl.ca
For your vinyl crafting needs, please check our website at www.craftvinyl.ca. We offer different Adhesive and Heat Transfer Vinyl, perfect for your next project.
Have a crafty day ahead!