Adhesive Vinyl and HTV : Back-to-School Project Ideas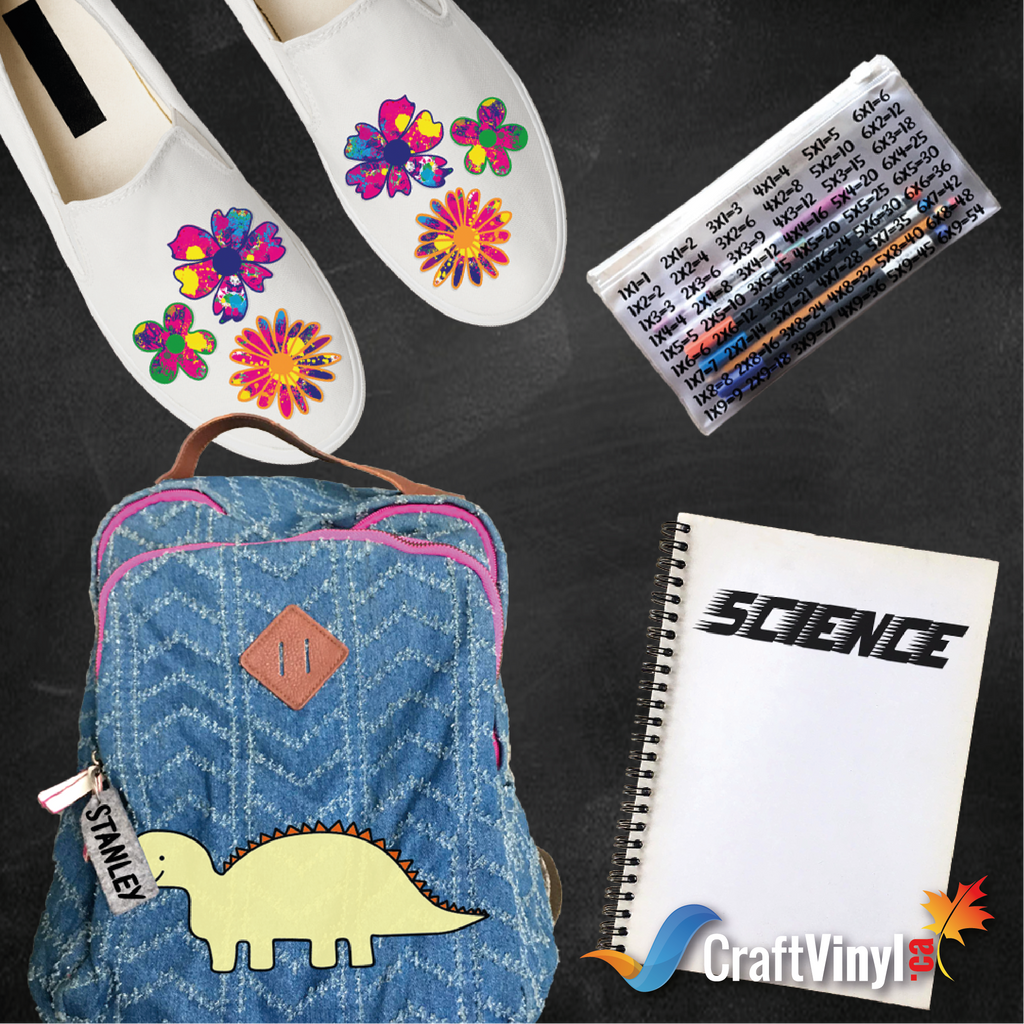 BACK-TO-SCHOOL DIY VINYL PROJECT IDEAS USING HEAT TRANSFER VINYL
Have you tried customizing your kid's school things using Adhesive Vinyl and HTV? Don't worry because it's easy as it can be, so come and join me! For this blog, I'll show you different back-to-school project ideas.
Going back to school is an exciting time of the year for many students, as it is a fresh start with endless possibilities. Shopping for new clothes and school supplies is something that every family must do to motivate their children to study well. It also has a good effect on their academic achievement. School supplies such as bags, notebooks, pencils, and crayons are basic needs for any kid attempting to attain academic achievement in the classroom. If so, why would you not give your kids the best school materials they can have?
The best option isn't usually the most expensive; it can also be satisfying and positively affect someone. If you're the kind of parent who is both practical and creative, I'll give you some suggestions for changing your child's plain-colored school supplies. Hence, they appear more exciting and vibrant to your child using these two excellent materials-  Adhesive Vinyl and HTV! Let's start with some Back to School Do It Yourself Heat Transfer Vinyl Project Ideas.
1. DIY Backpack
I'm so excited! Today I'm sharing a cute project; remember when you were just a kid and having a hard time choosing the design of your bag? Of course, students want to stand out from their classmates with a distinctive bag design. Give your kids' backpacks a unique touch with the help of Heat Transfer Vinyl. Discover how to create your own now!
SUPPLIES:
A plain color backpack
Parchment paper or a piece of fabric (it can be a t-shirt or a pillowcase)
Cutting machine
Clothes Iron
INSTRUCTIONS: A friendly reminder, my dear crafters, if you have doubt melting your medium, you can try to iron a small hidden spot of the backpack just in case. I recommend always trying to heat a small piece or inexpensive item before you go for your definite project.
Step 1. The first step is to measure the area where the Heat Transfer Vinyl will be applied. So let's say you wanted to use the whole front pocket.
Step 2. Then in your design space, create your preferred design. Or you can also download a ready-made design from Cricut or Silhouette.
Step 3. Once your design is ready, group every piece of your art, and don't forget to mirror the image. This part is crucial. If you don't mirror it, it won't work.
Step 4. Place the image where you want it to be cut, find your HTV option in settings, and send it to cut. Always make sure you cut your HTV with the plastic backing facing down.
Step 5. After cutting your HTV, the next is to trim and weed the excess vinyl to show your text design. To perfectly do this, use a weeding tool or simply a tweezer.
Step 6. Since this is a DIY Project, we will use a clothes iron. Place your design on the ironing board with its backing facing up. Ensure that it is placed exactly where you want it.
Step 7. Put a piece of fabric or parchment paper carefully on top of your HTV and iron it for 40 seconds to 1 minute. Check it occasionally to make sure it's sticking.
Step 8. Be sure it's all adhered to before you decide to peel off the backing. If it is, carefully peels it off, place the fabric back, and iron it again for a few more seconds. Add more pressure.
*Note: NEVER iron directly on the HTV; always use a piece of cloth.
2. Patterened Heat Transfer Vinyl on Shoes
Turn your irons on and grab some Patterned vinyl because I will teach you how to put Patterned Heat Transfer Vinyl on Shoes! So Listen. Shoes are something that every student wants to have at the start of the school year. If you're going to level up your kid's shoes and have a tight budget, why not pull out patterned heat transfer vinyl? I swear, the result will be incredible and will surely adore by your kids! Don't be afraid to make something new right away! Of course, ask your kids about the design they want and make this like a pro! So come and learn how to iron Patterned HTV onto some sneakers!
Supplies you need to put heat transfer vinyl on shoes:
Plain colored shoes Washable marker (like Crayola!)
Mini iron
Cutting machine
Tweezers
Parchment paper or Teflon Sheet
INSTRUCTIONS:
Step One: Layout your design I believe in the old saying "measure twice, cut once," so always begin by measuring the surface you're working on. When you've determined how much space you have to work with, scale the design to fit by adjusting the width and height at the top of your screen. After that, click the make it button, and the software will automatically sort the image onto color-coded mats for cutting. Turn the mirror option, and you're ready to go!
Step Two: Cut your design! Now you're ready to load the machine and begin cutting. Place the heat transfer vinyl shiny side down on the mat. Load the machine by aligning the mat between the guides and pressing the load/unload button. Press the flashing start button to begin cutting.
Step Three: Weeding Using tweezers, remove the excess vinyl to achieve your happy emoji design. Be careful as you may tear it.
Step Four: Iron On Fill the insides of the shoes with a small hand towel or something similar to prepare them. Preheat the mini iron (place it on the high setting). It will keep the shoe's shape while ironing and provides a nice sturdy surface to press on. After the vinyl has cooled completely, remove the high task mask. Finally, place a Teflon sheet over the entire design and give it one last press to ensure the vinyl adhered adequately. Just repeat these steps if you want to add more emojis to your shoes. And there you go! You're ready to go to school with your DIY cute emoji shoes!
3. Motivational Water Bottle with Time Marker
While learning, your kids might forget when to drink their water. While motivating your kids to study well, you must encourage them to drink their water on time. But then, how? Drinking water is just a quick decision anyone can make whenever they want. Don't worry as I will give you a great idea and solution for this matter. So now, we will do a DIY motivational water bottle with a time marker. You will need a 1000 ml plain color or transparent water bottle aside from heat transfer vinyl. Just follow these simple steps and get motivated to do your DIY project:
Step 1: First, you have to prepare all your materials and equipment; water bottle or tumbler, heat transfer vinyl, alcohol (for cleaning the glass tumbler), high task mask, squeegee or a credit card, heating machines (heating gun, easy press, mug press, iron) and of course your cutting machine.
Step 2: Begin by wiping the water bottle with alcohol on a piece of cotton to remove any dirt or grease. It will help your HTV to stick easily.
Step 3: Next, in your design space, write down the time and its motivational phrase for your kids to get motivated to drink their water on time. You can also use different vinyl colors to add color to your water bottle.
Step 4: After that, load it into your cutting machine to cut out your text design, and then weed out the excess vinyl using tweezers. Repeat steps 2 and 3 per time marker and motivational phrase you will adhere.
Step 5: Pick up your designed HTV using a high task mask, then, lay it on your glass tumbler using a squeegee to flatten your text design.
Step 6: Prepare to heat your HTV. If you use a heat gun, get a towel or gloves resistant to heat or an oven mitt as your water bottle will get hot. Circularly move around the design, heating and applying pressure in small sections. For approximately 20-30 seconds at 275 degrees Fahrenheit, peel off the high task mask carefully. Allow your water bottle to cool down completely before using it.
Step 7: You can use a sealer to secure that your vinyl will last long for a school year after several times of using and washing.
After doing Back to School DIY Vinyl project ideas using Heat Transfer Vinyl, we will transfer the highlight to its counterpart- Adhesive Vinyl! Well, as we all know, Adhesive Vinyl and HTV, both are easy to use.
BACK-TO-SCHOOL DIY VINYL PROJECT IDEAS USING ADHESIVE VINYL
1. Personalized Notebooks/Journal
So we're up to the things you could wear for school. Let's consider something you always bring to your classroom. Can you guess what it is? You guess it right-Notebooks! Your children are probably baffled about which notebook she will use for each subject. Sometimes different lessons are found in the same notebook. So why don't you label her notebooks so she knows what to use and she will have organized school supplies? Let's start labeling your kid's notebooks with this excellent Adhesive Vinyl! Any blank notebook or journal will work as long as it has a fairly smooth cover. I have seen crafters use iron-on for leather-type journals, but for this one, I thought regular adhesive vinyl was a better option because the heat probably could melt the cover.
For this DIY project idea, you will need:
Notebooks or journal
Adhesive vinyl in different colors
Cutting machine
Transfer tape
Tweezers
Instructions:
Step 1: Write down the school subjects of your child in your design space and use different colors of vinyl for each subject. Choose your preferred font style and size. Mathematics can be written on green vinyl, Science on red, English on blue, and so on. Take it one step at a time.
Step 2: Once you have finished the text, it's time to load it into your cutting machine.
Step 3: Remove the excess vinyl using your tweezers after cutting your text. Use a squeegee to make sure that all your text will stick. And using a transfer tape, stick it on your adhesive vinyl to pick up your design.
Step 4: For the last step, adhere your transfer tape with designed vinyl on your notebook. Peel off the high task mask carefully. Again, use a scraper to stick it properly without any wrinkles. Voila! You may now enjoy your personalized notebooks and journals!
2. DIY Pencil Case
Speaking of having organized school materials in your bag, another essential item for a student is a pencil case! But let us transform a simple pencil case into something new and educational. If you are ready to learn and create, let's begin!
Materials needed:
Plain color Pencil Case (If you have a tight budget, you can buy a plastic one since we are using adhesive vinyl)
Cutting machine
Tweezers
Transfer tape
Instructions:
Step 1: On your design space, write down the multiplication table number one using the red color adhesive vinyl. A friendly reminder: Measure first your pencil case before cutting out your design. You can do this table per column using different colors of adhesive vinyl to make it colorful, and you can also choose whatever shape per column. It's your choice! And since we are talking about numbers, it's better if you will use a simple font style.
Step 2: Check out if you type the multiplication table correctly. Then, load it on your cutting mat; this is relatively easy if you prefer square shapes.
Step 3: Using a transfer tape, stick out each column and transfer it to your pencil case. Do this step in each column and use a squeegee to adhere it smoothly.
And that's it! Your future mathematician is ready to go back to school!
3. Back to School Backpack Tag
Let's create tags for backpacks! Use adhesive vinyl to make cute and practical homemade name tags in only 5 minutes with this easy backpack name tag activity. For kids of all ages, it makes a fantastic quick back-to-school craft. Students frequently request a new school bag during the school year when their classmate has the same bag and keeps picking up the wrong bag when it's time to go home. To avoid this kind of situation in your child, why not improvise a quick Back to School Backpack Tag? With this tag, the school could also avoid bag-napping incidents among students.
Supplies Needed to Make a Personalized Backpack Label
Scraps of fabric
Duct tape
Acetate hole punch
Key ring
Adhesive vinyl
Step 1: Start by cutting a strip of scrap fabric to the size of the tag you want.
Step 2: Cover on both sides with duck tape.
Step 3: Cut a rectangular piece of acetate for the name card window and seal this on the sides and base of the tag with duct tape. Leave the top edge of the acetate open for the name card to slide in.
Step 4: Now, let's do your name on adhesive vinyl. On your design space, write down your name. Adjust its size according to the size of your backpack tag. Choose a font style and the color of adhesive vinyl you want to use.
Step 5: Load it on your cutting machine and weed the excess vinyl.
Step 6: Now cut a transfer tape a little bit larger than your vinyl and put it directly on top of your designed vinyl. Use a scraper tool or a credit card to pick up all the vinyl and slowly peel off the transfer tape from the paper backing. Then, carefully apply your name to your name card. Look for a perfect angle, smooth it out with your fingers, or use a tool like a scraper. Keep in mind that pressure activates the adhesive in vinyl, so give it a good rub to stick it well.
Step 7: For the last step, peel off the transfer tape slowly but surely. And slide in your name card on your backpack tag.
Then that's it! You already have your DIY Backpack Tag!
Which Adhesive Vinyl and HTV project ideas would you like to try the most? Start crafting now and share them with us.
Social Media Accounts:
FB: CraftVinyl.ca
IG: CraftVinyl.ca
TikTok: craftvinyl.ca
For your vinyl crafting needs, please check our website at www.craftvinyl.ca. We offer different Adhesive and Heat Transfer Vinyl perfect for your next project.
Discover More Great Articles On Crafting
For other Heat Transfer Vinyl project ideas, check out these links:
IRON-ON VINYL TO STAMP UNIQUE IMPRINTS ON YOGA MATS