Heat Transfer Vinyl On Canvas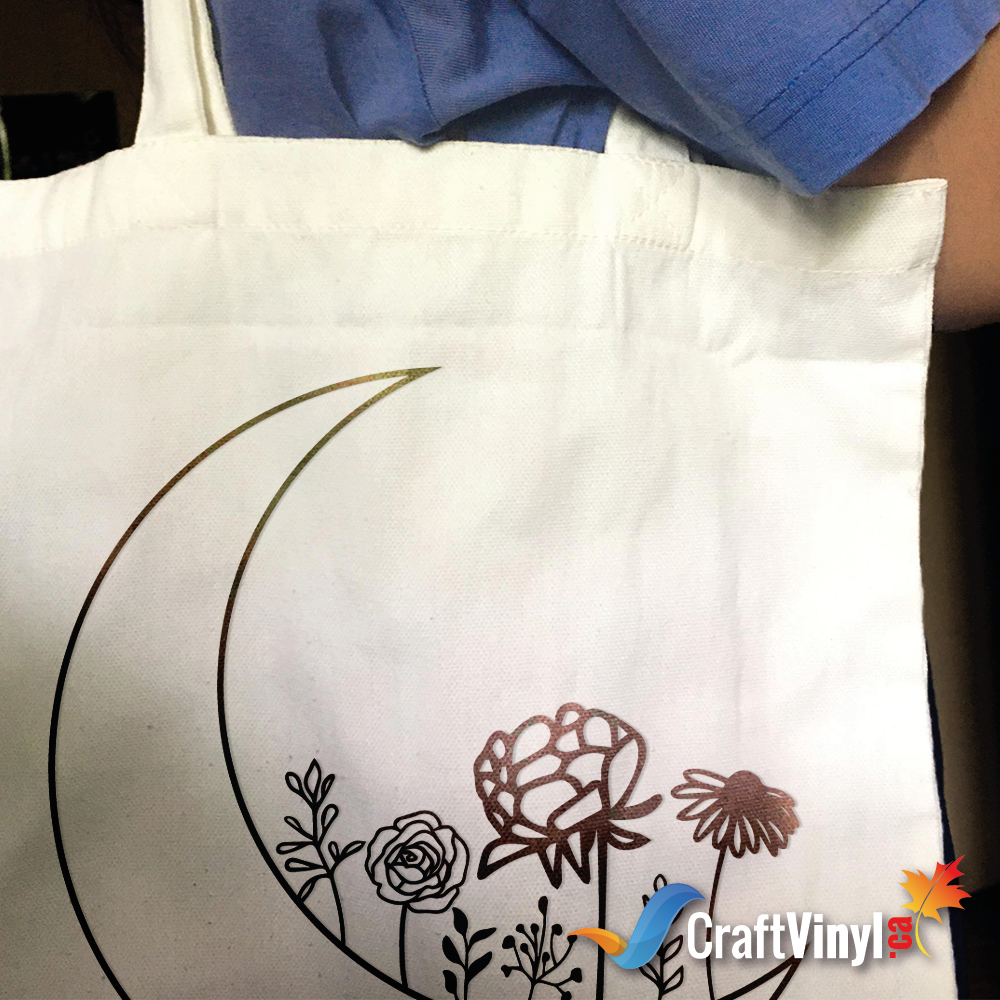 A Crafter's DIY-ing Craze to Heat Transfer Vinyl on Canvas
      Thinking of Heat Transfer Vinyl On Canvas could only be on your Tees, apparel, or stylish clothing? Believing that HTV could only be on your mugs, tumblers, or some selected hard surfaces? -------- Na-aahhh…. Who says?
      If you haven't yet updated with the latest "in-the-know," you got no choice but to hear this out. Heat Transfer Vinyl is surprising us again with a bang of noise to its jaw-dropping prowess, what it can do for every crafter's project, and the never tried before surfaces. Exactly! This is the talk of the town, rattling and superbly buzzing everywhere, all over the corners of the crafting community! 
      So what could that mystery surface be? If you are eager to unfold it right in this session, don't miss the chance and join us! How about giving us a big shout if you want to know it? And that's loud and clear! I am wholly delighted and motivated. We welcome you to this blog, arms wide open! Ready your pens and scratch pads for straightly this moment. Our crafty team will lead you to that "mystery surface" and how it can jive with HTV. Let's go! 
Canvas for HTV: A Promising Base Material for Heat Tranfer Vinyl Printing
           While Heat Transfer Vinyl becomes our customary arty-buddy whenever we create something, undeniably, it makes every way of our DIY life unconventional. Believe it or not, it is a surface that can guarantee one to spread madness of creativity all over, and that is CANVAS! With the truth that this type of vinyl can be applied on all or most surfaces, there is one more craft material that can be a good base for Heat Transfer Vinyl. 
What is a Canvas? 
      It might be intimidating to try with a vinyl material. You might likely get stunned by what a "CANVAS" is! Knowing what it is will help you recognize and understand your need for your HTV project. 
      Canvas is a plain-woven textile originally made from hemp, making it characterized to have bristlier texture. Due to the continuous change in every crafter's needs, commonly used canvas today is now composed of cotton, not much linen, or the combination of synthetic fibers to cotton (that can significantly deal with outdoor adversaries). These evolution made by manufacturers' experimentation surpasses the popularity of hemp. As a result, many choose canvas for home decors up to closets due to its handiness, sturdiness, and hard-wearing capability. In addition, canvases in this present time are also widely available with maximized usability and increased favor for DIY-ers regarding economic friendliness.
The Vice Versa: Can we use Heat Transfer Vinyl for Canvas? Can we use Canvas for HTV Printing? 
      Just as you can attach an imprint using HTV or use clothing, cardstocks, wood, or any surfaces for printing customization, HTV for design printing to canvas or canvas for HTV printing is no different. 
Did you know that this is one of the stress-free, enjoyable, and low-cost personalization techniques? So whenever your creative juices spark like a bolt of lightning and gush for you to do a project, your Heat Transfer Vinyl for canvass or canvas for Heat Transfer Vinyl will cooperate reasonably with each other! The fantastic thing about these two is how they work when combined and blend for an outstanding result; it will always give us a finished product not only on budget. It also provides a timely and valuable output to any occasion in any season. 
Therefore as expected, the flexibility of Heat Transfer Vinyl and the universality of this DIY method call for a resounding "yes." Its permissibility to the application of it with a canvas creates a variety of unique products. A canvas with a qualified material component makes it an approved base material. It serves as another good surface for HTV, which tightly holds creative and profitable potential to design customization. 
The Back to Back Tandem: HTV and Canvas to Work Hand in Hand for Customization
 Believers, doubters, or unbelievers of HTV on canvas, if words containing an explanation aren't enough for you to trust that HTV and canvas are perfectly workable, then one option left is for us to learn how to do it. Nonetheless, before the execution, we will cover more of this section to get a flawless and total menu to renovate our ideas.  
      To achieve your duty of successful artworks for HTV on canvas, check these essential details to complete your recipe!
·        
What typical variety of canvas can you use for Customized Printing ?
Customizing your printed text with HTV is only one of the beneficial aspects that we might have. In combination with canvas opens another bright side. 
Suppose we want to enter DIY-ing and Heat Transfer Vinyl customization industry or take the path to start our business line with excellent canvas products. In that case, you should know the best canvas fabric for Heat Transfer Printing to fulfill the reality of your business plan. 
Cotton Canvas – 

The most common, convenient, and economic canvas fabric available in the market. Its less stray and close-fitting woven fibers give a fine surface to which an HTV could easily adhere. It can uphold heat up to 380°F and may last about 100 years. Cotton canvases are commonly used for totes, clothing, and coverings.  
Synthetic Canvas 

– It is the latest addition to canvas fabric and is artificial. Just like cotton canvas, it also gives a smoother surface which is not only exceptional for portraits. It considerably matches to be used for vinyl-containing fabric strength to last up to 140 years. 
Cotton Duck Canvas – 

It is also said to be the most common canvas around the globe. It has use beyond art purposes. Cotton Duck Canvas is more suitable for apparel, items that touch the skin, and canvas bags. This type of canvas fabric is smoother and quite thick.
Stretched Canvas – 

We often purchased a regular canvas with frames or panels at its back and one we commonly used for a heat printing technique called reverse canvas with Heat Transfer Vinyl. 
Totes, wallets, wall arts, clothes, shoes, bags, coverings, gift items, and home decorations------ come to think of it, you print and heat transfer your design with your Cricut and Silhouette; then, you could also cut and sew your canvas for whatever type of product you wish to make. It's must try combination! Isn't it a "win-win" destiny both for you to have? 
·  
What is the Best Vinyl-Type Suit to Work with Canvas? 
After holding back on whether to do or not to do a personalized project with a canvas, now is the right time to change your perspective and see the brighter side up in the sky! So, whenever working with canvas is at hand, only one class of vinyl material is highly recommended. As you heard from the beginning, there is none other than the Heat Transfer Vinyl. And maybe you are wondering why not adhesive vinyl even if it's a type of vinyl too? 
Although you can use both as an embellishment for a project, Adhesive Vinyl is a BIG YAAY for canvas materials. For such reason, even if this vinyl also offers a wide variety of textures and colors, it works better for smooth surfaces and much with hard surfaces. It is not advisable to be used on fabrics and canvas. Given that a canvas has a coarse texture, attaching it will be difficult. Initially, its adhesive may stick but may peel off after several washes and uses and won't last. At the same time, Heat Transfer Vinyl can cling to the canvas with much grip; the manner of sticking it to the surface through heat and pressure aids extra stick of vinyl material. As a result, HTV is allowed to attach effectively to the fibers of the canvas. It adheres better and last along with the life of its base material. 
As a constant reminder, remember that the secret of pulling out the best look of your design often relies upon the compatibility of your vinyl material to the base material of your surface. Meaning having the right one will be the key to maintaining and giving your project's final look with lasting quality and ageless appearance throughout its usage. 
Now, what more? Remove those torn in your mind and start seeing how many different looks you can do after choosing Heat Transfer Vinyl as vinyl material that suits your canvass. 
What temperature and settings should we use on canvas?
Once we enter our crafting room and begin to close the door of it, we become extraordinary craft makers of our project. The world inside becomes a new dimension where we start playing with all the heat printing elements. The magic begins when heat, time, and pressure, meet our Heat Transfer Vinyl and base material, thus immersing us in a fantastic crafting moment. 
Dealing with the essential elements (heat, temperature, and time) is like mixing a magical potion. Whatever material we are using, the correct setting as ingredients will impel a work with a positive outcome. 
The Standard Temperature of HTV on a canvas 
         We mentioned a while ago; that depending on the matched-up materials you are using varies, the settings may apply to a particular project. To your canvas, the thickness and type of cloth you will use tells its endurance to accommodate the heat. Similar to HTV, application settings depend on the chosen HTV type applicable to your fabric. Always check and apply the manufacturer's instructions in the application setting. Damaging or wastage of material is then being avoided. 
         Standardly, we may start heat printing our project at a temperature of about 360°F with a time of 30 seconds to 35 seconds, light, medium, to firm pressure. Again it depends on your chosen HTV's setting and the canvas fabric you decided to use as a base material. 
The Full Setting Recommendation of HTV on a Canvas
To better guide you on the HTV application process on your canvas, whether you're a big fan of Siser or Cricut, here is more specific information that offers a menu of temperature, time, and pressure settings of a particular Heat Transfer Vinyl.
  SISER HTV GUIDE
  Vinyl Type
 Temperature
 Time
(Secs)
 Pressure
 Peel
 305 °F/ 150 °C
 10-15
 MEDIUM
 HOT OR COLD
 305 °F/ 150 °C
 10-15
 MEDIUM
 HOT OR COLD
 305 °F/ 150 °C
 15
 MEDIUM
 HOT OR COLD
 305°F/ 150 °C
 20
 FIRM
 HOT OR COLD
 320 °F/ 160 °C
 15
 MEDIUM
 WARM
  EASYWEED SUB-BLOCK
 265 °F/ 155°C
 15
 MEDIUM - FIRM
 WARM
  EASYWEED ADHESIVE
 275 °F/ 135°C
 5-10
 MEDIUM
 HOT
  EASYREFLECTIVE
 305 °F/ 150 °C
 15
 MEDIUM
 WARM
  BLACKBOARD
 275 °F/ 135°C
 15
 MEDIUM
 WARM
 320 °F/ 160 °C
 15-20
 FIRM
 WARM
 320 °F/ 160 °C
 10-15
 MEDIUM
 COLD
 305 °F/ 150 °C
 10-15
 MEDIUM
 COLD
 311 °F/ 155°C
 15
 MEDIUM
 WARM
  BRICK 600
 311 °F/ 155°C
 15-20
 MEDIUM - FIRM
 COLD
  SPARKLE
 305 °F/ 150 °C
 15
 MEDIUM
 WARM
  TWINKLE
 305 °F/ 150 °C
 15
 MEDIUM - FIRM
 WARM
  EASY PATTERNS
 305 °F/ 150 °C
 10-15
 MEDIUM
 HOT OR COLD
    Note: Application settings may also vary depending on the type of surface where your vinyl adhere.
  CRICUT IRON-ON VINYL GUIDE
  Vinyl Type
 Temperature
 Time
(Secs)
 Pressure
 Peel
  EVERYDAY IRON-ON, LITE, METALLIC
 340 °F/ 170 °C
 30
 LIGHT
 WARM PEEL
  EVERYDAY IRON-ON MESH
 340 °F/ 170 °C
 30
 LIGHT
 COLD PEEL
  EXPRESS IRON-ON
 300 °F/ 150 °C
 15
 FIRM
 COLD PEEL
  GLITTER IRON-ON
 285°F/ 140 °C
 30
 LIGHT
 COLD PEEL
  GLITTER MESH IRON-ON
 285°F/ 140 °C
 30
 LIGHT
 COLD PEEL
  FOIL IRON-ON
 305 °F/ 150°C
 30
 LIGHT
 COLD PEEL
  FUSIBLE FABRIC
 330 °F/ 165°C
 30
 LIGHT
 WARM PEEL
  HOLOGRAPHIC IRON-ON
 285 °F/ 140 °C
 30
 LIGHT
 COLD PEEL
  HOLOGRAPHIC SPARKLE IRON-ON
 295 °F/ 145°C
 30
 LIGHT
 WARM PEEL
  MOSAIC IRON-ON
 295 °F/ 145°C
 30
 FIRM
 WARM PEEL
  IRON-ON DESIGNS
 340 °F/ 170 °C
 50
 FIRM
 COLD PEEL
  PATTERNED IRON-ON
 340 °F/ 170 °C
 50
 FIRM
 COLD PEEL
  SMART IRON-ON
 340 °F/ 170 °C
 30
 LIGHT
 COLD PEEL
  SMART IRON-ON HOLOGRAPHIC
 295 °F/ 145°C
 30
 LIGHT
 COLD PEEL
  SMART IRON-ON PATTERNED
 340 °F/ 170 °C
 50
 FIRM
 COLD PEEL
  SMART IRON-ON GLITTER
 285 °F/ 140 °C
 30
 LIGHT
 COLD PEEL
   Note: Application settings may also vary depending on the type of surface where your vinyl adhere.
The "How To" of HTV on Canvas with Easy Press
Clearly, to some who think that HTV can't be a decorative material for a canvas, I'm sure they have completely changed their mind. As the saying goes, being artistic could be messy or perfect, and whenever our piece fails, it gives birth to extraordinary art. Being afraid of trying or taking risks is normal, but this cannot stop our creativity. 
What more are we looking for? Some of the crucial cards are already laid in front of us! All we need to do is to use these cards. Are you going to be late for this? I'm sure you are not, so stop thinking twice and hop on the bandwagon!
The Comprehensive Guide to HTV Application on Canvass using Easy Press
If you decided to be here with us until this section, I'm sure you got your whole mind to try HTV on canvas for yourself. Don't worry, with all the knowledge we had explored a while ago; nothing is to be fear of! Plus, this comprehensive guide to HTV application on canvas using Easy Press, I tell you this will be a blast! 
Step 1: Creation of The Design
On your computer, go to your design space or software and start personalizing your design. 

You can also have a ready-made design that is free and downloadable. By importing it to your software, you can use the design. 
Step 2:  Scaling Design
After having your design, scale or resize your design that fits your canvas. 
Step 3: Design Mirroring 
A significant step to take. When cutting the HTV and adhering it to the base material. Mirroring the image allows your design to cut on the right side or face.
Step 4: Cutting Design
Set the cut settings appropriate to your chosen HTV. To know your HTV cut settings, check the manufacturer's instructions and apply the recommended settings.

So when your chosen HTV material is to be cut, the shiny face side down the cutting mat and dull side (adhesive face) face up on the mat.
Step 5: Weeding of HTV
Weeding eradicates excess or unnecessary HTV around your design, and you don't want it to be transferred on your canvass when the heat printing process begins. 
Step 6: Pre-heating of Easy Press
Before taking your way down to the final adhesion of your design using your chosen HTV, warm up your Easy Press a little bit. 

Pre-heat EasyPress at 340 °F for about 10 to 15 seconds or depending on the settings needed for your material. Lastly take note that pre-heating will help initial bonding to your HTV and canvas, giving a smoother environment for adhesion. 
Step 7: Application on Canvas
Applying your chosen HTV with your canvas is like using your vinyl material to the usual project you made before. (For example, shirts and others)

Carefully place your HTV according to your desired position or area on the canvas.

Apply a Non-stick Heat Protection cover to keep your design and canvas from receiving unwanted heat that may cause warping or burning. 

Consider the canvas you are using as well; if the canvas comes without a frame, then you can lay flat your canvas fabric and smoothly press down. But if your canvas comes with frame, place a sturdy material to support underneath and go against the pressure while pressing. This will ensure the HTV will adhere evenly and no bubbling or unsticking will happen. 

For the actual pressing, when applying the design, always follow the required heat setting of your HTV to keep it in a perfect recipe for heat printing. 

Finally, if areas need extra pressing, repressing may do so until that part sticks entirely to the canvas. 

Carefully peel the carrier sheet. Whether the HTV is hot or, cold peel depends on the recommendation for your chosen material. 
·        Do we need to Seal Vinyl on canvass?
Our Heat Transfer Vinyl and Easy Press on our canvas do not only give us promises. It gives us a natural action that we can expect to withstand the test of our environment and the time challenge. However, if you are the crafter who always wants sureness regarding the security of your design, then you probably want to give it a go sealing your finished product. 
Is sealing HTV on canvas applicable? Before doing so, ask yourself that question first. If the reason for sealing your piece is of good reason, well, there's nothing wrong with it, but do you need it? To seal or not to seal HTV on canvas, some aspects may need consideration, and maybe if the product is for outdoor is one thing (like outdoor display, etc.)
On the other side of the coin, you don't need sealing as long as your chosen HTV is appropriately attached and placed according to its application requirement. There are some instances when we apply sealant with HTV on canvas, which can't keep the vinyl material adhered well and may cause air pockets that damage the appearance of your item's final look. 
      Who's ready for a big break with HTV on Canvas? Is it you? Is it them? Of course, all of us! Everybody will catch every bit of the breakthrough! 
      Now that we have experience and prove in ourselves that a Canvas is a surface we can count on and work with Heat Transfer Vinyl, this creative and inexpensive way of creation doesn't only express lofty promises but keeps its performance accurate. Trust rating of HTV on Canvas isn't just overflowing and gives out a final wave of 100% success rate of the venture. 
      If you want more sessions like this, our door is always open to give you the best blogs! Thanks for always visiting us and coming today until next time! 
Learn more Vinyl tips and tricks and share your crafting adventures with us. Please visit us on our pages.
Social Media Accounts:
FB: CraftVinyl.ca
IG: CraftVinyl.ca
TikTok: craftvinyl.ca
For your vinyl crafting needs, please check our website at www.craftvinyl.ca. We offer different Adhesive and Heat Transfer Vinyl, perfect for your next project.
Check the links below for more HTV projects you must try!