Onesies with Heat Transfer Vinyl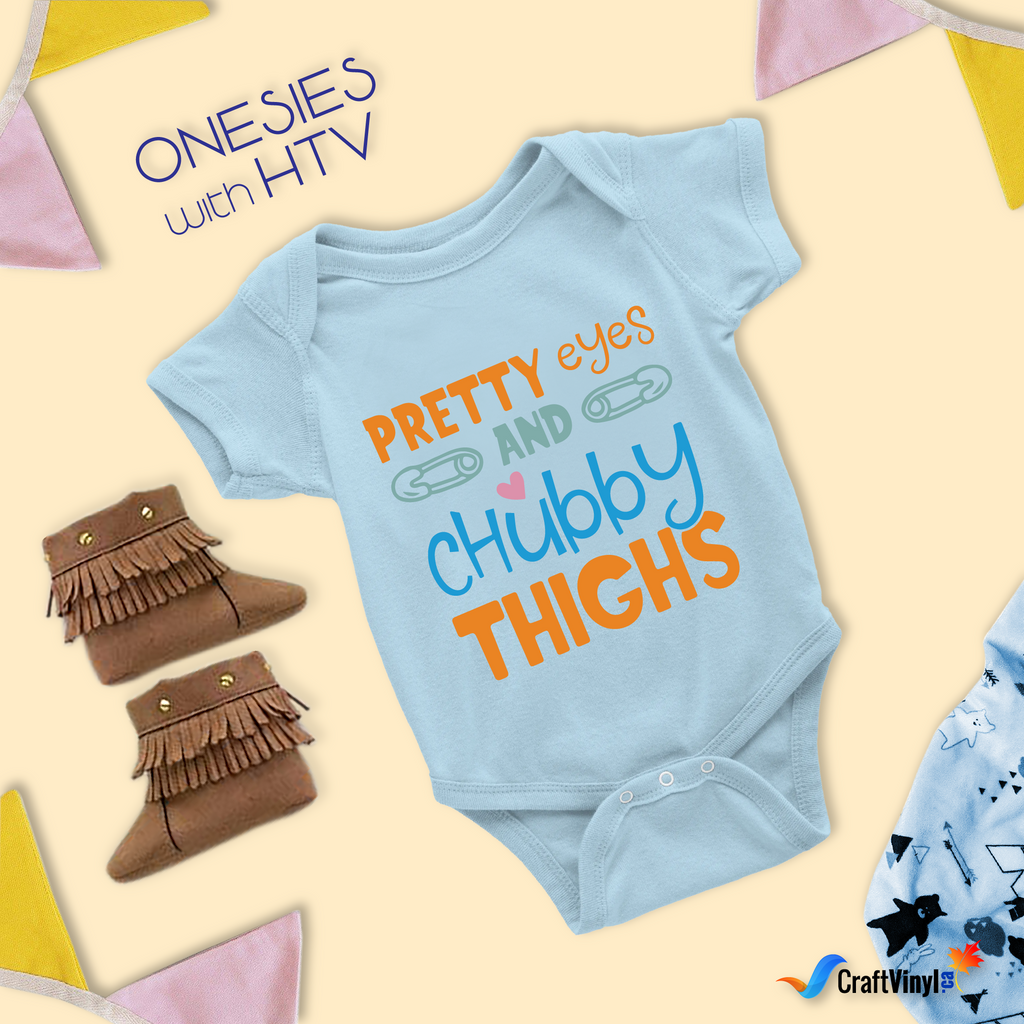 Every Newborn's First Fashion: Onesies with Heat Transfer Vinyl
 "Radio test… radio test… in three… two… one… This is Craft Emergency Broadcasting System announcing straight from Crafter's DIY Station. Everybody, we need your attention, please! Once again, we need your attention, please! 
We are informing everyone to get ready and make themselves vigilant for the possible entry of menace in the form of infectious inspiration to this coming DIY-ers' new mission to customization. This menace of viral inspiration can knock out every crafter's heart and bewitch all DIYers' artistic senses! Everybody must be EQUIPPED, must be GUARDED, and must be ALERT! Here, we at the Crafter's DIY Station consistently warn and remind you that once the collaboration in this new mission starts, you'll get engrossed in an ultimate brain pleasure SO CRAFT AT YOUR OWN RISK!" 
 AWWWW…. A-toochie-toochie-wow! PEEK-A-BOO! A-PEEK-A-BOO! ----- I think the broadcast of Crafter's DIY Station is authentic! See? Is it just me who isn't so prepared for this? Don't you think… you too? Their bright big rounded eyes… puffy chubby cheeks… little clenched fists…Angelic smiles... And their chuckling giggles! Who wouldn't get their knees wobbles seeing a baby with an overload of cuteness in their expression? Oh my… They're so irresistible! What more if you see them dressed in an adorable pair of clothes or Mini-Me like their dad? SO CAPTIVATING! 
Now it's all clear! We now understand why our new mission warns us to craft at our own risk! Customizing baby clothes or onesies using this very reliable craft material, HEAT TRANSFER VINYL, will be a new milestone of all-out crafting. Our craft tables for this collaboration shall be filled with an overflowing loveliness and style we have never experienced before! So what are we waiting for? Let the playful and fun DIY-ing begin! 
Defining a New Baby's Fashion with Heat Transfer Vinyl
 Babies' clothing with Heat Transfer Vinyl? Co'z, why not? The ripples of the HTV wave don't only hit in the customization of your mugs, your father's woodwork, your sister's swimwear, or your brother's pants! But these heat-printed materials conquer even every baby's clothing making it more charming, shrewder, and attractive! And, of course, hundred percent, this will add some more doze of cuteness to those bunch of little cuties. 
What are the Reasons for Customized Baby's Clothes using HTV? 
If it's still hard for you to process that HTV can beautify your kids' and baby's clothing, I give you more reason to get into it and start customizing! Later you'll be amazed there is so much you can do with it and so many doors you haven't opened. Well, you never know; the next door you'll unlock is a door that doesn't only create lasting memories while your child grows but even while your pockets while your profit grows!  
HTV, together with babies or kids' apparel, means its technology isn't just hidden in your baby's crib but is a game-changer technology in decorating items. Using the HTV's excellent method of customizing design, it guarantees won't cost you any numbness of hands! With an investment of little know-how together with the powerful magic of your craft machines, you can PRINT-CUT-PRESS high definition of happy cute little bears or clip art of hot air balloons in any of your babies' clothes!
Cotton is a type of fabric in which an HTV can firmly cling to a surface and ensures to stay till the last life of the clothes. Babies' onesies are good compatible material for HTV. If we can apply HTV on substrates where we think we could impossibly affix a vinyl, what more about onesies that are made of soft cottony fabric? 
It might be long before that parents don't pay too much attention to the styles and patterns of what their babies should wear. Hence, now they want their babies to look cuter and more affable. Say no more to all-white rompers, mittens, or cotton hats, and every baby has to say hi to an unbeatable trendy look, for HTV has dramatically transformed the baby apparel industry! Onesies with Heat Transfer Vinyl is a trend. 
HTV customization of baby items creates memories for keep! Comparably, parents, chiefly mommies, want their babies to look great daily. Unknowingly, mommies also turn into vloggers of their baby's daily wear. For such reason, flexing their customized mini HTV prints with their babies' outfits through photos, TikTok, or Instagram, mommies make this their favorite bond with their babies while treasuring lots of fun and playful memories by personally creating those prints. 
Starting to customize baby's clothing with HTV made a lot of mommies instant MOMPRENEURS and others as devoted entrepreneurs for DIYs! Customizing baby's clothing using heat printing is an excellent way to start a career. Haven't you noticed even at the mall? When there are catchy or witty phrases, adorable images, and highly colorful whimsical character imprints is where customers are and where there is a sure buy. For a straightforward reason, fashionable mommies slash customers always select an item that represents their babies' contagious cheerfulness and lovable traits. Just like adult clothes, you can decorate their apparel from head to toe without compromising the comfort and the little cuties' safety. So don't think there are lesser things you can do with a baby's clothes. 
Babies' Items that you can customize with Heat Transfer Vinyl
I see your head without noticing; it's giving me a nod! Is this what we call fashion freeze? Yes…Like a brain freeze? When you realize getting creative and fashionable on your babies' clothing using various vinyl materials through heat transfer printing slows down your world's motion inside your workroom. Babies' onesies and clothes plus Heat Transfer Vinyl…Styling knows no boundaries! Styling is without age, and styling is no penning of the category to DIY-ing! 
Decorating Onesies and Baby's Clothes with HTV: Is it safe to use? 
When customizing kids' or baby's clothing, there's no other method we could think of that can satisfy us only but Heat Transfer Vinyl. Despite its popularity and most used way of personalization, we won't get away with the fact there are times other mommies or concerned people will raise one eyebrow if HTV is harmless for babies clothing. Of course, having doubts at times is understandable, especially if the baby's safety is a concern. 
Is HTV safe for onesies and baby clothes? If you need help deciding what to believe, here is a brief explanation. Heat Transfer Vinyl as a decorative material to any substrate is considered risk-free and safe, especially for baby clothes. How did it happen? There are standards it had passed before its manufacturers produced it and before it was distributed to the market as a decorative material. Certain brands of HTVs have acquired what we call Consumer Product Safety Improvement Act or CPSIA certification, a mandatory requirement for any products designed for ages 0-12. This implements tight restrictions on using chemicals such as lead, phthalate, and other choking hazardous compounds on soft or hard surfaces. Without the seal and certification on some brands of HTV, it only means they are not safe to use, and they are illegally distributed to the market, so always check the materials you're buying.
Making Customized Onesies and Baby's clothes with HTV
Oh wow! Look what we got here! It seems there's no more hesitation in your eyes, and you're finally convinced to use the HTV application as a method to embellish babies' clothes or onesies. I didn't expect you're so quick in moving when you know crafting a particular piece thrills you! You're prepared; you ultimately get your materials laid on this craft table. 
To complete everything now, it's about time to finally share with you the ways how you can make onesies or baby's clothes with HTV! Let's go!
Method no. 1: Making Onesies with HTV using Heat Press Cap
Did it surprise you? A Heat Press Cap used in heat printing of HTV to caps and hats can be used with HTV printing with onesies. Now you read it, and it's undoubtedly YES! The first time I tried this too, I exclaimed deep inside me this is amazing, and if you try this method, I bet you'll be satisfied! HTV printing of Onesies using a Heat Press Cap makes printing light and obstacle accessible! 
Why use Heat Press Cap for Customizing HTV on Onesies 
The best deal about using Heat Press Cap, aside from its original use of pressing customized caps or hats, is that it's excellent for printing items. Even with smaller sizes, odd shapes, and hard-to-reach substrate areas, a press cannot accomplish with a flat platen. 
In this situation, onesies smaller in size than usual adult clothes and have multiple thick seams on the neck or shoulder areas can be an extra challenge when HTV design has to be affixed on the surface. If the surface isn't flat, it may cause a gap and unevenness in adhesion, not guaranteeing a firm design grip. 
On the other side, through the smaller upper platen and the convex silicon cap of the Cap Press, those hard-to-reach areas near the surface where the design is to be placed will sink, allowing smoother areas to raise for a tight seal of design adhesion. With this heat printing equipment, you no longer need heat press pillows to be inserted under onesies. Instead, you can continuously move forward with evenly distributed pressure and heat. 
Method No. 2: Making Onesies with HTV using Heat Press Machine
Another way to apply Heat Transfer Vinyl to onesies is the widely available Heat Press Machine that we can always find in the crafter's work room. As we all know, this heat printing equipment is a device where we commonly press projects made of fabric, and through this, we can also experience flawless application. 
Why use Heat Press Machine for Customizing HTV on Onesies
 Preferring to use a Heat Press Machine for customization of onesies is also a good choice because this machine can give a flat pressing surface where you can get even pressure and equal heat distribution. On the contrary, there's a slight difference and obstacle about the seams and hard-to-reach areas of the onesies. Since both the upper and lower platen of the Heat Press Machine is equally flat, the onesies' hard-to-reach seams and regions won't sink to raise a smooth surface for adhesion. In this case, a heat press pillow must place under so that those said difficulties won't cause any printing issues and gives a tight seal to the design. 
Method No. 3: Making Onesies with HTV using Iron or Easy Press Mini
Iron and Easy Press Mini are the two heat printing tools best alternatives in the absence of Heat Press Cap and Heat Press Machine. Like a Heat Press Machine, Iron and Easy Press Mini also promise good heat and pressure settings on the application process, provided that the substrate shall be pressed on a flat surface. Thus, having a flat and even pressing surface guarantee no bulks or bumps shall affect the application process. 
 

Why use Iron or Easy Press Mini for Customizing HTV on Onesies
One good advantage of Easy Press Mini and Iron for onesies with HTV is the portability and the small size platen of the heat equipment tools for this may easily reach the hard-to-reach area of the substrate. However, similar to Heat Press Machine, you will also need a heat press pillow is to affix the HTV finely to the surface of the substrate. 
Applying HTV on Onesies using Heat Press Caps, Heat Press Machine, Easy Press, or Iron
Materials:
Baby's Onesies (any color complementing your HTV and design)

Chosen HTV (Glitter, Puff, or Easy Weed)

Heat Press Cap

For Heat Press Machine, Easy Press and Iron use 

Heat Press Pillow

Heat Protection Cover

Cricut Cutter

Weeding Tools

For Easy Press Mini and Iron, also use Heat Press Mat
General Steps in HTV Application: 
I: Preparation and Laying Out of the Design
On your computer, lay out your image or text design. Then, download a free image file, and then upload it to the design software. 

Text designs can be a personalized design of a baby's name while the image can be any cute characters. 

Make all the adjustments in the ratio, size, and colors to finalize everything. 
 II

: Mirroring the Design
Before cutting, make sure to MIRROR your chosen HTV.

Mirroring the design ensures cutting the right side.
III: Cutting of the HTV
Load the HTV to the cutting machine. Make sure the HTV's carrier sheet is facing the cutting mat down and the colored-face film of the HTV is one to cut through. 
 IV

: Weeding
Using a weeding tool, remove all the unnecessary HTV that's not part of your design. 
V: Pre-press
Before the final application, makes sure to pre-press

Pre-pressing the onesies will secure the surface free from any wrinkles and moisture affecting the adhesiveness of the HTV. 
VI: Pressing the HTV
Always follow the manufacturer's instructions for specific heat application settings of whatever HTV you choose. 

Use a Heat Protection cover on your design to prevent it from receiving unwanted heat, causing burns or creases. 

Using Heat Press Machine, Easy Press Mini, and Iron, use a heat press pillow to sink the seams and raise a flat surface for the design. 

If some designs didn't adhere well, repress for another 5 to 10 seconds. 
 VII

: Peel the HTV
Wait for the HTV to cure in and cool down, and then carefully remove the HTV. 
Discover More Great Articles On Crafting
For other vinyl projects you might want to try, please click the links below:
ADHESIVE VINYL AND HTV: BACK TO SCHOOL DIY PROJECTSSTRETCH HEAT TRANSFER VINYL
Essential Things to Remember when Pressing HTV on Onesies
Wait! Before you let go of your break and start making your customized onesies, let me have the last takeaway for you! As we always want you to experience the smoothest crafting with onesies and HTV, bring with you some notes that will complete the success of your application with this piece. Don't worry. It won't take you long! 
What Temperature should you press Onesies with HTV?
The excellent application and pressing of Onesies with HTV, remember always rely upon these three heat printing elements ----temperature, pressure, and time. One needs to know the perfect recipe for these to avoid the damage waiting for the design. 
In any heat printing equipment and vinyl material for heat pressing, affixing an HTV on any soft surface regardless if its Onesies or not, heat application may start at about 305°F to 320°F, medium to firm pressure, and with a time of about 10 to 15 seconds. To be clear, regardless of the heat printing equipment you use, we always recommend to use the manufacturer's heat application setting of your chosen HTV to apply the specific application requirement for the design.  
What are the Possible Reasons Why HTV on Onesies won't stick? 
 "I press and press for how many times! I've even repeated the application process from the top, yet my HTV on this Onesies project is falling off! Why?" -----Hey! Stop pulling your hair out! You don't have to blame yourself for an HTV falling off because this is a common situation. 
No matter how an escape a crafter does, unavoidably, it will exist and be going to exist. So instead of looking at who's to blame, why not know the possible reasons why an HTV in onesies won't stick? When we detect probable cause, you can smile again!
1. The Onesies are pre-washed with Fabric Softener. 
When you pre-wash onesies with Fabric Softener, this sticks in the fiber of the clothes leaving residue. And causing the surface to reject the adhesive of the HTV. Manufacturers do not usually suggest pre-washing clothes but for us to do it or not still depends on our decision.
 

2. Failure of pre-heating and presence of moisture.
Pre-heating or pressing is always recommended to do beforehand. Aside from preparing the surface and making it wrinkle-free, this removes the unseen presence of humidity between the cloth fibers, which also causes the substrate's repulsion to the HTVs adhesive. 
 

3. Incorrect Heat Application Settings. 
Applying the perfect recipe to HTV application settings is always tricky, as we thought. When one of the three heat elements exceeds or decreases, only two things could happen ------ One, the imprint will get burned, and two, the HTV will peel later on. 
 

4. Presence of Thick Seams, Buttons, Zippers, Pockets, and others.
Thick seams, buttons, and zippers are standard in babies' onesies and clothing. When they're on the surface, one doesn't use compatible heat equipment or fails to use heat press pillows. Indeed it will cause an uneven surface and gaps, failing the heating equipment from distributing equal pressure and heat. 
 

5. HTV Quality
Cheap or expensive HTV doesn't matter, yet the quality of the vinyl matters the most. Whether an HTV is cheap or costly, this doesn't guarantee that both possess the superiority and excellence of the surface material that our project deserves. As always, go for the brand of the vinyl material that is proven and tested. Only buy HTV from known and trusted stores for surety of the material's quality. 
 

6. Uneven Pressing Surface
If you use an easy press mini or iron, a heat press mat is recommended. Don't use an ironing board because it will make the distribution of pressure and heat to the imprint insufficient. Inconsistent, uneven, and weak pressing surface results in pressure and heat imbalanced placement.
 

7. Peel Too Soon
 Not enough curing time and removing the carrier sheet too early causes pre-lifting of the HTV. At least wait for the HTV to cool down to ensure that the vinyl clings well to the surface before removing the carrier sheet. 
Salute! Mission accomplished crafters and a job well done! Today this journey has never been so easy, but you have finished everything. You make it here till the very end! 
With the rise of HTV customization to adult apparel, the personalization of a baby's wardrobe from becoming a basic necessity has become a widespread and global trend too! Imagine… Even with how big the world of HTV is and even how numerous substrates there are, the use of baby's clothing in the HTV industry proves a broad range of possibilities in any veil of the sky. 
Learn more Vinyl tips and tricks and share your crafting adventures with us. Please visit us on our pages.
Social Media Accounts:
FB: CraftVinyl.ca
IG: CraftVinyl.ca
TikTok: craftvinyl.ca
For your vinyl crafting needs, please check our website at www.craftvinyl.ca. We offer different Adhesive and Heat Transfer Vinyl, perfect for your next project.