Customized Face Mask with HTV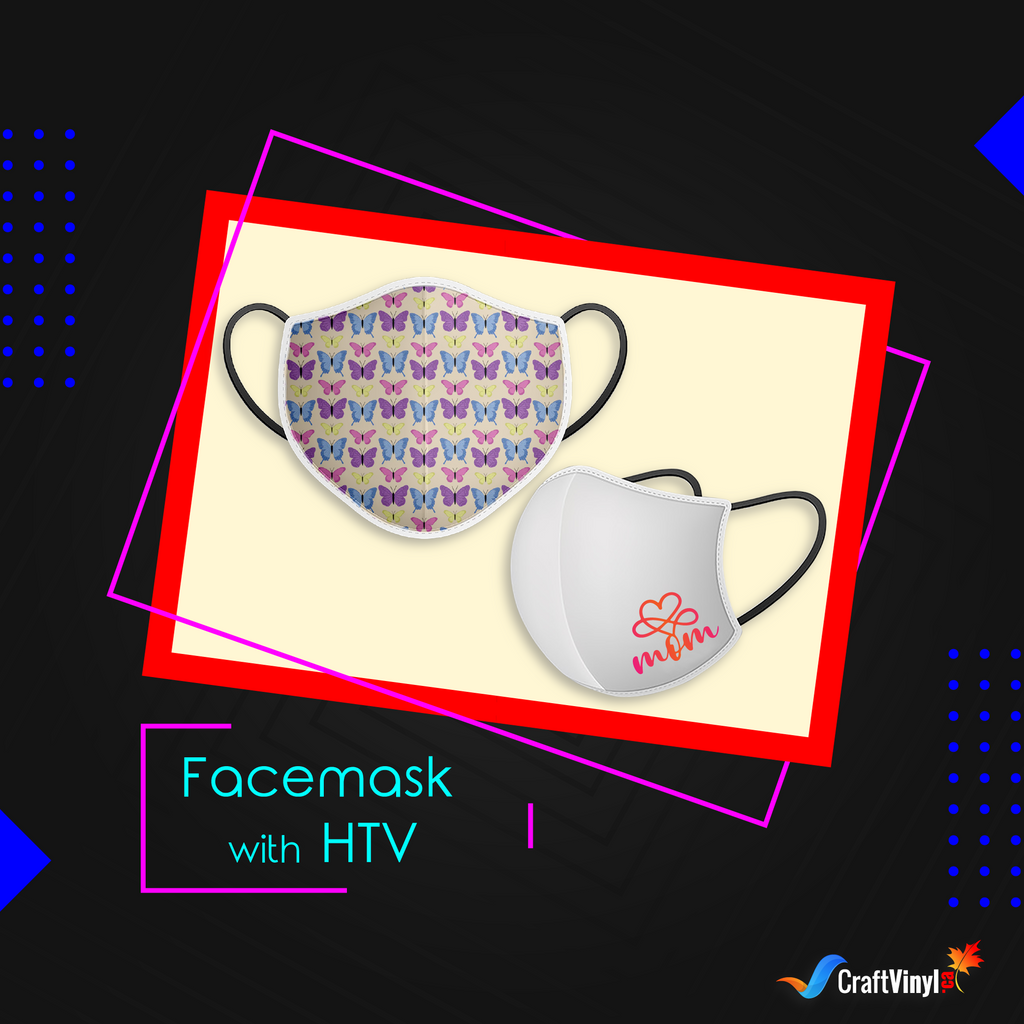 How to Create Customized Face Mask using HTV?
Face masks have become one of the most sought-after wearables on the planet. All thanks to the Covid19 pandemic, billions of people have been stuck wearing one since early 2020.  
And from then on, we have witnessed how this simple medical supply has transformed into a versatile chameleon, from luxury brands' expensive spin on it to colorful prints selling out on every online shop to becoming a motivational item. It boosts the weary spirits of our medical front liners.  
What once considered a symbol of fear has suddenly turned into an in-demand fashion accessory because why not? Not even a pandemic can crush our creative spirit. 
That's why today, I'm going to show you how to give your face mask a makeover. I'll even share tips on choosing safe vinyl products, along with some tricks on jazzing up an ordinary face mask. 
But, if you're still doubting and wondering whether a face mask is a 100% HTV-capable material, let me clarify the situation. 
Can you put HTV on facemask?
I saw how this topic stirred a debate in the online world between medical professionals raising health concerns and our crafty buddies simply looking for an outlet to showcase their imaginative thinking while sparking some positivity through this craft vinyl project.
So, can one apply heat transfer vinyl on face masks?
The answer is one big YES! 
Without a doubt, a face mask can be a suitable substrate for HTV as long as it's made of materials that can withstand heat. From the sparkly offerings of glitter and holographic HTV to the different fun prints brought by Patterned HTV and many other HTV products, you can use all these to make a bunch of adorable and trendy face masks.
But to some crafters, the main issue here is not primarily about whether or not you can use heat transfer vinyl to decorate face masks. To them, the real question that's keeping their hands off this creative idea is this:
Is it safe to have vinyl on a face mask?
In most recent times, safety has been the top priority of everyone. That's why it's not surprising to receive an influx of inquiries about the health risk of using face masks adorned with HTV graphics.  
Today, I'm happy to squash your doubts and the fear that prevents you from jumping on this trend. It is safe to have vinyl on a face mask. That's an assurance most HTV manufacturers have given us. 
But wait! I can't let you hold on to their promise just like that without giving you a word of caution. I don't want you to pick any HTV without being mindful of these safety tips and product features. 
Eco-friendly and non-toxic vinyl products
For the health-conscious crafters, this one's a worthy number one on your safety list - to look for eco-friendly and non-toxic materials. 
Choosing HTVs with such features ensures you'll only use products safe from dangerous chemicals and other toxic materials that may cause minor allergies and health-threatening risks. Especially in this case where you intend to use it for an essential health item. Now's the time to be picky, for you can't afford any slight mistake- NO! Not when it's yours, and your family's health is at stake.  
CPSIA, or Consumer Product Safety Information Act, is a United States law that safeguards children from hazardous products. Though HTV is generally not a children's product, several vinyl companies have already incorporated this feature as part of their unique selling point. Lucky for us, this adds another key safety point we can check before purchasing any vinyl products. 
Choosing non-toxic, eco-friendly, and CPSIA-certified products is not the only cautious effort you can make. Apart from being reasonably selective, here's one helpful tip for much safer use of HTV on your face mask craft project. 
As a general recommendation, crafters are encouraged to avoid putting decals around the mouth and nose area. Covering these zones could lead to airflow restrictions that might cause difficulty in breathing. That's why it's advisable to only apply on the side areas to avoid such risk of inhaling something harmful.
Additional Considerations!
If your search for vinyl revolves mainly around safety issues, consider this next chapter an aesthetically-motivated effort.
Before creating your cut file or purchasing decals online, you must also consider the type or styles of face masks you will customize. It's essential to check on this as form can affect the outcome of your project. 
Discover More Great Articles On Crafting
Click the links below for more interesting topics you might like.
ONESIES WITH HEAT TRANSFER VINYL
HEAT TRANSFER VINYL VS. PRINTABLE HTV
So, how does a style or form of a face mask influence your design? 
There are different face masks available in the market. You may not notice it, but each differs in shape and structure. For instance, there's a flat mask, a flat lay mask with seams, pleated masks, or one with a seam in its center. 
Flat masks are usually the easiest to work with. You can apply decals in every suitable location because it's flat. And because of its form, you'll have no trouble using this face mask with a regular heat press or even a standard home iron. 
A flat-lay mask may also serve a seamless transfer despite its not-so-flat form. You may not have difficulty transferring a design on it since there's no obstruction to avoid, such as seams and pleats. Unlike in pleated masks, you can't just heat pressed any graphic you want as you need to consider the pleats. For this style, you can only apply small designs per pleat as you can't extend or overlap on others. 
The curvy feature of this face mask makes it a challenging substrate. Especially with a seam sticking out at the middle, applying a design that intends to cover the middle part might not be viable if you don't have the right equipment. You might encounter the same problem with masks with center seams. In this case, the easiest solution is to target its sides. 
Your choice of face mask is not limited to these four as there are still other varieties to choose from. And if you'll select something else, check the face mask's form and structure before planning your design. 
Consider the fabric too!
Another aspect to look into before applying your design is the fabric material of the face mask itself. Some heat transfer vinyl has specific instructions for a particular type of fabric, like cotton and polyester. The temperature requirement, time, and the needed pressure- all these settings are readily available on each product's websites or application instructions. Becoming aware of these details can help you achieve long-lasting results.
How do you heat press a face mask?
Heat pressing a face mask is not an entirely new process. It's the same way you do it on a regular shirt- place your decal, then heat press. But due to its shape, a few tips and tricks are essential for you to learn to get the best result. 
So, let's make it easy with these three simple ways to heat press a face mask.
Tip #1 Use a Mini Heat Press Pillow
Most face masks aren't flat since they are meant to complement the shape of our faces. This is where a mini heat press pillow comes in handy. To successfully apply a design, place the face mask on a heat press pillow so that its curvy area is flatly stretched out and raised. This old trick will provide the underlying support needed to get even pressure. Moreover, a heat press pillow makes pressing easy as it helps smooth the surface.
But what if you don't have a mini heat press pillow? Don't worry! There's an easy and home-ready remedy to this. You roll a small towel and stuff it under the face mask. Make sure it fits well to ensure a wrinkle-free surface before heat pressing. 
Tip #2 Use a Mini Heat Press
The size of this substrate and its odd form make you doubt whether a large heat press can do the job. Luckily, there's a mini heat press that you can rely on for such tiny circumstances. Mini Heat Press gives a precision that you can't get from its big sister.
Tip #3 Hat Press for Face Masks!
Another surprising idea is the usability of the hat press for this project. A hat press is specifically designed to have curve platens. Although this equipment's mainly for hats, you can use its curvy feature to have a quick and easy HTV application on a face mask. 
I told you a while ago that decorating the middle portion of face masks with a center seam is a challenging task. But hey! Not with a hat press. You can perfectly fit it on the platten. Make sure it's evenly stretched to have that perfect flat surface to customize. 
The pandemic may be over soon, but the high demand for face masks is likely far from going down, especially not with this new twist that allows us to create something unique out of an unusual substrate. So whether you're only here to hop on this creative trend or help spread a message of hope and resilience one customized face mask at a time, I hope this post brought you an informative preview of how wonderful it is to heat-pressed face masks. 
Learn more Vinyl tips and tricks and share your crafting adventures with us. Please visit us on our pages.
Social Media Accounts:
FB: CraftVinyl.ca
IG: CraftVinyl.ca
TikTok: craftvinyl.ca
For your vinyl crafting needs, please check our website at www.craftvinyl.ca. We offer different Adhesive and Heat Transfer Vinyl, perfect for your next project.