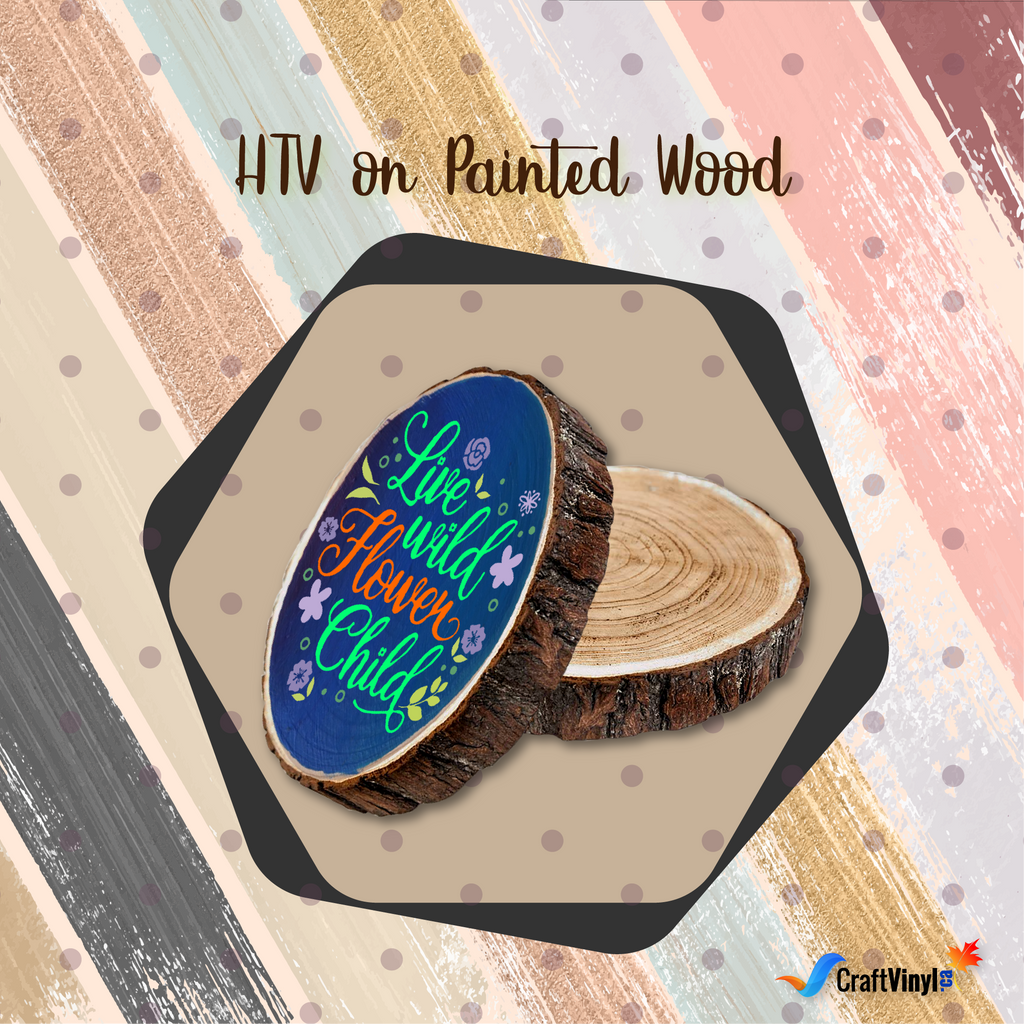 Just like a Piece of Cake in a Piece of Wood: HTV on Painted Wood
Should I keep this? Or maybe should I not? Should I throw this away? Maybe no, maybe yes? What if this pile of painted wood might still be useful for later projects and then I discarded them? Urrgghh…. OH MY G! Self, you can't decide what to do! Better yet, DIY-ers, hobbyists, and master crafters….. Heeeelppppp!!! What should I do with my PAINTED WOOD? Should I Put HTV ON Painted Wood?
Just in time, we hear you screaming at the top of your lungs and we know that calls for help. Taann-taaaa-raaaa-raaan------- Your ever solid and fabulous crafty Fam, T-E-A-M DIY-ers is here to the RESSSCUUEE! We understand what are you feeling right now and what are you going through. We are glad here in this blog to help you save yourself and your painted wood out of this dilemma! Now get your heart of craft out of meddling in worries. As long as your Painted wood is still up to utilizing its existence fully, we are ready to win this! 
 What are we waiting for? Cheers to another beautifying technique for another wonderful craft to make in this channel! To find "HOW" it could be done and "HOW" this could be accomplished, come and hop in! Have this ride craft filled with us!
HTV and Painted Wood Finally Meet on their Way to Customization
 Introducing to us is another method of decoration with Heat Transfer Vinyl. Of course, our only best mate in crafting will let us be impressed once again. So if you have ever taken the time to inspect closely a piece of wood that you have, whether it is painted or not; take note that our resources, our ideas, and techniques to create something with artistry is beyond unlimited. 
Can you put HTV on Painted Wood?
 Yes! Painted woods, customization, plus Heat Transfer Vinyl? All in one combined... It's very possible! HTV on Painted Wood takes full control of embellishing items that are not just limited to the surfaces we know or ones that we usually use. This application technique is ready to revamp a bright future ahead into a ONE-OF-A-KIND TRANSFORMATION. And a super yes! Like any form of material for crafting, wood can be your blank canvas to create something new and your HTV can be your paint to give a new face to your project!
Many different colors of HTV to choose from.
Do you want to be convinced? By presenting all the proof let's place all this exceptional material into an ultimate challenge while looking forward to a much ultimate result. 
Here... Crafty Loves!
The reasons to motivate and excite you with the tandem of HTV and painted woods!
HTV application is the swiftest, laid-back, and stress-free cheat method to style gorgeously your designs for your painted wood! Heat Transfer Vinyl, with more than several successful attempts to varieties of applications, had crossed all the boundaries of the most common and unusual mediums our mind could ever think of! Making it happen to painted woods surely will produce a breakthrough and lead to the birth of distinctive creations. 
Your HTV can be your best alternative! So when you don't know where to go or what materials you can use as a replacement, this vinyl material is one arm at reach.  
Using HTV for designing wood projects with fonts in a form of text and images doesn't only provide you options of colors and styles to apply. It allows you to re-form and personalize a surface in such a way that is cleaner, high-grade, and accurate with no errors. You don't need to worry about smudging or bleeding imprints! 
HTV can provide a good grip on hard surfaces like wood, painted, or raw. It means to say when it comes to design permanence, your design is secured and it is impossible to fall off or become flaky. It can be tough against the test of time or the challenging factors found within the environment. 
The most things that lots of crafters love about HTV, it can get you a nice finish that looks like a "realistic imprint effect" or "painted-look effect" of design. HTV is not that shiny compared to Adhesive Vinyl so it doesn't look like stickers attach to your surface. Your imprint even in the imperfection of your wood can complement or adjust as it adheres to your painted wood art. It can be seen as if it becomes one and part of your surface. 
Lucky you! Because you didn't throw your painted wood away if so, you'll surely regret this as if you have thrown and lost a good opportunity out of your way! HTV on Painted wood is up for a good market value, especially for customers or craft lovers who are in love with classic, durable, versatile, and rustic types of crafts. 
What about now crafty loves? Let me check your confidence meter to HTV on wood if it does increases or decrease. Ohh… Impressive… I can sense it's just holding up for more before bursting out with satisfaction!
What Painted Wood Surface does HTV Sticks to? 
Painted Wood cannot be a good substrate for HTV application? Is it because despite its coating it cannot run and hide away from its imperfections? Nope to that! 
Did you know that paint on wood could lead you to some advantage for your HTV application? To keep us away from the thinking that wood despite having its coating will always be porous textured, peel-prone, and close to heat application damage. The only important thing we need to do is to find out what paint our wood surface should have. By that, we could know what painted surface we could work on to get our HTV a tight hold. 
Heat Transfer Vinyl on Painted Acrylic Wood
 The possibility of a faulty adhering process on painted wood can never trick you down! Heat Transfer Vinyl attaches on an acrylic painted wood let your work be in a job well-done manner like no other words have to say on it.
Acrylic Paint as a base coat for your wooded medium is a dose of the most recommended choice to coat on the surface of your base material. Eye pleasing effect is made readily achievable in this paint while giving you a wide selection of vibrant colors to choose from and to use. In contrast to other types of base coat paints, acrylic paint dries up in a shorter period and stays with a long-lasting effect on the wood. When fully dry and application of Heat Transfer Vinyl has been performed with the assurance of the right heat application setting, it will not resist sticking to the surface nor causes traces of HTV to rise.   
Heat Transfer Vinyl on Stained Wood
Getting the finely vibes of wood décor and sheer tones of woody color inside your home? Stained wood! No more suffering to plainness and stiffness of wood surface? Stained Wood! 
Loud and crisp! Stained Wood bringing the process of wood staining gives a little facelift and revitalization to your project's look. It is the most popular treatment you can give to the face of your wood project while giving edginess and aesthetics to any concept you have in your blueprint. 
 What more to expect? Stained wood can improve not only the "woody look" of your surface but also gives extra protection to the durability of your base material. Likewise to painted wood, it also offers similar benefits to the simplicity of its process and design. If you will blend this to Heat Transfer Vinyl, guarantee that applying this coating agent to your surface dries up quickly. It is because the coating agent penetrates the wood instead of sitting on top. 
 While stained wood can present the native color or highlights of the wood grains on your surface and let its natural beauty show up; life, drama, timelessness, and exquisiteness will surely stick in combination with the decorative effect of HTV as a vinyl material.  
 A Boiling tip! 
When transferring design using HTV on the surface of stained wood, sealing will help your imprint stays longer. 
Sealing will also guard your Heat Transfer Vinyl against lifting as stained wood can release oily residue from the surface. 
Print What You Envision: Can You Heat Press on Wood? 
If we can add HTV on wood; painted or not, ABSOLUTELY we can heat press a Heat Transfer Vinyl on wood! There is no other way around to stick and firmly paste your imprint on the top of your wood surface. 
 Through Heat Printing as a method of design transferring together with your heat printing equipment (like a Heat Press machine, Easy Press, or Iron) and the right mixture of the key elements of printing (such as heat, pressure, and time), it enables you to straightly transfer your design into a wood surface without a sweat. This is the handiest and most modernized way to achieve such an excellent and professional finish of your piece. 
The Guide to Heat Printing HTV on Painted Wood
 Heat Transfer Vinyl on Wood gets us the outside-the-box thinking! As more things, we could apply to HTV, the more projects our creative mind thinks of and wishes to do. Whether it is your first time using HTV on wood or not, we get you ready with the steps and tips on how to do it! Happy crafting!
What is the Ideal Temperature should I Heat Press HTV on Painted Wood? 
 Before heading straight to sticking your HTV on your painted wood, we must know first what ideal amount of heat we must press our HTV on our base material. Normally, when considering our HTV in the heat application process, we determine how much heat we need to apply. We usually do it by following the recommended setting of the vinyl manufacturer. On the other half, we need to remember that we are also working with a wood surface that is painted and we must also be concerned about the coating applied to the amount of heat it can accumulate. 
To attach your vinyl material going to your painted base material, it suitably starts at about 300 °F temperature pressed for about 35 seconds in time, light to medium pressure, and then progressively increasing the heat setting little by little as you proceed with the process. With that, both your material and surface will not be receiving an unexpected amount of temperature. It will also avoid both your surface and vinyl from the risk of scorching or melting. 
Can all variety of HTV be applied to HTV on Painted Wood? 
 We understand that making our final look beautiful through our chosen HTV is a part of our top priority. It is tried and tested that HTV can be flexible and versatile to any surface. However, to surfaces like painted wood there are exemptions on what kind of HTV could successfully attach. Not all HTV types can give you a successful adhering process due to some factors. To give you an idea of what vinyl materials you can use for a project, here is the shortlist. 
HTV types that can add depth and dimension to creativity: 
HTV types that can help you achieve a painted-look effect or realistic imprint effect:
Regular HTV
Matte HTV
Smooth HTV
A Boiling Tip! Foil HTV on wood, painted or not is not advisable to be applied. For such reason, it can be difficult to attach this vinyl material. Its adhesive could seep out behind it and may cause streaking of the color of the paint around the design. 
What are the Tips for Using HTV on Wood? 
HTV application on wood could be as easy as 1, 2, and 3! Get the tips and make your HTV on a wood journey at ease and swift!
Sand down! Sand down! The smoother the surface the better your surface is and the tighter your HTV holds on it.  
Do Test press. Test press in a scrap or piece of wood before the final application will help you get the right set of heat, time, and pressure. It also helps you observe how your surface and HTV react to heat.
Deviate Heat. If your wood surface is already painted, decreasing the heat setting slightly lower will help you place the HTV on your painted wood without burning both your surface and vinyl. 
Know the Signs! A good sign that your HTV is wholly attached to your painted wood is when the plastic backing begins to curl.
No to Pre-heating, Yes to Repress.  In pressing HTV on wood, pre-heating your Heat Press Machine is not needed. It is because pre-heating the equipment may contribute to the additional amount of heat that both the surface and HTV might receive. It will make your materials more prone to excessive heat. Meanwhile, repressing or doing quickly multiple passes to some parts of your design that didn't adhere well is helpful to stick them fully in your surface. 
How to Heat Print HTV on Painted Wood?
Do you want to know how to heat press an HTV imprint to your painted wood? Alright! Let's start right away by grabbing your HTV, painted wood, and Heat Press Machine. Here are the following steps. Let's start to press and print! 
 The Step by Step Procedure for Application of HTV on Wood
I. Designing and Design Preparation
Create your layout or download a free image file and import it using your design software. 
b.Adjust and resize your image to properly fit the area where you want to place it. DON'T FORGET TO MIRROR. 
Cut your design and make sure to apply the recommended cut setting. 
d.Start weeding your design and remove excess vinyl before applying it to the wood surface. 
II. Prepping of the Wood Surface
If your wood is already coated or painted, make sure it is painted using the right paint to avoid complications during heat application. 
On the other side, if your wood is raw and you plan to paint it, sand your wood first to get a smooth and even surface. Then, apply paint (acrylic or wood stain depending on your choice and project's motif) and wait for it to dry before pressing the HTV. To assure that your base coat is fully dry, allow the surface to dry for 24 hours or at least a day. 
III. Pressing and Application
When attaching your HTV to your painted wood, ideally start pressing at a temperature of 305 °F, 15 to 30 seconds in time. You can gradually increase the temperature later on as you go on. Remember that heat settings may vary depending on the type of material you use and the heat printing equipment you are using. 
b.Use a non-stick cover sheet to protect your design and your surface from excessive heat and scorching. 
Allow the HTV to cool down a bit and peel the carrier while it's hot. 
d.Repress if some parts of the design didn't adhere well. 
Why is My Vinyl not sticking on Wood?   
Isn't it? It is pain in the eyes to see your HTV fall off one by one after its application. Let your effort, time, and material not be put to waste! Know in advance the reason why HTV won't stick on a wood surface. 
Rough Surface. Your HTV will likely fall off even if you coated it with paint without you sanding your wood. Splinters, uneven, and the coarse surface will prevent the HTV from receiving an even amount of heat which results in not adhering to some parts of the vinyl. 
Incompatible Type of Paint. Your vinyl will repel on your painted wood when the wrong paint is applied. HTV won't stick to paints that are flat paint, chalked-based, and to latex paint with silicone content. 
Inadequate Curing Time of Paint in the Wood. A base coat that did not sit or dry fully on the wood surface when heat is applied might react to heat and may result in bubbling of HTV plus peeling off after adhesion. 
HTV Cut too deep. When the HTV is cut too deep in its cut settings, there is a tendency that it will be difficult to peel off the plastic backing. 
Incompatible Choice of HTV type. One of the main reasons why HTV won't stick to your surface. Choosing Adhesive Vinyl to apply on wood will only function as a sticker attached to the base material and sometime later it will just peel off. Unlike HTV applied through heat makes adhesion holds into the grains of the wood. However, not all HTV types can be used on painted wood. There are some HTVs when pressed through heat produce much adhesive that makes its gluey material seep out on your design and the surface. Also, it might produce discoloration on your surface and the design's final look. 
Inadequate or Too Much Application Time. Too much pressing will burn the surface and the vinyl material; likewise, inadequate pressing time will lead to the HTV coming up easily. 
No Wood Seal. If the final look of your HTV won't be sealed, the assurance of its hold on the surface might not last or a chance for your HTV to peel after application. 
The Final Touch: Sealing HTV on Wood
There might be a different reason why a certain project needs to be sealed but one thing is guaranteed. Sealing can contribute lots of benefits on your end as long as it is done properly. 
Sealing HTV on your medium's surface, regardless if it's untreated, stained, or painted will put your project into a sleeker and professional look. It can protect your work against environmental adversaries like heat and humidity. 
For this process, when you apply wood sealant; make sure that your paint and HTV are fully cured before application, and make sure to choose a hand-brushed or water-based sealant that is compatible with any kind of paint. Avoid using spray sealant for it can give you a thick and heavy coat which gives curl to your HTV. You may use Polycrylic, an all-purpose sealant suitable even for outdoor projects and its child safe. 
Discover More Great Articles On Crafting
Try more medium using Heat Transfer Vinyl. Check out the links below:
HEAT TRANSFER VINYL ON LEATHER
Can You Apply HTV to A Painted Canvas? 
 Heat Transfer Vinyl on Painted Canvas? It's definitely a YES. You can transfer your HTV design to a canvas that has a base coat. Since most canvas acrylic is widely used as a base coat, it presents itself as a good and nicer surface for HTV to stick. The application process is no different as well and you could still freely express your creativity in any customized project on canvas you plan to make. 
 Surprisingly…The future of those spare or unused painted woods doesn't destine to have its end inside your trash bins. So as unlikely as it seems and we never thought before, HTV on painted wood will give those painted wood stacked in your basement a regenerated life and it will start right now in your crafting room. 
Hurry up! Get a kickoff and try making your HTV on wood project to experience having a reincarnated-like masterpiece you have never done before and share with us!
Social Media Accounts:
FB: CraftVinyl.ca
IG: CraftVinyl.ca
TikTok: craftvinyl.ca
For your vinyl crafting needs, please check our website at www.craftvinyl.ca. We offer different Adhesive and Heat Transfer Vinyl, perfect for your next project.
Thanks for joining us today Crafty Loves!