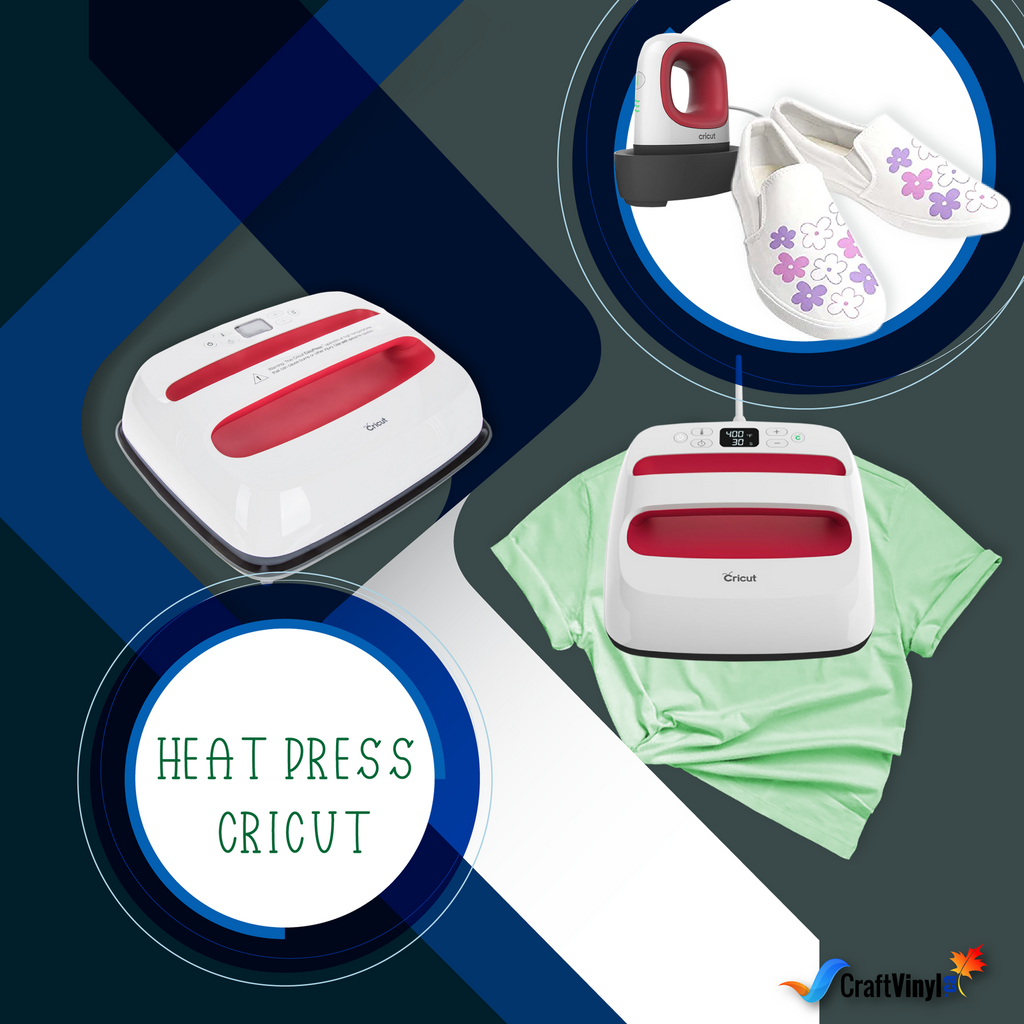 All About Cricut Easy Press: Exploring its Purpose and Potentials  
The arts and crafts world has been a haven for legions of good brands and products. And when talking about the best of the best, there is one you probably don't want to miss- CRICUT! On top of this significant number of selections are standout industry leaders we all dreamed of having.
This well-beloved and best-selling brand have been a pioneer in bringing innovative excellence to the craft industry for decades. The way it revolutionized the game by introducing intelligent cutting machines has propelled Cricut to become not just a mere household name but a trusted identity regarding quality.
Because of this, crafters new in the wagon of heat transfer production frequently wonder if Cricut has replicated such top-notch standards on other crafting essentials. One is their collective interest in knowing whether Cricut makes a heat press too.
Does Cricut make a Heat Press?

 
Since Cricut's reputation was built primarily on its impressive cutting machines lineup, newbie crafters are unaware that the company has also ventured into many other products. And yes, that includes a Heat Press!
But being a goldmine of ingenious ideas, instead of stamping its name on a regular full-on Heat Press, Cricut has taken a different path by delivering a new heating tool called the Easy Press.
What is Cricut Easy Press?  
"Combining the speed of a heat press and the convenience of an iron," this is the commitment sworn by Cricut with the Easy Press. True enough, the product has become an instant hit for home crafters and small business owners because of how the product can live up to its promise.
So what's so good about this product that captured the hearts of thousands of creative individuals?
EasyPress is the marriage between the selling points of a home iron and a Heat Press machine. It boasts home iron's portability and lightweight qualities while delivering critical features of a traditional heat press: consistent, evenly distributed heat and precise temperature control. 
Cricut's Easy Press is a game-changing tool, but if you're still asking yourself if you'll stick with your iron or proceed with an upgrade, then let us help you make a sound decision.  
Do you need a Cricut Easy Press, or can you use an iron?
The secret to a flawless transfer lies in a good heat source. While it is true that an everyday iron is a possible option, does that mean an upgrade is not needed?
So let's settle this for the last time. What is the best option for you: Home Iron or Easy Press?
If you're okay with the following, then stick to using iron for your heat transfers:
Iron is not ideal when doing large volume projects at once.

It can't guarantee a high-quality press for HTV that requires stronger pressure.

There's no way of telling the exact temperature you're applying on the HTV.

It can't cover a large area.

It requires working longer and exerting more effort and energy.
Specifically, a home iron is an excellent fit for crafters who aren't doing that many heat transfer projects and those who only occasionally craft HTV projects.
But if you're looking forward to enjoying the following features, don't hesitate to treat yourself with a brand new Cricut Easy Press.
It has a digital control panel that allows you to set temperature and time precisely

It can cover a wide area, making pressing a lot easier and quicker compared to home iron

It can handle multiple projects at once

It comes in different sizes (6x7, 9x9, and 10x12)

It can deliver consistent and evenly distributed heat

Cricut has a comprehensive heat guide for all types of HTV and base materials. 
If these points meet your ideal heating tool, then Easy Press is the one for you. 
Let us be clear; there's no wrong option here. Choosing one over the other doesn't necessarily mean the one left out can't deliver. It's just that we have our preferences. But regardless of your choice, we hope that we shed light on your mind's battle between Easy Press and Home Iron.  
If you still need a little more convincing, let me show you the range of projects you can make with a Cricut Easy Press.
What can you make with Cricut Easy Press?
A LOT! Without any exaggeration, there's an abundance of projects you can make with this versatile tool- all thanks to its compatibility with a long list of major HTV brands and Infusible Ink products. So, here are some creative ideas for you to try with the following base materials:
Fabrics
It's thrilling to know that you can use almost any fabric with Easy Press. From easy-to-work textiles like cotton, polyester, and canvass to heat-susceptible materials such as Nylon and Faux Leather, it is a no-stress press working on these fabrics with Cricut Easy Press. You can choose any of these for your next HTV project: DIY Shirts, Hand Towels, Personalized Blankets, Kitchen Aprons, Baby Onesies, and many more.
2. Wood
Another surprising material to work on is wood. Its heat-resistant quality makes it a suitable medium for Heat Transfer Vinyl projects. Just imagine the many beautiful Lettered Wood Signs you can make or the Personalized Wood Slice Key Chains you can sell. 
3. Paper
You can always count on Cricut Easy Press to jazz up and embellish paper-based materials like Faux Leather Journal, Customized Notebooks, DIY Cardstock, chipboards, and scrapbooks.
        4. Shoes
Even in shoes! Can you imagine how exciting it is to add your flair to a pair of shoes? Be ready to draw attention by turning a plain pair of canvass sneakers into a highly captivating artwork.
        5. Bags
Bags, too, can't escape the charm of Easy Press! There are plenty of ways to personalize Canvass Tote Bags, DIY Craft Bags, Mini Purses, Laundry Bag, Gym Bag, and Kids Backpack. 
…and other stunning home decor and personalized gift ideas such as Canvas Wall Signs, Faux Leather Earrings, DIY Pillow Cases, and many more. 
I can go on and on and probably enlist a hundred different projects you can work on using Cricut Easy Press. But the ones I've shared above are more than enough to showcase the extensive possibilities one can create with this highly-efficient machine. 
Is a Cricut Easy Press Mini worth the price?
Specifically crafted for small and unusually shaped projects, Easy Press Mini is the smallest offering from Cricut's Heat Press lineup. 
This product is the perfect tool for personalizing tiny surfaces that larger Heat presses can't do. Infant apparel like shoes, socks, bibs, onesies, and other uniquely-shaped items such as hats and stuffed toys became an easy substrate with its petite size and precision tip.  
However, many crafters are torn between this and small iron. There's an assumption that both tools are the same, thus, putting the fairness of its price into question. 
Considering the added flexibility and specific functionality this product brings to your heat transfer production and the stamp of quality you get, the price is reasonable. You won't get that much value for your money on other products.
So, if you find its price a bit higher than other mini presses or small iron, remember that you are not just paying for the product but a stress-free experience. Only a quality tool like Cricut Easy Press Mini can provide. 
What temperature should your EasyPress be set at?
This variable depends on the type of Heat Transfer Vinyl and medium you are using. There is no specific temperature setting for Easy Press or other Heat Presses. The good thing is Cricut has a comprehensive list of the recommended heat, time, and pressure settings. All you have to do is access their website, select the type of heat transfer vinyl and the base material you are using. And you can instantly have the information you need in just a click. And it doesn't end there; they also provide specific step-by-step instructions to make life easy for you.
With the vast number of types and brands of heat press flooding the market, it is vital to be selective and choose only the one that won't frustrate you in the long run. Both Easy Press and Easy Press Mini have the goods to go everywhere. So, if your goal is to craft the most flawless and long-lasting heat transfer projects, let Cricut Heat Press machines take you there.
Learn more Vinyl tips and tricks and share your crafting adventures with us. Please visit us on our pages.
Social Media Accounts:
FB: CraftVinyl.ca
IG: CraftVinyl.ca
TikTok: craftvinyl.ca
For your vinyl crafting needs, please check our website at www.craftvinyl.ca. We offer different Adhesive and Heat Transfer Vinyl, perfect for your next project.
Check other Blogs that might be helpful to you:
DIFFERENT TYPES OF HEAT TRANSFER VINYL