Heat Transfer Vinyl on Shirt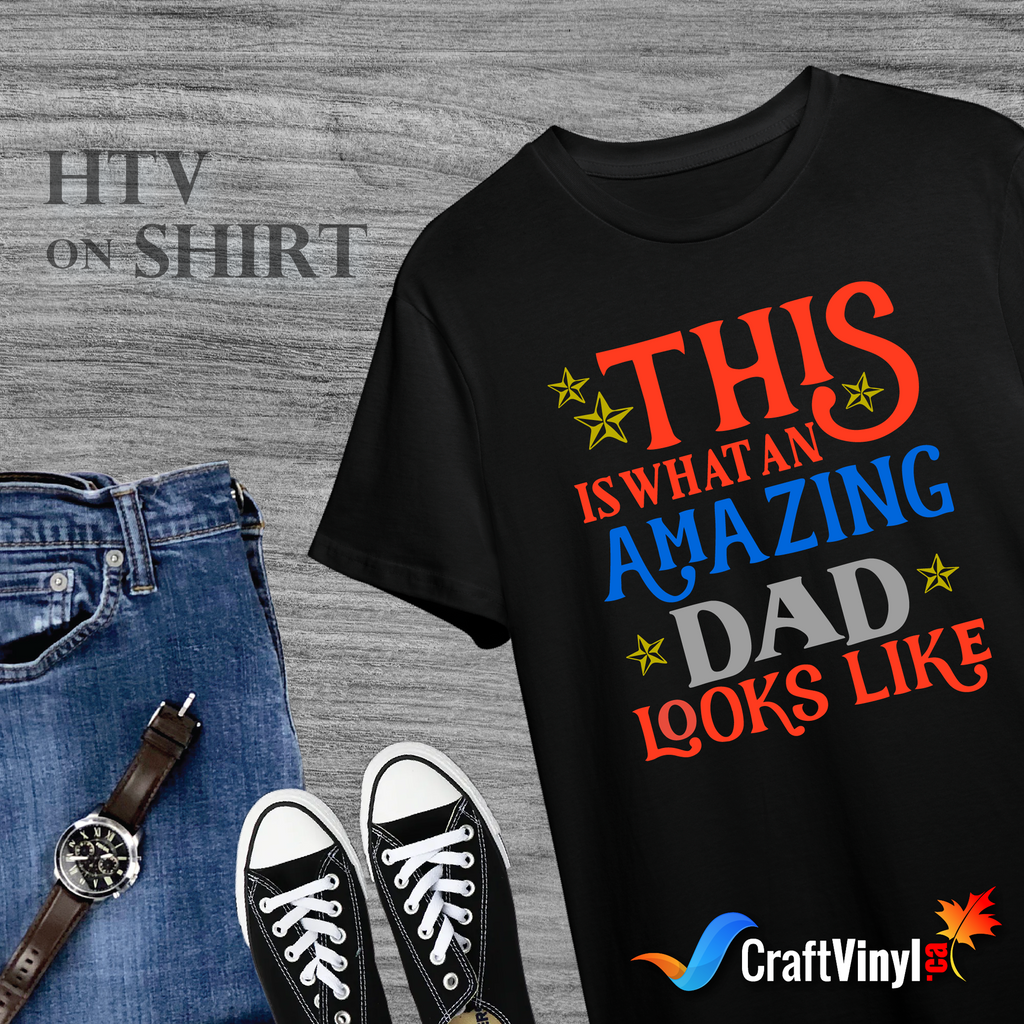 All about HTV on Shirt
Maybe you want to explore another level of adventure in the fantastic world of Heat Transfer Vinyl crafting, or you are thinking of upgrading your sign and graphic business by adding customized t-shirts to the menu. Either way, you think about what kind of vinyl you should use on fabrics and how its process works. Well, wonder no more because today, in this article, we are giving you the answers.
What kind of vinyl do you use for shirts?
Shirts with rough surfaces may be problematic for your vinyl, and they will undergo wash and wear. But customizing shirts is not a problem with Heat Transfer Vinyl, also known as HTV or Iron on vinyl.
Heat Transfer Vinyl (HTV) is a specialty material used to decorate or personalize shirts, garments, and other fabric items. HTV contains a heat-activated adhesive backing that allows the vinyl to transfer to your garment permanently. It comes with a carrier sheet on top, similar to the transfer tape but can withstand high heat. 
We cut HTV using a vinyl cutter (Silhouette CAMEO or Brother ScanNCut). Unlike adhesive vinyl you used to, this vinyl is cut on the backside, so it's essential to ensure that your image is mirrored or reversed horizontally. When you press it, the design will be facing the correct way. In addition, it is available in various colors and finishes like glossy, matte, flock, glitter, glow in the dark, and stretchy.
There are three ways of transferring HTV onto shirts: Heat Press, EasyPress, or Iron.
How long does HTV last on shirts?
Eventually, anything that comes must come off. Some vinyl wears out while others fade and peel. And since we used heat and pressure to adhere Heat Transfer Vinyl onto shirts, the vinyl can break down over time by washing and wearing. 
Does that mean heat transfer vinyl isn't that certain?
Of course NOT!
Vinyl is a synthetic material with unique properties that make it durable when making prints. The material doesn't shrink after washing nor deform when exposed to heat or moisture, and with reasonable care, the manufacturer recommends about 50 washes for vinyl heat transfers.
If you follow some guidelines, the longevity of the vinyl onto shirts can be achieved.
How do I keep my Heat Transfer Vinyl from peeling?
You want your Heat Transfer Vinyl to look incredible for a long time, and seeing your vinyl peeling off your shirts can be very frustrating. Even a tiny crack can ruin a good design. Luckily, there are ways of making your HTV last longer.
1. Wait for at least 24 hours before washing.
After applying your HTV, allow its adhesive to bond fully with the fabric by leaving the vinyl to sit at least 24 hours before washing. If you wash your fabric too early, the water would disrupt the bonding and likely lead to the vinyl peeling or cracking.
2. Wash the fabric inside out.
Every time you need to wash your project, turn it inside out, so the HTV is on the inside. This will protect your vinyl from the other clothes in the wash. It can help your vinyl to stay in good condition.
3. Avoid excess heat.
Although a heat process applies Heat Transfer Vinyl, excess heat after the application can damage it. Always use warm or cold water when washing your fabric since hot water can loosen the adhesive and cause it to peel. Then, hang your fabric to air dry or machine dry it on a low heat setting. Ensure not to iron your HTV directly as it could melt or burn.
4. Don't bleach or dry clean.
Never send your fabric to the dry cleaner because bleach and chemicals used in the dry-cleaning process are both harsh that can damage your heat transfer vinyl. Avoid washing your fabric with products containing bleach.
With these ways, you can prevent your heat transfer vinyl from peeling and ensure your design's durability.
Can I use a regular iron for my Heat Transfer Vinyl?
Do you want to start using heat transfer vinyl to personalize a shirt, but you don't own a heat press? There's no need to worry; with just a regular hand iron, you can go for it. Yes, a household iron can be used to achieve a quality press as long as you do it correctly. Here are the steps for using a regular iron with HTV.
Things you need before getting started:
Table – preferably a lovely solid table

Iron – regular household iron 

Ironing mat – something to protect your table

Blank shirt – the project that you're putting HTV on

Teflon sheet – to preserve your HTV 
Step 1: Cut and weed your design.
Step 2: Set your iron to the setting cotton blends or in between polyester and wool settings. Put an ironing mat on the table.
Step 3: Iron your shirt to make sure it's nice and smooth and has no wrinkles. Then fold it in half and press down so you have a line to follow.
Step 4: Place your design on your shirt with the sticky side facing down. Use the line as a guide to putting your vinyl precisely at the desired location.
Step 5: Put the Teflon cover sheet over your shirt.
Step 6: Apply the heat transfer vinyl with your iron, starting with light pressure and increasing to firm pressure depending on your HTV. Keep the iron over your design for about 10 to 15 seconds. If your design is bigger than the iron base, repeat this process for the part of the design where your iron didn't touch.
Step 7: Carefully remove the plastic carrier sheet, either hot or cold, depending on the type of HTV you used. 
If the edges of your HTV are not entirely adhered to the fabric after removing the carrier sheet, cover it with a Teflon sheet and give it a back and forth press as you iron your clothes. With firm pressure, please do it for five to ten seconds or until all the edges are fully adhered to.
It's that easy! Your personalized shirt is all done.
What is the difference between heat transfer and iron-on vinyl?
Heat Transfer Vinyl and Iron-on Transfer Vinyl are special types of vinyl material with heat-sensitive adhesives that can be used on fabric or woods. Both require a heat press, easy press, or iron to apply the vinyl onto the surface.
Although Heat Transfer Vinyl is equally known as iron-on vinyl, there's a big difference between them regarding the quality of the paper. HTV has high-quality transfer paper that needs special machinery with higher temperatures to work effectively, while Iron-on transfer vinyl uses lower-grade paper that needs lower heat.
Iron-on vinyl is specifically for at-home DIY use, whereas HTV is best for projects exposed to weather and that need washing. Therefore, Heat Transfer Vinyl is more professional and longer-lasting than Iron-on vinyl.
Why is my vinyl coming off my shirt after washing it?
It is usual for a heat press project to go wrong, especially for beginners. It can happen to anyone of us but remember that experience is the best teacher, and mistakes allow us to learn and improve.
Let's find out the common reasons why your vinyl is coming off on your shirt after washing it.
1. Fabric incompatibilities
Don't mix vinyl with incompatible apparel fabrics. Respective vinyl products match certain materials, such as stretchy spandex, which requires accommodating spandex-ready vinyl, and nylon vinyl must go with nylon fabrics.
2. Improper layering technique
This may cause your vinyl to peel. You must not apply HTV over any specialty vinyl like glitter HTV, for one, is an ineffective base for application and causes the vinyl to peel off after a wash—or even before.
3. Wrong pressure, time, and temperature settings
Make sure your settings match the fabric you use based on the manufacturer's recommendations. If you heat press to the wrong settings, you may damage the adhesive, or you don't melt the vinyl onto the fabric properly.
4. Raised areas
Zips, buttons, collar, and thick seams are raised areas that can lose a lot of pressure and will, in some vinyl, adhere correctly, while other sections might still be a bit loose.
5. Fabric coating
Some shirts have a waterproof coating, while others might have a fire-retardant layer that stops the vinyl from adhering correctly to the fibers of the fabrics. It's best to have blank apparel to avoid having a setback.
6. Hot or cold peeling
When do you remove your carrier sheet? Is it while it's hot or when it's cooled down? Always check the manufacturer's instructions for your vinyl to know the right way.
7. Fabric softener
It creates a bit of coating on your shirt, preventing your vinyl from adhering perfectly.
Also, check if your heat press works correctly and evenly distributes heat. Sometimes the heating elements in a heat press will stop working, and that would cause problems with how well your vinyl will adhere.
With this article, I hope you found the answers to your questions about HTV on shirts.
Go and start creating gorgeous projects; enjoy crafting with Heat Transfer Vinyl! And don't forget to share them with us!
Social Media Accounts:
FB: CraftVinyl.ca
IG: CraftVinyl.ca
TikTok: craftvinyl.ca
For your vinyl crafting needs, please check our website at www.craftvinyl.ca. We offer different Adhesive and Heat Transfer Vinyl, perfect for your next project.
HTV articles which you may like:
APPLICATION OF HEAT TRANSFER VINYL TO LEATHER