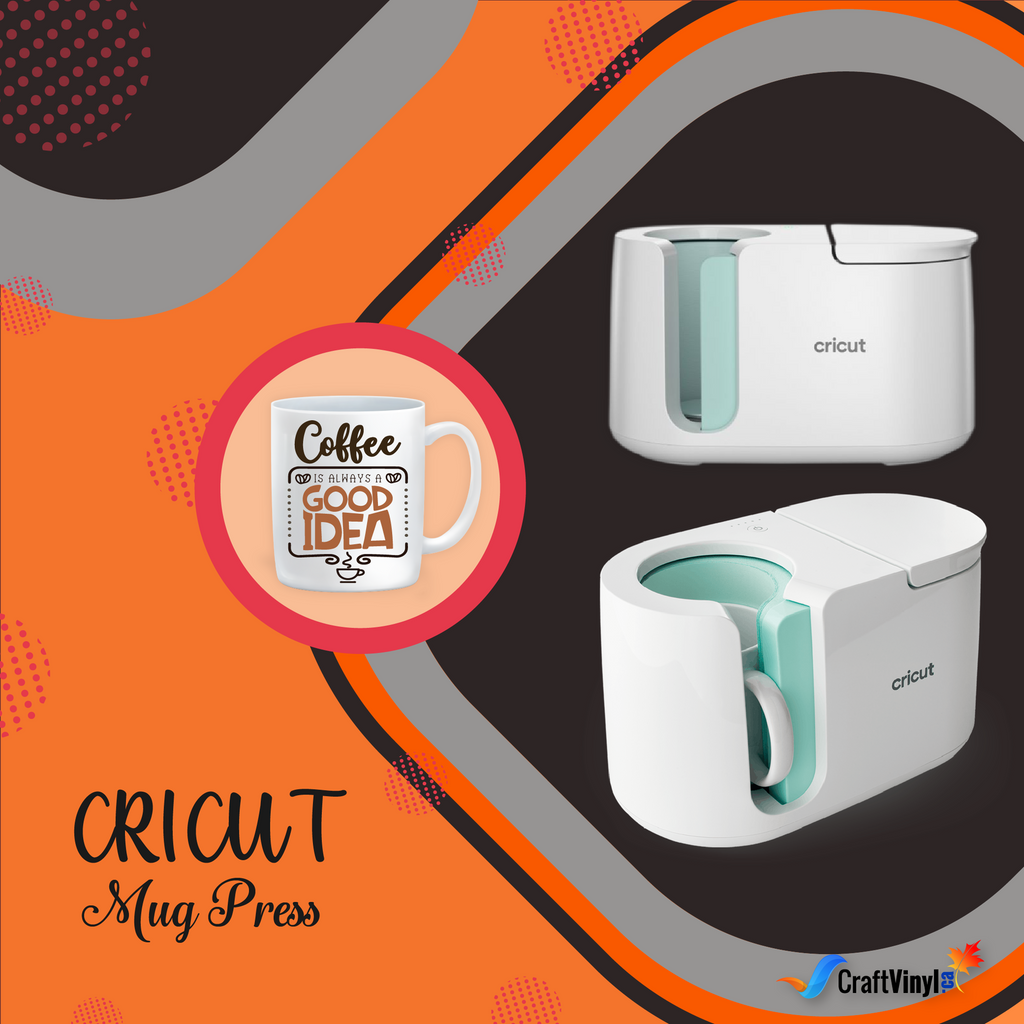 The Ultimate DIY making with Cricut Mug Press
A gigantic hello, my fella, and welcome! Choosing to spend your wonderful day with us fills our hearts with gladness! Well, if it hasn't been made known to you, today is another relish of radical artistry, and this will lead the both of us to another meaningful and stirring craft making.
As we haven't started to heat things, with those expressions filled with curiosity from you, I'm sure you won't just stand and stare there. Nifty, we got something that will make your work craft-trending and full of artsy-ness again! Be prepared for the best that is yet to come! I believe you're going to jump into this adventure with no hesitation. As "Yes or Yes" is the only option we have for you… Well, you've got no other choice but to be with us… What more are we waiting for? 
Making Crafts in Jiffies with Cricut Mug Press Machine
For you who have been furious about what is this bringing to you, make way for it's more than ready to drop a bomb! Unfolding right before your eyes is something that can pull all together the craftsmanship, seamlessness, and effortlessness closer to your crafting table.
From the family of the best-known brand… Hailing all the way to unleash the sneak peek of your curiosity is one of the latest state-of-the-craft equipment from Cricut; THE CRICUT MUG PRESS MACHINE! It is ready to prime an amusing sphere of art and design possibilities to customization, especially to the variety of your drinking vessels! An avenue to tech-smart customization in just one touch. It can unbelievably transform a very personal craft we can make with it into items filled with an artistic spirit.  
Defining a Cricut Mug Press Machine
If you're staring at this page for more than five minutes and you're eyes are stacked with some details here, I bet it isn't your plan to drop by or pause here for a second. You're probably here right now because you finally found what you're looking for. And I joyously want to tell you; that you just came IN TIME! Look! What you're reading now isn't a mistake. This is meant for you to be read. You are destined to meet the new star of DIY-ing and customization! 
The Cricut Mug Press Machine is one-of-a-kind craft equipment officially engineered and launched by Cricut last March 11, 2021. Due to the combinations of traits this equipment has, it is the most unique among the entire craft machine of this brand. Being one-of-a-kind in its physicality and functionality, it is a machine with the shape of a mug but incredibly a heat press. It can change how people drink their thirst-quenchers or water in their cups or tumblers. Especially the hot coffee on their cups. A Cricut Mug Press Machine is another brilliant mug-shaped heat press that creates professional-quality drinkware primarily for mugs. 
The Best Features of the Cricut Mug Press Machine
Dropped jaw and mouth wide open? That's what we call the Cricut Mug Press effect! Even though we are just starting, this machine wants you to be startled and even thrilled in anticipation. Cricut Mug Press might be new to your eyes and leaves you with a different impression. And we'll keep an eye on it VERY CAREFULLY for, as a saying says, even looks can be deceiving! The expectation is on hype as we explore Cricut's Mug Press all-out features! 
1. Cricut Mug Press is a stunning piece of heat printing equipment making your Crafty heart melt!
Cricut Mug Press can light up the spark between your artistic connections; surprisingly, this can happen at just a first glance. Its neatness and simplicity in its accent with elegance can lift the good vibe while you use it for craft making. At the same time, the portability in its size. It allows you to display, store, or move it quickly in any area of your workroom. 
2. Commits to elite and maven product results with excellent transfer quality.
Don't miss the trick in creating a good trading point! To any hobby making, home crafting, or business start-up, Cricut Mug Press can give your DIY items not only a professionalized and accurate design of imprint. Hence, its top-quality printing performance in minutes can lead you to a precise projection of your future profit! 
3. Craft friendliness intimately for everybody and every craft material.
Cricut always makes sure that its users are one of its top priorities! Impressively, with its mug press, they also never fail to deliver some following concepts that are mostly forgotten by other craft machines. 
Cricut Mug Press's ease of use and operation ability won't make your nerves tied complicatedly because you can swiftly make beautiful pieces in just one touch and one beep! To sum up, just design, attach, and press; you're all good to go! 
Cricut Mug Press endorses safety to its user throughout the work. Have you always been a victim of accidental contact? Often forgets caution on the hot surface of your mug press. To Cricut Mug Press, with its body covered with an insulated case, you can touch it anywhere you want. Even if the hot temperature for pressing is on! At times when you're absent-minded, or you get unsure if you turn off your press or not, don't worry about getting your craft room on fire. It has an automatic shut-off feature that power off the press after 13 minutes of inactivity. 
Cricut Mug Press is compatible with all Cricut Cut Cutting Machines. Cut as many designs as you want. It can work in good teamwork with Cricut Maker, Cricut Joy, and Cricut Explore Series.  
4. Cricut's automaticity gives a swift crafting experience.
What more? You don't need to adjust temperatures and pressure, for it can automatically do it for you while assuring the evenness of heating on its side and base. This mug press has a patent-pending heat plate responsible for providing even heat or pressure on the substrate and design. 
5. Provide proof of life imprints, making it worthy of having as a craft machine.
Masterpieces with image imprints on Cricut Mug Press can cling to your substrate for ages without fading or peeling. They are dishwasher and microwave safe. 
Setting up a Cricut Mug Press Machine
Before you test the full potential of your Cricut Machine, give it time to be ready against you. You can make your crafting powered with magic by setting up the machine using your laptop, desktop, or Mac Book! 
Here below are the steps to set up your Cricut Mug Press. 
To set up, plug in your mug press to the wall socket. 

Connect the USB cord to the machine going to your computer. 

To register and activate the mug press, go and open the Cricut Design Space. 

Select "new product set up" and choose "heat press." After, click "Cricut Mug Press." 

To process the machine's activation and updating of its software, agree to all the terms and conditions. 

Once the update is done, you're ready to press with your machine.

 
The Cricut Mug Press Machine's Mechanism
Cricut Mugs press machine how does it work? Are you intrigued by what it can do and how it can boast its capability? Well, a very explainable question to be answered like a piece of cake!
Cricut Mug Press functions through the incorporation of two systems of heat transfer printing to light color blanks--- the infusible ink system and the sublimation. Don't get clouded, for these two can serve as the craft equipment's function. At the same time, a method of design application in which this equipment can do. The infusible ink system and the sublimation through this mug press allow the design to become one on the substrate's surface. Cricut Mug Press can heat transfer a graphic design with no flakes, peeling, or chipping off (specifically to mugs) while producing finished items in several minutes or less. Due to its portability and technologically enhanced features, you can impressively do it without difficulty, mess, or idle time because of waiting. Moreover, it will enable intelligent craft making plus a professional level of innovation to be very attainable. 
Discover More Great Articles On Crafting 
Check these links below, they might be helpful for your crafting journey.
CRICUT MAHINE: EVERYTHING YOU NEED TO KNOW
The Cricut Mug Press on Infusible Ink System
First, let's talk about Cricut Mug Press Machine's infusible ink mechanism. Infusible Ink System is technically a design transfer process and a heat press function in design applications engineered for a Cricut Mug Press to perform. It transfers design on various substrates by using ink on a solid to gaseous until it returns to a solid state again. 
The solid ink is stored on infusible ink sheets or copy paper with the drawn design using infusible markers or pens. It can be cut using Cricut's Cutting Machine, such as Cricut Maker, Cricut Joy, and Cricut Explorer Series. Sheets or paper serve as transfers during the application process. 
Meanwhile, the design transfer process starts when the solid ink is heated and pressed using the mug press, turning the ink into a gaseous state to be infused directly into the substrate. Once the surface and the gaseous ink state cooled down after pressing, this will turn to its solid structure again, forming and permanently embedding the design like one on the substrate's surface. 
On top, your base material needs to have a particular coat of poly-base material, for it's an agent that helps the substrate's surface absorb and embed the ink in the infusible materials where the design is placed.
How is a design created and transferred using Infusible Ink Sheets? 
Using the Infusible Ink sheet for the first time is quite magical. Unlike when we print out the design on HTV, it requires us to use a printer to place our image layout onto it. Hence, your image is placed on this transfer sheet with infusible ink sheets without needing a printer. 
Since the Infusible Ink sheets are already pre-printed (solid in color or patterned) containing infusible inks, you only need to run your layout on the design space to be cut by the cutting machine. Once loaded in the cutting machine, it will intricately place a trace of cuts creating image formation of your design. Then, you can thoroughly weed it to reveal the look of your layout and press it using Cricut Mug Press. 
How to create and transfer the design on Cricut Mug Press using Infusible Markers or Pens? 
For a design made with Infusible Markers or Pens, the feel of creating your image is like your sketching and drawing your design. You select an image to be uploaded on Cricut Design Space to create your design. It will be drawn automatically by your Cricut Machine when the blade in the "Clamp A" accessory is changed with an infusible marker or pen. This way, instead of leaving traces of cut to form your image on the transfer sheet, the infusible marker or pens loaded on the machine will automatically and directly draw the design for you on the laser copy paper. Once done, you can manually cut your design using scissors, fill the layout with various colors by hand and press your design with a mug press. 
The Cricut Mug Press on Sublimation
Moving to Cricut Mug Press on Sublimation, this is another design application method you can use for your products. Although it is not a built-in function where a Cricut Mug Press is engineered, you can still do sublimation. A Cricut Mug Press with a good heat and pressure capability enables this process, which means that when it comes to pressing a design on a mug press, it won't matter if the process is sublimation. It is doable with the mug press as long as the transfer sheet and the substrate are compatible with the application method.
To transfer and press a design on your project using a mug press, you must first print out your image layout on sublimation paper or a sublimable transfer sheet using a sublimation printer containing dye ink. When pressed with high heat and pressure, like infusible ink, sublimation's "dye ink" becomes solid to gaseous form and becomes a solid state once embedded on a cooled surface. 
With your substrate on sublimation, you don't need to worry if the drinkware substrate is intended for infusible inks. Guess what? You can also use Drinkware substrates for infusible ink systems for sublimation. How? These two are much alike in the process and contain special coatings! Oh yes! Meanwhile, the good news is you can buy other substrates outside Cricut if you find similar drinkware with coating, the right size, and the correct shape that a Cricut Mug Press accepts.  
The Cricut Mug Press to Change the Way You Drink on Your Drinkware
We are getting more comprehensive in diving with Cricut Mug Press! Getting ahead about it means there's nothing that can stop you from making beautiful pieces.  
Are blanks workable for Cricut Mug Press: Can I use any Mugs or Blanks? 
Even if we had discovered that we could use drinkware like mugs from Cricut both for infusible ink systems and sublimation, it's still not enough for our desire to get creative. Since we always want you to enjoy your creative freedom in craft making, we hover over the internet to find other substrates you can use. But hold on, before grabbing one of these, take time to read some of the things you need to consider in getting your drinkware substrate for an infusible ink system and sublimation.  
1. A general thing to remember is that whatever blanks you choose, make sure it has a poly-base or sublimation coating. It is always R-E-Q-U-I-R-E-D, so don't attempt to use a regular mug or drinkware for infusible inks, and sublimation for this will not work! 
2. The size of your chosen infusible and sublimable drinkware substrate strictly has to be the right size. The maximum estimated measurements you can buy outside the Cricut brand must be at least 10 - 16 ounces in capacity, has a diameter of about 3.2 to 3.4 inches, and a height of about 4.72 inches.
3. Your substrate of drinkware must have straight sides because if not, you can't able insert it on the press. It leads you to have an even surface and misfits on the press. 
The List of Drinkware Substrates that you can use on the Cricut Mug Press
While sitting here, having a sip of a hot cup or a glass of creativeness, and sparing colorful conservation, what a lovely time to sublimate or infuse inks on these items:
Cricut Mugs ( with 13.5 oz. to 15 oz. capacity) 

Stainless Steel Mason Jar Tumbler

Color changing and colored handle Sublimation Mugs

Basic Ceramic Mugs with Sublimation Coating 

Pilsner Tumbler

Glass Mason Jar with Metallic Lid or Straw

Frosted Beer Glass or Tumbler 

Stainless Steel or Metal Can Cooler

Travel Mug Tumbler with Lid or Metal Straw

Stainless Steel or Metal Coffee Mug

Camp Coffee Cup

Basic White Sublimation Mugs

Stemless Wine Glass Tumbler with Lid

Clear Glass Beer Stein

Regular Glass with Sublimation Coating
Tips on Pressing Drinkware as Substrates on Cricut Mug Press
1. If you find a compatible drinkware substrate for Cricut Mug Press, however, it comes with a slimmer foot or base yet with a wider diameter of the body; you may still use it for the application process by inserting upside down the body of the drinkware into the mug press. In this way, the side heat plate of the press could tightly cling to the substrate. 
 2. Avoid placing the design on curves, angles, and textures; instead, always apply the design on smooth, straight, and flat surfaces of the substrate. 
 3. Use at least three layers of butcher paper to keep infusible ink or sublimation inks bleeding-free. Make sure to trim it fitted to the substrate and clings tightly, similar to how the design is attached to the substrate's surface, to avoid faded edges.  
4. Trimming the liner of the transfer sheet will prevent yellowish grid lines from existing on your surface.
 5. Assure your drinkware is clean and free from dirt by using a lint roller or cloth. For such reason, if you press with an unclean surface, it may leave blue dots that may stay permanently on your piece. 
FAQS 
Aside from the latest trend, we are always generous in giving you the latest information! Here in this blog, we don't want you to take your puzzlement or confusion on your sleep or crafting time. Now we got you the frequently asked questions to give you peace while your DIY-ing. 
Can I use Tumblers and Wine Glasses on Cricut Mugs Press? 
I can give you a YES and a NO answer to this question. I will say YES, it is possible to use a tumbler to be pressed on this mug press as long as its specification matches what is required by the equipment. On the other hand, a wine glass on a Cricut Mug Press is a NO. For such reason, a wine glass has a thinner structure that may easily break as it receives pressure from the machine. In addition, a wine glass has a rounder bowl or body, which is a significant incompatibility for a mug press. 
Can Cricut Mug Press Do Photos? 
Is Cricut Mug Press doing photos? It's absolutely a Y-E-S! This tiny but incredible machine can always leave you "wowed" and can change the game of your crafting by sublimating photos on your mugs. A picture is so possible through SUBLIMATION. All you need to do is load your chosen images on your designing software, print them on sublimation paper, cut them into sizes fitted on your surface, and print them. W-O-L-A-H! Customizing mugs using sublimated photos makes your piece ever so personal! You can even print your photo, your family picture, or your bae's image through this process and enjoy your coffee time with an extra dose of love. 
And there you have it, my fella! As we always hope that you, a DIY enthusiast who's seriously digging some up-to-date discovery to customization, will enjoy more of the ultimate DIY-ing experience with this mug press! The entire takeaway about Cricut Mug Press Machine is now all good for you to take home. 
Learn more Vinyl tips and tricks and share your crafting adventures with us. Please visit us on our pages.
Social Media Accounts:
FB: CraftVinyl.ca
IG: CraftVinyl.ca
TikTok: craftvinyl.ca
For your vinyl crafting needs, please check our website at www.craftvinyl.ca. We offer different Adhesive and Heat Transfer Vinyl, perfect for your next project.
Till our subsequent craft bonding! See you the soonest!