HEAT TRANSFER VINLY ON SHOES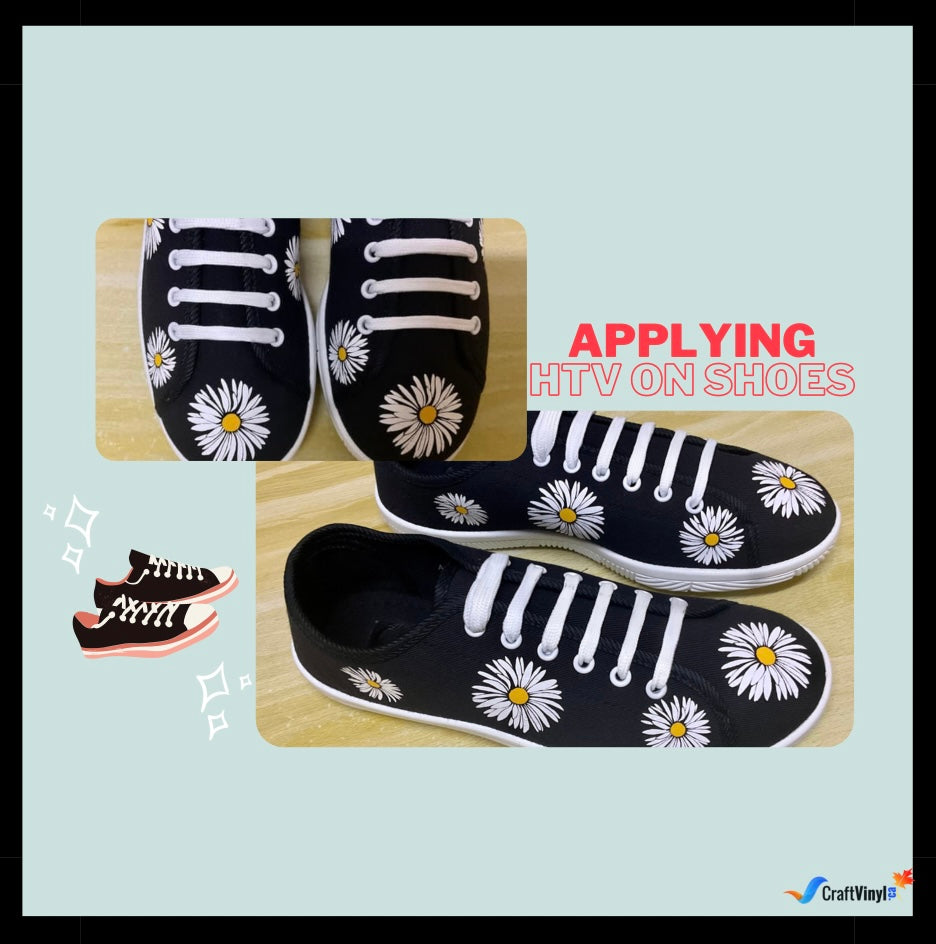 HOW TO APPLY HEAT TRANSFER VINLY TO SHOES
Are you thinking of doing anything unique with your Heat Transfer Vinyl? We get this question asked often, can you use heat transfer vinyl on shoes? Yes, you can, and now is the perfect time to make something new out of a pair of plain canvas shoes or sneakers. You can customize your sneakers with fun designs with iron-on vinyl (also known as Heat Transfer Vinyl or HTV). Making your personalized sneakers with Heat Transfer Vinyl is incredibly simple! Continue reading this article, and I'll walk you through the process step by step!
Supplies Needed:
Iron - on Vinyl or Heat Transfer Vinyl

Heat Press, Mini Iron, or Household Iron
Cutting Machine
Plain Shoes or sneakers
Cutting Mat
Weeding tool
Teflon sheet or parchment paper
STEP 1: SETTING UP THE DESIGN
Begin by uploading your design on your design space and scale it down to suit the size of your shoes or sneakers that you will be using. When you're satisfied with the dimensions, fonts, and colors of your chosen design, you can now press "make it," and it will guide you through cutting the vinyl.
NOTE: Do not forget to mirror your design first before proceeding to cut your design.
STEP 2: CUTTING THE DESIGN
Place the heat transfer vinyl with the shiny side facing down on the cutting mat, load the mat onto the machine, and press start to cut your chosen design. If your design has layers, do the same with the second color and cut.
STEP 3: WEEDING THE DESIGN
Once the cutting is done, unload your cutting mat into your cutting machine and remove the heat transfer vinyl. 

Using your weeding tools, peel away the excess vinyl around your chosen design. Trim the extra carrier sheet for you to be able to place your design correctly on your final substrate.

STEP 4: APPLYING THE DESIGN TO THE PLAIN SHOES
After cutting your chosen design, it is time to apply it to your canvas shoes!

Now, grab your shoes or sneakers, your preferred design, mini iron, or any heat press you will use to adhere to your Heat Transfer Vinyl on your shoes. A Teflon sheet will prevent the shoes from burning while pressing the design. And, socks or any cloth you use will be helpful, especially when giving your sneakers support while pressing or applying the vinyl on them.

For your design to fit perfectly on your shoes or sneakers, position it first to its place before pressing your design with your mini iron or heat press.


Once everything is set, set your mini iron or heat press to medium once everything is set. Place a Teflon sheet or parchment paper on your shoes or sneakers and pre-heat it for about 5 seconds before applying your preferred design.
Heat and pressure are needed to apply heat transfer vinyl to any surface, and getting pressure while working with small, flexible canvas shoes can be challenging. Place your chosen design on your shoes or sneakers and give it a press for about 10-20 seconds. When pressing directly on your final substrate, do not forget to place a Teflon sheet or parchment paper.
Note: If you are using special Heat Transfer Vinyl, for example, a glitter HTV, and you are having difficulty adhering to that on your final substrate, set the temperature to high and press it for about 30 seconds.
STEP 5: DO THE 4TH STEP TO THE OTHER PAIR
Once you apply the vinyl to your shoes, remove the carrier sheet on a warm peel. Fill in or embellish other areas of the sneaker with designs. If you're adding a piece to a place with vinyl, ensure the Teflon sheet or parchment paper covers the entire part. Repeat the process to the other pair until your design is already set and done!
And that's it! We've successfully finished putting some Heat Transfer Vinyl on the plain canvas shoes or sneakers! From straight-looking shoes to newly beautiful-looking sneakers with just simple steps!
I hope this article has shown you that doing vinyl projects doesn't have to be complicated. If you try it, you can give us a private message on our social media account with your results! You can also shop for your Heat Transfer Vinyl and Adhesive Vinyl by visiting our website, where we sell a wide range of adhesive vinyl in various colors and sizes at very affordable prices! We appreciate your patience, and we hope you learned something new today!
FB:CraftVinyl.ca
IG: CraftVinyl.ca
Website: Craftvinyl.ca
Tiktok: CraftVinyl.ca
Thank you, and Stay Crafty, Crafters!