Get Crafty for Back to School with CraftVinyl.ca: Creative Ideas and Inspirations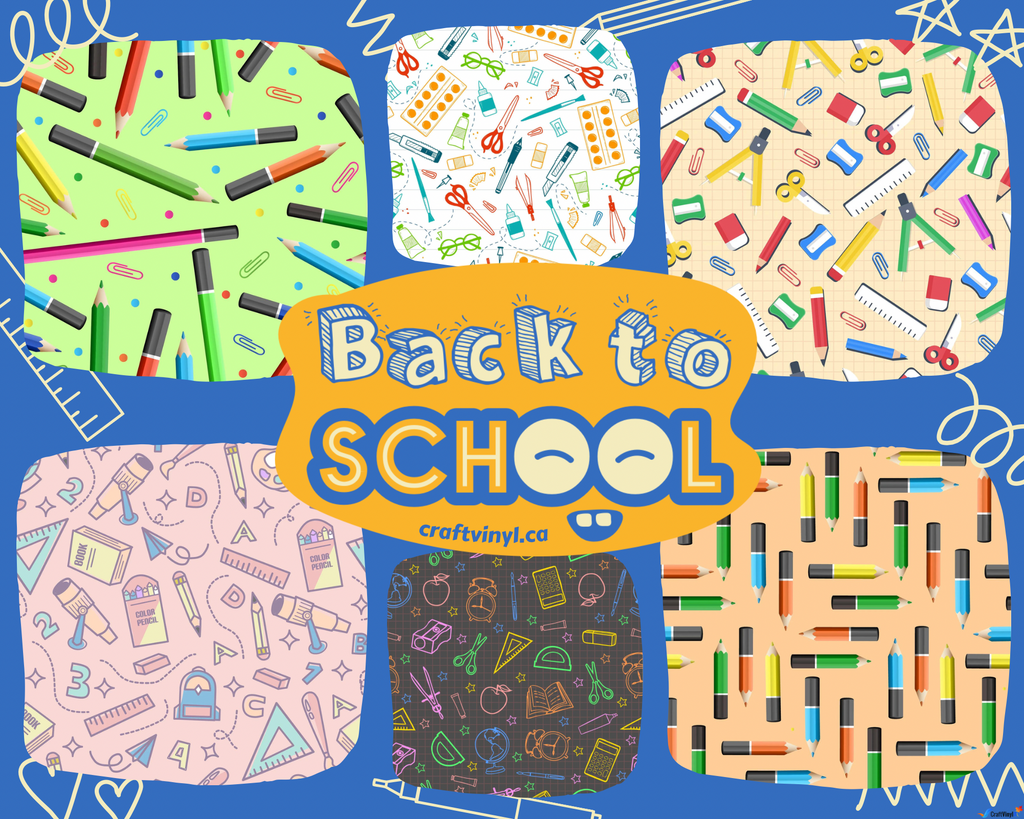 Back to school season is just around the corner, and it's time to add a dash of creativity to your preparations. Whether you're a teacher looking to spruce up your classroom or a parent wanting to personalize school supplies, craft vinyl is the perfect companion for unleashing your imagination. In this blog, we'll explore exciting ways to use craft vinyl for your back-to-school projects and introduce you to an incredible resource at CraftVinyl.ca, where you can find a wide range of back-to-school patterns.
Personalized School Supplies

Make your child's school supplies stand out by using craft vinyl to add their name or initials to notebooks, pencil cases, and backpacks. This not only adds a personal touch but also helps prevent mix-ups at school.

Classroom Decor

Teachers, get ready to transform your classroom into an engaging learning space. Craft vinyl can be used to create colorful banners, bulletin board designs, and educational posters. Explore patterns like alphabet letters, numbers, and shapes to make learning fun.

Customized Water Bottles and Lunchboxes

Keep hydration and nutrition on point with vinyl-decorated water bottles and lunchboxes. Choose from a variety of back-to-school patterns to create designs that match your child's interests or your classroom theme.

Teacher's Gifts

Show your appreciation for educators with personalized gifts made from craft vinyl. Create custom mugs, tote bags, or desk organizers featuring thoughtful messages or motivational quotes.

Organizational Labels

Stay organized throughout the school year by using vinyl labels on storage bins, folders, and files. Craft vinyl allows you to create durable labels that won't easily fade or peel.

Bookmarks and Book Covers

Encourage reading with stylish bookmarks and protective book covers. Craft vinyl's durability ensures these items will last, making them perfect for students and teachers alike.

School Spirit Apparel

Boost school spirit by designing and wearing custom vinyl apparel. Create t-shirts, hoodies, and hats featuring your school's logo or mascot using vibrant vinyl patterns.

Back-to-School Parties and Events

Plan memorable back-to-school parties or events with craft vinyl decorations. Welcome students with banners, table centerpieces, and name tags featuring back-to-school patterns.
Where to Find Back-to-School Vinyl Patterns: CraftVinyl.ca offers a wide selection of back-to-school vinyl patterns, making it your one-stop destination for all your crafting needs. Explore their collection of vibrant, high-quality vinyl sheets that are perfect for all your back-to-school projects. From whimsical patterns to classic designs, you'll find everything you need to bring your creative ideas to life.
This back-to-school season, let your creativity shine with craft vinyl. Whether you're personalizing school supplies, decorating your classroom, or creating thoughtful gifts, craft vinyl from CraftVinyl.ca is your go-to resource. Embrace the endless possibilities of vinyl crafting and make this school year truly special with your unique, personalized creations. Visit CraftVinyl.ca today to explore their exciting collection of back-to-school patterns and get started on your crafting journey. Happy crafting!!