Elevate Your Creations with Glow in the Dark Puff HTV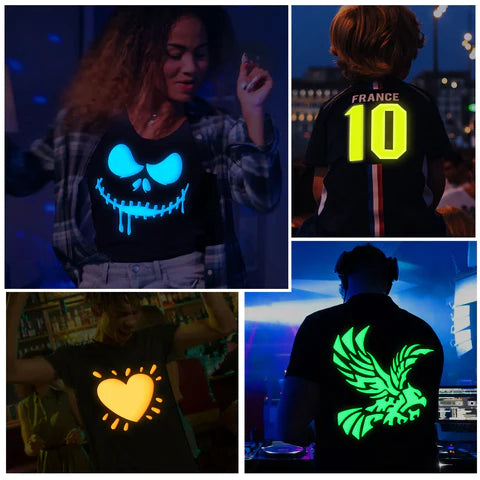 Unleash your creativity and take your crafting projects to the next level with the captivating world of Glow in the Dark Puff Heat Transfer Vinyl (HTV). Whether you're a seasoned crafter or just starting your creative journey, this unique material offers an innovative way to add an element of surprise and enchantment to your designs. In this comprehensive guide, we'll explore the fascinating realm of Glow in the Dark Puff HTV, its outstanding features, and how you can effortlessly infuse a touch of luminescence into your DIY projects.
Features of Glow in the Dark Puff HTV:
Textured Elegance: Glow in the Dark Puff HTV introduces a tactile element to your designs. Its puffy texture adds depth and dimension, enhancing the visual appeal of your creations.

Glowing Magic: Experience the wonder of your designs coming to life in the dark. Glow in the Dark Puff HTV charges during the day and radiates an enchanting glow when the lights go out, creating a mesmerizing effect.

Easy Application: Applying Glow in the Dark Puff HTV is a breeze, even for beginners. With a heat press or an iron, you can effortlessly transfer the vinyl onto a wide range of fabrics and materials.

Durability and Washability: Enjoy long-lasting brilliance. Glow in the Dark Puff HTV is designed to withstand regular wear and tear, and it retains its glow even after multiple washes.
Creative Applications:
Apparel Magic: Add a touch of mystique to your clothing. Create glowing designs on t-shirts, hoodies, hats, and more, turning heads both day and night.

Personalized Accessories: Elevate accessories such as bags, backpacks, and caps with custom glow in the dark puff designs that showcase your unique style.

Home Decor Brilliance: Infuse your living space with a captivating glow. Craft luminescent pillows, blankets, and wall hangings for an artistic and cozy atmosphere.

Event Enchantment: Make your events unforgettable. Design glowing banners, party favors, and decorations that leave a lasting impression on your guests.
How to Use Glow in the Dark Puff HTV:
Design and Cut: Create your design using design software and cut the Glow in the Dark Puff HTV on the vinyl cutter. Make sure to mirror the image before cutting.

Weeding: Carefully weed out the excess vinyl, leaving only your design on the carrier sheet.

Heat Transfer: Preheat your fabric for a few seconds, then place the carrier sheet with your design onto the fabric. Apply heat using a heat press or iron according to the recommended settings.

Peel and Glow: Once the carrier sheet cools down, gently peel it off to reveal your glowing creation.
Glow in the Dark Puff HTV opens up a world of creative possibilities, allowing you to add a touch of magic and luminescence to your DIY projects. From apparel and accessories to home decor and event embellishments, this innovative material lets you showcase your artistic flair in a whole new light. With its textured elegance, ease of application, and captivating glow, Glow in the Dark Puff HTV is a must-have for anyone looking to transform ordinary creations into extraordinary masterpieces that shine day and night.
Buy here: https://craftvinyl.ca/search?q=glow+in+the+dark+htv