Craft Vinyl's Christmas Giveaway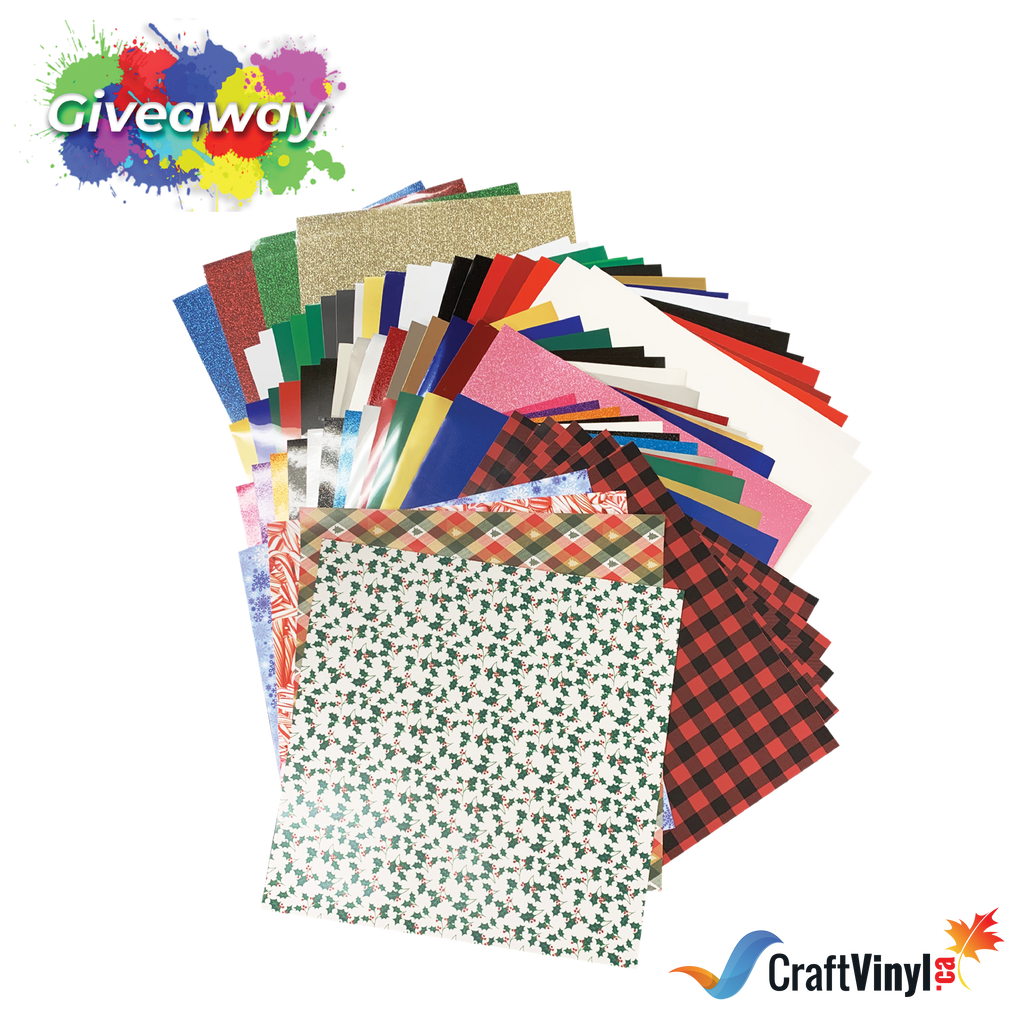 One lucky person will win Craft Vinyl's Christmas Giveaway.
To enter: 
Like and share CraftVinyl.ca Facebook Page and join Craft Vinyl Canada-Siser and Oracal Vinyl for Cricut, Silhouette Cameo etc. Group ( Must do both).
Write a comment under this post in our Facebook Page and tag a friend or 2 in the comment.
The draw will be on Monday December 21 at 7 PM MST. Giveaway is for Canadian residents only.
The delivery of the Vinyl is also included!
"Have a Safe and Wonderful Holidays Everyone!"
The vinyl Included in the package:
Oracal 651 Vinyl (1 - 12" x 12" Sheet of each colour Except Matte Black and White and Gloss Black and White)
Gloss Black (2 sheets)
Gloss White (2 sheets)
Matte Black (2 sheets)
Matte White (2 sheets)
Red
Burgundy
Cobalt Blue
Dark Red
Red
Gold
Silver
Green
Light Green
Forest Green
Craft Glitter Adhesive Vinyl (1 -12" x 12" Sheet of each colour)
Teal
Onyx
White
Black
Orange
Royal Purple
Bubble Gum Pink
Raspberry
Red
Styletech Adhesive Vinyl (1 -12" x 12" Sheet of each colour)
Cherry Chrome
Blue Chrome
Gold Chrome
Chrome
Siser Heat Transfer Vinyl Easyweed (1 -12" x 12" Sheet of each colour)
Gold
Royal Blue
Green
Red
Silver
Siser Heat Transfer Vinyl EasyPatterns (1 -12" x 12" Sheet of each colour)
Christmas Hollyday
Christmas Plaid
Christmas Snowflakes
Christmas Candy Cane
Siser Heat Heat Transfer Glitter (1 -12" x 10" Sheet of each colour)
Blue
Red
Green
Champagne
Craft Heat Transfer Vinyl (1 -12" x 12" Sheet of each colour Except Black and White)
Silver
Reflective Silver
Reflective White
Black ( 2 Sheets)
White (2 Sheets)
Red
Forrest Green
Royal Blue
Gold
Buffalo Plaid Red Adhesive Vinyl (5 sheets)